It should come as no surprise that the president of the Wyakin Warrior Foundation is a veteran — but he is also known among service members for his abilities as a cartoonist.
Cartoons are the way it all started for Jeff Bacon, who has been drawing a Navy-themed comic called Broadside since 1986. Bacon served for 26 years, and in 2005, he started touring with the United Service Organization as a celebrity cartoonist within the military. Bacon said he visited troops in hospitals and combat zones and drew cartoons for them.
"Kind of a Bob Hope thing, but with smaller crowds," Bacon said.
While he met those veterans in the field and spoke with local veterans in the Treasure Valley, Bacon felt a growing call to do more for the wounded soldiers he met with in the hospitals.
"They impressed me with an indomitable spirit," Bacon said. "They may be badly injured, they are able to look forward and say, 'I want to continue to contribute and serve my country, and I'm going to get past this physical challenge and do something.' As someone about twice their age, easily, I felt like a child in their presence."
Bacon began mulling ideas with his wife, Rebecca, about what veterans really need to transition back into civilian life.
Continued from page 19
It was on a hike at Mores Mountain near Bogus Basin that they started to put together an idea to provide direct support from the time a wounded veteran enters school until they graduate with a degree and find employment. With national veteran retention rates at colleges and universities hovering around 50 percent and an estimated 200,000 soldiers coming home every year, Bacon saw a need for that service.
Bacon took the idea to his friend, Sen. Marv Hagedorn, R-Meridian, who also served in the U.S. Navy for 20 years. Hagedorn currently serves as the foundation's executive director as well.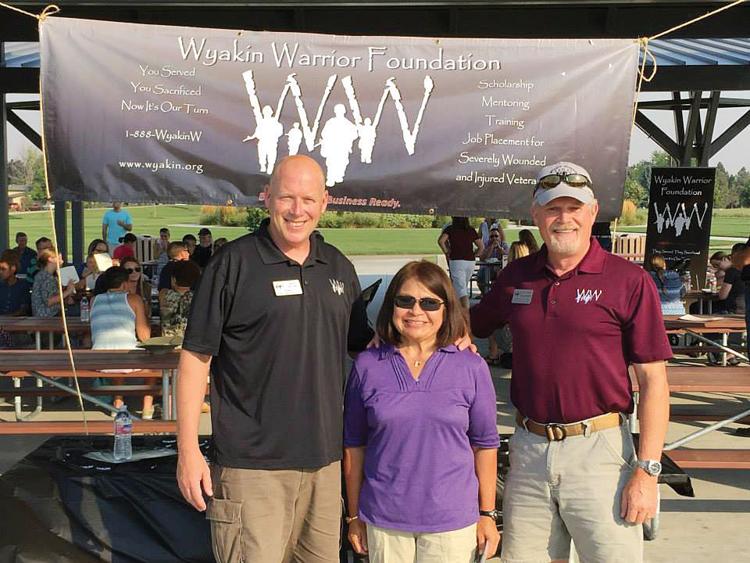 "Marv I had met a few years before, and he … is the champion of veterans in the state of Idaho. He was an easy selection (as a co-founder)," Bacon said. "He was the first guy who I sat down and talked to about this, and I got about four sentences in and he said 'I'm in.'"
From there, Bacon and Hagedorn took the idea to USO members in Washington, D.C., in early 2010, and those officers told them the idea was exactly what was needed in communities across the country. In fact, the chairman of the Joint Chiefs of Staff had recently written a white paper about it, saying it was a need the Veterans Affairs Administration should be filling.
Hagedorn said they were then told to go meet with the chairman of the Joint Chiefs.
"Jeff and I having 47 years of service between us, we were like, 'Oh OK, we'll just go knock on his door,'" Hagedorn laughed. "But they said we'll get you in there, and that afternoon we were in there with (Admiral Michael Mullen) and his staff. Two weeks later, they were here in Boise reviewing what our plans were and who was going to be involved. And it kind of went from there."
Bacon and Hagedorn formed a board of directors, including Rebecca Bacon, and set up a temporary office at an empty spot in the Boise State University library. Using their own funds in combination with community dollars and a $100,000 gift from the J.A. and Kathryn Albertson Family Foundation, the Wyakin Warriors Foundation enrolled its first five students — three of whom were blind. Hagedorn said they worked hard to procure enough resources for those blind students in schools that were not prepared to teach them.
"Our criteria (for selecting students) is not necessarily what training they've had in the past, our criteria is more what kind of risk is this person going to be at without us, and can we help them be more successful than what they're doing on their own?" Hagedorn said.
This year, with the induction of 10 more students, the foundation has assisted 43 wounded veterans with the achievement of a degree or certificate. The foundation has partnered with BSU, the College of Western Idaho and Northwest Nazarene University to help those students graduate, with the assistance of community mentors and foundation staff members. So far, 14 students have graduated, and Bacon said they have a 100 percent job placement rate.
While these veterans don't want a degree handed to them or any pity for their disabilities, Hagedorn said the support the foundation can provide makes all the difference.
Not just academically, but financially as needed, because some programs do not offer stipends over the summer or during the holidays.
"The military does a great job at recruiting people and training them and making them great warriors," he said. "But they failed miserably at sending them back home. So our program is designed to fill that gap."
In the years to come, Bacon hopes to expand the Wyakin program across Idaho and into other states. Hagedorn said they recently signed a memorandum of understanding with California State University San Marcos to bring the program to that campus, which is located in San Diego County – where the highest number of wounded and ill veterans live.
"The only thing that's holding us back is just funding, really," Bacon said. "In Idaho, it costs us about $25,000 per student to get them through school. That's just our expense. Our philosophy is that we identify the funds before we bring somebody into the program so they know they've got money to get all the way through school."
That investment gives back not only to the men and women who served, but to the communities they live in as well, Bacon said. Each one has a passion for service and wants to continue that passion when they come home, and he said giving them the support to reach that goal will pay off.
"Those men and women who have had to overcome substantial physical challenges and all the people in our program … have a context and a sense of perspective that most people don't have, and it makes them wiser," Bacon said. "They're the people that are going to be leading our communities in the years to come, I'm convinced of that."