BOISE — It had been 19 months since the sounds of pucks and bodies hitting the boards had echoed throughout Idaho Central Arena.
For the Idaho Steelheads, the wait is over.
Idaho began training camp on Saturday as hockey in the Treasure Valley took a step closer to returning. The team was one of 13 to opt out of the 2020-21 ECHL season as a result of the COVID-19 pandemic.
"It's pretty exciting," said captain A.J. White, who will be playing in his fourth season with the team. "We got a lot of new faces, but everyone who returned, it's a fresh start from the beginning. We're all really excited to be in Boise, we love it and that's why we keep coming back."
Idaho will host its first preseason game Friday night against the Utah Grizzlies, then make the trip down to Utah for its second preseason game Saturday. The two teams will once again meet at Idaho Central Arena for the regular season opener on Oct. 22.
"By the time the puck drops on opening night, it will be about 20 months between games," said Idaho coach Everett Sheen. "It's been a while."
Idaho's last game came on March 7, 2020 at Idaho Central Arena — then known as CenturyLink Arena — a 5-4 loss against the South Carolina Stingrays. Before that game, though, Idaho had won eight straight games, and 11 of 12, and were well on their way to clinching a playoff appearance for the 23rd straight year.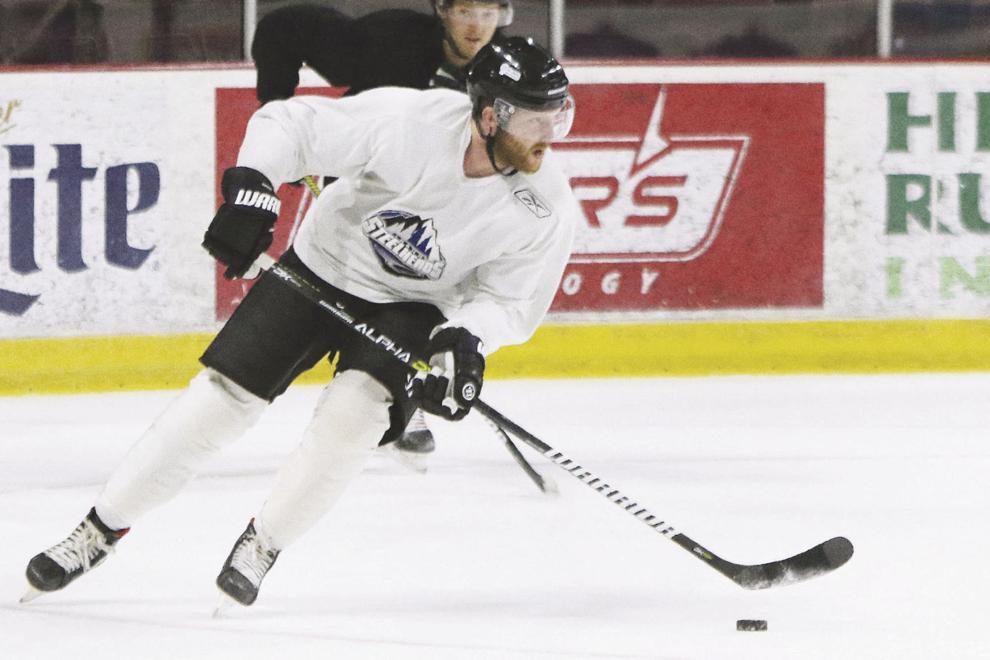 A few hours after arriving in South Dakota on March 12, for a three-game series against the Rapid City Rush, the ECHL postponed the season as leagues around the world were doing the same as a result of COVID-19. The ECHL eventually canceled the season, ending the dream of a Kelly Cup title for the Steelheads, who felt they were getting hot at the right time.
"We were playing so well when our season came to a close," said forward Will Merchant. "We were clicking on all cylinders with playoffs right around the corner. That's a big driver for the guys that are coming back this season. We have that itch in the back of our minds. We're ready to come out strong, like we did in the past and finish that through the whole season."
Of the 17 players in camp for Idaho, only four — forwards White, Merchant, Colby McAuley and defenseman Evan Wardley played in that last game against South Carolina. Froward Zack Andrusiak was on the roster, but had been scratched the final two games of the regular season and goaltender Jake Kupsky had appeared in two games for Idaho out of SPHL Pensacola when Tomas Sholl was called up to the AHL Texas Stars and Colton Point was out with an injury.
Outside of those six players, everyone else on the roster is new to the Steelheads. Two of them, forward Zach Walker and defensemen Matt Stief, signed contracts to play for the Steelheads last season before the team opted out in December.
"I think the first day, we were a little quiet, we didn't know each other, faces or names and putting them together," White said. "But right away on Day 2, everyone started joking, it was a little louder in the locker room beforehand. It showed in practice (Sunday), it was a lot better than Day 1. And I think (Monday) we were even better, although maybe a little fatigued with the first two days being harder. But that's the goal, being able to execute when we're tired. We're getting that way and we got a couple more days to get better."
Idaho is expected to get more players in the next week as AHL training camps wrap up and players get assigned to Idaho from Texas. But Sheen and players said that what they've seen out of the team so far through three practices is a team that has plenty of speed.
"Since Day 1, the speed has definitely been there and the execution is coming along," said Sheen. "Some guys didn't play last year, so it's shaking the rust off. But after Day 3, I think the speed an execution are starting to catch up to each other."