Yee-haw! The world premiere of the documentary, "Best Small Town Throwdown Rodeo," will be at the Egyptian Theatre in downtown Boise on Sunday, June 2, with a Q&A with the filmmakers following the screening.
Written and directed by Hope Manna and produced and shot by Manna and Kellie Allred, the story "captures the grit and perseverance of the men and women determined to rebuild the Eagle Rodeo."
I was able to wrangle some time with Manna and Allred via email to talk about the project — and what's coming up directly on the heels of the screening. (The Eagle Rodeo, natch!)
Jeanne Huff: Can you talk a bit about how this film got to be made? What was its genesis?
Hope Manna: Kellie Allred and I own a shop called Olive and Vyne in Eagle. In 2017, we were one of the sponsors for the Eagle Rodeo. During the rodeo, I was talking with one of the volunteers and mentioned how impressed I was by the organized chaos of a rodeo.
The volunteer said, "Get a good look, because we have to move."
How do you go about moving an entire rodeo from Point A to Point B? As well, how could they possibly do this in less than 12 months in time for the next rodeo season?
So I started walking around the rodeo grounds talking to people, taking pictures and video of the arena and all of the moving parts.
I immediately thought this would be an interesting story to share.
Kellie Allred: My producing partner, Hope, told me the Eagle Rodeo had to move because their land use lease in Eagle expired, and I said, "I'm in."
I have worked in the entertainment industry prior to moving to Eagle and produced many "making of" specials on feature films and thought this would be a really neat "making-of a local rodeo."
We began shooting right away and continued filming for 50 days. It was a fun experience.
JH: Why did you want to tell this story?
HM: I knew very little about the world of rodeo before we started production, and, by nature, I am inquisitive and curious. Documentaries are a wonderful way to tell stories and learn new things while taking the audience on an adventure.
The documentary is about the Eagle Rodeo and the challenge of moving the arena, but it also explores the life of the cowboys and cowgirls who compete. The documentary is action-packed and there is something for everyone, whether new to the sport or in the know.
KA: I am from Idaho, and the West is near and dear to my heart. My mom was a rodeo princess back in the '50s and we grew up going to rodeos. I wanted to share an inside look at a rodeo to all those folks who have never been to one. I also hope new people to the community will enjoy seeing the history of the Eagle Rodeo.
JH: What makes it compelling, or a "moving" story as you say?
HM: This is a hard one to pin down, Jeanne!
I was moved by how patriotic a rodeo is. Tradition is for a Rodeo Queen to hold the American flag and circle the arena on horse during the National Anthem. You really feel a deep sense of pride in that moment. There is a moving segment in the documentary that highlights a 93-year-old World War II veteran who attended the Rodeo that brings tears to your eyes in a prideful way. The emotion was unexpected and another reason why documentaries are so powerful.
One of the cowboys we interviewed for the documentary was Nolan Gillies, a PRCA Bareback rider out of Meridian, Idaho. Nolan competed for the first time in his professional career at the Eagle Rodeo, and it was the last rodeo his mom saw him compete in before she passed. He is a special young man and adds so much to the documentary.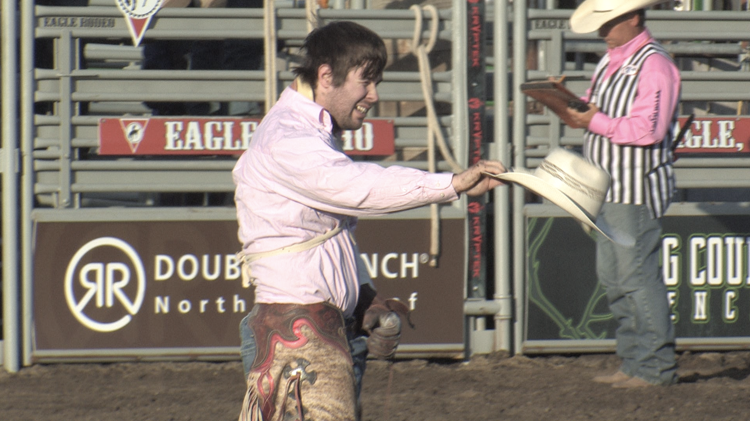 Roscoe Jarboe out of New Plymouth, Idaho, is a PRCA Bull Rider who finished sixth in the World Standings in 2018. Roscoe broke his back during a ride the previous year, and the Eagle Rodeo was his first time competing since the accident. Roscoe is the true definition of a cowboy, and his passion for rodeo is infectious. I learned so much from him.
KA: It's a moving story because of all of the cowboys and cowgirls who do everything they can to compete in the rodeo. I also admire the volunteers who work on the rodeo and the fact that part of the money from the admission tickets go to Eagle Rodeo charitable programs like the Burn Out Fund or Breast Cancer Awareness. It is a nonprofit giving back to the community in many ways.
JH: What do you hope people will take away from seeing it?
HM: I hope people will walk away with an appreciation of what it takes to put together a three-day rodeo event, and the time, sweat and commitment from over 100 Eagle Rodeo volunteers who achieved what many wouldn't dare to attempt.
I also hope that the next time someone goes to a rodeo, that they will let their applause be heard by all the cowboys and cowgirls who are competing. These are true athletes in a very often dangerous sport. When you talk with the competitors, their love of the sport shines through and they wholeheartedly believe in the western way of life.
KA: I hope people enjoy the documentary and realize "it takes longer than eight seconds to move a rodeo!"
We are also going to be doing a Q&A following the film at the Egyptian Theatre, and I hope people stay to ask questions about making a movie in Eagle on a shoestring budget, or ask a cowboy some questions about riding a bucking bronc or bull.
JH: What was the most challenging part of making this documentary?
HM: We filmed a total of 50 days and everything was outdoors. It was challenging to film against wind, rain, horses, bulls, tractors, crowds and blasting music. But Kellie and I agreed very early on that in order to truly capture the "down and dirty" spirit of a rodeo, we should film raw and exposed.
KA: We found it challenging to film in the outdoors. But we also found a group of local contributors to help us make the film, like a drone operator from Aerial Mastery who shot amazing aerial footage of the rodeo grounds, or singer/songwriter Steve Fulton who graciously donated his music for our soundtrack, or our graphics artists at Red Couch Creative who worked tirelessly to help us with the poster and print materials. We really found that Idaho has so many creative people and collectively put an Idaho stamp on our documentary.
JH: Were there any funny, behind-the-scene moments?
HM: The Eagle Rodeo team had to fight inclement weather nearly the entire time of building the new arena. Often they were working in a lot of mud. There was a day we were filming that one of their tractors sunk to its axles. In order to capture the moment on film, I also started to sink in the mud.
I have never been around livestock and was somewhat hesitant to get close to the bulls and the broncs. But if you want to tell a story, then you have to get past the jitters and get up close and personal. A good tip I received while filming the action was to stand stock still and breathe.
KA: Mutton Busting is the best! It's a segment in the documentary that gets belly laughs! So fun for the entire family. Behind the scenes we really just kept our focus on capturing the best the Eagle Rodeo has to offer, and I think the volunteers and contestants were amazing.
JH: So, the clock is ticking down to the next season — when is that and where?
KA: Tracy Baggerly (president of the Eagle Rodeo) found his dream arena in Avimor off of Highway 55, less than 9 miles away from the old location. It is a beautiful setting surrounded by sun-glazed mountains, and it speaks rodeo everywhere. The premiere of our documentary on June 2 at The Egyptian Theatre coincides with the 2019 Eagle Rodeo, which is on June 6, 7 and 8.
HM: Tickets are on sale at the Egyptian Theatre box office or via their website at EgyptianTheatre.net. Tickets are $15 and $35 with a portion of the proceeds to go toward Eagle Rodeo community programs.
KA: To learn more about the "Best Small Town Throwdown Rodeo" documentary, visit our Facebook page or BestSmallTownThrowdownRodeo.com. Check for additional screenings and special announcements for the digital release tentatively scheduled for late 2019. We hope to share our film locally as new opportunities arise.