Who says you have to leave town to have a vacation? In June, before it got too hot, two of my friends and I did a two-day bike tour around the Sunnyslope Wine Trail in Caldwell. We hit up just a few of the more than dozen wineries that pepper the area.
After a full afternoon of riding and sipping, some friends generously let us camp on their front lawn for the night. We woke up to a soft sunrise over the vineyard, with hot coffee waiting for us. We relaxed for a bit before heading out on Day 2 of adventures, which included a couple more wineries and picking cherries at Williamsons Orchards.
My only hesitation in touting a bike tour in this area is safety. There aren't bike lanes, and, though we tried to avoid it as much as possible, we did have to do some stretches along Highway 55. If you go, be smart. Wear a helmet. Choose a route with quieter roads when possible. Take it easy on the wine sipping. Bring a pump, use bike lights, be a good person — you know, all that stuff your mom tells you.
One of the coolest things for me about this adventure is that it was right there in our backyard. Our starting point, Hells Canyon Winery, is only a 45-minute drive from Boise.
Plus, smelling the mint and seeing the Snake River gave me all sorts of nostalgia. I grew up in south Nampa, and my dad used to take me on motorcycle rides in the Sunnyslope area. It's so fun to travel it on a bicycle because you notice every crop that's growing and sense every incline and decline in the road. Work hard for those uphills, fly down the downhills. I was so happy I felt like a little kid (and no, that is not the wine talking).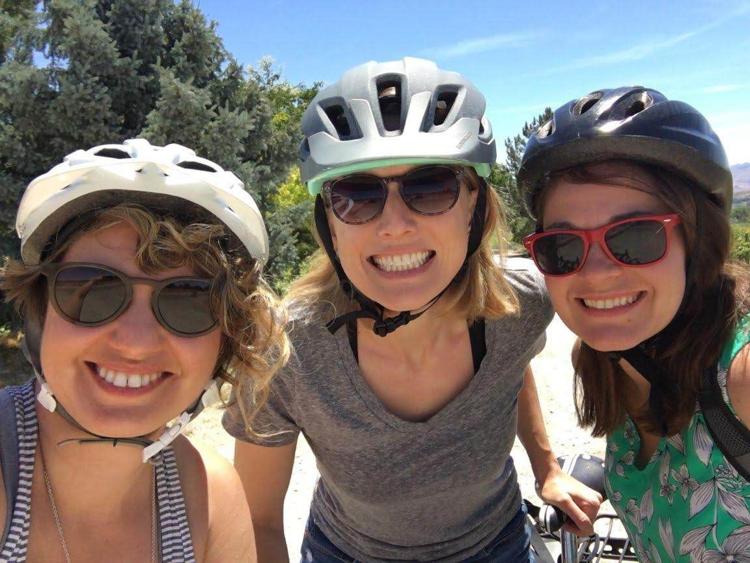 Here are some routes and tips from our tour, but there are so many more wineries to visit. Choose your own adventure and get out there!
Stretch one: Warm-up ride
Start: Hells Canyon Winery, 18835 Symms Road, Caldwell
End: Sawtooth Winery, 19348 Lowell Road, Building C
Distance: 1.7 miles
Climb: 164 feet. Drop: 135 feet
Route: West on Symms Road, then a right on Chicken Dinner Road, left on Lowell Road.
This is a quick way to get in the biking spirit, and you don't have to go too far before that first refreshing sip of a crisp white wine (oh, but the deep red Syrah was amazing, too). Sawtooth has a fun little outdoor patio, and we got to see a bottle-opening demonstration involving champagne and a sword.
End: Fujishin Family Cellars, 15593 Sunny Slope Road
Distance: 3.6 miles
Climb: 207 feet. Drop: 279 feet
Route: Go left on Lowell Road, toward Chicken Dinner Road. Take a left on Chicken Dinner, then another left on Apricot Lane, then right on Highway 55 for the last half-mile. We tried to keep our route off the highway as much as possible.
This is a bit of a longer stretch — a good chance to soak in the sights and smells of wine country. Fujishin has cool artifacts in its tasting room — an old telephone booth, apple peeler, big old scale — that are a nod to the site's history. I loved the relaxed and homey vibe.
Oh, I was also pleased to see some crackers on the counter for snacking on. Didn't realize until later that those were probably just meant for cleansing your palate between tastes! Whoops.
Stretch three: Feeling good
Start: Fujishin Family Cellar
End: Koenig Vineyards, 21452 Hoskins Road
Distance: 1.8 miles
Climb: 72 feet. Drop: 194 feet
Route: North on ID-55, then left on Hoskins Road. Turn to stay left on Hoskins.
Koenig had a completely different feel to it than Fujishin — newer, bigger, fancier. Both were fun; I liked the variety. I ended up buying some bottles of dry Riesling at Koenig. I got enticed when I heard there were only six bottles left in the batch — can't pass that up!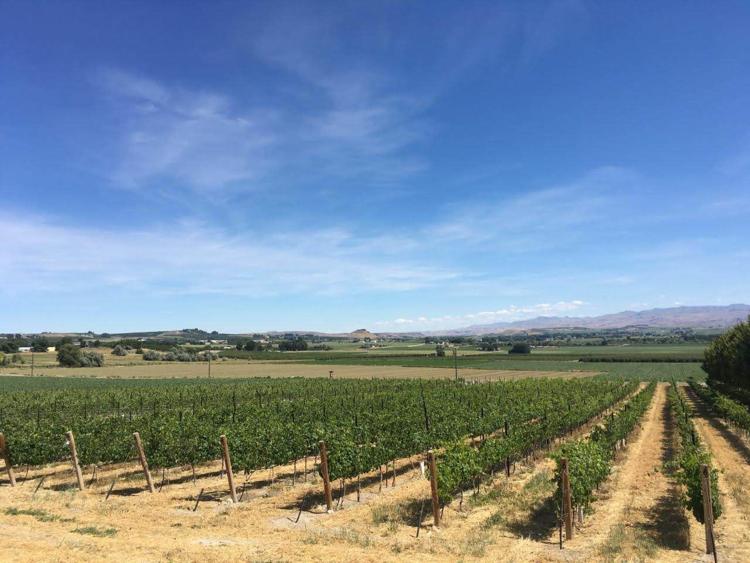 Stretch four: Climb, baby, climb
End: Vine and Branch Ranch, 20023 Hoskins Road
Distance: 1.4 miles
Climb: 157 feet. Drop: 0 feet
Route: Head east on Hoskins Road toward Plum Road. Destination on left.
Did you notice that climb/drop ratio? This one is sure to get your heart pumping. When my legs start to burn uphill, I just focus on the next telephone pole or mailbox ahead of me and say, 'I can make it to that, at least.' Before I know it, I'm at the top. Take a break and soak in the amazing farmland views.
Plus, Vine and Branch is a worthy reward for any hill climb! Such fun colors and design in a creative atmosphere. I learned here that morels belong in ice cream — it's amazing. My friends and I split three ice cream flavors and came back for more the next day (and pasta). So good! You can also get some local kombucha — a refreshing changeup after a couple of hours of being in the sun.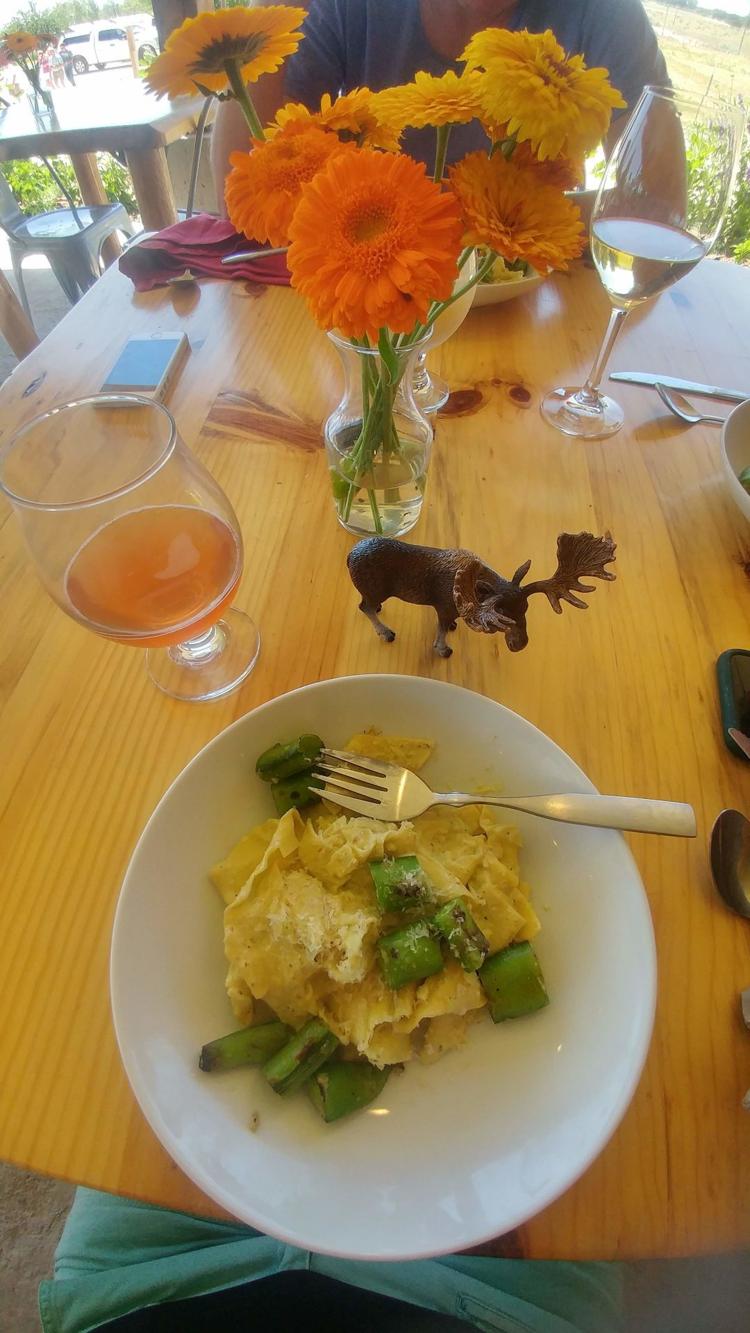 End: The Orchard House Restaurant, 14949 Sunny Slope Road, Caldwell
Distance: 2 miles
Climb: 49 feet. Drop: 174 feet
Route: Head west on Hoskins Road (away from the highway), then left on Frost Road, then on Apricot Lane. Turn right on ID-55 for a short distance; restaurant will be on the right.
No, our ice cream did not spoil our dinner. The nice part about biking everywhere is rewarding yourself with yummy food. I recommend the shrimp salad!
We called it a night after dinner and set out for more adventures on Day 2. We rode toward Lake Lowell and made our way to Scoria, just over 3 miles away. Scoria is a newer winery with a very cool tasting room — it's modern and minimalist, yet warm and welcoming.
The owners are a young couple, James and Sydney Nederend, who recently bought Koenig Vineyards from local wine industry staples, Greg and Kristen Koenig. The Koenigs founded the business in 1995 and are now looking to focus on Fraser Vineyard, which they recently bought in Boise, according to Great Northwest Wine.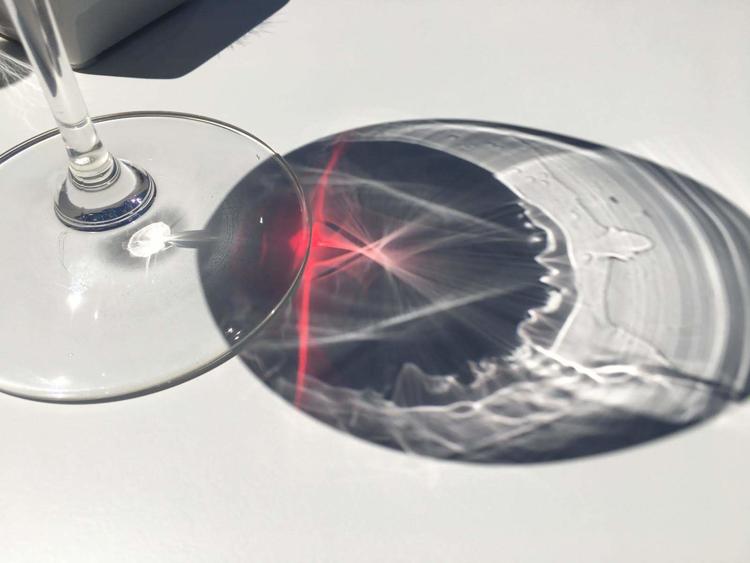 I was inspired to see what the Nederends have done with Scoria, especially at such a young age. Sydney Nederend was just 23 when they harvested their first crop of grapes in 2016, the Idaho Press reported. The name Scoria refers to the volcanic rock in the vineyard's terrain.
"Our land lies on a dormant volcanic vent — and it's perfect for growing grapes," Sydney Nederend told Adventure.com last year. "When I started planting, the area was all sagebrush and cactus … now it's vines."
Scoria is looking to open a second location in the Tenth & Main building in downtown Boise this winter. I'm excited for this — it'll be like a mini bike tour from my apartment.