One night in the early 1980s, Boise Police Chief Bill Bones — in fifth grade or so at the time — watched his dad, then a Malheur County Sheriff's deputy, reach for an assault rifle and don a bulletproof vest. It was late, maybe 11 p.m., and his dad had received a call about a possible sighting of Claude Dallas, who had murdered two Fish and Game wardens in Owyhee County and who had evaded police for months. Bones' dad — also Bill Bones — would respond to the call alone.
More than 20 years later, Boise Police Officer Connor Burch, then still a child himself, would see photos of his own father, another Boise police officer, in SWAT gear. Those photographs stuck with him; he admired them as a kid.
"It's a cool picture, it's a cool image, it's a cool thing," Burch remembered.
Neither Burch nor Bones wanted to be a police officer like their fathers when they were younger; the realizations came to them when they were older. And while it's common in other parts of the country for children of police officers to later join the force, it's been less so in Boise. Still, Bones thinks that might be changing. Already, he estimated, there are about a dozen father-child officer pairs in the department, including Burch and his father, Capt. Paul Burch.
"What policing is in Boise — I think it draws more second-generation officers," he said.
'BEEN AROUND COPS HIS WHOLE LIFE'
On the night Bones' father received the call about Dallas, which turned out to be a false sighting, the younger Bones was old enough to understand the realities of police work.
"That night I thought, 'This was one where dad was in danger,'" he said.
But it wasn't unusual for his father to have to leave at odd hours. There were holidays when the elder Bill Bones didn't get much time with his family, sometimes only on call, in uniform. The future Boise police chief grew up familiar with the sounds of a police scanner. He knew the job was difficult.
"It's horrible hours ,and you're always on call, and I saw the toll it took," he remembered.
Paul Burch, who has worked as a police officer for 18 years, and in Boise since 2001, was also candid about the commitment police work requires from a family. Historically, when a police officer retired, a department usually honored a spouse as well as the officer.
"The other side of it is it really takes a lot, for the whole family," Paul Burch said. "You'll hear people talk about it all the time."
As a child in Salinas, California, Connor Burch accompanied his father to the police department gym five days a week sometimes, where his father played Metallica and the Offspring while working out. Paul Burch said he'd spend time with other police officers and their families, and thus his son was no stranger to law enforcement.
"He's been around cops his whole life," Paul Burch said.
Yet, while both were proud of their sons, neither the elder Bill Bones nor Paul Burch expected them to become police officers. Paul Burch had concerns, knowing how stressful the job could be.
"I wasn't looking for him to enter this career," he said. "There were other careers I'd hoped he'd pursue."
And both Bones and Connor Burch thought about it. Connor Burch considered being a veterinarian before deciding in his late teens that he wanted to be a police officer. That was before he began studying criminal justice at Boise State University, with the intention of working in law enforcement.
"(My dad and I) had a conversation about it," he said, of that choice.
Want more news like this in your email inbox every morning?
"But don't get me wrong — I'm proud of the fact he did it," said Paul Burch.
For Bones, the decision came later in his college career. He'd majored in management studies for most of it before he decided to become a police officer. Ultimately, his reasoning wasn't much different from his father's — he wanted to be out in the world, meeting people and helping them. Even as a kid, listening to emergencies come in over the scanner, he knew his father would be joining the situation to help people. The elder Bill Bones eventually became a paramedic, because he so often responded to emergencies where the closest medical help was 45 minutes away.
At first, the younger Bill Bones surprised himself with his career choice.
"But then, you also realize it's in your blood," he said.
When the future police chief joined the Boise Police Department in 1992, it was his father who pinned his first badge to his chest.
"That was his proudest moment, I think, for me," he said.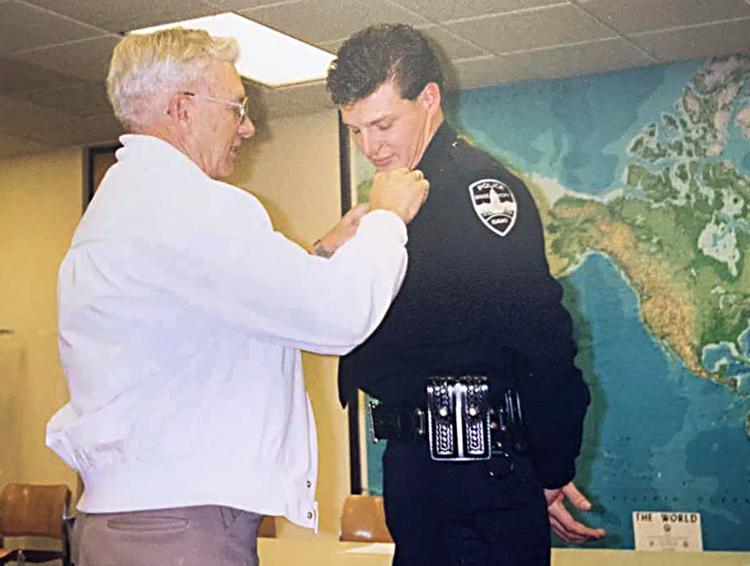 Connor Burch would have worked at a police department anywhere, he said, but Boise was always his first pick. It wasn't because his father worked there — he said he appreciated the high standards the department had, its level of specialization, and its in-house police academy. Since March, when he finished his field training period, he's worked the night shift on his own.
He estimates about 50 percent of the calls he handles don't involve the actual commission of a crime — they involve people who need help. His job, then, is to help however he can. The way officers do that has changed drastically from when his father started as an officer in 1990.
"The scope of what law enforcement does has increased since he was working (early on)," Connor Burch said. "It's a lot more community-oriented than it was back then."
Bones agreed and knows the job has changed even more significantly since his grandfather became an Oregon State trooper roughly 75 years ago. But working with an established community — as opposed to the more scattered interactions a state trooper might experience — is one of the things he loves about the job.
Paul Burch has also seen the ways the job has not changed, however.
"People themselves don't really change," he said. "But society has changed, and the demands on police officers have changed."
To that end, Connor Burch said he's glad to have his father in the department. Like every police department, Boise has a culture all its own, and he appreciates being able to talk to someone close to him who has institutional knowledge of it.
Plus, sometimes it's fun to simply trade stories, and they do that enough for other people in the room to lose interest, they said with a laugh — a rookie officer and an 18-year-veteran, comparing notes.
"He'll have to up his game if he wants my attention," Paul Burch said with a smile.