BOISE — For the past half-century, Ada County, the state's largest population center, has been split between the state's two congressional districts, diminishing its residents' influence in any individual congressional race.
But what if that were to change? The state's bipartisan citizens redistricting commission has developed two draft maps for new congressional districts in Idaho, which it will present at five public hearings in the Treasure Valley this week; additional public hearings will follow around the state. One keeps the dividing line between Idaho's 1st and 2nd congressional district cutting through Boise, simply shifting it to the west to reflect population shifts. That's what's happened every 10 years for the last 50 now.
The other offers a different approach: It creates a new congressional district for the Treasure Valley, by carving out a big rectangle from the southwestern quadrant of the state to be Idaho's new 1st District, while the new 2nd District would take in the rest of the state — including all of North Idaho and eastern Idaho.
"I would be dishonest if I led anybody to believe that I support just a Treasure Valley district, I don't," said Bart Davis, co-chair of the citizens commission. "But I also think that we owe it to the public to include it, so that people can understand that there is a different way to divide the state, and get the public input."
Said Dan Schmidt, the panel's other co-chair, "The congressional plan might have more interest than it has in the past because of this.
In the past, we have split Ada County, and maybe we don't — maybe that isn't the right way to go. But I think it'll be interesting to hear public input."
Redistricting commissioners are forbidden by law from taking into account any partisan political considerations — including the fate of incumbent legislators or congressmen — when they draw new legislative and congressional district maps. But a change like this one could have earthshaking effects in Idaho politics.
"It's important to be able to have some of these public hearings and things, to … see what citizens' reactions are to something like this that would fundamentally change some elements of how our congressional districts have been designed or drawn in the state," said Boise State University political scientist Jaclyn Kettler.
There will be five public hearings in the Treasure Valley this week, starting Wednesday at 1 p.m. in Caldwell and 7 p.m. in Nampa. Hearings in Meridian and Boise will follow on Thursday, and another will be held in Eagle on Friday. It's the first round of public hearings that will take place in every region of the state; there also will be an all-remote hearing held in Boise on Oct. 12 to accommodate anyone who wants to give remote, rather than in-person, testimony. That's because the commission's staff concluded there were "too many moving parts" to try to accommodate remote testimony at all the remote hearings, said legislative staffer Keith Bybee.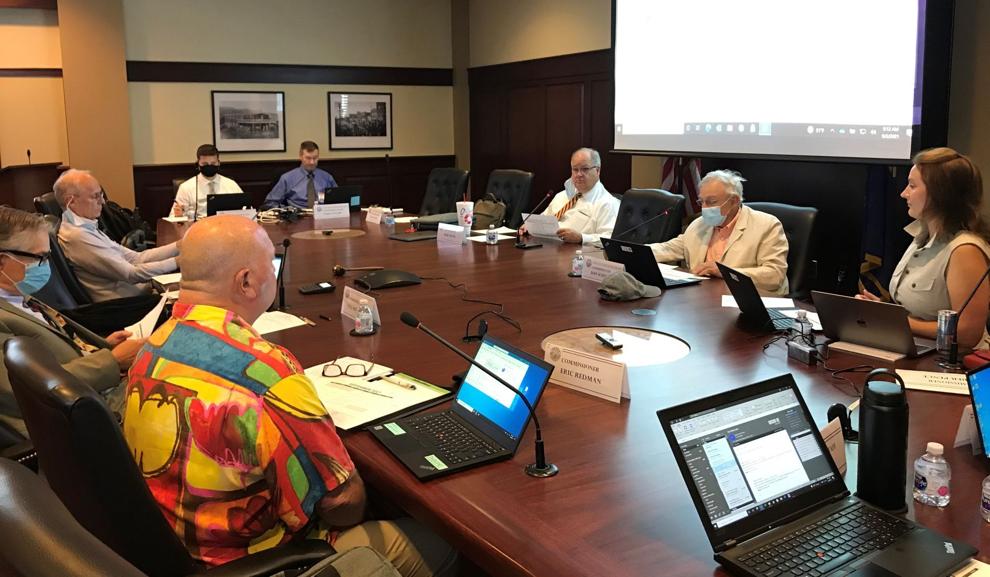 All the hearings will be audio-streamed online; the Boise hearing Thursday, which will be in the Capitol's Lincoln Auditorium starting at 7 p.m., will be both audio- and video-streamed, through Idaho Public Television's "InSession" streaming service. All the streams also will be archived for later viewing.
"I'm going in with listening ears," said Davis, the former longtime Idaho Senate majority leader.
"When I was a legislator, I many times went into a committee hearing pretty certain of how I was going to vote on a bill," he said, "but I'd start to listen to the debate and the presentation, and frankly, there were times afterward that I felt better even about the vote that I initially was inclined toward. But … often, I would hear something I had not thought about, I had not contemplated. And it influenced and changed my vote. I have a great hope that a similar kind of conversation can occur about how to draw the lines."
Commissioner Tom Dayley, a GOP commissioner from the Treasure Valley, agreed. "This week is our Treasure Valley focus," he said. "We would hope that the citizens of the Treasure Valley come in and help us with the process. If you've looked at the maps and you've tried to draw the maps, you've realized that it's like a balloon — you poke your finger in one place, and it pokes out another place."
"That's why … the Constitution requires us to go around the state and take public comment," Dayley said, "so we can fit those pieces together appropriately, so that we don't mishandle one portion of the state to the benefit of another portion of the state."
Commissioner Nels Mitchell, a Democratic commissioner from Boise and an attorney, said, "If you read the statute, we should be trying to avoid dividing counties, even with the congressional districts. … In my opinion, we should be attempting to draw a congressional district that does not divide counties."
Said Mitchell, "You can draw it three, probably four different ways."
Schmidt, a Democrat from Moscow, said, "How do the locals see themselves better served? … I'm not familiar with that community, but I'm hoping the folks that testify can give us why they think it's important."
The commission has developed one draft legislative district map and the two congressional maps to show ways the lines can be drawn to meet the various constitutional and statutory requirements, at the top of which is balancing population between districts for equal representation. Idaho's current districts are way off by that measure, due to uneven population growth around the state since the last U.S. Census a decade ago.
Commissioners have described the draft plans they've drawn so far as the "throw rocks at" plans, which they've drawn as simply a starting point for discussion.
"None of us think this is the final plan," Schmidt said. "None of us are going to go out there and defend this. We want to get it up there to get folks thinking, to get folks talking, and we need to hear local input."
Mitchell said, "If I had my druthers, we would certainly not be dividing Boise. Over the years, I've lived in both the 1st CD and the 2nd CD, and it never really made sense what it was."
Davis, who is from Idaho Falls, said as far as the congressional districts, "I think that Idaho has been well-served for many years with the approach that we have had, and I think that is a very good model to follow going forward."
Kettler, the BSU professor, said the longstanding division of Ada County between congressional districts has served as a "check on the 'Great State of Ada,'" as some lawmakers from other parts of the state derisively term the state's most-populated county.
"By keeping it together, it might make it easier for the Treasure Valley to address issues cohesively or try to have that representation in Congress, really focused on the concerns related to growth in the Treasure Valley, transportation issues, things like that," Kettler said. "It may help in some ways make for a more cohesive focus of representation of concerns."
Members of the public also can try their own hands at drawing legislative or congressional districts and submit those to the commission for consideration; several already have. That option is available online at redistricting.idaho.gov.
"I'm impressed that folks are working on plans of their own and submitting 'em to us," Schmidt said. "It took us, six people, quite a few hours of kind of scratching our heads and moving lines around and checking numbers and even then, none of us thinks this is the final plan."
The hearings will open with an introduction, including the legal criteria for redistricting and the presentation of the draft plans. Then members of the public will be invited to give their input.
"I don't know that any of us are married to the plans that we've put out there," Davis said. "They really are intended to invite a public conversation."