BOISE — The Idaho House Ethics Committee on Thursday voted unanimously to take the strongest possible actions against Rep. Aaron von Ehlinger, R-Lewiston, calling for his immediate suspension from office and for the House to expel him. Less than three hours later, he resigned rather than face an expulsion vote.
Committee members strongly condemned the behavior of the freshman state representative, who is accused of the rape of a 19-year-old House intern, plus pursuing, dating or asking out a total of four women employed in the Capitol this year, including, in some cases, sexual contact.
It would have taken a two-thirds vote of the House to expel von Ehlinger, and a majority vote to suspend and censure him.
"I maintain my innocence of any wrongdoing," von Ehlinger said in his resignation letter.
The Boise Police Department has a criminal investigation underway into the rape allegation. Von Ehlinger, who has not been criminally charged, maintains the sexual encounter with the young intern was consensual, the Associated Press reports.
The purpose of the committee hearing was to determine if von Ehlinger's conduct was unbecoming for a representative and to recommended action for the House to take.
Rep. John McCrostie, D-Garden City, said, "I'm not persuaded by the ad nauseum repetition of whether a specific policy exists. Common sense and basic morality dictates that an elected representative should not entertain a relationship with a student intern, regardless of who initiated the relationship. We heard with similar ad nauseum repetition how the representative should have known better."
In his single term in the House, McCrostie noted, von Ehlinger had been warned multiple times about his behavior with women in the Statehouse and undergone two "respectful workplace" trainings. "And yet in that amount of time he has pursued four different women with ties not just to the Legislature but … to the Idaho House."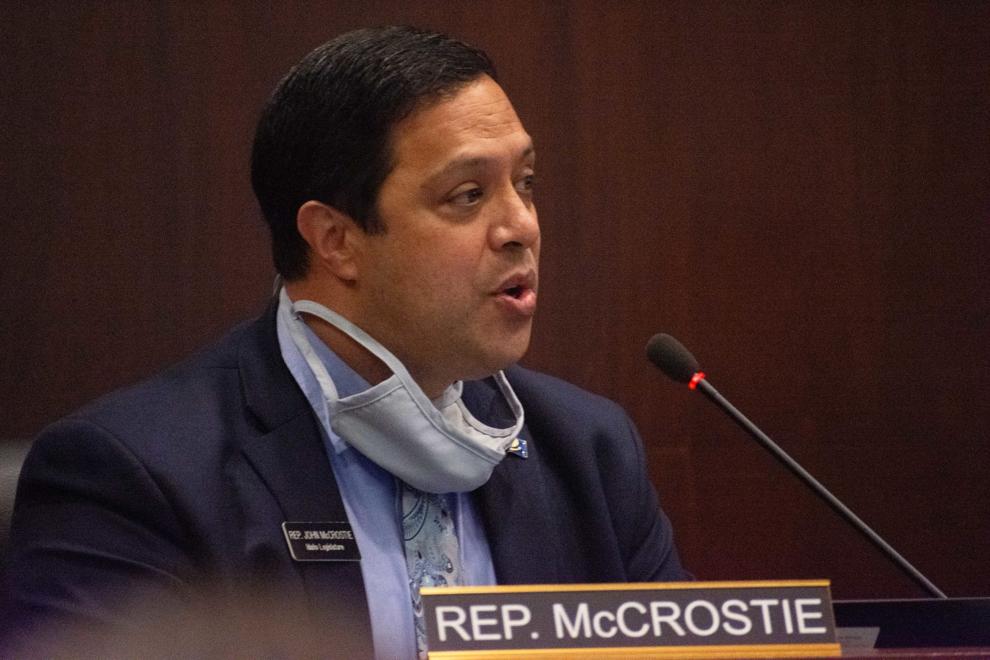 "This pattern of behavior of not only ignoring counsel on appropriate workplace boundaries but also pursuing relationships, including sexual relationships, within the House creates an unsafe environment in the House for any women that the representative may be interested in dating," McCrostie said, adding, "although at least women who wear wedding bands will supposedly be off limits."
That was a reference to Wednesday's testimony that von Ehlinger asked out a House staffer in part because she wasn't wearing a wedding band, though she was married. The staffer reported the incident to her supervisor.
Rep. Wendy Horman, R-Idaho Falls, said, "There is no House rule against poisoning another person, yet his behavior has poisoned the reputation of all of us."
Rep. John Gannon, D-Boise, said, "For those who work and serve as interns in the Legislature, they have rights and expectations too. I was an intern once, well, several times, and so was my daughter. And so were your children and your family members. And they have a right to have a respectful, helpful workplace and a safe workplace for them. And a good positive experience."
Rep. Brent Crane, R-Nampa, said, "There was indeed a predatory pattern that was established."
"History will judge us by our actions today," Crane said.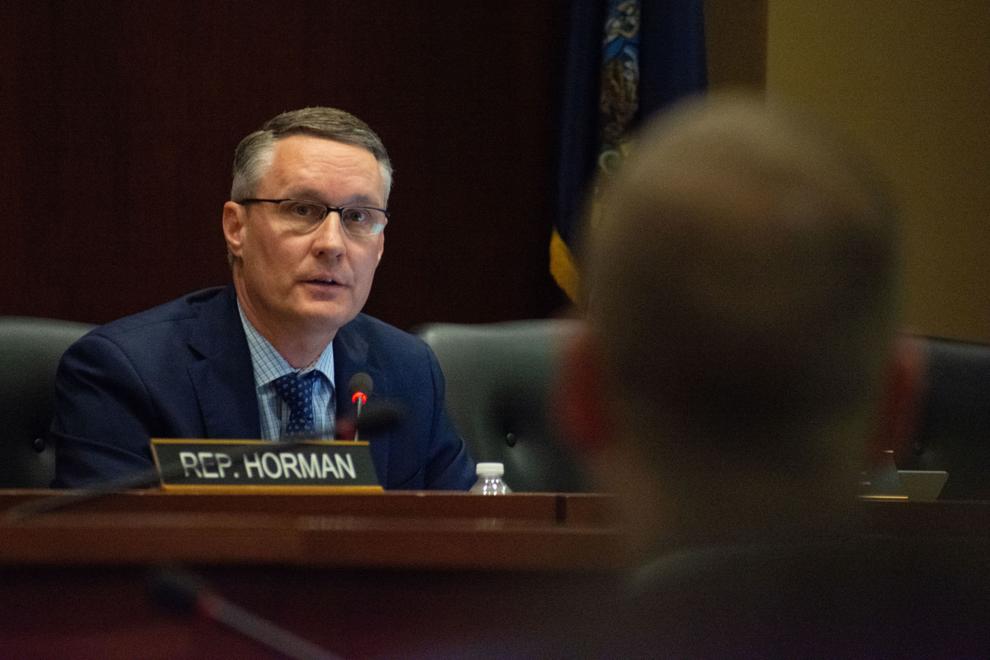 The committee's unanimous vote called for censuring von Ehlinger with the conditions that he immediately be suspended from service without pay or benefits for the rest of the current two-year legislative term, which runs through next year; that he immediately vacate his Capitol office and not return to the Capitol grounds for the remainder of the two-year term; and that a substitute be appointed to represent his legislative district. The panel also voted, in the words of Horman, who made the motion, that "we would unanimously support a procedurally proper motion before the House to expel Rep. von Ehlinger for good cause shown under … the Constitution of the state of Idaho."
The panel also voted to hold von Ehlinger in contempt for refusing to answer the committee's questions during his testimony on Wednesday, citing his Fifth Amendment rights against self-incrimination; and strongly condemned audience members who defied the committee's stated rules for the hearing and filmed the young victim, identified only as "Jane Doe," as she left the Statehouse hearing after her testimony on Wednesday, then shared the images.
"We are horrified by what happened after her testimony yesterday," said a joint statement Thursday from the 19-year-old's attorney, Erika Birch, and Annie Hightower with the Idaho Coalition Against Sexual and Domestic Violence. "… Again we urge the House of Representatives to show up for the teen survivor and all the other women who have been violated or made uncomfortable by von Ehlinger's conduct. We demand accountability and immediate removal and expulsion."
Horman on Thursday said, "This committee has gone to great lengths to protect the identity of the intern. The committee has never released her name. We protected her visual identity when she chose to testify … and we asked all in the room, including the press, to do that as she entered and exited the building." She said the committee "will also be inquiring further into that incident."
The Capitol Correspondents Association, which is responsible for credentialing reporters who cover the Idaho Legislature, announced Thursday afternoon that it was revoking the press credentials of a TV reporter, Emri Moore of CBS2, for filming the victim after her testimony "in direct violation of the announced rules for press coverage of the hearing, as well as in violation of widespread best practices adopted by nearly every major news media organization in the country." The station apologized and said the video wasn't aired or shared and has been destroyed.
Birch, Jane Doe's attorney, said Thursday that while she was told earlier that Doe would be served with a subpoena requiring her to testify, she never was served; her attorneys told the committee they "were not accepting service on her behalf because we thought it was abhorrent to require her to show up and relive what happened to her at a public hearing."
"Then she chose to show up and testify," Birch said. The young woman testified from behind a screen to guard her privacy. Birch said her attorneys were concerned, "But she did, bless her heart, show up and tell her truth."
Gov. Brad Little, who appointed von Ehlinger to the seat in June to fill a vacancy, said he supported the committee's recommendation for expulsion. Von Ehlinger, before being appointed, had won the GOP primary for the seat; the election took place after the death of the incumbent, Rep. Thyra Stevenson, whose name remained on the ballot because she died after the deadline to withdraw it. Von Ehlinger faced no challenger in the November general election.
The governor stated, "I applaud Jane Doe and the other brave women for their courage in telling their stories and participating in this process to hold Representative Aaron von Ehlinger accountable for his deeply damaging and shameful actions. … Being elected by the people and serving in a legislative body carries immense weight and responsibility to act with dignity, civility, and integrity at all times. State elected officials are held to a higher standard. … Now, the public expects the full Idaho House Representatives to carry out the recommendation of the committee and ensure the integrity of the Idaho Legislature."
House Democrats, in a statement Thursday, "We are in awe of Jane Doe's bravery in coming forward and testifying before the House Ethics Committee. We also applaud the other women who spoke during the hearing and shared their stories. It takes a tremendous amount of courage to make a report and participate in such a public process."
"If we are to eliminate sexual assault and abuse, we must create an environment for safe, supportive reporting by survivors," the Democratic statement said. "We are deeply disappointed that at least one lawmaker, a journalist, and several audience members at the hearing sought to reveal Jane Doe's identity and further traumatize her."
Rep. Priscilla Giddings, R-White Bird, posted a link to a far-right blog's story about the case that included the young woman's name, photograph, and personal information in both an electronic newsletter to her constituents and on her Facebook page; she defended her action in testimony to the Ethics Committee on Wednesday, saying, "If Rep. von Ehlinger's name was going to be made public, I believe that everybody should be innocent until proven guilty, and that both sides of the story should be equally represented."
Giddings, in her newsletter, also called the ethics case a "blatant liberal smear campaign."
The far-right blog post, from "Redoubt News," was edited Wednesday to remove the young woman's name and photograph, the AP reported.
House Speaker Scott Bedke, in a statement Thursday afternoon, thanked the young intern "for her incredible courage and determination in testifying in front of the Ethics and House Policy Committee yesterday." He said, "After a transparent and fair hearing, the committee accurately determined that von Ehlinger engaged in conduct unbecoming a member of this House. His behavior is something we will not tolerate and casts a shadow over the good work done in the Idaho Statehouse."
Birch and Hightower, in their joint statement, said, "The unrelenting harm that has occurred as a part of this process, and as a result of her being doxxed in blogs and by Rep. Priscilla Giddings, is exactly why two-thirds of Idaho survivors of sexual assault never choose to report the crimes against them. Every time a system fails to protect survivors it reinforces why survivors of sexual violence choose not to report and to suffer in silence."