Leslie Pedrosa felt like Valley Regional Transit's service wasn't adequately serving people in Canyon County. As the organization's operations director, she observed stagnant ridership and people unhappy with buses' efficiency.
After brainstorming potential solutions, VRT came up with an on-demand service that launched in October. Because of the COVID-19 pandemic, there was no big launch to kick off the service.
VRT's three fixed routes in Canyon County disappeared and were replaced by the on-demand service accessible via a smartphone app, website or phone call. Instead of having three bus lines, now the only way to take a Valley Regional Transit bus route exclusively within Nampa and Caldwell is to schedule a trip on your own.
Seven months into using the on-demand service, Pedrosa views it positively. While other on-demand bus services exist, she said she believes Valley Regional Transit's is the only one in the United States that transitioned from a fixed route service to an on-demand service.
"I think it'll be successful because it's unique. It's kind of the way of the future," Pedrosa said. "Everybody wants to do everything now, using their phone. Everything is so technical now. This just plays into what everything is transitioning to."
The on-demand service comes with some restrictions. Riders still have to meet buses at certain locations. Wait times could still reach up to 30 or 40 minutes. But the new system allows riders to dictate when and where they go rather than having to follow whatever the schedule tells them.
"The onus is on the passenger to schedule rides, which I think we made very easy to do," VRT community relations manager Mark Carnopis said. "You can work on your own schedule."
As a result, VRT went from about 120 bus stops to close to 250 available locations where riders can be picked up or dropped off. The increase is due to what VRT calls "virtual bus stops," which don't have signage designating the stop.
The extra stops mean an increased service area to places such as Amazon's fulfillment center and the Idaho Centennial Job Corps, places VRT didn't reach before. In the old system, riders occasionally waited up to an hour for a bus, which Carnopis said isn't a good way to attract people.
Operating the on-demand bus system has cost less than running the fixed routes, Pedrosa said. Essentially, VRT just shifted how it uses its money.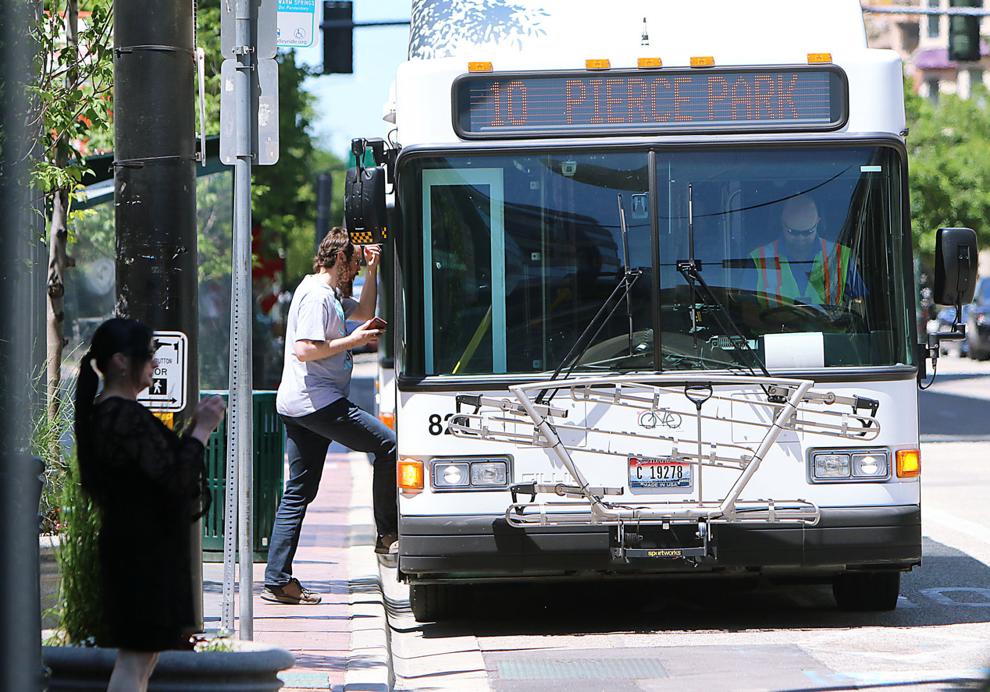 The format of the on-demand service has led to decreased overall revenue hours because VRT has honed in on when buses are needed. It's also led to more miles because on-demand service lends itself to more back-and-forth trips than a straight path.
"The biggest challenge we have is it's a long distance between Nampa and Caldwell mileage-wise," Pedrosa said. "If everyone is in Nampa wanting to get a ride at that time and someone in Caldwell requests a ride, they may not be able to get a ride right away. That's where we're able to take one bus from Nampa, send it over to Caldwell so that person can get the ride."
Bus driver Angie Gleason has received mostly positive feedback from riders. Since there are more available locations to be picked up, they can stay indoors until the bus is about to arrive rather than having to wait at the stop. Two minutes before the bus arrives, riders receive notifications the bus will be there soon.
Then, they can go to their destination rather than having to wait for the full loop in a fixed route.
Though frequent riders no longer have a schedule, Gleason said they've begun figuring out how long in advance they need to book their ride.
And from a drivers' perspective, Gleason likes exploring new places rather than constantly driving between the same stops.
"I think the riders are really happy. I know the drivers really enjoy doing it," Gleason said. "I think it's a win-win for everybody."
Thus far, 52% of users have booked rides via VRT's on-demand app or website while 48% have set up rides via phone call.
With fixed routes in Canyon County, VRT averaged around four to five boardings per hour, Pedrosa said. Her goal is for that number to hit 10 with on-demand service. In January, VRT had 2.93 boardings per hour, compared to an average of 5.29 in January 2020. In the winter, though, ridership often dips, and the pandemic played a role in diminishing ridership.
In February, there were 4.23 boardings per hour, an increase from 4.18 in February 2020. The average wait time in February was 23 minutes and the average time on the bus was 18 minutes. Those are both big decreases from the fixed route system, Pedrosa said.
"We are definitely moving in the right direction," VRT project director Dave Fotsch said.
VRT's leaders hope their initiatives inspire people to become more frequent riders. For now, the organization's biggest push in Canyon County is growing its on-demand service.
"We hope people take notice," Fotsch said, "and ride the bus."