While most of the nation has seen growth taper off during the ongoing COVID-19 pandemic, Idaho has experienced the opposite phenomenon. Between 2019 and 2020 the Gem State had the fastest-growing population in the country, according to data from the Idaho Department of Labor.
More people, naturally, has led to more activity on the area's roadway system – a situation particularly noticeable in the greater Boise area, which also includes cities such as Meridian and Eagle.
"Eagle, Meridian, Kuna, even Star to some degree, have all experienced increases in traffic," said Shawn Martin, the traffic services manager for the Ada County Highway District. "Southwest Boise, you know, Lake Hazel, Victory, Maple Grove, Five Mile all that area that's south of the interstate and to the west, they've experienced a lot of growth as well."
Now, 18 months into the pandemic, traffic has largely rebounded to pre-pandemic numbers with some areas of the Treasure Valley seeing all-time highs in traffic volume.
Margaret Pridmore, the Idaho Transportation Department's roadway data manager, has noticed similar trends in traffic volume.
"When I'm looking at traffic trends in Boise's urban area, what we've been seeing in general, up until 2019, has been primarily some pretty significant growth, particularly in the Meridian area," she said.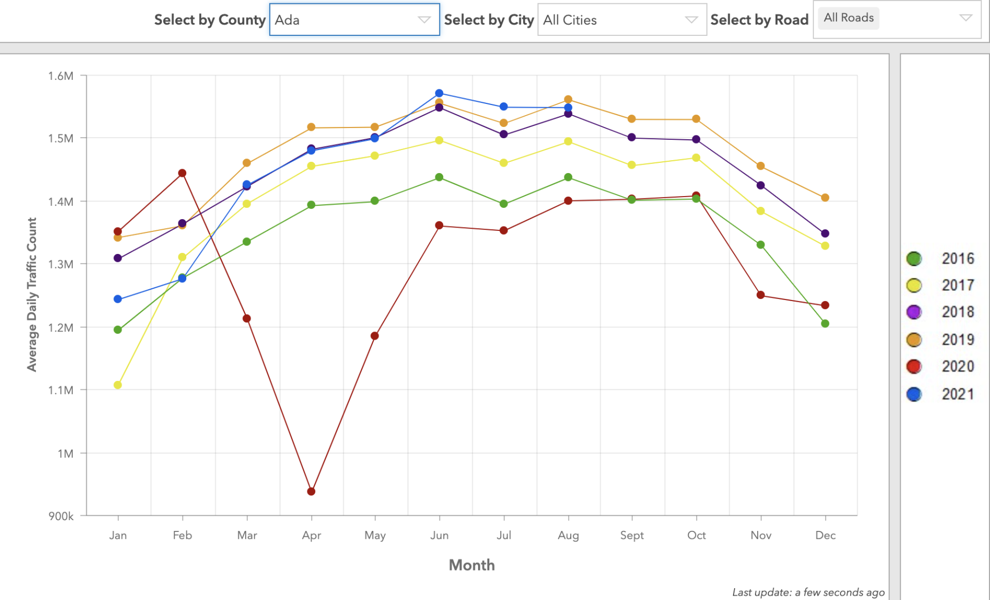 This predictable pattern took a sharp turn in 2020 as the highly contagious coronavirus swept across the country. The Treasure Valley's traffic trends, like everything else in 2020, took a turn from normalcy during the atypical year.
Scattered throughout the Treasure Valley, the Idaho Transportation Department has 76 automatic traffic counters on its interstates, highways and arterials. The counters take the total number of vehicles and divide it by the number of days in the month so that it can come up with what an average day looks like for traffic.
One such counter is located on Interstate 84 west of the Franklin Road (Caldwell) Interchange. Data from this recorder provides insight into how chaotic COVID-19 has been for traffic trends.
The average weekday traffic volume in February 2020 was 58,279, a slight increase of 4,230 from the previous year. The following month, on March 11, 2020, the World Health Organization declared COVID-19 a global pandemic.
Consequently, comparing April 2019 to April 2020 reveals a substantial drop off. The average weekday traffic volume dipped from 61,343 to 46,889 – a decrease of 14,420.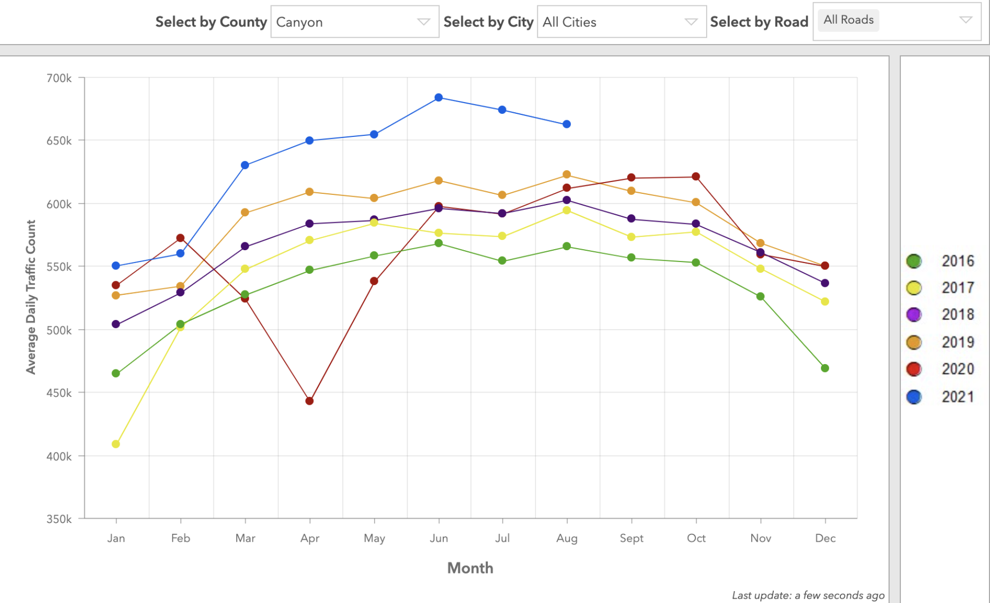 "In 2019 nobody saw (the pandemic) coming, and we were just kind of going on our merry way and things were kind of what they had been the year before," said Mary Ann Waldinger, the principal planner for the Community Planning Association of Southwest Idaho. "And then 2020 definitely hit, and we saw a precipitous drop. April was probably our lowest month because of the stay-in-place order."
Idaho's stay-home order, issued in late March 2020, was coupled with businesses closing and schools moving to remote learning.
"There wasn't any reason to be out," Waldinger said. "And then many of us were asked to go home and work from home if we could and our jobs allowed for it."
Amidst this backdrop, a deep drop in traffic volume was seen throughout the Treasure Valley. Comparing April 2020 with April 2019, Idaho Transportation Department data shows that traffic volume decreased substantially. I-84/I-184 experienced a 35% decline, while the state highways experienced a 25% decline. For the arterials, the number stood at a 36% decline.
These percentage differences had already began to shrink by June 2020. By then, the traffic counts on I-84/I-184 were down just 11%. The state highways and arterials were down 6% and 13%, respectively.
Now, with the start of the pandemic further and further in the rearview mirror, traffic trends have been creeping back to normalcy throughout the Treasure Valley with 2021 traffic volumes beginning to catch up – and sometimes surpass – volumes from 2019.
This is particularly noticeable the farther west one goes from Boise's city center. It is this area, after all, that has seen the most substantial growth in recent years.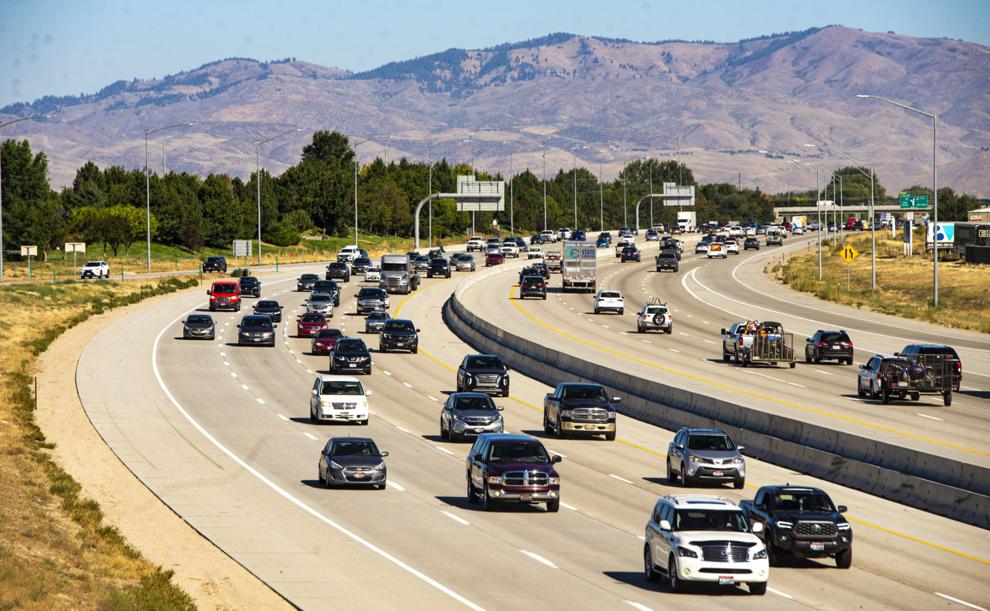 "If you look at all these roads, traffic now in 2021 is higher than it was even in 2019, which goes along just to show if you have people moving to the area, you have houses being built, developers then not only will build the houses, they're going to build all the commercial to serve the houses," Martin said. "All of those are traffic generators and that's what's going to increase your traffic."
However, the roadways leading to downtown Boise have been slower to recover and rebound to pre-pandemic levels.
"If I'm looking at traffic trends today, what I'm seeing is that, overall, the Boise urban area is still a little bit down – some areas a little bit more than others," Pridmore said.
Waldinger, with the Community Planning Association of Southwest Idaho, has noticed the same occurrence with traffic trends specifically in the Boise area.
"I've looked at some of the July [2021] information. It's still down. Overall, still down a little bit except in the higher growth areas," she said.
Waldinger hypothesizes that although Boise's population has continued to grow throughout the pandemic, a lot of the transplants coming to the area likely have jobs that allow them to telecommute. Those that were already in the area, additionally, could still be opting to work from home more if their company or business allows it.
Yet she has noticed traffic overall getting toward more normal levels. As for herself, Waldinger notes she commutes to the office multiple times a week, finding herself using the area's roadway system more regularly.
"I still drive to the office four days a week. I do one day at home," she said. "But you just start to feel it and notice it that there's just more activity on the system. When during April of 2020, it was eerie quiet on the roadways."