NAMPA — A fireman, a librarian and a DMV employee walk onto a stage.
That isn't the start to a joke, it's what Treasure Valley community members saw Thursday night at the Idaho Press Spotlight Awards.
The awards, held annually, recognize extraordinary citizens from around the Treasure Valley. All of them had, in some way or another, been featured in stories written by Idaho Press reporters throughout the last year. Each week, one is nominated to receive the awards by staff for their contributions to the community.
"We call this event the 'Academy Awards of caring,'" said Jeanne Huff, Idaho Press community editor, in her opening remarks.
Huff served as Mistress of Ceremonies for the event, joining Idaho Press Publisher Matt Davison and Idaho Power President and CEO Darrel Anderson in presenting the awards. Boise State University President Marlene Tromp delivered the keynote address.
"There is so much craziness in this world," Anderson said in his speech. "We need to remember the good."
Anderson also took a moment to remind the crowd that October is Domestic Violence Awareness Month. Anderson, along with Idaho Power, is a vocal supporter of the Women's and Children's Alliance, a social service organization that works with families trying to heal from domestic violence in the household. It's a subject particularly close to one table of nominees; the Larsen family was nominated for starting KYMfest, an annual festival aimed to bring awareness to the importance of mental health. Their family member, Kymberlee Larsen, was killed by her boyfriend in April 2018.
Huff gave special recognition to one table in particular; that belonging to the family of Beckham Hoagland-Bice, a 9-year-old Melba boy who died earlier this summer. In February, the NNU men's soccer team made Beckham an honorary member of the team, letting him join them for a day of practice on the field.
Another big hit with the crowd was Yuko, the Ada County Courthouse dog who calms victims, particularly children, as they testify in court. Yuko and her handler, Kristin Friend, were nominated for this work.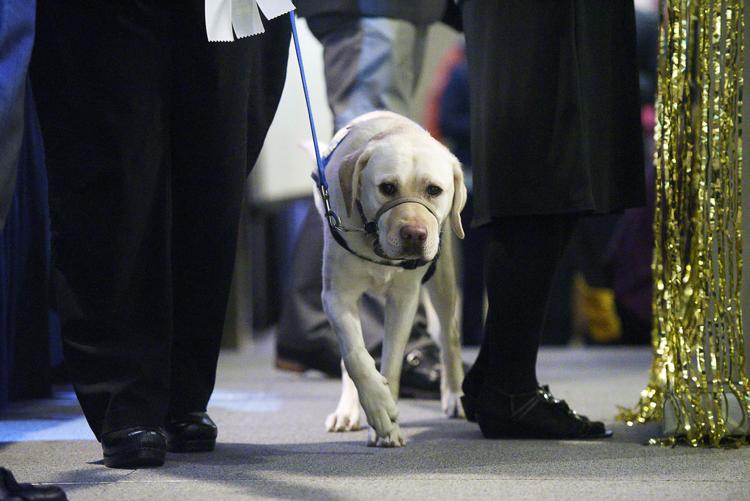 THE WINNERS
In total, over 50 people, groups or organizations were nominated for the 12 different awards. Some, for their heroic deeds saving a life or delivering a baby and others for simply looking out for the little guy, as was the case for Benjamin Campbell, who was nominated for creating a wheelchair for a paralyzed ferret.
"These are lifesavers and joy bringers," Huff said. "And after you read their stories, you will be filled with pride and love for your community. These are the people we walk among each and every day."
The Idaho Press and Idaho Power selected a winner from each category of nominees. They are:
Arts and Entertainment Award: Ryan Peck and Boise Rock School for the work the school did hosting two concerts to benefit the victims of Boise's mass stabbing in June 2018.
Businessperson of the Year: Maria Andrade, who runs Immigrant Justice Idaho, an organization that provides free and low-cost legal services to Idaho's immigrants.
Citizen of the Year: Donna Shines, the director of The Mentoring Network, a program that pairs adult mentors with at-risk students around the Treasure Valley.
Civic Service of the Year: Mark Renick, for his work with St. Vincent de Paul helping newly released prisoners reacclimate back into society.
First Responders of the Year: Nampa Fire Department, August day shift crew. The crew was featured in a story last summer, when they took an Idaho Press reporter through a day in the life of a firefighter.
Gift of Happiness: Tiffeny Stees, for her work organizing a karaoke event for seniors at Orchards of Cascadia, a rehab and care center in Nampa.
Gift of Health: Rick Hogaboam and locals. Nampa Councilman Rick Hogaboam, with several Nampa residents, ran inside to help evacuate residents of an assisted living facility after it caught fire in May.
Government Worker of the Year: Pam Myers, a retiring 911 dispatcher with the Nampa Police Department, who advocated for retirement benefits for dispatchers more in line with other first responders.
Nonprofit of the Year: Idaho Mountain Search and Rescue Team. Made up entirely of volunteers, the group works year-round to rescue lost and missing Idahoans from the wilderness.
Volunteer of the Year: Deny Burns, a Nampa Police Officer who works closely with the Special Olympics.
Youth Citizen of the Year: Chloe Lesmeister, who, after undergoing four heart surgeries by the age of 7, started a nonprofit that raises money to buy Christmas presents for hospitalized children and their families.
Youth Mentor of the Year: Northwest Nazarene University men's soccer team and player Omar Sosa for their work with Beckham Hoagland-Bice.
Of those winners, the Nampa Fire Department's August Day shift crew was selected to receive the top award, the Spotlight of the Year. During the day Idaho Press reporter Emily Lowe followed the crew, they were called to two very different scenes: In the morning, they joined paramedics at the scene where a man was found unresponsive in his driveway. The crews were unable to save the man. But then, that afternoon, they helped deliver a baby.
In the original article one of the crewmen, Jake Fuhriman, summed up their job like this: "We get to see lives changed…we don't always win. But some days we get to deliver babies."
'WE NEED THESE STORIES'
In her keynote address, Dr. Tromp told the crowd how she went from being a waitress to a university president, even after her boss at the restaurant told her she'd never be anything beyond a waitress. For her success, Tromp credited two things: never giving up on her dreams and trusting her community. She said it was the inspiration she drew from her friends, her teachers and her neighbors that allowed her to be the person she is today.
With all of the conflict and chaos in the world, she finished, community matters more than ever.
"We need these stories," Tromp said. "We need to remember the extraordinary beauty that people bring to the world around us."
Editor's note: This story was updated to name the correct police department, Nampa's, where Pam Myers worked as a dispatcher.