NAMPA — Skyrocketing home values and stagnant tax policies are factors in the property tax burden shifting more and more onto homeowners, government analysts say. And the shift is taking a toll.
"Property taxes are literally pushing people out of their homes," said Boise resident Pat Klocke, 65. "That's definitely in my mind."
Klocke, a year into retirement, has watched his home's value spike from around $145,000 in the early '90s to well over $500,000 today. With no intention of moving in retirement, he isn't seeking financial gain from the housing boom, but his property taxes have more than tripled since he bought his house. Now, he expects more than $4,000 of his fixed income to go toward property taxes next year if a change isn't made.
Like many Idaho homeowners, Klocke's property taxes have long been on the rise, but rates have climbed fastest "the last five or six years," he said, the same amount of time since the Idaho Legislature in 2016 placed new limits on the homeowner's exemption.
Mayors and county commissioners in the Treasure Valley are calling for property tax reform — notably by increasing the homeowner's exemption, boosting access to property tax reductions through the circuit breaker program, and allowing development impact fees to fund school construction. 
The legislature's approach to property tax relief this year has centered on limiting local governments in how much they can save up, raise taxes or tax new construction and annexations.  
House Majority Leader Mike Moyle, R-Star, said rather than shift tax burdens to other industry sectors, local governments should "quit trying to raise taxes."
Moyle said he blames local governments for running "bloated" budgets. 
"They're the problem, not us. They're the ones writing the budget, not us. They've had the mechanism to solve the problem, but they don't," Moyle said. "The cities and counties never bring any proposals over. They just complain and blame the Legislature."
City and county officials have formed the Treasure Valley Partnership, a nonprofit that is pushing for property tax relief solutions. Several local cities and counties did not take the allowed 3% property tax increase this year. 
Sen. Jeff Agenbroad, R-Nampa, has pushed back against the notion that local governments are to blame for increasing property taxes.
"I get really concerned about throwing all local governments in the same barrel," he said.
"Conceptually," Agenbroad "looks favorably" on either reindexing the exemption or increasing the cap beyond $100,000, though he declined to commit to supporting a cap raise until legislation is introduced. He also said changes to the exemption "aren't a fix-all," but part of a "needed comprehensive overhaul" to Idaho's property taxes.
Moyle said he would only back a change if it created across-the-board tax reductions, such as those aimed at limiting local government budget increases, regardless of growth.
THE HOMEOWNER'S EXEMPTION
The Legislature in 2016 capped the homeowner's exemption at $100,000 or 50% of the property value, whichever is less, and removed the indexing that allowed the exemption to go up and down with home values. Since then, any home valued at $200,000 or greater received less than a 50% exemption. Values in many parts of the state have soared far above the $200,000 threshold. Last month, the median home value hit $454,000 in Ada County and $338,000 in Canyon County, according to Intermountain Multiple Listing Service.
The cap has caused homeowners to take on an increasingly large slice of the property tax pie, said Alan Dornfest, property tax policy chief for the Idaho State Tax Commission.
Another retiree, Ron Harriman of Nampa — a member of the Concerned Citizens of Canyon County — has been doggedly reaching out to lawmakers and working with county officials in an effort to reindex the homeowner's exemption cap. Frustrated that commercial properties are getting tax cuts while his neighbors pay more, Harriman is calling for reform. 
"This is not a personal problem for me," said Harriman, who can afford the rise in his property taxes. "It's a problem for the people in the city, the county and the state."
The homeowner's exemption, created by voter initiative in 1983, was designed to exempt the property taxpayer from roughly half of the value of their home. In 1983, the exemption was $50,000 or 50% of the value of the home, whichever is less.
In an effort to keep up with the rise in home values since 1983, the Legislature boosted the exemption cap to $75,000 in 2006 and tied future increases to the rise in property values. The Legislature in 2016 raised the cap to $100,000 and removed the index, meaning the cap no longer increased as home values did. 
Meanwhile, taxes owed by agricultural and commercial properties are stable or in some cases decreasing. 
"Since (2016), the largest commercial enterprises have seen property tax bills decrease," said Zach Wagoner, Canyon County controller. "That action in 2016 was property tax relief, but property tax relief for a certain group of properties. Over that same period, property taxes paid by homeowners have increased, in some cases by 45%."
The county officials said they would like to see the tax burden shift away from homeowners.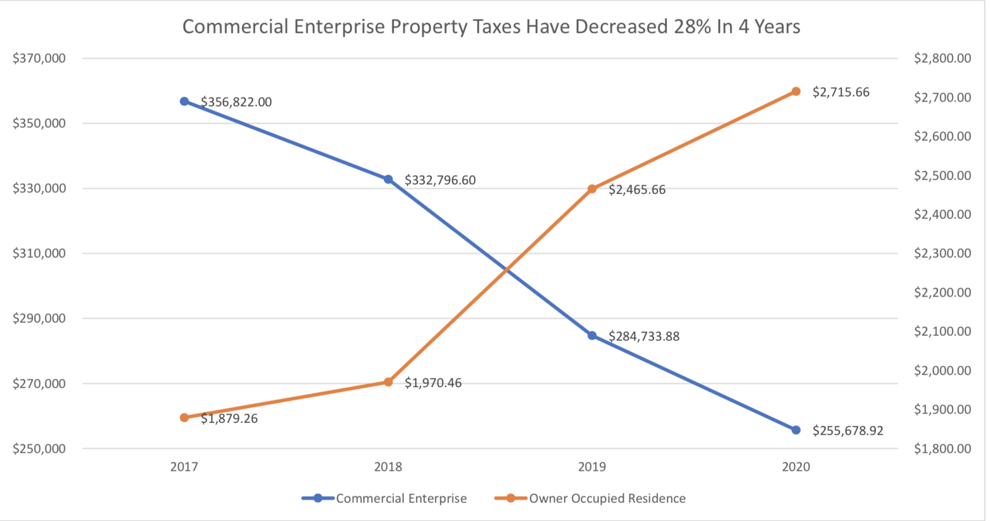 Canyon County officials compared the shift in property taxes between 2017 and 2020 for a commercial business, a Walmart on Caldwell Boulevard, and a residential property in the same neighborhood. The Walmart saw property tax decrease by 28%, according to county data. The resident saw an increase of 45%.
County Clerk Chris Yamamoto said the tax burden is shifting away from commercial businesses and toward residents because home values are rising at faster rates. 
Brian Stender, Canyon County assessor, said he worries that without some kind of relief, taxpayers in the county will be looking at a 30% to 35% increase in assessed values following an "explosive housing market" in 2020.
Meridian officials too, have floated adjusting the exemption cap for similar reasons. Mayor Robert Simison and all six Meridian City Council members last month penned a guest opinion, which said that's one of "several legislative ideas … that can provide real, meaningful tax relief to homeowners." A group of 33 county commissioners from across the state also wrote an opinion, which in part called for reindexing the homeowner's exemption cap.
In 2019, a bipartisan proposal to walk back limits on the exemption never got a committee hearing. The next year, a proposal was bounced between the Senate and House late in the session, which, after final amendments, would have increased the exemption cap to $112,000 but paid for it with $32 million in cuts to county budgets, rather than filling in lost revenue with increased taxes on agricultural and commercial owners. Senate Local Government and Taxation Chairman Jim Rice, R-Caldwell, asked the Senate to kill the amended bill, which it did. He did not return multiple requests for comment on this year's push for reform.
Though local officials say they are lobbying area delegates to carry a homeowner's exemption proposal — something minority Democrats in the Legislature are also calling for — nothing has been introduced this session. Lawmakers said a rollback would be "an uphill battle," facing opposition from the agricultural and commercial interests that fueled changes in 2016, Stender told the Idaho Press.
Yamamoto worries the Legislature is more inclined to listen to commercial and agricultural interests.
The current homeowner's exemption cap was placed at the urging of the Idaho Association of Realtors and business and agriculture interests, according to previous reporting by the Idaho Press.
Max Pond, government affairs director for the Realtors association, did not comment on the proposal by deadline. Russ Hendricks, lobbyist for the Idaho Farm Bureau Federation, did not return multiple calls. Hendricks recently testified in favor of Rice's Senate Bill 1108.
The bill, among other changes, would limit local government budgets to recognizing 75% of new construction in their property tax budgets each year (or 50% under certain circumstances), and 75% of annexation, the Idaho Press reported. Local officials from across the state have said it would hamstring fast-growing communities and prevent growth from paying for itself.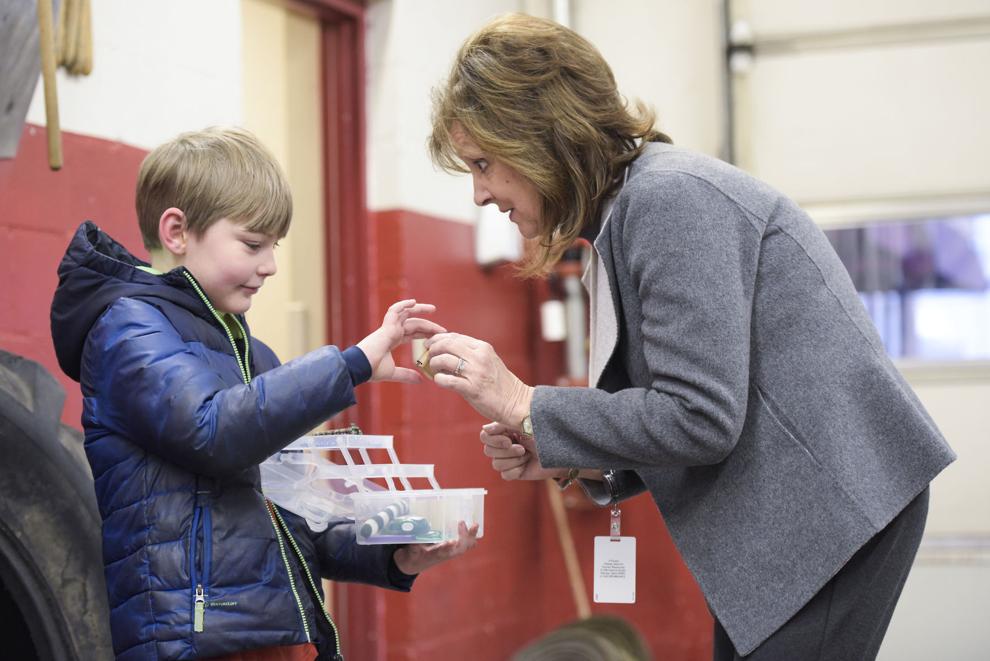 Nampa Mayor Debbie Kling and the Nampa Fire Department on Monday issued a release saying the bill would lengthen fire response times, likely force the city to close fire stations and that it "could result in the collapse of the Nampa Fire Department in 2022." Those department contractions would result from cuts Rice argued are "a small haircut on budgets" before the bill passed the committee of which he is the chairman.
The Meridian City Council and Simison on Tuesday verbally committed to freeze annexations into the city for six weeks, citing concerns over the bill.
"It's an unfortunate, but I am convinced, necessary pause. … Growth will not be paying its fair share," Councilwoman Liz Strader said. "The existing residents of Meridian are going to have a diluted level of city services because of growth."
The council followed through, delaying a vote on a 128-acre development that would include more than 300 homes, a medical campus and apartments until mid-April. Council members have informally committed to doing the same for all annexations in the near future, excluding infill developments under 5 acres.
The Senate on Wednesday amended the bill to allow fire taxing districts to continue capturing their current rate of growth-targeted tax increases.
The Caldwell Chamber of Commerce, which represents business interests in the city where Rice resides, came out in opposition to SB 1108, too, saying in a letter shared with the Idaho Press "it would in effect shut down new growth."
The Treasure Valley Partnership hosted a press conference Thursday to share its opposition to SB 1108.
Star Mayor Trevor Chadwick, who leads the state's fastest-growing city, said, "Much has been said about new construction being the devil in property taxes, when in fact new construction is the only way we can get growth to pay for itself through the property tax system."
Editor's note: Pat Klocke is a member of the Idaho Press editorial board.