BOISE — When Gov. Brad Little headed to Florida last week and was recognized by former President Donald Trump at a black-tie gala at Mar-a-Lago, he says he was on official duty as Idaho's governor, and taxpayers paid for the trip.
The cost for airfare and lodging for the governor and a staff member was $2,014, Little's press secretary, Marissa Morrison Hyer, said in an email in response to an inquiry from the Idaho Press; they stayed at the Hilton Palm Beach.
In addition to the gala, she said, "The governor participated in a ride-along with Florida law enforcement."
Little's Florida trip was at the center of the latest dispute between Little and Idaho Lt. Gov. Janice McGeachin, who has announced she's challenging Little in next May's GOP primary; a passel of other Republicans also have announced they're running, as have two Democrats. Little hasn't yet formally announced his reelection plans, but has been fundraising for his campaign.
McGeachin also met with Trump at Mar-a-Lago last week; late Tuesday afternoon, Trump's organization tweeted that he's endorsing McGeachin for governor of Idaho next year.
It is a great honor to receive the endorsement of the greatest President of our lifetime. President Trump is a true fighter for America and I am a true fighter for Idaho. Much more to come from the two of us to bring America First back to Idaho. Stay tuned! #idpol #MAGA pic.twitter.com/1jahvCALKM

— Janice McGeachin (@JaniceMcGeachin) November 10, 2021
Trump hosted the "America First Policy Summit" last week, an event sponsored by his America First Policy Institute that included a golf tournament and a black-tie gala. RealClear Politics reported that the event was "billed as the 'ultimate gathering' of conservative leaders."
Little's invitation to the gala, from AFPI President and CEO Brooke Rollins, said, "We would be honored to have you join as our guest, as we work to support ideas and policies that put America First."
Sent via email to Little's office, the invitation noted that Trump would be the "special guest" for the evening, and that the gala would also include "conservative luminaries from around the country such as Coach Lou Holtz, Dr. Alveda King, Governors Phil Bryant and Bobby Jindal, Secretaries Chad Wolf and David Bernhardt, AFPI Chair Linda McMahon, AFPI Co-Chair Larry Kudlow, Secretary Ken Blackwell, Pam Bondi, Pastor Paula White and many others!"
On Friday, Little posted on his Facebook page, "Last night it was an honor to be recognized by the 45th President of the United States, Donald Trump. Together we were able to accomplish many great things!" with a photo of a tuxedo-clad Little standing at his table at the gala as Trump, at the podium, recognized him and attendees applauded.
"He did not attend any other sessions of the policy summit," Morrison Hyer said.
"The state paid for the governor's trip," she said. "The America First Policy Institute is a 501c3 non-profit, non-partisan research institute. His attendance was in official capacity, performing duties of governor. Those duties include consulting with law enforcement on best training and practices and collaborating with other elected officials and policy makers."
Little's law enforcement ride-along was with the Florida Fish & Wildlife Commission, Morrison Hyer said.
McGeachin on Friday sent out a press release slamming her fellow GOP office holder because she said he "left the state without properly notifying the Lt. Governor of his absence."
Morrison Hyer, in an email Friday shortly after noon, said, "Governor Little was invited to and attended the America First Policy Institute Gala in Florida. He departed Nov. 3 and returned earlier today." She attached a letter Little had sent to McGeachin on Oct. 29 , reiterating his stance that when he needs to "travel temporarily out of the state on official business," that doesn't constitute an "effective" absence from the state, as he can still carry out his duties, so McGeachin wouldn't step in as acting governor.
She disagrees, maintaining any physical absence of the governor from the state's borders, for any time period, makes her acting governor. She's twice taken advantage of that this year by quickly issuing executive orders countering Little's policy positions while he was gone, which he quickly and retroactively rescinded when he returned.
In her Friday news release, McGeachin asked, "Did the governor fail to notify my office because he didn't want me to use my position as acting governor to once again give the power and decision making back to the people of Idaho?"
Adding to the intrigue, McGeachin herself traveled to Florida to meet with Trump last week.
She reported on her campaign Facebook page on Thursday morning that she'd just returned to Idaho Falls from meeting with Trump at Mar-a-Lago on Tuesday, and showed off an autographed bright-red "MAGA" hat she was wearing, saying, "I wanted you to see my awesome MAGA hat that's personally signed by President Trump."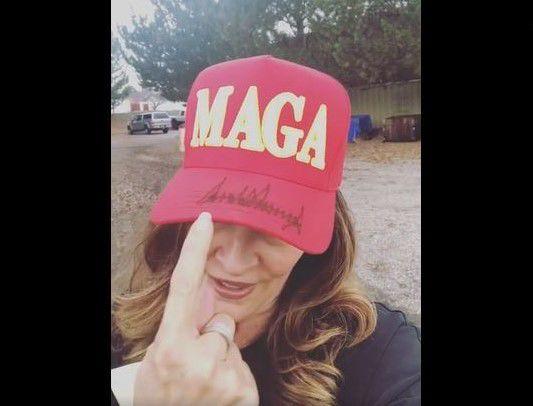 "I just came back from visiting with our president a couple of days ago," she wrote. "It was great to meet with our president and share our ideas on what we need to do to protect our people in Idaho and in the nation." She posted no photos of the meeting between the two.
In response to an inquiry from the Idaho Press to her campaign, McGeachin said in an email, "I left Idaho on Monday afternoon at 3:45 p.m. and returned to Idaho at 9 p.m. Wednesday evening."
Since Little left Wednesday and returned Friday morning, that means the two officials' trips overlapped, but there was a little over a day, from Wednesday evening to Friday morning, when Little was out of the state but McGeachin had returned.
"As far as the AFPI summit, yes I was invited to attend, but unfortunately was not able to make it," McGeachin said. "My trip to Mar-a-Lago was about meeting with President Trump personally and discussing ways to bring his America First agenda to Idaho. I would have liked to be at the AFPI event, but I traveled to Florida for a personal meeting with President Trump, which was well worth the trip."
She sent out a campaign news release on Thursday about her visit with Trump, saying, "We spoke on the continuation of the America First agenda for our country and the great state of Idaho."
On Friday, McGeachin sent a letter to the state Division of Financial Management, obtained by the Idaho Press under the Idaho Public Records Act, inquiring about the "pay differential" she is entitled to under Idaho law, which specifies that when serving as acting governor, the lieutenant governor shall receive "the difference between the daily salary of lieutenant governor and the daily salary of governor."
"What is the process of determining the pay differential based on the time frame that the Governor is out of the state?" McGeachin inquired in her Friday letter to DFM Administrator Alex Adams.
McGeachin last received such pay in May, according to state records. The governor's annual salary is $138,402; the lieutenant governor's is $48,405.70.
Adams responded with a breakdown of the procedure, which starts with the governor issuing "an official letter designating the Acting Governor and time frame," followed by submission of corresponding time sheets.
McGeachin's chief of staff, Jordan Watters, then responded with an email saying the governor notified McGeachin he'd be absent from the state in June, July and October, but "none of those letters contain the designated timeframe for the Governor's absence from Idaho, which you state is necessary to appropriately comply with the requirements of the statute. Please provide these timelines so that the forms can be filled out accurately and appropriately."
Those were instances in which the governor said he wouldn't need McGeachin to serve as acting governor, in line with his current interpretation of the law.
When an acting governor takes over the duties of the governor, state law specifies the differential pay. The lieutenant governor is first in the line of succession, according to the Idaho Constitution; if she's not available, next up is the president pro tem of the Idaho Senate; and if he's not available, next up is the speaker of the Idaho House.
Since Little took office in January of 2018, according to records obtained by the Idaho Press under the Idaho Public Records Act, McGeachin has received differential pay for 288 hours, or 36 days, of service as acting governor. Senate President Pro Tem Chuck Winder has received two days of the differential pay, both in 2021; and then-Senate President Pro Tem Brent Hill received seven, all in 2019.
After McGeachin's first surprise executive order in May, which sought to forbid mask mandates, Little announced in July he'd adopted the "effective absence" interpretation, rather than mere physical absence, for transferring the governor's powers to an acting governor.
With the two at odds, in late July, he sent McGeachin a letter saying that while he'd be out of state briefly traveling through Utah to get to eastern Idaho, she was "not authorized to act as governor" while he was gone.
McGeachin bristled, saying on Twitter, "Maybe Brad needs to brush up on the Idaho Constitution." But Little's 20-minute absence from the state was over before she'd gotten confirmation it had started.
Then, in October, Little sent McGeachin a similar letter as he headed to the U.S.-Mexico border for two days to meet with other GOP governors there.
That time, while he was gone, she issued a new executive order forbidding COVID-19 testing or vaccine requirements in Idaho public schools and universities, and also inquired into how she could deploy the Idaho National Guard to the southern border. Little, again, retroactively rescinded her order — but this time, he did so from Texas, hours before he flew back to Idaho, in line with his stance that the governor's physical absence from the state doesn't prevent him from carrying out his official duties.
It could take a court challenge to determine which interpretation carries. So far, no one's filed one.
At the Mar-a-Lago gala, Trump praised his "amazing friends and supporters here tonight who believe in putting America first." He recognized Little about 13 minutes into his 75-minute remarks, after first recognizing 16 others, including his son-in-law, Jared Kushner; other former officials in his administration; retired football coach Lou Holtz; and former Mississippi Gov. Phil Bryant.
"We also have Gov. Brad Little, who is a terrific gentleman, where is Brad?" Trump said. "We got a lot of governors. I'm going to miss about five of 'em, Brad, and I'm going to be in trouble. Thank you, Brad. And he's working on a project."
It was unclear to which project Trump was referring.
The former president also used his remarks to deride current President Joe Biden's record in office and tout his own.
"I'm saying America right now is not great, America is under siege and it's not great," Trump declared, saying he can no longer use "Keep America Great" as his slogan. "You can't have that slogan, so it's make America great again again," he said to laughter and cheers. "And you think I kid but I'm actually not, I'm actually not."
When McGeachin tweeted out the news of Trump's endorsement of her late Tuesday afternoon, she said, "It is a great honor to receive the endorsement of the greatest President of our lifetime."