Melanie Krause, founder of Cinder Wines in Garden City, is not sure where she is going to get glass for her wine bottles. The usual prices of Chinese bottles have jumped under a 10% retaliatory glass tariff, which has the entire wine industry turning to domestically sourced glass.
Larger wine companies with more buying power are purchasing all of the cheaper, available glass from North American plants, Krause said, leaving small wineries running out of options.
"When the tariffs are in place, there are changes in unexpected ways, not just the price but the change in supply," she said. "Large wineries are behaving in a predictable way, that they're going out and seeking glass that doesn't have the tariff, but that leads to unpredictable changes for smaller businesses."
Idaho relies heavily on exports — one in six rows of potatoes and one in six gallons of milk are exported. Local producers say America's trade wars with major trade partners are starting to have negative effects on their businesses.
White House economic adviser Larry Kudlow appeared on Fox News Sunday and acknowledged that the tariffs on China will pass costs to American businesses and consumers.
Tariffs were first imposed on China last year under the Trump administration and have since grown to include multiple countries and goods. Those countries have placed retaliatory tariffs on many U.S. goods. The Trump administration initially imposed tariffs to combat a U.S. trade deficit and send a message to other countries that they could not take advantage of the U.S. as a trading partner.
But Kirk Adams, who serves on the Idaho District Export Council, said the tariffs are an "unnecessary burden put on these small companies who feel like they're fighting this international battle for the country."
Adams, a Treasure Valley-based worldwide account manager for FedEx, has worked in the transportation industry for over 24 year. Through his role on the export council, he also consults with Idaho businesses on how to increase their international market presence.
Small and medium-sized companies in Idaho are facing three options to combat slimming profit margins in the wake of tariffs, Adams said. They can raise prices on their products, cut wages for workers or take a hit to profits.
The uncertain climate of international trade has many in the agriculture and manufacturing sectors holding their breath.
Laura Johnson, bureau chief for marketing and development division in the Idaho State Department of Agriculture, has been in the department for nearly three decades and said that even the recession and anti-trade sentiment in the '90s couldn't compare to the impacts of the tariffs.
"In my entire career," she said, "in terms of what we're facing now, I've never seen anything like it."
In 2018, food and agriculture exports contributed $850 million to Idaho's economy, according to the Idaho Department of Commerce.
While people show the most concern over U.S. tariffs on Chinese goods, Johnson said, Mexico is and has been repeatedly Idaho's largest export market for frozen potatoes and cheese products.
"We hear Mexican customers are wanting to diversify their supply and are looking elsewhere for products, not just the U.S.," she said. "They don't want to be as dependent on the United States. … It certainly is limiting our export sales there."
Idaho and the U.S. produce more food than their populations can consume — the agriculture industry has a lot at stake in exports, Johnson said. With tariffs hindering exports, American shelves are overstocked with produce residents can't consume, she said.
"The U.S. market is mature. We're not eating a lot more. But in these other markets where you have an expanding middle class, we're losing those opportunities," Johnson said. "Our efficiency continues to go up in the U.S., and we are just hugely dependent on exporting for agriculture."
Potato exports to Mexico in 2017 raked in just under $15.5 million. In 2018, that revenue dropped to roughly $11 million, according to the Retaliatory Tariffs on Idaho Products report compiled by the state departments of commerce and agriculture. The dip can't be attributed entirely to the increased tariffs on U.S. goods into Mexico, Johnson said, but tariffs are a big part of it.
So unless Idahoans plan on eating a lot more potatoes, Adams said, we need to continue to market our supply internationally.
In the beef industry, the U.S. sends 26% of its exports to Japan, bringing in about $1.9 billion annually, according to the U.S. Department of Agriculture. But Japan is shifting toward importing beef more from its free trade partners and less from the U.S., which is not part of those agreements.
Even if U.S. ranchers are selling beef at the same price, they're still at a significant disadvantage because of higher tariffs, Agri Beef Executive Director of Marketing, Jay Theiler told the Idaho Press.
Headquartered in Boise, Agri Beef exports beef products to more than 30 countries, and 15-20% of the company's revenue is exports — Japan being its No. 1 buyer.
"Now we're competing with all the other suppliers of beef into Japan — Australia, New Zealand, Mexico, Canada — all of them are 11 percentage points, right off the bat, cheaper than we are because of our tariff rate," Theiler said.
Tariffs are also causing U.S. beef producers to miss out on opportunities with China, he said.
The U.S. Meat Export Federation estimates a $550 million — equating to $20.40 per head of cattle — loss of revenue by 2023 if tariffs remain the same.
With 1.1 million head of cattle in Idaho, Theiler said, that would mean a loss of about $22.4 million to the state's cattle producers by 2023.
This threat of losing market share in Japan and China isn't only happening in beef, Johnson said, but with wheat and dairy, as well.
Exports of whey proteins to China are down 35% since last year. During the 2018 market year, China purchased 902,000 metric tons of wheat from the U.S., with one-third of that being soft white wheat, a mixture of wheat products from Pacific Northwest states, including Idaho.
When the tariffs took effect in the summer of 2018, Johnson said, China didn't buy any more wheat from the U.S. until February, and then only purchased 40,000 metric tons.
"We've never seen anything like this as far as uncertainty in trade," Theiler said. "Right now, politics is in the way of the trade."
Krause, with Cinder Wines, said that next to grapes — which she sources from the Snake River Valley — glass is the most expensive good used in winemaking.
Cinder Wines sees around a 10% profit margin. With a 10% tariff on the second most important good, Krause said, there is a noticeable increase in company costs. She's looking at an additional $4,400 a year in increased glass costs.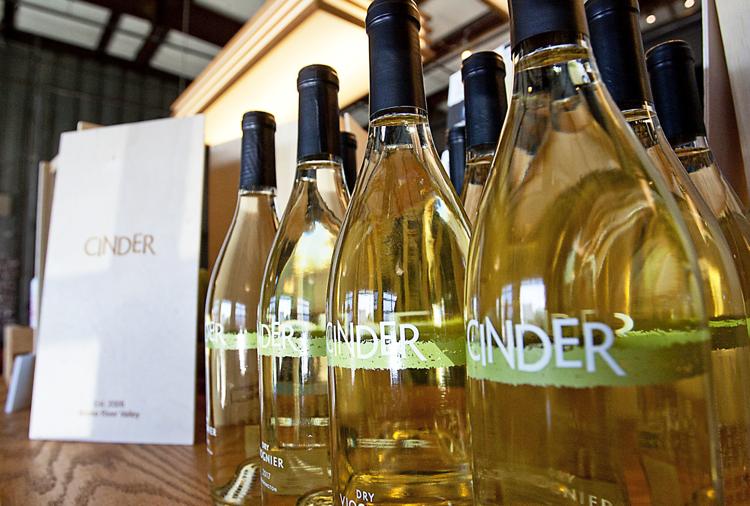 Krause said the impact of a 25% tariff is much more significant. It would cause a $13,000 cost increase for the company per year — the equivalent of six-months' salary for a worker or one large stainless steel tank that could increase production by about 9 tons worth of grapes, she said.
Krause has been able to source glass domestically and from Mexico in the past, she said, but now large wineries have purchased all the available glass from North American plants.
Glass foundries take years and millions of dollars to build, Krause said, so increasing glass production in the U.S. to react to the tariffs is not an option.
"In my company, I'm the CEO, the winemaker, and I purchase the bottles," she said. "I don't have time seeking out new glass sources that I haven't known about before."
Krause, like all wineries, use specific wine bottles — a carefully selected combination of mold, shape and color. Seeking sources elsewhere also means finding a foundry that makes bottles to her specific needs. Krause hasn't been able to find a domestic source of glass that works for her winery and if she is forced to eventually start buying different shapes and colors, she'd need to redesign her labels creating huge costs.
Because of this, she said, the company has been having to pay for tariff-impacted glass.
The additional costs of the tariffs are leading Cinder Wines and many others down a road toward buying fewer grapes from Idaho farmers, hiring fewer workers, depressing wages or ultimately raising wine prices to offset the additional costs, she said.
"My hope is that we just go back to free trade, with all countries in the world," Krause said. "Let the free market run the way it ought to. Then we can buy glass from people making the molds we want, from the countries we want — with the best price."
AERO Specialties, Inc. manufactures aircraft ground support equipment — any machinery that can be seen on the ramp or tarmac of an airport — and works out of 10 factories worldwide, including one on Emerald Street in Boise.
China, with its fast-growing population, is a major importer of the Boise-based company's products. Derek Rose, AERO Specialties vice president of sales and marketing, said aviation is "booming."
The aviation equipment company has had to make changes to combat both export and import problems caused by the tariffs. China is turning to other places for products, and with China's retaliatory tariffs, prices on imported components have skyrocketed 25%.
"As a manufacturer, no matter where you are in the world, it is very difficult not to get parts or supplies from China. If you buy from any of the major suppliers … they're delivering parts from their factories in China," Rose said. "Many American-made goods, there's obviously parts or supplies that are purchased in China. And steel from Canada — let's not forget our most important trading partner in the world and what's happening there."
President Trump imposed a 10% aluminum tariff and 25% steel tariff on Canada last year, Canada responding with their own retaliatory tariffs on the same goods.
Adding a 25% tariff onto a $50,000 component, he said, is a lot of money.
"The main thing is that we're not buying as much inventory as we normally would for our assembled goods here in Boise," Rose said.
AERO Specialties has had to lower inventory levels and move certain products to other factories where it costs more to make — raising the price of the product.
"We held off as long as we could, but there's very few products in the manufacturing world, in the equipment world, that you even have that high of margin on as far as the final good," Rose said. "We can't eat 25% because we don't even have that high of profit margin on a lot of our products."
While other countries negotiate bilateral and multilateral trade agreements, Johnson with the Idaho Department of Agriculture said the only thing Idaho businesses can do is emphasize to their international buyers that their business is important and they want to maintain their relationship.
"Our businesses have spent a lot of time and a lot of money building relationships in some of these markets, and as customers go somewhere else, it's really hard to get them back," she said. "We may have other opportunities elsewhere, but it's costly."
Other countries aren't going to wait for the United States to get its politics in order before shopping elsewhere, Adams with FedEx said.
Rose said he's run into the situation where repeat customers have been upset because of a price increase, and the best thing you can do is be honest about the situation.
But the tariffs lessen the appeal for international companies to do business with the United States, he said.
"On a social level, the tit-for-tat issues are creating nationalism on the Chinese level as well as on the American level," he said. "We're a global marketplace and basically what we are doing is instigating isolationism, and we're making our products and doing business with America, less sought after and decreasing the value of American goods."
Agri Beef executives spent a week in Japan just last month, attempting to maintain face-to-face relationships with longtime buyers. Theiler with Agri Beef said that's all they can do at the moment.
"We are emphasizing that we are supportive of policymakers and trade negotiators," Theiler said. "We're letting them know that we are feeding information to our trade negotiators that this is hurting, and we are supportive of a trade agreement. And we hope there will be a trade agreement sometime this year that will at least get us on to equal footing with our competitors. We don't mind competing; we just don't want to be at a huge disadvantage."
The worst of the tariff impacts, Idaho businesses and experts agreed, is the uncertainty. No one can say just how long the tariffs wars will last and how many battles will have to be fought before then.
"Everybody is having to react to it, and uncertainty is the worst of it," Adams with Fedex said. "We just want the rules to stay the same and not be jumping around so Idaho companies can compete on that world stage."
Many note a lack of confidence in trade policies coming out of the Trump administration, causing them to rethink business practices.
"Do you really want to hold onto a lot of product and hold onto a lot of inventory when you're not as confident in the policies as you once were?" Rose said.
Jennifer Verdon, international trade manager at the Idaho Department of Commerce, said international buyers are turning toward markets where they don't have the insecurity of unpredictable tariffs.
There is too much "unknown" to confidently do business with the U.S., she said.
But Idahoans are remaining optimistic that the problems will be fixed. Like Adams, Rose, Johnson and Verdon all serve on the Idaho District Export Council, which seeks to help Idaho businesses navigate the international market place.
"(International buyers) want our products, they believe in 'made in the U.S.A.,' so there is a will to work this out," Verdon said. "We are kind of operating on the assumption that's it's all going to work out in the end."