NAMPA — Every few minutes, a security guard belted out the same phrase. Same volume. Same cadence.
"Welcome to the Snake River Stampede," he yelled at 6 p.m. Tuesday.
After a pregnant pause, he always added the requisite exclamation.
Fans trickled into the Ford Idaho Center in Nampa beginning at 5:30 p.m. An hour later, and an hour before the rodeo began, more and more bodies flowed to the entrance.
Food trucks lined up outside the arena. Horses neighed next to trailers. Fans wore cowboy hats and cowboy boots and denim pants and denim shorts.
A year ago, this was missed.
"It really sucked," said Cassie Nielsen, a member of the night light drill team the Snake River Stampeders.
"It was really weird when we hit July and rodeo week and having nothing to do. There was a lot of really unwanted free time."
Because of the coronavirus pandemic, the Snake River Stampede — like many large rodeos across the West — was canceled in 2020. In the rodeo's 106-year history, 2020 was just the second time it was canceled.
The five-day rodeo has attracted 60,000 people and had a $5-10 million economic impact in previous years, according to Stampede officials. This year, there are more competitors than ever and ticket sales are outpacing previous years, too.
Since the spring, the Ford Idaho Center has operated without capacity restrictions. That means the rodeo is back and fans are ready.
"When we're in the arena performing," Nielsen said, "and everybody just starts screaming for us — chills."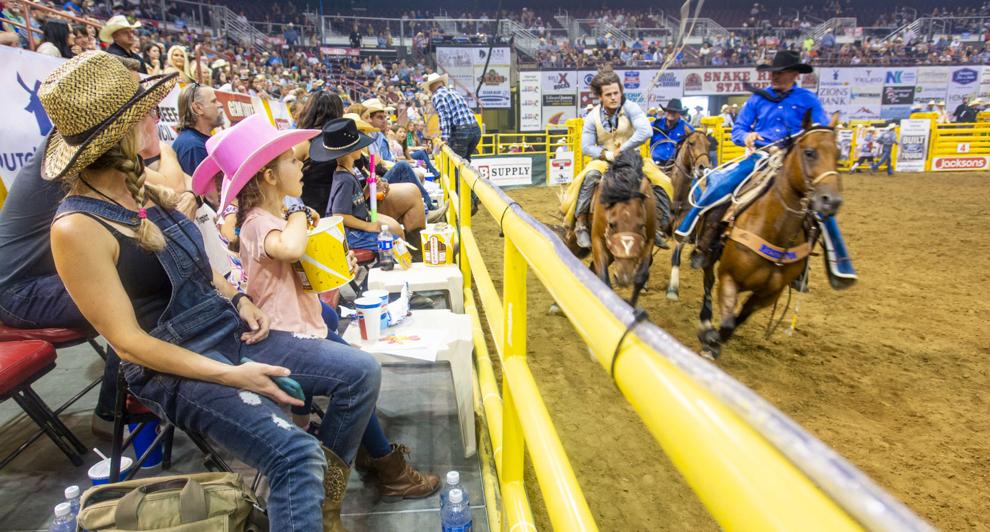 Around 6:20 p.m. Tuesday, fan Olivia Diaz searched for friends on a walkway outside the Ford Idaho Center. Diaz has looked forward to the rodeo all year. She spent Tuesday texting friends in a group chat. They organized to attend the rodeo together on its first night.
Diaz went to the Snake River Stampede each year since 2015. She wants to attend every local rodeo this summer.
"I'm excited to just be here," she said, "and have the experience again and celebrate with friends and family."
Like Diaz, Melissa Villegas made plans with friends and family. Villegas was meeting a group of 16 people. She grew up going to rodeos and barrel racing herself. For her, her husband and her 13-year-old daughter, the Snake River Stampede is a big deal. They walked up to the arena together.
Villegas is "thrilled" she can enjoy large gatherings again.
"This is just good old family fun to me. That's how it should be," Villegas said while the security guard unleashed another "Yeehaw" in the distance.
Ford Idaho Center General Manager Andrew Luther said tickets are selling faster than ever before. Reserved tickets for Saturday night sold out last week, which is much earlier than usual, Jeff Agenbroad, a rodeo director, said. Agenbroad recommends buying tickets sooner than later.
The rodeo was already popular and it's now benefiting from people who have been waiting to attend big events.
"The sign of a normal summer," Luther said, "is the Snake River Stampede."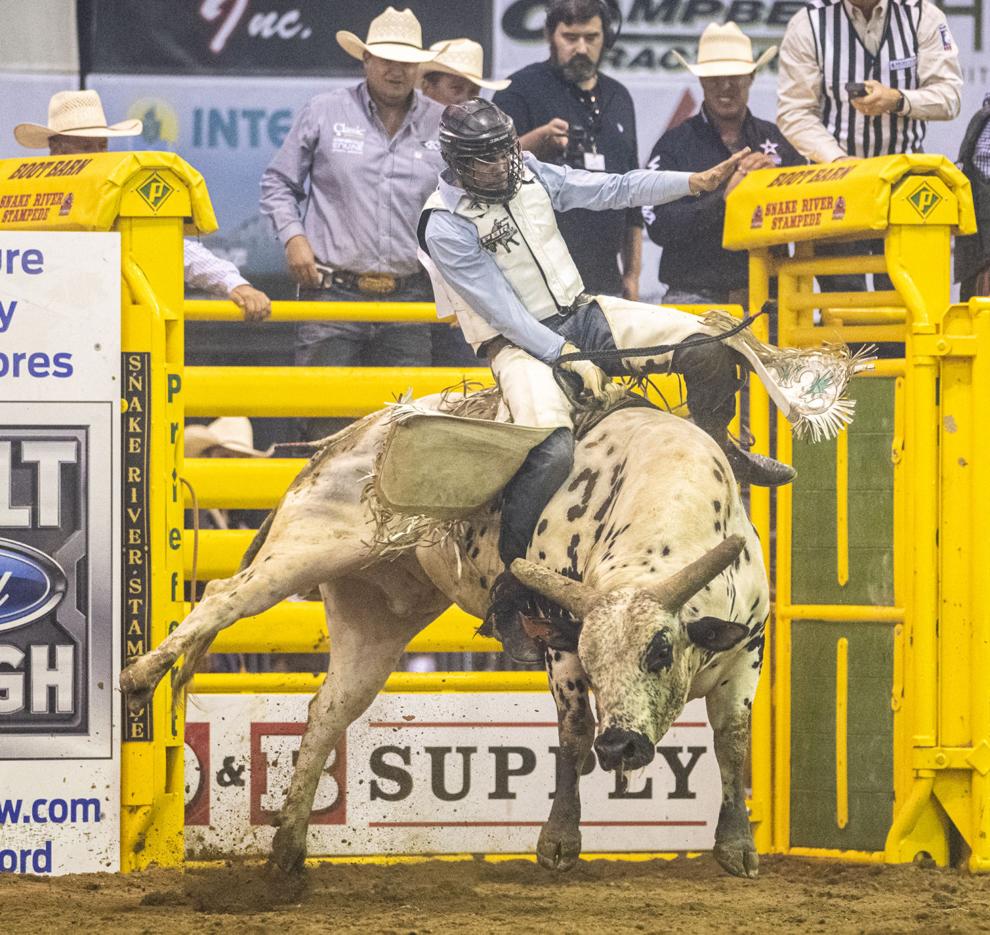 Right at the beginning of the rodeo Tuesday, Luther texted with a coworker. They reveled in how great it felt to return to a full house for one of the arena's signature events. That's when everything sunk in for Luther.
He quickly had to snap back into work mode.
"It was almost a surreal moment to realize we're here and it's happening," Luther said, "and we're going to keep plunging forward."
Agenbroad has been involved with the rodeo for more than 30 years. One of his favorite moments each year is when the event begins with a prayer and the national anthem. On Tuesday night, it hit home even more.
It's traditions like those that he's come to appreciate.
"We're very grateful we're able to come back with the rodeo," Agenbroad said.
Just a few weeks ago, Tyson Nielsen and his family moved back to the area from Omaha, Nebraska. He still remembers attending the Snake River Stampede before he was 10 years old when it was held outdoors.
When Nielsen visited in previous years, sometimes it would align with rodeo week so he'd go watch as a fan. He showed up Tuesday night with his sister, wife and four children. It was the first big event he'd been to in a while. Just going to the movie theatre last week felt "kind of different."
"I think it's good for the kids and for everybody socially," Nielsen said, "to try to get back to what we enjoy about life instead of being holed up."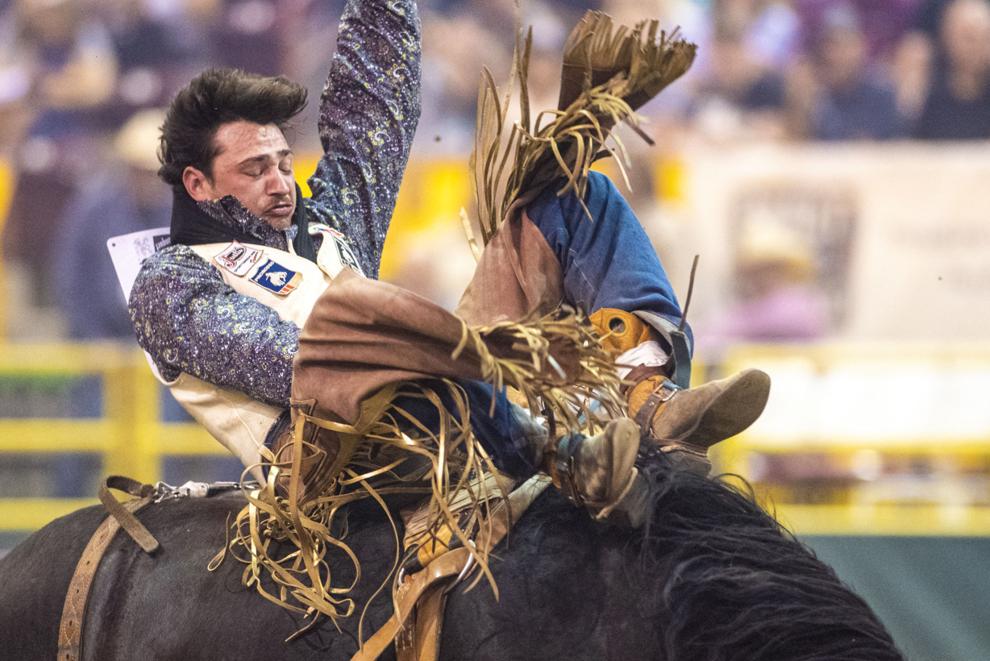 As long as the family lives in the area, Nielsen said he plans on going every year.
Then as the six people walked toward the entrance, one of Nielsen's children yelled "I've been dying for this moment."
Rodeo supporters felt "sad," "disappointed," "annoyed" and "bummed" last summer. But the loss of last year's event added excitement this time around.
Before the rodeo started Tuesday, a Nampa police officer sang the national anthem. And the public address announcer reminded everyone of the twists and turns of the past year.
"How many of y'all are glad not to be wearing a mask today?" he said.