BOISE — A new housing analysis from the city of Boise found a "deep and unrelenting" need for housing that's affordable for people with low and fixed incomes, particularly renters.
According to the analysis, presented to the Boise City Council on Tuesday, 67% of renters and 36% of homeowners cannot afford housing the local market is producing.
"Market trends indicate that market-rate housing development is far outpacing affordable housing development," said Housing and Community Development Director Maureen Brewer. "Without a targeted intervention, we will not be able to change this trend."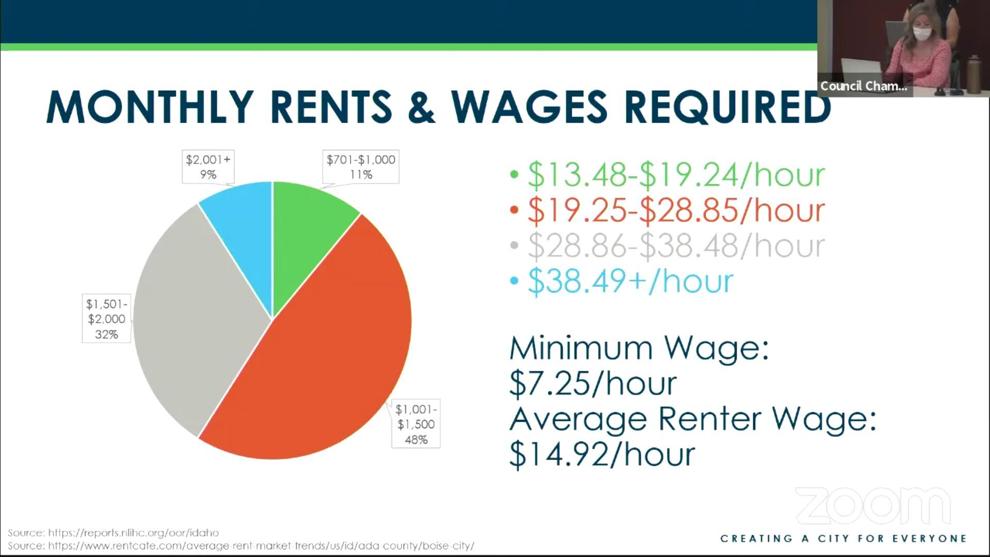 Rent has increased 20% since last year, bringing the average cost to $1,481 per month, the analysis found.
Coupled with the rising cost of rent are lagging wages. Across all sectors, from 2019 to 2020, wages among Boise workers increased just 8%.
As a result, there's a greater deficit between wages and rent among people who earn below the area median income (AMI), or income that the median household earns.
Boise's area median income is $67,800. Affordable rent for a three-person household that earns 30% of the median income — $20,350 — is $509 per month. At 60% of median income — $40,680 — affordable rent for a three-person household is $1,017.
The average Boise renter can afford about $800 per month in rent, $681 less than the current average rental cost.
"There's a huge disconnect," Brewer said.
To reduce the deficit, the city's analysis found that Boise needs 27,725 new housing units by 2030, an average of 2,773 units per year — and most of them need to be affordable. That's because, while more than half of Boiseans earn 80% or more of the median area income, 77% of the housing need is among Boiseans who earn 60% or less.
More than 1,700 housing units currently approved by the city of Boise will serve households above 80% of the median income. That's compared to 187 units approved for households under 80%.
"What this is telling us is the market over-rotates to higher income households," Brewer said.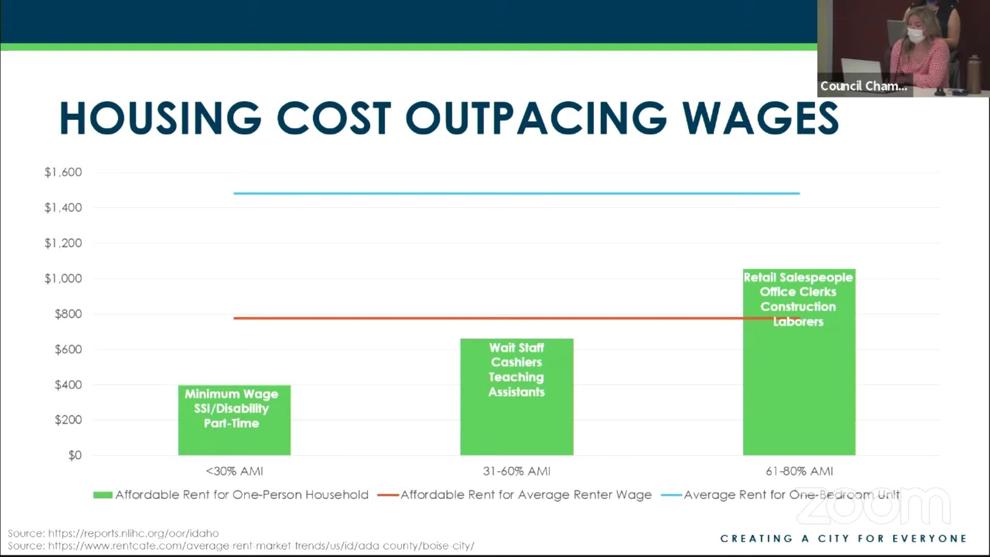 City staff on Tuesday proposed goals over the next five years to meet housing needs identified by the analysis:
Produce 1,250 new housing units, affordable to households earning 60% of the area median income, by leveraging the city's current landholdings and providing gap financing for affordable housing projects, among other strategies
Preserve 1,000 affordable housing units by subsidizing multi-family housing and preserving naturally occurring affording housing (NOAH), typically ageing, unsubsidized properties that are likely to be targeted for redevelopment
Create 750 units of supportive housing through Our Path Home, a public-private partnership in Ada County that seeks to provide permanent housing for people who are homeless
Mayor Lauren McLean said city leaders will consult the housing needs analysis on future policy decisions.
"A city government itself can't do this alone," she said. "We need partnership with the community, we need partnership with those that build homes. But there are things that we can do in the policy world, so it's for that reason that we wanted to conduct this analysis and then have a conversation about what that means for the budget decisions we make, the policy decisions we make."