BOISE — A Team USA athlete stood on the steps of the Idaho Capitol Tuesday evening and decried discriminatory policies against transgender people in Idaho, and said it could get worse.
"I'm here because your bill, HB 500, is the worst in the country attacking (transgender) student-athletes," Mosier told the group, which numbered about 200 people.
Mosier, a transgender man, is sponsored by Nike and in 2015 became the first known transgender athlete to represent the United States in international competition. He arrived in Boise after weeks of heated debate in the Idaho Legislature about transgender rights.
HB 500, sponsored by Rep. Barbara Ehardt, R-Idaho Falls, would:
Ban transgender women and girls from playing school sports on female teams
Allow female students' gender to be disputed
Allow for a medical exam to resolve any gender disputes
It passed the House on Feb. 26, and has been introduced in the Senate.
"To be clear, the purpose of House Bill 500 is to ensure the continued opportunities for girls and women in sports," Ehardt said in a statement released Tuesday afternoon. "We need leaders in business, politics, and athletics that promote women and create opportunities for us in sports. It is disheartening to think that some athletes, under the guise of equality, do not support girls and women as they pursue their dreams to stand atop the podium as a champion because a biological male had taken her spot."
The bill has received fierce condemnation from advocates and from Idaho's transgender community.
"This is one of the only states in the country that is saying it wants to do genital exams … to determine if (students) are girl enough to play a sport," Mosier said.
Idaho lawmakers are also considering HB 509, introduced by Rep. Julianne Young, R-Blackfoot, which would ban Idahoans from changing the gender on their birth certificate after the first year of life. It passed the House on Thursday, and has been introduced in the Senate.
Young, in a guest opinion this week, said the bill "includes establishing the important, and even compelling, interest of the state in maintaining accurate records and clear definitions in the law. It is a rational, science-based policy, drafted with the interests of all Idahoans in mind."
But HB 509 also has received backlash from the transgender community and others, and Tuesday evening's rally on the Capitol steps was in direct response to the proposed bills.
(Another bill that sought to make it a felony for doctors to provide transgender medical treatment for anyone under 18, died in committee Feb. 26.)
Megan Carter, vice chair of Add the Words Idaho, greeted the crowd Tuesday by asking if they were "ready to kill these bills," which was met with applause and cheering.
The event began at the Anne Frank Human Rights Memorial, where Rep. John McCrostie, D-Garden City, and Boise Mayor Lauren McLean addressed the crowd. A brief run to the Statehouse down Capitol Boulevard, led by Mosier, followed.
"I wanted to be here tonight because this event and this issue is so important," McLean, who took part in the run, told the crowd. "These bills affect people in our community, and people throughout our state, and that's not OK."
Percephone Bias, an 18-year-old transgender woman, is one of those people. She grew up in Idaho, and will be attending Boise State University for college, she said, so she cares about this legislation.
High school was difficult as a transgender teen, she said, and she remembered boys in particular writing hateful things about her on social media or shunning her during school. While she said she wanted to see both bills defeated, she didn't want to see transgender advocacy end there.
"I hope you all go out and fight for trans rights even when they're not directly threatened," she told the crowd.
Not everyone who partook in Tuesday night's event was transgender or knew transgender people personally.
Chris Ward said, to the best of her knowledge, her adult children aren't transgender, nor is she. She's worried about what she sees as the current polarization of United States politics, however, and she is concerned about Idaho's proposed legislation on transgender issues.
"Do they really want to make people feel so worthless they feel thrown away?" she said.
David Thompson, whose partner is transgender, took part in the rally carrying a sign reading "Protect Trans Lives."
Thompson felt it would be "a waste of everyone's time and the state's money to try to pass bills" like House bills 500 and 509.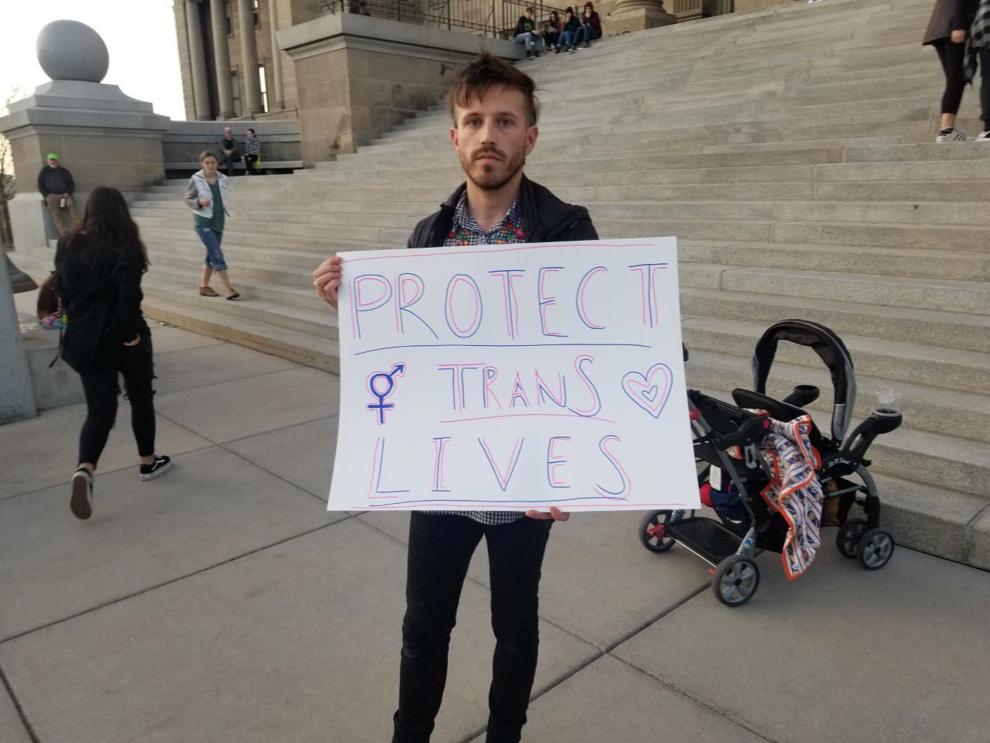 Ehardt and Young did not return calls from the Idaho Press Tuesday afternoon.
In her statement Tuesday, Ehardt, a former college basketball player and coach, said there's been misinformation about her bill.
"Little girls need to know that they can grow up, compete and be successful in sports, just like little boys," she wrote. "They have dreams and it is our responsibility to do all that we can to help them pursue and achieve these dreams by maintaining a fair playing field."
Mosier also spoke about the next generation in his address, and said juveniles are paying attention to the debate at the Capitol.
"(Transgender youth) are watching lawmakers debate whether or not they are real," Mosier said. "Regardless of what happens with this bill, some of the damage has already been done."