NAMPA — Former Shopko employees are planning a social media protest claiming that Shopko's owners, Sun Capital Partners, denied them severance money they were previously promised. 
Shopko filed for bankruptcy earlier this year and announced it would close all of its remaining nationwide stores, including three in the Treasure Valley. Tracy Kimberling, who worked at the Nampa Shopko for six years, said the store employed about 50 people, all of whom received letters saying they were eligible for severance. But she said just a few weeks before the store closed, company officials sent out emails saying their severance would not be issued. 
The promised severance amounts varied by employee, depending on their position, Kimberling said. Kimberling, an hourly employee, said she was eligible for two weeks of severance pay, amounting to about $2,000. A salaried employee for the Nampa Shopko was told she was eligible for four weeks of pay, amounting to over $3,700, according to a letter from chief human resource officer for Shopko Denise Domian on Jan. 16. 
"I felt powerless," Kimberling said. 
In the letter, which was distributed to Nampa employees in January, Shopko officials told employees that they were eligible for severance pay that would be distributed through the company's "normal bi-weekly pay process." The letter stated that if employees did not continue to meet their job requirements, accepted another job within the company, left the company before their last scheduled shift or received a serious warning within 12 months of the last day of operation, they would not be eligible for severance pay. 
Lily Wang, deputy campaigns director for United for Respect, a support organization for employees, said at the start of this year, Shopko had about 360 stores nationwide and employed about 14,000 people, many of whom have lost or will lose their jobs when the final stores close. Many of these employees are participating in the social media protest, including Kimberling and about a dozen other Nampa Shopko employees. Kimberling said the employees will visit the Nampa Shopko building Sunday afternoon to take pictures and some video of their protest, which they will then post online. 
Want more news like this in your email inbox every morning?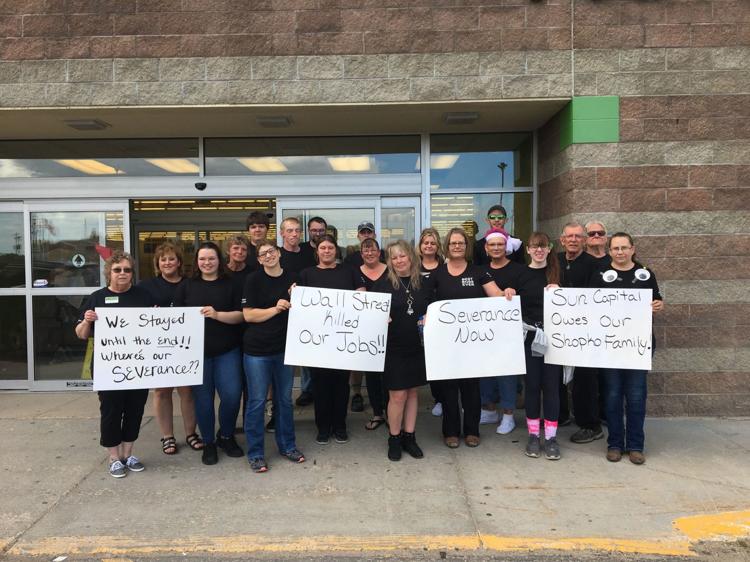 Earlier this month, Shopko employees issued a statement demanding severance from Sun Capital, according to a Bloomberg report. Wang said more than 700 employees signed the statement.
"Many of us have been left jobless and struggling to survive without severance for our years of service, and we are writing to you to demand accountability for Sun Capital's actions," read the letter.
In response to the Idaho Press' request for comment, Sun Capital officials issued an email statement, which stated, "Sun Capital has agreed to contribute $15.5 million to Shopko, which is more than enough to pay severance claims. This money is being contributed under a Chapter 11 plan that provides for paying all administrative and priority claims."
According to a Green Bay Press Gazette report, Sun Capital offered to pay $15 million to settle claims that the company improperly collected $67 million in dividends from Shopko. Wang said Sun Capital can't provide assurance that severance will be issued to Shopko employees unless they create an independent fund specifically for that purpose. 
Shopko's corporate officials could not be reached for comment.