Local health districts' hotlines have been flooded with calls this week from residents confused about when and where they can get a COVID-19 vaccine.
As of Feb. 1, 269,000 Idahoans 65 and older qualify for a vaccine, but the state is only receiving 25,000 doses per week.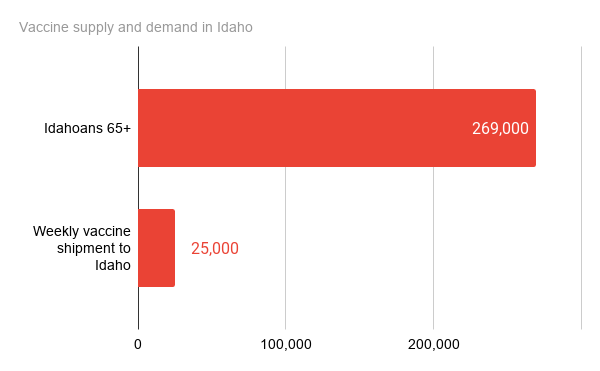 "It's going to be a while before we work through this pipeline," Gov. Brad Little said Tuesday during an AARP virtual town hall.
St. Luke's Health System also saw "unprecedented interest" in the vaccine Monday morning, with all of its appointments booked within six minutes.
Residents have told the governor they're confused and frustrated by the vaccine rollout. Nearly 2,000 calls came into the Central District Health coronavirus hotline on Monday as people sought information on how to get a vaccine. 
The Idaho Press spoke to officials from the Central and Southwest health districts and Idaho Department of Health and Welfare in an effort to answer readers' questions about the vaccine and understand why the supply coming into Idaho is so low.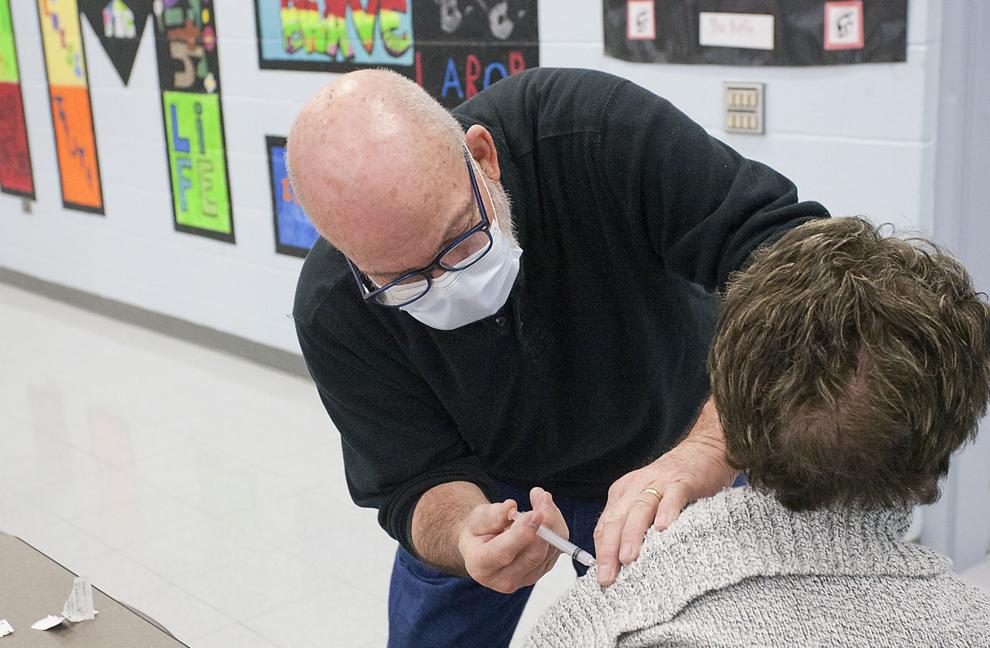 When will I be eligible?
Idaho's rollout will be in four phases. We're currently in Group 2, which opened up appointments to residents 65 and older. 
Other eligible groups include health care workers, teachers, first responders, and certain essential workers. Other essential workers, including at grocery stores, are tentatively scheduled to be eligible in late February or early March. The state's timeline, which is fluid, has vaccines reaching the general population starting in May.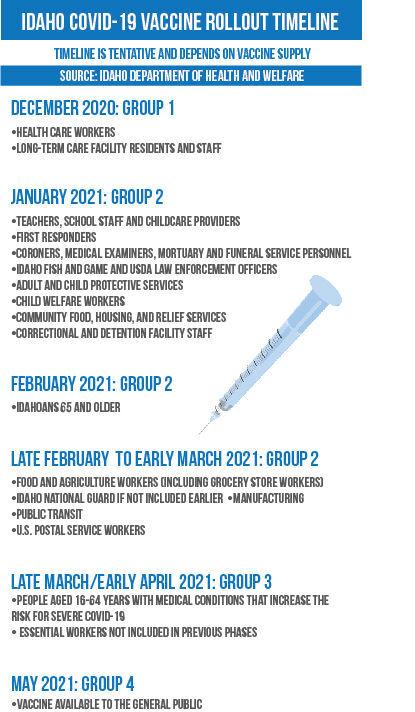 Can I schedule an appointment? How?
Ask your health care provider about scheduling an appointment, or find a list of providers through your health district.
Central District Health (Ada County):
Southwest District Health (Canyon County):
Will I have trouble getting my second dose?
You will get your second dose at the same place you received your first dose. The second dose is being sent directly to vaccine providers; those do not go through the health districts and it is up to the providers to schedule individuals for their second doses.
Does it cost money?
Vaccine doses will be given to people at no cost, according to the Department of Health and Welfare.
"Vaccine providers that participate in the Centers for Disease Control and Prevention's COVID-19 Vaccination Program contractually agree to administer a COVID-19 vaccine regardless of an individual's ability to pay for the administration and regardless of their coverage status," the department said on its website.
How many vaccines is the state getting each week, and how many people are eligible?
Idaho is getting about 25,000 doses each week, according to Health and Welfare spokeswoman Niki Forbing-Orr. The latest group now eligible to get the vaccine — those 65 and older — is estimated to include 265,000 to 269,000 people.
In Central District Health, which is receiving 6,000 to 7,000 doses per week, 81,000 residents are 65 and older, Director Russ Duke said. 
Southwest District Health is receiving about 3,000 doses per week. The six-county region has an estimated 45,000 residents who are 65 and older, according to spokeswoman Katrina Williams. The district expects it will take 10 weeks to vaccinate this group.
Why is Idaho's incoming supply so low?
"The number one issue right now is that demand for vaccine is far greater than the supply of vaccine we are receiving," Forbing-Orr said. "This is not unique to Idaho — all states are experiencing this."
The federal government is distributing vaccines to states in proportion to their populations.
"Idaho is receiving about 25,000 doses per week from the federal government, which is lower than expected," Forbing-Orr said. "In our discussions with the federal government, we have learned that Idaho's COVID-19 vaccine allocation is based on the number of people who are 18 and older. Since Idaho has a very high proportion of children, this means that our allocation is less than if it was based on the entire population. However, even accounting for this fact, it still appears that Idaho is receiving less than it should and we are working with our federal partners to find out why and to bring that number up if possible."
Health care providers stand ready to administer vaccines, but there's not enough supply. 
"We have 100 sites ready to go in our health district, but most are not getting the vaccine," Duke said.
"What is concerning to me is early on we were told that vaccine supply would continue to increase as time went on, but we have not seen that. It has been steady," Duke said. "If we are getting the same quantities, it is going to take a really long time to get our communities vaccinated."
In Southwest District Health, 22 enrolled providers have nearly 60 vaccine sites, but not all are receiving vaccines, Williams said. The district is expecting a slight bump in vaccine allotment in the next two to three months.
In the meantime, it's sometimes the health care workers who have to deal with the brunt of people's frustration.
"Some providers have encountered individuals showing up and demanding vaccinations without having an appointment," she said. "We encourage individuals within the group of ages 65 and older to be patient and allow the most vulnerable of this large population group to receive the vaccine first."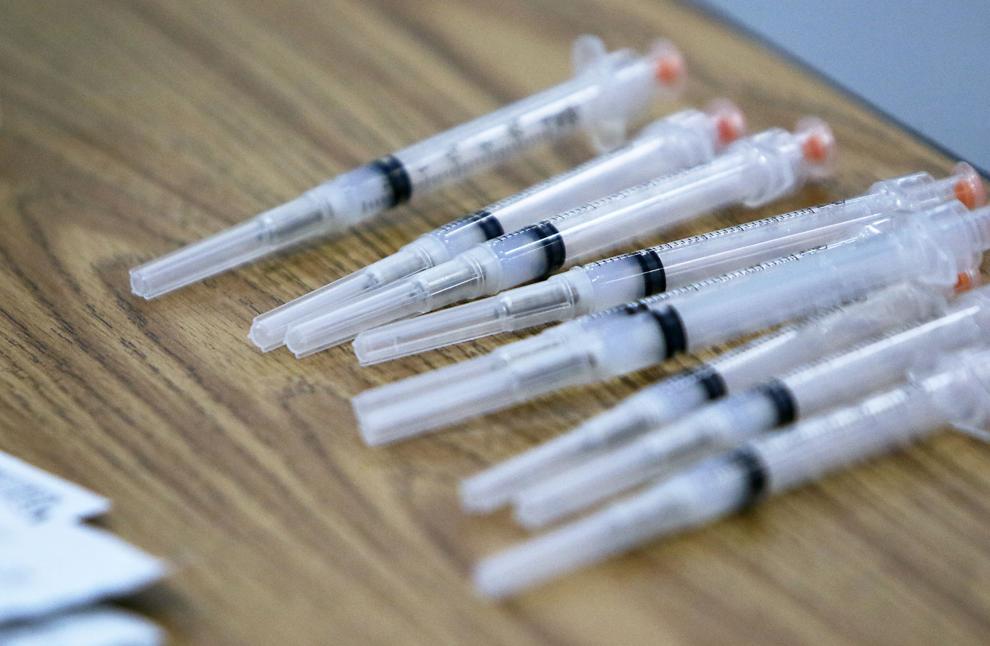 Is there good communication among the federal, state and local governments?
The communication is "ongoing," Williams said simply. 
State officials communicate with the federal government regularly, then talk with the health districts, Duke said. 
"We talk with (the state) formally three times per week, but usually more discussions take place outside of those formal meetings," he said.
The state is "working with the Biden administration to improve communications," Forbing-Orr said, "so that we know how much vaccine we will be getting sooner, so providers can better plan for their clinics."
Are we going to see mass vaccination events?
"Mass vaccination events are certainly part of our discussions, but there are no concrete plans yet at the state level," Forbing-Orr said.
Duke said these events are complex to manage.
"People are lined up for hours or more in their cars, people are spending the night to try to get further ahead in the line, it is CDH's preference not do that unless we have to," he said. 
"We have the capacity and plans to be able to to that, but right now what we are doing is we are working with a decentralized approach," he added. "We want people to go to their primary health providers or pharmacies to get the vaccine. We have providers from 100 sites, our capacity is significant. If we were receiving so many vaccines that our providers couldn't keep up, then we would look at some kind of mass event."
Southwest District Health has no plans for a mass vaccine event at this point because of the limited vaccine supply. 
"Should vaccine supply increase, we do have the capacity to and partners interested in working together to stand up mass vaccination opportunities," Williams said.
How many vaccines has the state received so far, and how many have been distributed? If there's a large gap, why?
Idaho had received about 221,550 doses as of late January, Forbing-Orr said.
According to the state's coronavirus dashboard, 139,695 doses had been administered, including second doses.
"It's a complex math problem that changes daily, but the gap exists for a variety of reasons," Forbing-Orr said.
One reason is a slight data lag, she said. The state is troubleshooting data issues between health care systems' data vendors and the state's tracking system, the Idaho's Immunization Reminder Information System.
Another reason for the gap is providers have not administered the doses yet; some are reserved for patients' second dose.  
"Based on Gov. Little's executive order from last week, we will be publishing data by provider starting Feb. 8 that will include doses received, administered and in inventory," Forbing-Orr said. 
Are we expecting any new vaccines to hit the market soon to help with supply?
Forbing-Orr said three large-scale, phase three clinical trials are in progress, by AstraZeneca, Janssen and Novavax, but we don't know when they might be available.