While most people think of April as the time of year the taxman cometh, another sobering type of envelope made its way into mailboxes all around Ada County at the end of November.
"Property taxes get a lot of attention," Ada County Clerk Phil McGrane said. "People get a giant bill saying, 'You owe X thousand dollars,' and that comes out right before the holidays."
That lump-sum format can be shocking because it's quite different from incremental charges like sales tax, McGrane said.
Ada County will collect just over $664 million in property tax revenue for 2019, a 9% increase over the previous year, according to Ada County Treasurer Beth Mahn.
Only about a fifth of that will go to the county itself, while the rest will go to other taxing districts within the county — including six cities, four school districts, the Ada County Highway District, and two dozen smaller taxing districts.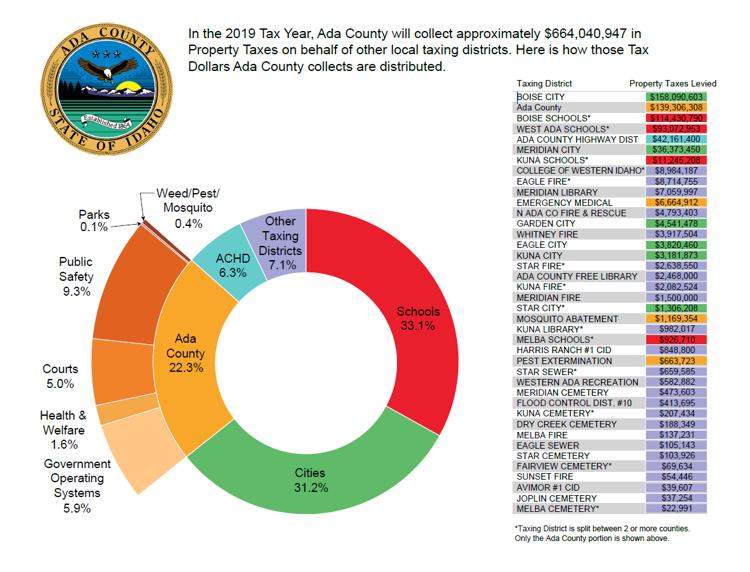 The boost in property tax revenue this year stems from various factors, including new construction, rising property values and increases to local government budgets. Each taxing district sets its own budget and can increase property tax revenue by a maximum of 3% each year.
Property owners' individual tax bills will be based on which taxing districts they live in. Many residents across the county will see their property tax bills go up, anywhere from 5% to 15%. However, others' bills will remain the same and others will go down, according to Ada County Assessor Bob McQuade.
Every property tax bill sent out in November was determined by the parcel's assessed value as of Jan. 1, 2019. Property owners must pay at least the first half of the bill by Dec. 20, with the second half due June 20, 2020.
Rising property values are one reason property taxes will be more expensive for many this year. Mahn and McQuade agree there's no one, simple reason to explain the jump, but both have some ideas.
McQuade pointed to Idaho's homeowners exemption. A homeowner is exempt from paying property taxes on either $100,000 or 50% of their assessed property value, whichever is less. The more a home's value rises above $200,000, the smaller the exemption percentage becomes.
With a $200,000 house, for example, half of that value is exempt from taxes. But with a $250,000 house, only 40% is exempt from taxes, because the homeowners exemption is capped at $100,000.
Because home prices are rising so swiftly, more homeowners are seeing their property value rising above the $200,000 mark, according to McQuade.
"They can't get that maximum benefit anymore," he said. "This is something happening more over in Vista, where you have more moderately priced homes."
The median average assessed value of a home in Ada County on Jan. 1, 2019, was $294,700, compared to $251,150 on Jan. 1, 2018, according to the assessor's office.
Rising costs for tax districts are another reason for the increased property taxes this year, Mahn said.
"It's a budget-driven system," she said, and the need to fund services in a fast-growing place like Ada County is part of that.
The higher Ada County budget as a whole is another part of the sudden increase, according to McGrane. This year, Ada County decided to dip into its forgone tax reservoir to the tune of $4.5 million to help pay for the rapidly diversifying needs of a fast-growing county.
Forgone taxes are property taxes a municipality did not take in previous years, even if it could have, according to Mahn.
"You're allowed to go in the future and take those taxes you didn't take in the past," McGrane said, which means taking forgone taxes can increase the county's revenue even if there aren't other ways to do so.
Ada County has a big reservoir of forgone taxes, McGrane said. For seven years after the 2008 recession, Ada County commissioners didn't take the full 3% property tax revenue increase allowed by state law, partially in order to stop the pain of raising taxes during a recession.
"They were being intentionally conservative," McGrane said. But, he added, that conservative nature left Ada County in a hole.
"We still had increased costs and were headed toward bankruptcy," McGrane said.
With the continued growth of Ada County and the cities within it, property taxes will probably continue to rise. It's something McGrane believes should be a key part of ongoing conversations about growth.
"There are people who are feeling a lot of pressure" McGrane said about property owners facing rising costs. But he noted, the county is in the same boat.
"We feel the same pressure," he said.