BOISE — While the vast majority of police-citizen interactions don't involve use of force, it's still important to be able to track and understand the ones that do.
However, comparing and analyzing this data is notoriously difficult. Police departments define use of force in different ways, researchers use different methods to collect data, and there's no national database tracking excessive use of police force — although that could change per President Trump's June 16 executive order.
The Idaho Press asked five Treasure Valley law enforcement agencies for the number of use of force incidents recorded in recent years. Responses varied, and departments used different terminology and criteria.
Boise and Nampa police departments and the Ada County Sheriff's Office were often able to provide the numbers requested. Caldwell Police Department and the Canyon County Sheriff's Office had fewer data points on record.
The Boise, Caldwell and Nampa police departments, as well as the Ada and Canyon county sheriff's offices, all reported calls for service involving use of force in 2019 at a rate of roughly 0.1% or less, according to the records they provided the Idaho Press.
Bill King, Ph.D., who teaches criminal justice at Boise State University, said the lack of uniformity in departments' reporting makes comparing data exceedingly difficult.
"It's a huge problem," he said.
President Trump's order calls on the attorney general to establish a database of police officers with excessive use-of-force complaints. The database could only succeed, however, if states make major changes to their reporting, AP reports.
King said more uniform reporting is possible, such as in Texas, where police are required to file detailed information about each traffic stop and share that with the state.
Some data points in the Treasure Valley do help shed light locally on how often police are using force against civilians.
LOCAL TRENDS, TRACKINGIn response to our request about use of force, Boise PD provided records showing a breakdown of incidents since 2015 and included details about the type of force used, and if the person involved resisted, was injured, or required hospitalization.
From June 2019 through this past June, the Boise Police Department received 165,080 calls for service, with 0.06% of those calls involving an officer use of force, according to department data.
Nampa PD provided a similar snapshot, including details about the type of force used and why, whether the subject or officer was injured or treated, and what service the officer was conducting at the time, such as a traffic stop or interview.
The Nampa Police Department's use of force numbers have dropped every year for the last three years, starting with 89 incidents in 2016 and dropping to 38 incidents in 2019.
Police Chief Joe Huff credits this drop to the city's increased training budget for police. That budget has more than tripled in recent years from $85,000 in 2017 to the current training budget of $318,500. The funding allowed the police department to create a specific training division.
"We're lucky here; we have a council and a mayor that totally supports us, and they realize that it's like, 'Look, if you get me enough training money, I can make that curve go down,' and we are going down," Huff said.
More than half of the incidents in Nampa's use of force reports since 2015 ended in a non-injury for both parties. The primary reasons given for an officer using force were resisting arrest, noncompliance, and a combative or fleeing subject.
The data provided by Caldwell PD only stretched back to 2017, when the agency started to track use of force incidents in a new computer program.
"Before I added this new program, our recording keeping was old and antiquated," Police Chief Frank Wyant said in an email.
Of the 48 reports logged in that time frame, a Taser was the most common use of force technique, used 31 times. The department did not answer requests for clarification on other use of force tactics used or calls for service numbers.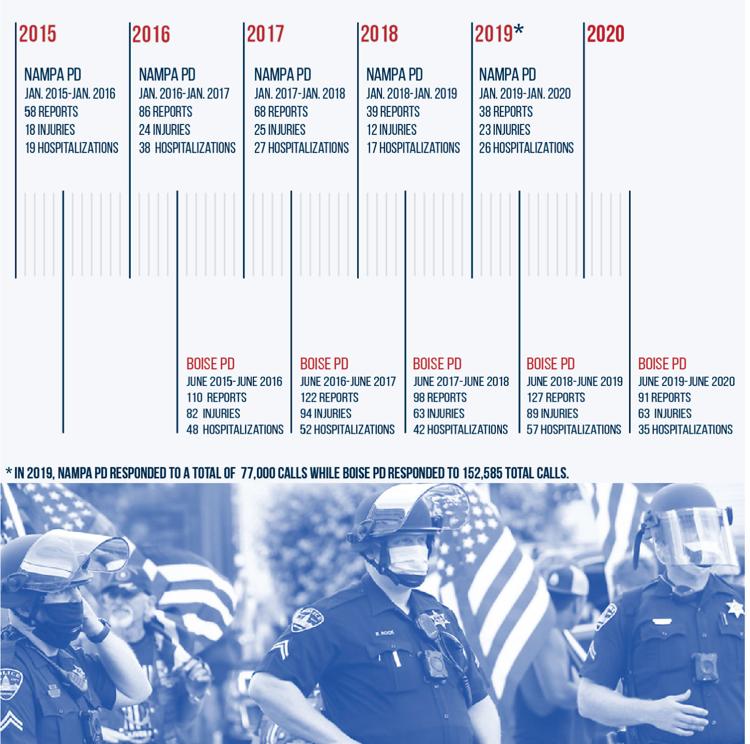 The Canyon County Sheriff's Office could provide the total number of use of force reports over five years — 670 reports since June 2015 — but the agency was "unable to locate a record that fits the parameters of your request … as we do not have an existing report or record that contains the requested information," according to a July 1 letter to the Idaho Press.
Those 670 reports "encompassed tactics such as the lateral vascular neck restraint, physical manipulations, dogs and firearms," the letter said. No other information was given.
After a second request, the Canyon County Sheriff's Office on July 21 provided a breakdown of use of force reports per year. The agency noted more than "one type of force may have been used for the same incident; which explains the 864 incidents of force listed in this response which is in excess of the 670 reports referenced in previous correspondence."
In 2019, deputies logged 157 use of force reports — a majority of which (110) occurred in the Canyon County Jail. This is significantly lower than the previous year's 232 reports.
The Ada County Sheriff's Office keeps track of use of force incidents in individual police reports, but had not yet compiled all of the information in one place.
"Prior to your request, the Ada County Sheriff's Office did not maintain these particular charts or reports, so I appreciate your patience…" Terry R. Derden, chief legal adviser to the office, wrote in a letter to the Idaho Press.
The Ada County Sheriff's Office provided data on use of force incidents starting in June 2017. Since then, use of force incidents among the agency's patrol deputies have gone up, but they averaged 69.3 incidents per year between June 2017 and June of this year. In 2019, 0.1% of the office's calls for service involved a use of force.
In the Ada County Jail, deputies used force, on average, 95 times per year during those three years, according to numbers provided by the office.
The Idaho Press requested data from the office going back to June 2017, but looking for data from prior to 2017 would have proven difficult, according to Patrick Orr, office spokesman.
"We switched our internal reporting system in 2017, so compiling information before 2017 requires us to go back into our old system and import that data into our new system, which is very labor intensive," he wrote in an email Monday. "We have not done that yet."
RACE AND GENDER
The Ada County Sheriff's Office and the Nampa Police Department provided information about the race and gender of the civilians on whom officers used force. The Boise Police Department indicated it does not track those demographics in use of force cases.
Ada County patrol deputies overwhelmingly used force against white residents; rates of use of force against non-white residents numbered in the single digits each year since 2018. The county's overall population is 92% white.
According to data from Nampa police, officers' use of force against white suspects between 2015 and 2019 increased from 43.1% to 72.2%. Force against Hispanic suspects in Nampa, where nearly a quarter of the population is Hispanic, decreased from 37.9% to 8.3% during the same time, data shows. In nearly all incidents, the suspect was male.
INJURIES, HOSPITALIZATIONS
The Boise and Nampa police departments provided information about injuries and hospitalizations as a result of officers' use of force. Those line items on Nampa's reports simply indicated whether a person was injured or not; Boise's reports included more information about the type of injury sustained.
An average of 78.2 people were injured by a Boise police officer's use of force over the course of any 12-month period since June 2015. During that time frame, the department averaged 109.6 uses of force per 12-month period, and an average of 46.8 people per 12-month period were taken to the hospital in connection with an officer's use of force.
The Nampa Police Department's numbers were lower — an average of 20.4 people were injured by officer use of force in any year since 2015, and an average of 25.4 people were taken to the hospital after an officer's use of force.
LOOKING FORWARD
While neither the Ada County Sheriff's Office or the Boise Police Department saw steep change in their training budgets in either direction, the latter agency has responded to concern from residents about its use of force tactics.
Since 2015, the Boise Police Department counted an average of 32 uses of the lateral vascular neck restraint technique per year. The technique is one of the cornerstones of a lawsuit filed against the department by former officer Sierrna Berg. Much of the suit focuses on the sexual harassment Berg says she endured as an officer, but she also describes seeing a department training officer use the technique on a trainee.
On June 26, though, "based on a number of factors, including community input," the department "decided to discontinue its use (of the restraint) at this time," according to a department press release.
Unlike Boise police, Huff said Nampa doesn't plan to suspend the lateral vascular neck restraint technique, partly because of the department's emphasis on training and employing the tactic properly. From 2015-2019, Nampa officers used the technique 11 times, with the highest being five times in one year and the lowest zero, according to department data.
The department also doesn't intend to ban officers from shooting at moving vehicles — a pillar of the national "8 Can't Wait" campaign calling for reforms to policing, many of which the department already complies with.
"You can never say never. … You can't do that in this job — you can't," Huff said. "It just has to come down to good judgement, and it's wholly dependent on the situation."