BOISE — Idaho's citizen redistricting commission adopted its final report Wednesday on a unanimous, 6-0 vote, setting the stage for any potential legal challenges to the state's new legislative and congressional district plans.
The new legislative district map in particular is drawing lots of scrutiny, as it reflects population shifts that have moved an array of incumbent lawmakers into the same districts. That means they'll either have to face off in an election or retire. It also has significant changes from existing districts based on growth in the state over the past decade, creating more than a dozen legislative seats for which there would be no current incumbent.
"We have tried hard to be Idahoans in this process, not Republicans and Democrats," said commission Co-Chair Bart Davis. "I believe that we have tried to be congruent with the intent behind the policy that Idahoans chose to have in the redistricting process."
A comparison of official voter registration records to the new plan shows 13 potential contests among incumbents in 11 legislative districts. Three House districts, under the new legislative map, dubbed L-3, contain four current House incumbents but just two seats each.
"Frustrated and disappointed, I guess, would be the two words that come to mind," said Rep. Jason Monks, R-Meridian, who landed in the new District 22 along with three other GOP House incumbents, Reps. Steven Harris, R-Meridian; Greg Ferch, R-Boise; and John Vander Woude, R-Nampa.
Monks said he'd talked to all three, and it's "way premature" to say who will run and who will bow out.
The other two new legislative districts that take in four current House incumbents are District 35 in southeastern Idaho, which includes current Reps. Randy Armstrong, Kevin Andrus, Marc Gibbs and Chad Christensen; and the new District 8 in southwestern Idaho, which includes current Reps. Terry Gestrin, Matthew Bundy, Megan Blanksma and Dorothy Moon. Moon, however, has announced she'll run for Idaho secretary of state rather than seek reelection.
Vander Woude said if the current legislative redistricting plan stands, he expects to see about half of Idaho's House seats turn over in the next election, between district changes and lawmakers who weren't seeking re-election anyway. "We'll see if this map holds up," he said.
House Majority Leader Mike Moyle, R-Star, landed in the new District 10 with fellow Reps. Bruce Skaug, R-Nampa, and Tammy Nichols, R-Middleton, though that new district has no Senate incumbent. Sometimes, House members move on to the Senate.
"I'm running for the House," Moyle said. "If it stands, we'll see how it works out. Man, I'm running, I'm running to win if it happens."
The citizen redistricting commission voted unanimously Wednesday to adopt L-3, the new plan to divide Idaho into 35 legislative districts; and voted 4-2 in favor of a new congressional district, C-3, plan that runs the dividing line between Idaho's two congressional districts through western Ada County. Those were the same votes the commission made a week earlier, with two Democratic commissioners dissenting on the congressional district plan; the votes were re-taken Wednesday as a precaution after a technical question was raised about last week's meeting notice.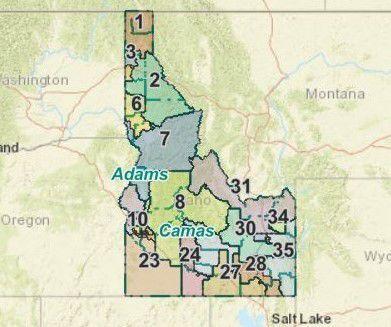 Commissioner Nels Mitchell, who along with Co-Chair Dan Schmidt voted against the congressional plan, told his fellow commissioners, "It's really been a pleasure and an honor to have this opportunity to work with you, and I'm very proud of our work product and the work that we've accomplished over the last two months."
Each of Idaho's 35 legislative districts has one senator and two House members. Here's the breakdown of the new districts and how current lawmakers fall among them:
DISTRICT 1: Sen. Jim Woodward, R-Sagle; and Rep. Sage Dixon, R-Ponderay, with the other House seat open.
DISTRICT 2: Rep. Heather Scott, R-Blanchard, with both the Senate seat and the other House seat open.
DISTRICT 3: Sen. Steve Vick, R-Dalton Gardens; Reps. Vito Barbieri, R-Dalton Gardens; and Doug Okuniewicz, R-Hayden.
DISTRICT 4: Sen. Mary Souza, R-Coeur d'Alene, who is stepping down to run for Idaho Secretary of State; and Reps. Jim Addis and Paul Amador, both Coeur d'Alene Republicans.
DISTRICT 5: Sen. Peter Riggs, R-Post Falls; Reps. Ron Mendive, R-Coeur d'Alene; and Tony Wisniewski, R-Post Falls.
DISTRICT 6: Sen. David Nelson, D-Moscow; and Reps. Brandon Mitchell, R-Lewiston; and Caroline Nilsson Troy, R-Genesee; along with Rep. Lori McCann, R-Lewiston, though there is some question as to whether her residency in this district is accurately reflected.
DISTRICT 7: Two senators, Sens. Carl Crabtree, R-Grangeville, and Dan Johnson, R-Lewiston, though Johnson was just elected mayor of Lewiston and likely will step down after his current term; Reps. Mike Kingsley, R-Lewiston; and Charlie Shepherd, R-Riggins. Rep. Priscilla Giddings, R-White Bird, also lands in this district, but she's running for lieutenant governor next year rather than seeking re-election to the House.
DISTRICT 8: Sen. Christy Zito, R-Hammett; and Gestrin, R-Donnelly; Bundy, R-Mountain Home; Blanksma, R-Hammett; and Moon, R-Stanley; though Moon is running for Secretary of State.
DISTRICT 9: Two senators, Sens. Jim Rice, R-Caldwell, and Abby Lee, R-Fruitland. Also three current representatives: Reps. Scott Syme, R-Caldwell; Ryan Kerby, R-New Plymouth; and Judy Boyle, R-Midvale.
DISTRICT 10: No senator, but three House incumbents: Moyle, Skaug and Nichols.
DISTRICT 11: No senator; Reps. Julie Yamamoto and Greg Chaney, both R-Caldwell.
DISTRICT 12: No senator, and just one House incumbent, Rep. Ben Adams, R-Nampa, who announced over the weekend that he plans to run for the district's Senate seat.
DISTRICT 13: Sen. Jeff Agenbroad, R-Nampa; Rep. Brent Crane, R-Nampa.
DISTRICT 14: Two senators, Sens. Steven Thayn, R-Emmett; and C. Scott Grow, R-Eagle; along with Rep. Gayann DeMordaunt, R-Eagle.
DISTRICT 15: Sen. Fred Martin, R-Boise; and Reps. Steve Berch, D-Boise; and Codi Galloway, R-Boise.
DISTRICT 16: Sen. Grant Burgoyne, D-Boise, who has announced he is retiring; Sen. Ali Rabe, D-Boise, has announced she'll run for his Senate seat in 2022. Reps. John McCrostie, D-Garden City; and Colin Nash, D-Boise.
DISTRICT 17: No senator, and just one House incumbent, Rep. John Gannon, D-Boise.
DISTRICT 18: Sen. Janie Ward-Engelking, D-Boise; and according to the most recent voter roll records, three representatives, Boise Democrats Ilana Rubel, Brooke Green and Sue Chew. But Chew said she just moved and now is on the Bench and in District 17; she notified the Secretary of State's office late Friday afternoon.
DISTRICT 19: Sen. Melissa Wintrow, D-Boise; Reps. Lauren Necochea, D-Boise; and Chris Mathias, D-Boise.
DISTRICT 20: Sen. Chuck Winder, R-Boise; and Reps. Joe Palmer and James Holtzclaw, both Meridian Republicans.
DISTRICT 21: Sen. Regina Bayer, R-Meridian; no House incumbents.
DISTRICT 22: Sen. Lori Den Hartog, R-Meridian; and Reps. Harris, Ferch, Vander Woude and Monks.
DISTRICT 23: Two current senators, Sens. Patti Anne Lodge, R-Huston; and Todd Lakey, R-Nampa. One House incumbent: Rep. Rick Youngblood, R-Nampa.
DISTRICT 24: Sen. Jim Patrick, R-Twin Falls; and Reps. Clark Kauffman, R-Filer; and Sally Toone, D-Gooding.
DISTRICT 25: Sen. Lee Heider, R-Twin Falls; and Reps. Lance Clow and Linda Hartgen, both Twin Falls Republicans.
DISTRICT 26: Sen. Michelle Stennett, D-Ketchum; and Reps. Laurie Lickley, R-Jerome; and Muffy Davis, D-Ketchum.
DISTRICT 27: Sen. Kelly Anthon, R-Burley; and Reps. Fred Wood, R-Burley, and House Speaker Scott Bedke, R-Oakley, who is running for lieutenant governor rather than seeking re-election.
DISTRICT 28: Sen. Jim Guthrie, R-McCammon; no House incumbents.
DISTRICT 29: Sen. Mark Nye, D-Pocatello; and Reps. Dustin Manwaring, R-Pocatello; and James Ruchti, D-Pocatello.
DISTRICT 30: Sen. Steve Bair, R-Blackfoot; and Reps. David Cannon and Julianne Young, both Blackfoot Republicans.
DISTRICT 31: Sen. Van Burtenshaw, R-Terreton; and Reps. Karey Hanks, R-St. Anthony; and Rod Furniss, R-Rigby.
DISTRICT 32: Sen. Kevin Cook, R-Idaho Falls; and Reps. Gary Marshall and Wendy Horman, both Idaho Falls Republicans.
DISTRICT 33: Sen. Dave Lent, R-Idaho Falls; and Reps. Barbara Ehardt and Marco Erickson, both Idaho Falls Republicans.
DISTRICT 34: Sen. Doug Ricks, R-Rexburg; and Reps. Jon Weber and Ron Nate, both Rexburg Republicans.
DISTRICT 35: Sen. Mark Harris, R-Soda Springs; and Reps. Randy Armstrong, R-Inkom; Kevin Andrus, R-Lava Hot Springs; Marc Gibbs, R-Grace; and Chad Christensen, R-Iona.
To find out which new legislative district you'll be in, go to redistricting.idaho.gov and click on "Adopted Plans." There, you can use the "map viewer" tool to enter your address and see which legislative and congressional districts you fall into under the new plans.
This article has been updated to correct names in Districts 13, 18, and 23.