CALDWELL — In the Caldwell School District, where a majority of students are Latino, half of the current school board members speak Spanish.
Chairwoman Marisela Pesina and trustee Manuel Godina are able to interact with monolingual Spanish-speaking families at board meetings.
"I made a point to thank the families for being at the meetings and for pushing their students," Pesina said. "The kids afterwards would tell me their parents always point out, 'Look at how lucky you are to be living in a time like this, with people who can speak Spanish to us in meetings like this.'"
Throughout the pandemic, the district has put out informational and Q&As videos in English and Spanish, with Pesina translating. Parents from outside the district would also watch, Pesina said, because their own school districts were not providing information in Spanish.
That's an example of the difference representation in leadership can make. However, when looking at the Legislature and local school boards and city councils in Idaho, gaps in representation are apparent.
Neither the Idaho Secretary of State or other state agencies track the race or ethnicity of elected officials. But on the school level, for example, Latinos make up 18% of K-12 students but only 3% of school district employees statewide, according to the Idaho Commission on Hispanic Affairs.
"Why does this matter?" asked Antonio Hernandez, voting rights coordinator for Conservation Voters for Idaho. "Because you can't be what you can't see."
Last May, Conservation Voters for Idaho launched a fellowship program with a goal to empower people in traditionally underrepresented groups to pursue public service roles. The Boards and Commissions Fellowship Program aims to "demystify what it means to serve" and increase diversity in civic leadership. The two-year fellowships are available for women, people of color and LGBTQ+ people.
"In Idaho it is tricky to find information about how to get involved as a person of color and how to get your voice heard," said Tatiana Morales, one of the 19 fellows, "but I've been learning from the program."
Morales grew up in Weiser, where she said there were few resources in Spanish to help her immigrant parents understand their community and city policies. The role of translating for her parents fell on her shoulders, as it does for many children of immigrants.
Morales said she doesn't remember seeing anyone who looked like her in government. Encouraged by her parents to pursue education, she graduated from the University of Idaho and now is the associate director of the Women's Business Center in Moscow.
With her parents' background in farm work, Morales said she could see herself serving on an agriculture-related board someday.
Toni Belknap-Brinegar, a Vallivue School District trustee and leader of the fellowship program, is passionate about training people like Morales. A Black woman and the only person of color on the school board, Belknap-Brinegar said she experienced her own self-doubt and knows what it's like to find the courage to run. She lost her first race for a school board seat, but later the trustee who won was unable to fulfill his term and she stepped into the role. She later ran and was elected to another term.
"My message to other people of color running is to give yourself a lot of grace, and don't think you have to be perfect to run for office," Belknap-Brinegar said.
Pesina also had doubts about running for office, even after she was approached to put her name in the race for a vacant trustee seat in 2017.
"It was very humbling because sometimes we don't see the potential within ourselves," Pesina said.
Pesina, who grew up as a migrant student in Texas, didn't go to college. When she mentioned college to her parents as a kid, she faced some resistance.
"My father would say, 'So you want to be like the white man and go to college? Next thing we know you are going to forget how to make tacos and tamales,'" Pesina said. "It was a struggle to keep our family traditions and culture and still want to go to college. I didn't understand at the time that you could do both."
Pesina, who went into real estate, said she was nervous to run for the school board because even though she is fluent in English and Spanish, she worried about her English vocabulary. Despite her doubts, she gave it a shot. She won by more than 50 votes, and she soon worked her way up to the board chair position.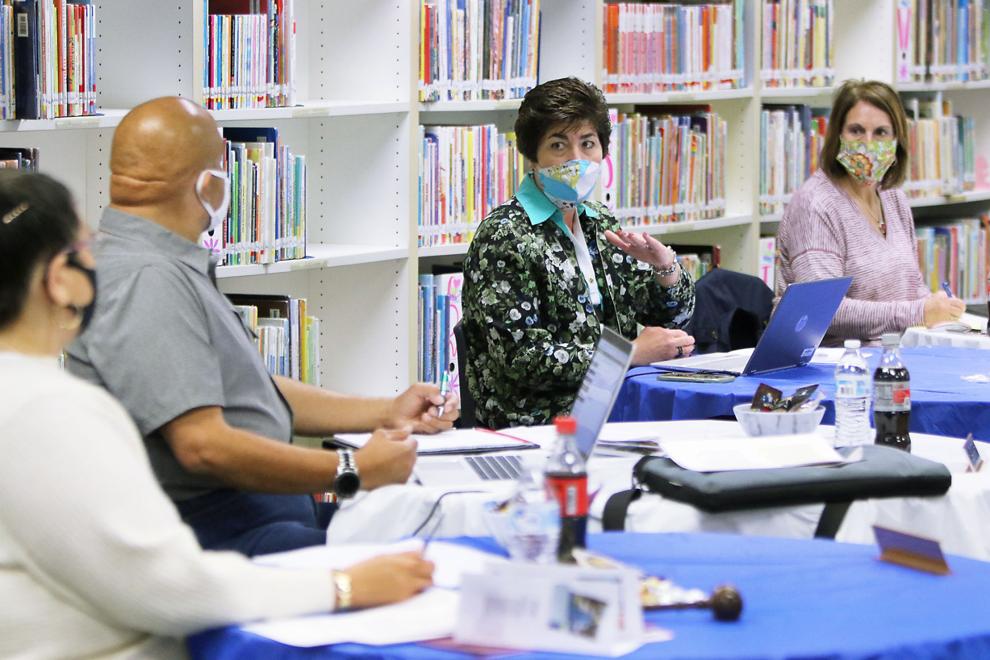 "We need good leaders, and good leaders come in all kinds of colors, shapes and sizes," Caldwell School District Superintendent Shalene French said. "And it is the leadership that is most important to me. Marisela collaborates, she brings people in, she listens. If Chairman Pesina had made a different choice, think about what we would lose, what Caldwell would lose."
As part of the Conservation Voters for Idaho's efforts to recruit diverse candidates, Hernandez and Belknap-Brinegar have looked at the many barriers keeping people from running for office.
Even with organizations translating materials into other languages, most city code and state statutes are only available in English, Belknap-Brinegar said.
"There is an expectation that you have to be articulate," she added. Even people who are fluent in English, like Pesina, may be insecure about speaking in front of large audiences and having themselves recorded in meetings.
In addition to language, money and socioeconomic status are a barrier for many people of color in serving on elected boards and commissions, Belknap-Brinegar said.
"Our committee meetings are held during the day," she said. "So you have to have paid time off and you have to work a flexible schedule. I am lucky to work with (Conservation Voters for Idaho), but most people of color do not have those types of jobs. Especially in Canyon County, (many people of color) are in service jobs, they are in jobs where there isn't time off, and if you don't show up you don't get paid. How can we ask folks to do this work in lieu of supporting their family? It would be an impossible choice."
Though school board members are elected, the position is unpaid. School boards typically meet once a month, but some have met more often during the pandemic.
There's also research that board members and commissioners must do outside of meetings, Belknap-Brinegar said, so a computer and home internet access is necessary. The COVID-19 pandemic has highlighted the lack of internet access for many families in Canyon County, she noted.
"We know it is not that folks are not interested," Hernandez said. "It is that there are some real challenges, and it is difficult for us to note what all of those are, unless we work with community members to demystify what it means to be on a board or commission."
Pesina said growing up in Texas, she saw Latinos who were school principals, teachers and police officers.
"I felt like I could be that, that it was not too far away, that it was not unattainable," she said. She wants to give Caldwell students that same inspiration.
"We want children to have a role model," she said, "so they realize, 'I can be a teacher, an administrator, a board member.'"