NAMPA — The dashcam video footage shows the Nampa police officer walking away from the scene of a fatal car crash following a police pursuit in July. He puts his face in his hands, then looks up helpless. He walks away, out of view of the camera recording the scene and his moment of grief.
Prior to the crash, four officers had been involved in a pursuit of a man, who officers believed was driving under the influence.
That crash was the second of two Nampa Police Department pursuits that ended fatally within the span of five months.
Nationally, police departments have tightened restrictions on pursuit policies in recent decades, due to situations like the one the Nampa officer walked away from in July.
"Complex and scary" is one way to describe police pursuits, which put the public, officers and the offender at great risk, said Nampa Police Capt. Curt Shankel.
Agencies throughout the Treasure Valley differ on their stances for police pursuits and the best time to initiate them.
"We don't want a pursuit coming through our town, but there are times, unfortunately, that that happens," Shankel said. "That's dictated by the person we're dealing with."
'HORRIBLE SITUATION'
The first of the Nampa Police Department's fatal pursuits in 2018 occurred in February, while a pursuing officer hit and killed a woman who had jumped out of the getaway vehicle. According to an affidavit, debris had also fallen from the vehicle, and the officer could not tell he had hit a person. This fatal pursuit occurred at a time when the department was going through a pursuit policy training, Nampa Police Chief Joe Huff previously told the Idaho Press.
Five months later, another pursuit happened. It again ended fatally.
A review of the police reports, dashboard camera footage from one pursuing officer and body camera footage depict the conversations between officers and supervisors and what was happening before the pursuit ended with two lives lost.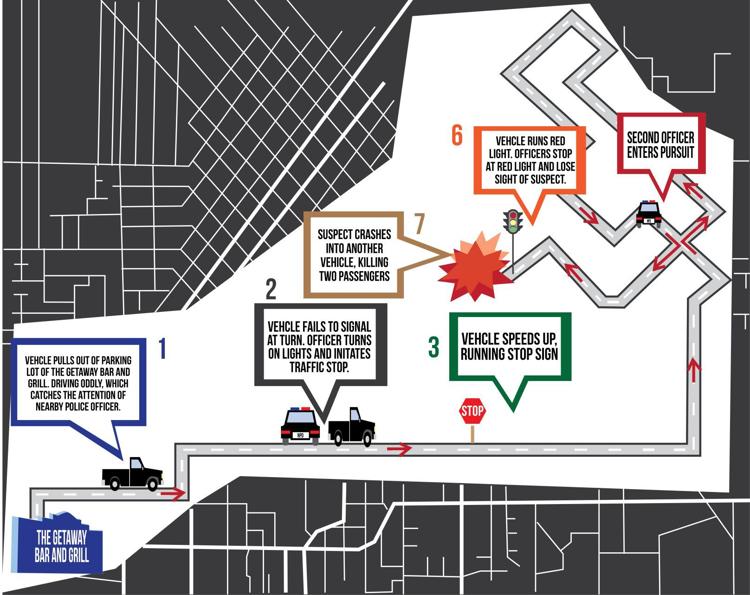 Before initiating the pursuit at 12:15 a.m. July 14, a Nampa police officer saw a Ford F-150 leave the Getaway Bar parking lot. The driver stopped in the middle of the road on Sheridan Avenue for nearly 30 seconds, according to a police report. The driver, later identified as Joseph Sena, failed twice to signal, according to police. The officer attempted a traffic stop. Sena's truck slowed and pulled over but then sped away, running a stop sign going nearly 50 mph through uncontrolled intersections, according to a police report.
At the time, officers reported no traffic. It's required to take into account the traffic and time of day. During this pursuit, it was late at night, and traffic was minimal. For most of the pursuit, the pursuing officer reported no traffic, or only a couple of vehicles, for which officers slowed, according to police reports.
When Sena's vehicle blew past a red light at 16th Avenue and Second Street North, reaching speeds of up to 70 mph, body camera footage and police reports show the officers slowed, stopping for traffic in the area. By the time officers proceeded through the light and drove over the overpass, Sena had collided with a passenger car turning off a side street on Third Street North.
The scene was "extremely violent," one police report put it. One report included that blood stretched on the road for a block.
The aftermath of the pursuit left the officers shaken, Shankel said.
"It was a horrible situation," he said.
Sena received 30 years in prison for vehicular manslaughter and was found to have been driving drunk. His blood alcohol content level was .189, over twice the legal limit.
But the Nampa Police Department also came under fire from families of the victims. The department could face a lawsuit for the wrongful deaths of their loved ones on the basis that Sena "was being recklessly and needlessly pursued by several Nampa Police Officers at a high rate of speed with indifference to the safety and well-being of the general public," according to a tort claim .
A review from the Nampa Police Department's pursuit board found the pursuit to be within policy.
But just because pursuits are found within policy, doesn't mean the department doesn't consider changes that need to be made to the policy, Shankel said.
No specific policy changes have been made since last year's fatal pursuits. There is not a plan to make changes to the policy at this time, but Shankel said they review it several times a year.
INITIATING A PURSUIT
An officer needs to not only use what they've seen but what they know about the person before pursuing them.
"We should only be chasing somebody for what we know to have occurred," Shankel said. "Not what we think may happen."
Did the suspect just kill someone? Did they leave the scene of domestic violence? Did they just run a stop sign? Did they rob a bank? Is their taillight out? Does the driver appear to be impaired?
Want more news like this in your email inbox every morning?
Not all of those warrant a pursuit, Shankel said. If someone runs a stop sign or has a taillight out, it's not going to warrant a pursuit.
In cases like drivers who seem to be under the influence, initiating a pursuit depends on the circumstances. In Sena's case, it was late and there was little traffic.
"Unfortunately pursuits are one of those things that put everybody at a higher risk," Shankel said. "We don't take them lightly, but we don't have a no-pursuit policy because it's just not realistic."
One incident that still haunts the police department is the homicide of Colleen Hubbard. Her estranged husband, Roger Hubbard, stabbed her and threw her in the trunk of a car. She was able to contact dispatch while bleeding to death in the trunk. A pursuit ensued, ending in a foot chase.
"I think every police agency would say we don't like pursuits, but I think the reality of it is there are going to be times that you're going to have to," Shankel said.
Patrol officers are the ones to decide to initiate a pursuit, but they're also the ones to make the first decision that it isn't worth it.
"No officer or supervisor gets in trouble or would get in trouble for not pursuing or calling off a pursuit," Shankel said.
The pursuing officer must report everything to a supervisor. They comment on speeds, time of day, amount of traffic, what the driver is doing while fleeing. This helps the supervisor determine whether a pursuit is worth it.
Shankel, who was a police driving instructor for 15 years, always asked the officers in training, "Would you be doing this if your family was in the car down the road?"
If the driver is an immediate danger to society, that will warrant a pursuit. It takes looking at a lot of factors to determine if that's the right call, though.
"At the end of the day the responsibility is still on citizens to follow the rule of law," Shankel said. "If they don't run from the police, nobody gets hurt."
OTHER AGENCIES
Capt. Brian Lee of the Boise Police Department can think back to instances in his career when, while working at another police department, he pursued people in situations he'd never pursue them in now. Police departments in general discourage pursuits, and Boise is no exception.
"There's some agencies that have a no-pursuit policy — they don't chase anybody," he said.
While Boise has tightened its pursuit policy over the years, it hasn't put a full ban on car chases. There are still instances in which officers pursue fleeing suspects, but officers themselves must weigh the need to make an arrest against the concern for public safety. In 2018, the Boise Police Department logged 45 vehicle pursuits, according to records obtained by the Idaho Press.
"Ours is pretty restrictive, when you read it," Lee said. "We don't pursue a lot of people."
That trend is true of other departments in the Treasure Valley, as well.
"There's less pursuits now than there ever have been," said Patrick Orr, spokesman for the Ada County Sheriff's Office. "They're just too much trouble."
Orr pointed out the vast majority of pursuits are brief occurrences, and many begin when officers attempt to pull drivers over. Sometimes, if a suspect continues to flee or drive dangerously, officers might engage in multiple pursuits. That happened Jan. 17, when police say a man led them on chases through downtown Boise before abandoning the car he drove near Boise State University. The incident consisted of multiple smaller pursuits, which police called off when concerned for public safety.
Officers in Caldwell are allowed to evaluate a situation and decide to pursue someone, but because the first pursuing officer might get "tunnel vision," a supervisor is also listening to determine if a pursuit is the best choice, said Caldwell Police Chief Frank Wyant.
The need to apprehend a suspect should never outweigh the need to protect public safety, he said.
"If you were driving and you hit my family, could the reason why you're pursuing them justify that to me?" Wyant said. "That should weigh heavy on your heart when you're chasing somebody."
Still, officers sometimes must continue to pursue a suspect if they pose a danger to other drivers or pedestrians.
"(If they're) still driving in a reckless manner, typically at that point we'll re-engage," said Lt. Jamie Leslie of the Meridian Police Department.
Ultimately, though, in most departments, the decision to pursue a suspect rests with the officer, who must make that decision in the moment.
"It's a field-based decision, but it has to fit," Orr said. "It's got to be safe, and it has to be done at low speeds."