McGeachin, who is among a slew of candidates challenging Gov. Brad Little in next May's GOP primary, complained about "authoritarian actions of government" related to the pandemic, even as she called for the state Legislature to reconvene to forbid employers from doing what the hospital systems are doing.
McGeachin was joined by two registered nurses who said the moves could threaten Idaho's health care workforce; she invited the roughly 75 attendees at the press conference to a rally on the Capitol steps afterward that drew about 500 people. Attendees at the rally carried signs with slogans including "Jobs not Jabs," "My Body, My Choice" with a circle and slash over a drawing of a hypodermic needle, and "Mandatory Vaccination is a Human Rights Violation."
Idaho has not mandated any vaccinations. It is an at-will employment state, so private employers are free to set their own policies. The state doesn't even ban discrimination in employment on the basis of sexual orientation, despite years of lobbying from "Add the Words" advocates; Idaho employers are free under state law to fire employees simply because they are gay.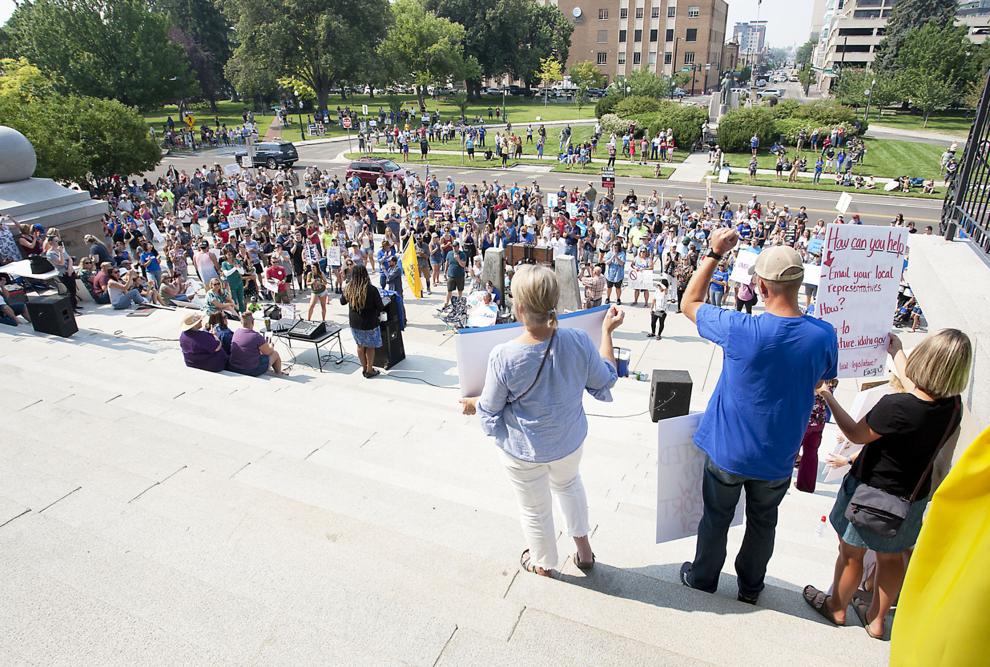 Meanwhile, Little was in Troy in North Idaho for a "Capitol for a Day" event. As part of his trip, he briefly crossed out of state when he landed in an airport across the state line, making McGeachin acting governor from 8:35 to 8:50 a.m. MT Thursday morning, shortly before she opened her 9 a.m. news conference.
McGeachin, who issued an executive order forbidding all local mask mandates the last time Little left the state and left her in charge, was asked at her news conference if she'd issue an executive order on the vaccine issue. She demurred, saying the notice she received wasn't clear on what time Thursday she'd be acting governor.
"At some point today I will be acting governor," McGeachin said to cheers from her supporters in the auditorium. However, at that point, it had already happened.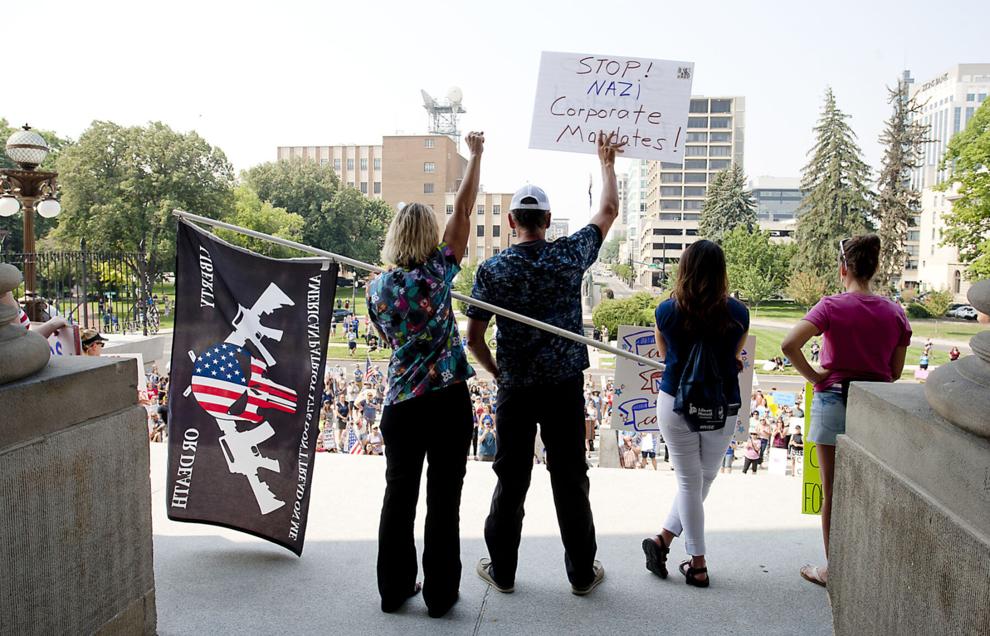 When Little returned after McGeachin's last executive order, he issued a new one retroactively replacing it and decried McGeachin's move as "an irresponsible, self-serving political stunt."
Also on Thursday, another GOP hopeful who's running for governor, Ed Humphreys of Eagle, issued a statement strongly supporting reconvening the Legislature to "stop Idaho companies from forcing employees to take any experimental treatments."
The three COVID-19 vaccines currently available in the United States have received Emergency Use Authorization from the FDA, which requires analysis of results from three phases of clinical trials involving tens of thousands of study participants. Those trials must be "conducted according to the rigorous standards set forth by the FDA," the agency states on its website.
Experimental drugs are those that have been approved for testing in people, but can't be prescribed, advertised or sold, according to the National Cancer Institute.
At the rally on the steps, Idaho State Police said there had been no arrests as of mid-morning. Bundy, who is banned from the Capitol grounds for a year after two arrests there in August, was present, but remained across the street in a city park and didn't enter the Capitol grounds.
McGeachin said she'd invited every legislator to join her at her press conference; however, just Rep. Tammy Nichols, R-Middleton, was there. Nichols joined McGeachin at the podium and spoke in support of her push to reconvene the Legislature.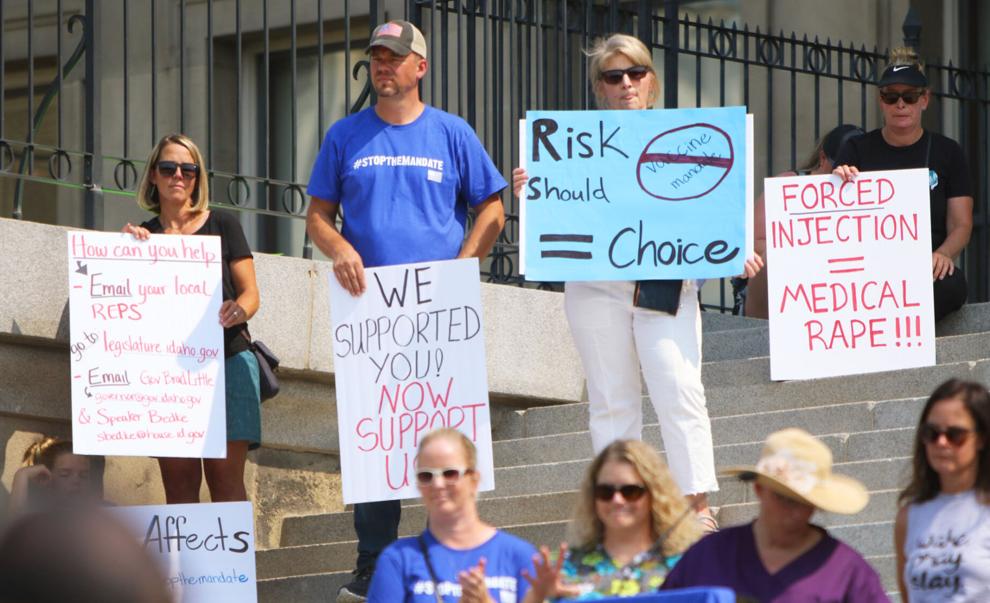 McGeachin said she received responses back from 19 of Idaho's 105 state lawmakers saying they support her effort. She also said if the Legislature opts not to reconvene, it should instead convene working groups on the issue, or the executive branch should act. She sent a letter to House Speaker Scott Bedke last Friday that she described at her news conference as a "formal request" to reconvene the Legislature.
Idaho House and Senate Democrats on Thursday came out against reconvening the Legislature on health care employee vaccines. "Republicans are once again trying to exploit COVID to score political points against each other," House Assistant Minority Leader Lauren Necochea, D-Boise, said in a statement. "Meanwhile, Democrats have been doing their homework and we found that prohibiting employers from requiring vaccines is likely to be challenged in court and will likely fail."
Senate Assistant Minority Leader Grant Burgoyne, D-Boise, said, "The job of political leaders is to strike the right balance. No one is calling for the government to require people to vaccinate, and no one is proposing jail time for those unvaccinated people who spread COVID to others. What we are saying is that a natural consequence of choosing not to vaccinate is not being qualified to do certain types of work."