BOISE — With a new governor at the helm, Idaho's legislative session sets sail Monday into challenging seas.
There are the looming shoals of big prison problems, from an overflow of inmates to questions of sentencing reform; and the clashing currents over how to divide half the state budget among Idaho's schools through a new funding formula. State tax revenues aren't flowing in as expected, even as there's a push to lift the sales tax off groceries. And lawmakers are steering a voter-charted course toward a long-debated move to plug the state's health coverage gap by expanding Medicaid.
"A lot of the crew is new," noted Jasper LiCalzi, a College of Idaho political scientist, from new state agency heads to new chairs of key legislative committees. "New captain, new crew," he said. "I think this is as interesting of a session as you could get … with so many changing parts and so many big issues that they have to deal with."
Hundreds of changes in state laws will be proposed, on everything from campaign finances to fireworks. With new hands on deck in nearly a quarter of the legislative posts, lawmakers and new Gov. Brad Little will face major tests of leadership and political will. Here's a look at some of the big issues ahead:
MEDICAID EXPANSION. After six straight years of inaction by the Legislature, Idaho voters stepped in this fall and passed an initiative to expand Idaho's Medicaid program to cover an estimated 60,000 Idahoans who now fall into a coverage gap. It's up to lawmakers to implement the voter-passed law, including appropriating funding for the state's 10 percent share of the cost. First, however, the Idaho Supreme Court will hear arguments Jan. 29 on a challenge from the Idaho Freedom Foundation to the new law. Under the voter initiative, the state has until Feb. 18 to submit its plan for Medicaid expansion to the federal government. The Idaho Department of Health & Welfare anticipates that if all goes smoothly, health coverage for Idaho's gap population would start Jan. 1, 2020.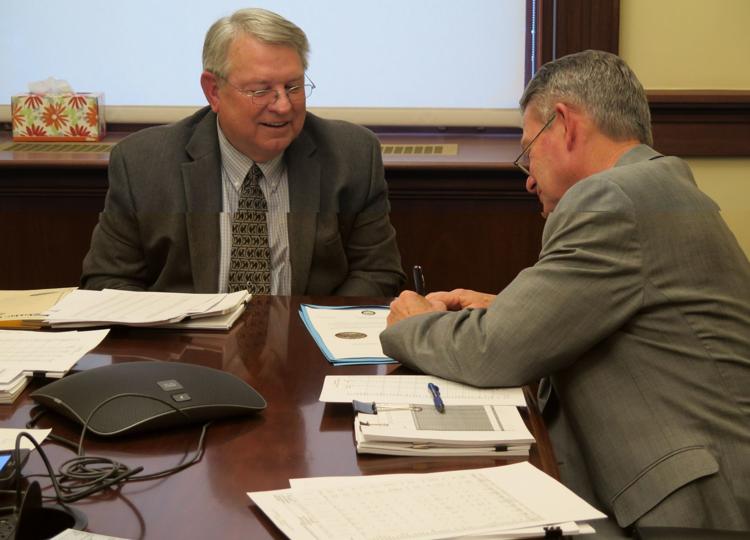 When Little, then acting governor, signed the proclamation that officially declared the initiative the law of the state, he said, "I've said I'm going to do everything I can to honor the will of the people." He noted that lawmakers still will scrutinize it. "I think we'll get there," he said. "It's not a big dollar issue, relative to a lot of the other decision units the Legislature addresses. There'll be a number of philosophical discussions."
TAXES AND REVENUES. Lawmakers are required by the state constitution to pass a balanced budget each year, and this year, tax collections have lagged far behind forecasts, almost entirely due to lower-than-expected withholding collections for the state's individual income tax. That money may all come in April, when Idahoans file their state income tax returns — but lawmakers likely will be done with their session by then. Many will be leery of planning to spend money that may or may not show up, so that could put additional restraints on Idaho's spending. One big-ticket item that's floating ahead is the removal of the state's 6 percent sales tax on groceries — something Little supports, and lawmakers already passed in 2017, only to see former Gov. Butch Otter veto the bill out of concern over revenues.
That bill had a price tag of $79 million a year to the state treasury, including $26.2 million to adjust revenue-sharing payments to local governments to ensure they didn't lose funding because of the change.
The potential loss of revenue from a grocery tax repeal concerns Nampa Mayor Debbie Kling. Nampa gets about $1 million from the state through the grocery tax, Kling said. If legislators could ensure that payments to local governments would not be impacted, then Kling said she would support a repeal, but she is not sure how that is possible with Medicaid expansion on the horizon as well. 
EDUCATION FUNDING. Changing the state's complex public school funding formula is a gargantuan task. Lawmakers have been at work on it for the past three years, and this year the proposal comes up for a decision. The current formula is out of date; it predates everything from charter schools to online courses. Any alteration in the formula creates winners and losers among Idaho's 100-plus school districts and charter schools. The only way to avoid short-changing some is to raise the total amount allocated, but that could run into the tens of millions. At the same time, new Gov. Little campaigned on some specific proposals for education, including not only funding the upcoming final year of a five-year teacher "career ladder" pay plan, but also moving to raise Idaho's starting teacher pay to $40,000 a year and providing new resources to Idaho school districts to address early childhood education needs.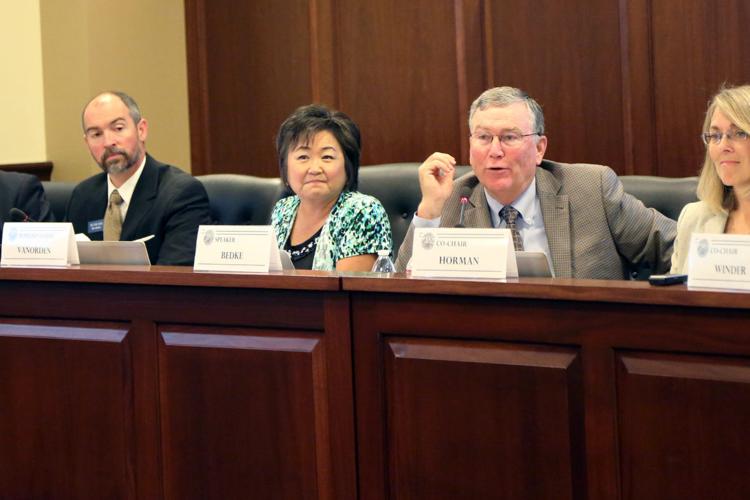 The school funding issue — the largest single slice of the state budget — will be front and center for both the Legislature's joint budget committee, which has two new House and Senate co-chairs, Rep. Rick Youngblood, R-Nampa, and Sen. Steve Bair, R-Blackfoot; and for the education committees in both houses. While Senate Education Chairman Dean Mortimer, R-Idaho Falls, continues to chair the Senate panel, the House Education Committee has a new chairman in Rep. Lance Clow, R-Twin Falls.
PRISONS AND JUSTICE REFORMS. Idaho's state Board of Correction raised eyebrows across the state when it voted in June to back a $500 million-plus prison expansion proposal, which includes a big new state prison. Lawmakers aren't enthused about the idea and have been working hard on proposals to reform Idaho's criminal justice system instead, from re-examining some of the state's mandatory minimum sentence laws to addressing recidivism through probation reforms and treatment. But even if those changes were made, Idaho already has hundreds of its inmates housed temporarily in two private prisons in Texas for lack of cell space here, a costly and problematic lifeboat approach.
"Idaho has some issues that need to be addressed in the criminal justice realm," said Rep. Tom Dayley, R-Boise, the new House judiciary chairman. The state has the lowest crime rates in the region but the highest incarceration rate. For the past four years, all three branches of Idaho's state government have worked on a justice reinvestment initiative, aimed at reserving cell space for the most dangerous criminals, while beefing up supervision of lesser offenders in the community.
"The intent is certainly a good one," said Sen. Todd Lakey, R-Nampa, the new Senate judiciary chairman, "to try and make sure that we are incarcerating the right people, and that we also provide opportunities for those who are involved in the system to become productive citizens after their release. But we also have to be keenly aware of public safety."
Beyond the storm clouds of those four top issues, dozens of other turbulent matters are roiling the seas ahead, and lawmakers will be faced with them as they navigate their session from January into the spring. Among them:
CAMPAIGN FINANCE. After two years of work, a joint panel of senators and representatives will call on the full Legislature to endorse a slate of campaign finance reforms, from requiring more frequent reporting, to expanding disclosure requirements to all levels of government, to changing rules for independent expenditures.
Under the proposed reforms, all reports would go into a single, searchable database to be operated by the Idaho Secretary of State's Office and made easily available to the public. Sen. Patti Anne Lodge, R-Huston, who co-chaired the joint interim committee, said, "I think one of the most important things that we do is allow the citizens to know where the money is coming from and where they're spending it."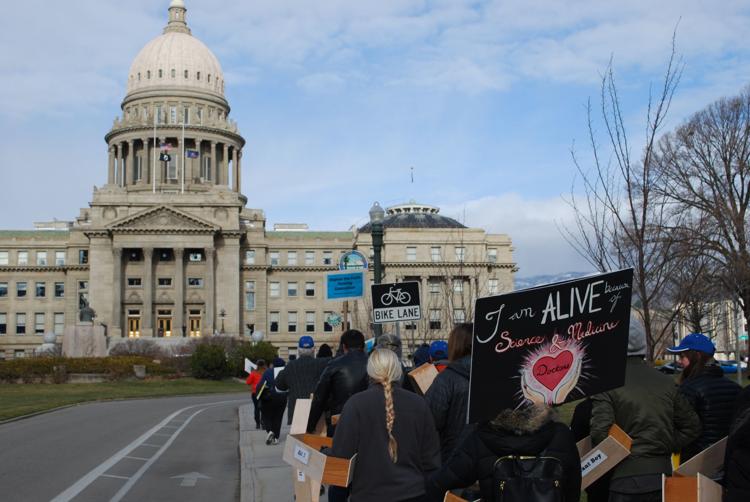 Idaho is one of few states in the country with a law shielding faith-healing parents from civil or criminal prosecution when their children die or sustain disabling injuries without medical care. Controversy over children who were allegedly endangered or neglected because their families practice faith healing continues to surface in Canyon County in particular, where congregations of the Followers of Christ practice faith healing. Members of the small and private Christian sect usually won't seek medical attention when they're injured or sick.
The issue continues to resurface in the Legislature and the media — an A&E documentary released in October followed Idaho's Senate Bill 1182, which failed, 11-24, in the 2017 legislative session. The bill would have altered but not removed Idaho's faith-healing exemption from civil liability for child neglect. A bill to remove the exemption drafted by state Rep. John Gannon, D-Boise, and former Idaho Supreme Court Justice Jim Jones failed to even make it out of committee during the 2018 legislative session. Lawmakers concerned about removing the exemptions continue to cite a possible infringement on religious freedom and parental rights.
This year, child advocates have early plans to push for a weakening of the exemption rather than a repeal. Bruce Wingate of the nonprofit Protect Idaho Kids said their group seeks to amend the current religious exemption, so that it doesn't apply if the child is at risk of serious injury or death. 
"We're not seeking to criminalize the Followers of Christ," Wingate told the Idaho Press. "We're trying to create a deterrent."
LOCAL-OPTION TAXES. Idaho does not allow for a local-option sales tax unless a city has high tourism traffic, such as McCall. 
A local-option sales tax is a voter-approved tax in a municipality, adding a small tax on the sale of a specific item in order to fund one-time projects or public transportation.
Some local leaders have pushed for the local option, as Idaho continues to grow. Boise Mayor Dave Bieter called for it in his State of the City address, and regional planning organization Compass added local-option sales tax to its list of priorities for the upcoming session. Compass has previously aired the idea of allowing a local-option sales tax, when it brought in a representative from Utah Transit Authority to discuss a regional train in the Treasure Valley. UTA Interim Director Steve Meyer said the agency funded its Salt Lake City transit system with a local-option sales tax.
CANNABIS, CBD OIL AND HEMP. Idaho is one of only a few remaining states in which industrial hemp is illegal. The state also is surrounded by states that have legalized some form of cannabis, from non-psychoactive CBD oil to medical and recreational marijuana.
Idaho lawmakers have staunchly opposed loosening the state's strict marijuana prohibitions, including a resolution passed in 2012 saying the state would never take that step. But with this year's national farm bill legalizing industrial hemp nationwide — if states go along — some lawmakers are calling for change. 
FIREWORKS. Fireworks will likely continue to spark controversy in Idaho in the new year as legislators and law enforcement continue to grapple with a state law making kinds of fireworks illegal to ignite within the state, even as they continue to be sold here. Right now, fireworks that leave the ground or shoot sparks more than 20 feet in the air or 15 feet in diameter are prohibited under a 1997 Idaho law, often referred to as the "Fireworks Act." Even after the passage of that law, vendors kept selling aerial fireworks — they just required customers to sign paperwork promising not to ignite them within state limits.
The Idaho Attorney General's Office waded into this legal gray area 20 years later in June 2017 when a lawmaker asked for clarification. Deputy Attorney General Paul Panther issued an opinion stating even the sale of aerial fireworks is illegal under Idaho law. The office released a follow-up statement saying this interpretation of the law was simply an opinion, not legally binding in and of itself.
ADD THE WORDS. Despite years of debate, the Idaho Human Rights Act still offers no protection for those who are discriminated against on the basis of sexual orientation or gender identity. Though the issue has been quieter in recent years — after some years that saw multiple arrests at high-profile protests over the issue during the Idaho legislative session — it is expected to come up again this year.
During the decade-plus that the Idaho Legislature has declined to address the issue, numerous Idaho cities have passed local anti-discrimination ordinances of their own. 
ROAD FUNDING AND TRUCK FEES. As Idaho continues to struggle with a huge backlog in road and bridge maintenance, a legislative interim committee that was supposed to re-examine fees on heavy trucks never met over the summer and therefore isn't recommending anything — though a 2015 state law required a new weight-distance tax to be imposed on heavy trucks on Jan. 1, 2019.
"I think we need to address the issue," said Senate Majority Leader Chuck Winder, R-Boise. "There are probably some differences between the House and the Senate approach on it. I think the Senate would like to pursue it. Hopefully we can get the House to share in that and move forward."
A 2010 state-commissioned highway cost allocation study showed that truckers are underpaying for their vehicles' impacts on Idaho roads, while motorists are overpaying.
With these issues and many more, interests across the state, from local governments to business groups to taxpayers to faith communities, are gearing up to make their case to lawmakers. Legislators themselves are floating ideas and casting wide nets for public input.
Many of the big issues now facing lawmakers have been bypassed for years, LiCalzi with C of I noted, especially since the financial crisis that stunned the state in 2007.
"We've just been cruising along for a while," he said. Now, he said, it'll take all hands on deck for the state to steer through them. "I think it's going to be slow going at first."