This story is part of our Cavalcade special edition on local businesses. Read the rest of the stories here. 
CALDWELL — For Treasure Valley restaurateur Kristopher Ott, real estate's triad of governing rules — "location, location, location" — were always at the forefront.
When he opened Chop Shop BBQ in December 2019, years after managing Alavita and the Fork's sister kitchens in downtown Boise, location lured Ott from the valley's longtime commercial epicenter in downtown Boise to Caldwell, where a revitalized plaza is bringing businesses and customers across county lines with growing frequency.
Location is behind the honeycomb artwork in Chop Shop, too, a nod to honeybees' keystone role in sustaining the area's interconnected hop and microbrewery businesses, whose libations fill kegs behind Ott's bar. And it is location — Oakland, California, where Ott was raised — that shaped the eatery's urban aesthetic, with spray-painted graffiti, exposed wood beams and a "boisterous" atmosphere to match Chop Shop's East Bay-style flavors.
But soon after "a good opening month," the deadly coronavirus pandemic shuttered businesses. As health districts and cities weighed economic and physical health in their decisions, Ott was among some restaurant owners who desired looser restrictions on restaurant capacity and mask mandates; he does not require customers to wear masks in Chop Shop, a decision he says a majority of his more vocal customers praise. 
He estimates 80% of his customer base comes from Ada County, where COVID-19 policies have been stricter, and says patrons are seeking "some sense of normalcy."
It helps that Chop Shop's space, with only 25 indoor seats, is geared toward takeout, an opportune setup for an inopportune year.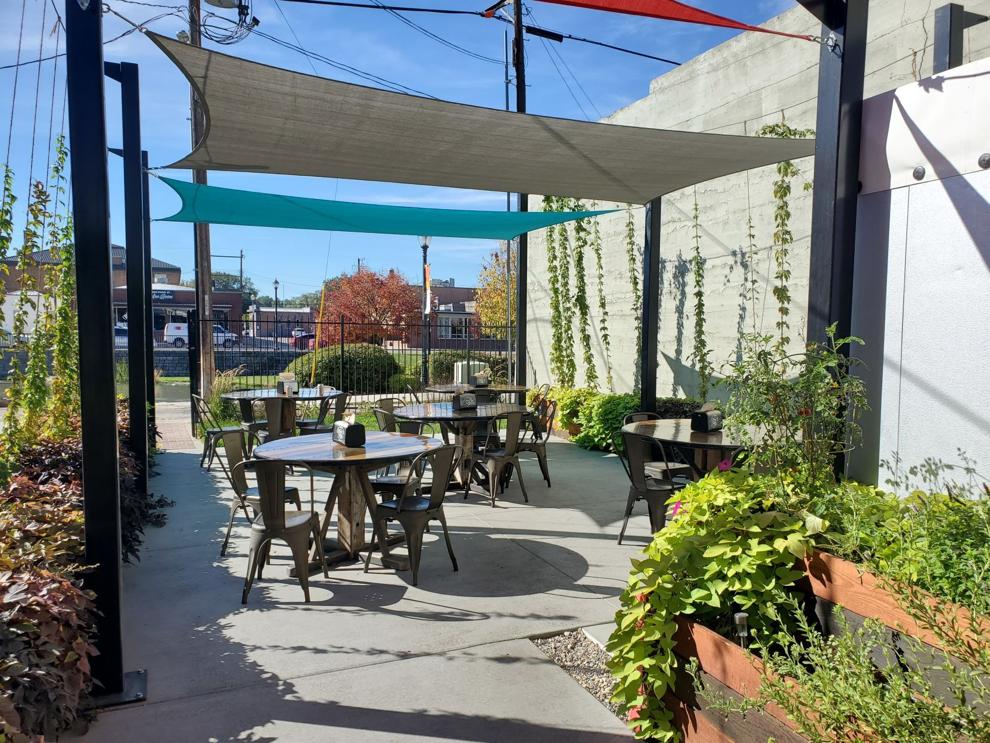 "What we did was initially locked the front door and opened our garage door and solely did takeout," he said. "Online ordering was a big comfort factor for a lot of people."
Westward population growth, another reason Ott chose Caldwell to host his new concept, also helped him keep the doors open, he said. Still, chasing a housing boom hasn't completely insulated the barbecue joint from uncertainty.
"There were days where I was literally running my restaurant by myself, working the front and the back because I couldn't afford to staff it," he said.
By April last year, Chop Shop saw a 60-70% revenue hit resulting from a statewide stay-at-home order issued the previous month, the Idaho Press reported. That stalled the momentum of a number of other businesses to set up shop in the city's newly renovated Indian Creek Plaza, where at least six businesses opened in 2019. By June 2020, some store owners within the city's downtown, part of an urban renewal district meant to attract commercial growth, were riding a steady rebound, but struggles persisted.
Ott has kept a core staff onboard but not all of his employees.
"I think all of last year was a day-to-day scenario," he said.
The long-term success of Ott's Caldwell move still hangs in the balance he says. Since most of Chop Shop's life has been during the pandemic, "there's nothing to compare our success to."
Whatever that future success looks like, it will be built on the restaurant's location. It's one with hops encasing a new 35-seat patio where customers sit in good weather, a kitchen Ott himself laid tile in two years ago and a custom smoker that cooks the impromptu plate combos the restaurateur assembles on the fly each weekend. It's also grounded in the locations that inspire the food — Thailand, Vietnam and the United States — all of which are served not in Idaho's more widely known capital, but a half-hour's drive westward in a community whose ice rink, plaza and scenery are quickly giving it a new public face. 
"You have a lot of development happening here, and I don't think there's anywhere to go but west. When I first moved here in '15, downtown Boise was kind of the hub," Ott said, "but that's changing quickly."