Deregulation talks in Idaho have most recently focused on trades like nail technicians or barbers, but with contractors in high demand, some in the building industry say their profession needs further oversight.
Idaho requires state licenses for many professions — cosmetologists, real estate agents, plumbers, acupuncturists, massage therapist and even morticians — as a way to protect consumers. But general contractors have no license requirements, only the task of registering with the Bureau of Occupational Licensing. The license exemption is meant to ease entry into the field — but not everyone agrees this should be a priority.
As it stands, a voluminous backlog of complaints against contractors highlights the predicament faced by consumers in a "buyer beware" market. With demand so high, Treasure Valley customers looking for low-level residential work may struggle to find good help and end up hiring a repeat violator who can leave them holding the bag. Deregulation advocates, however, point to that same demand as reason to further loosen registration requirements, avoiding red tape that could add overhead costs to builders or bar newcomers from joining the industry.
Registration policies do offer some oversight of the industry, allowing for fines or probationary periods for contractors who violate code. But some offenders re-register under different names, and unpaid fines and fees recorded over the last 11 years exceed a half-million dollars, leading some to ponder if the status quo is sufficient.  
Joe Levitch has been contracting in the Treasure Valley with his company Levco Builders for over 13 years and is also contracted with the Bureau of Occupational Licensing as a "professional reviewer," evaluating investigations done by the Idaho Contractors Board on complaints about registered contractors.
Many times, he responds to requests from homeowners to fix problems caused by previous contractors. In one such case, leftover concrete disposed of and buried next to the house led to recurring flooding in the basement.
Levitch is one of the voluntary members and on the board of directors of the National Association of the Remodeling Industry of Idaho and the Professional Building Contractors Licensing Review Board— a licensing program that guarantees continued education in the field and a written code of ethics. Associations like this are not a requirement; contractors entering the field need only meet minimal steps to become registered. Levitch is an advocate for licensing, citing the negative impacts that loose requirements have on homeowners.
"There is an assumption that contractors in the state are licensed, and they're not," he said. "Which comes as a shocker to everyone."
Others call for occupational licensing reform in the opposite direction. Policy analysts argue that strict government licensure processes drive up consumer costs.
Roughly half of U.S. state governments, including in Idaho, don't require a state license for building contractors. The bordering states of Nevada, Oregon and Utah all require building contractors to be licensed. Idaho's policy, Levitch said, provides a second chance for those who have run afoul of regulations elsewhere.
"This state has become a magnet for those who can't get a license in surrounding states," Levitch said. "We are welcoming people who can't get proper credentials."
However, Phil Haunschild, senior policy analyst for the Idaho Freedom Foundation, said state-required occupational licenses don't necessarily have the level of protection that is believed to accompany them.
"I think we need occupational licensing reform in the contractors and construction industry just the same as we do in other industries, just the same as we do in cosmetology or barbering," said Haunschild. "License requirements make it hard for people to get in and do the jobs that they want to do, and that people need them to do."
Requiring a license would mean contractors would have to go through apprenticeships or other kinds of previous experience before entering the work field, as well as continued education. But with demand so high, lawmakers push for quantity of workers over experience.
"Idaho doesn't want to put unnecessary burdens on companies, but often it's the public that is paying for it," said Teri Ottens, executive director of the National Association of the Remodeling Industry of Idaho who advocates for stricter requirements.
Problems become more frequent, Ottens said, when the profession is busy, and money is flowing into the market. Residential projects and homeowners often face the most risk because they have less experience working with contractors.
CONTRACTING BY THE NUMBERS
Aspiring contractors need to submit proof of liability insurance, workers' compensation and a small registration fee to the Idaho Bureau of Occupational Licenses to become registered, a process the Idaho Contractors Board said assures contractors "are not restrained by burdensome regulations." Individuals who can do this in person can receive same-day registration.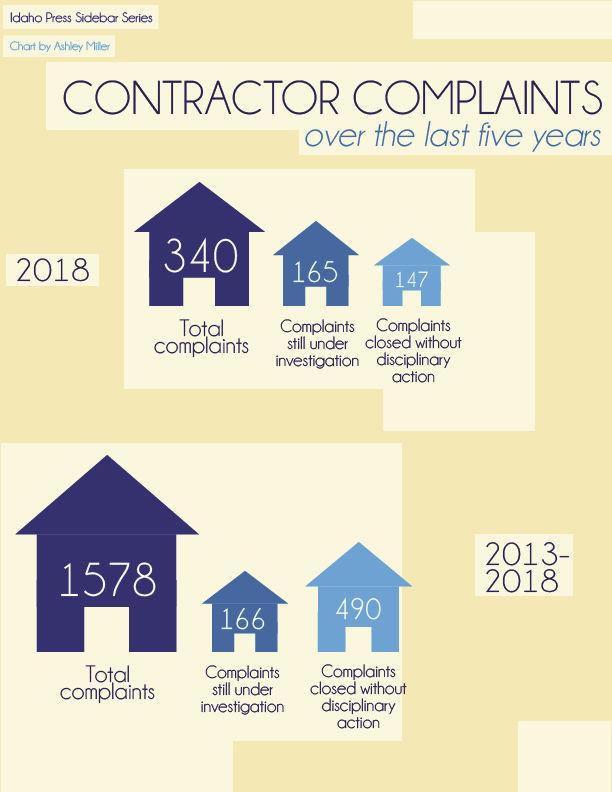 In May 2017, Lt. Gov. Brad Little signed an executive order titled the Licensing Freedom Act calling all state licensing agencies to compile a report of their process and data from the previous year, which were then taken into consideration when assessing whether the licensure requirements per department were necessary and in the public interest.
The Idaho Contractors Board filed a year's worth of data — May 19, 2017, to May 19, 2018 — in response to Little's request.
As of May 2018, the board reported 17,649 registered contractors in its system. During the previous year, 2,856 registrations were issued.
The data confirms one element raised by groups opposed to further regulation — the registration process is fast. Ninety percent of contractors were registered the same day they applied.
Five years of disciplinary actions from 2013 to 2018 were also compiled in the report. Of 1,578 complaints about contractors received by the board during that time, 922 complaints were closed with no disciplinary actions.
Complaints can range from poor workmanship to payment issues. 
Disciplinary actions depend on the nature of the complaint. Just over 400 complaints during the five-year period resulted in disciplinary action, with 166 still undergoing investigation, and the remaining in legal review or awaiting final decisions.
Disciplinary actions can result in fines, which don't always get paid. Just over $540,000 in fines and court and investigation fees from the last 11 years is still owed to the Idaho Contractors Board from contractors found guilty of code violations, according to Bureau of Occupational Licensing.
In fiscal year 2018 alone, out of 340 complaints, 147 were closed without disciplinary action, 28 had disciplinary action, and the remaining 165 remain under or awaiting review, according to the board of contractors.
Chuck Miller — a retired contractor turned consultant — has been working all over the nation since 1968 and contracting in the Boise market since 1990. An active member of the Idaho Building Contractors Association for more than 20 years, Miller has become the point person for educating contractors on the business side of the industry.
Miller — like Levitch — has been contracted by the Idaho Contractors Board as a professional reviewer for over 10 years. What he sees while reviewing cases, he said, "is disturbing."
"I would say that of the cases that I review," said Miller, "probably at least a third could have been prevented if the contractor was just a better businessman, better documentation, better customer service skills."
Contractors with projects over $2,000 are required to give disclosure agreements to homeowners that outline their rights, such as the right to request proof of insurance. Failing to provide this information is a common violation Miller sees while reviewing investigations, he said.
Miller has suggested the Idaho Contractors Board allow contractors found guilty of violations the option to take business and ethics classes instead of paying fines. But resources are limited; Miller said he's the only licensed provider of these classes in Idaho.
At the very least, Miller said, contractors should have basic business education before entering the field and continued education requirements.
A FUTURE FOR OCCUPATIONAL LICENSING? 
For some, the demand for work is worth making licensing easier.
"We have the demand in the market in the Treasure Valley for folks to be working and be building homes and doing the contract work," said Haunschild. "We need to do something to make sure that people who are qualified and capable of doing that work are able to provide their services to those that need it."
After receiving reports back from state agencies, Little's office recommended Idaho standardize its licensing process statewide — by, for example, centralizing data and streamlining situations such as felony reviews.
"One of the things that I will point out is we require cosmetologists 1,600 hours, and yet an EMT is only required to get maybe 150 hours depending on what program they go through," said Haunschild. "If there isn't a compelling reason for a license to be enacted to protect the public health and safety, I think we must move to a less restrictive option. There's no continuity and no standardization and that needs to be looked at."
Some recommendations would remove steps to receive contractor registration, such as reducing renewal periods from annually to every two years, reducing reinstatement fees and encouraging online applications and renewals.
Further reform to lessen registration requirements could come by throwing out government registration framework and requiring only certification or more frequent contractor inspections, said Haunschild.
Changes in board policies within the last eight years have removed several obstacles in the interest of ease for contractors to begin work.
In 2010, the board implemented a policy allowing staff to register all applicants who met the requirements and didn't have a felony conviction or previous disciplinary actions on their record — circumventing board-issued registrations.
In 2015, registration fees were dropped for applicants whose registration had expired within the last five years, allowing even longer periods of time before contractors need to show proof of insurance and workers' compensation.
"The Board's charge is to protect the public, and they do that based on the laws and rules passed by the Legislature," said Dawn Hall, deputy bureau chief for the Bureau of Occupational Licensing, in an email to the Idaho Press. "Any changes to the Act would require legislative approval.
Private associations such as Idaho Building Contractors Association have the capability of taking over the role of policing contractors, said Haunschild.
"When you have private associations that make sure you have the right folks who are engaging in the industry, making sure consumers know who they're hiring, making sure they have access to that information," said Haunschild. "That's the kind of stuff that's needed and that's the kind of stuff that the private market can provide, far more effectively than government agencies."
But Ottens, with the remodeling association, said their office receives at least three calls a week about a problem contractor. Her association is unable to respond, as policies stand, unless the contractor is a voluntary member. All they can do is pass along the call to the Bureau of Occupational Licensing.
Scorned consumers often seek reimbursement for poor construction jobs, which they won't be able to find. Neither the Bureau of Occupational Licensing nor the Idaho Contractors Board reimburse consumers even if investigations find violations. 
Some states — such as Florida and Utah — have recovery fund programs where homeowners are eligible for reimbursement after damages caused by licensed contractors and companies. Homeowners deserve this kind of security, Miller said. 
Levitch said he has heard there is a large backlog on investigations and subsequent shortage of professional reviewers but has not been called on to review a case in a long time.
The Bureau of Occupational Licensing contracts registered contractors across the state to serve as experts on a case-by-case basis, said Hall, the deputy bureau chief. The number of pro-reviewers can vary, and not all cases require them.
Recurring complaints about specific contractors have often led to fees, probationary periods or suspensions — but not always registration revocation.
Government officials can point to problem contractors who have continued working and receiving complaints amid the lax regulatory environment. Patricia Nilsson, director of Canyon County Development Services, pointed to general contractor William Cafarelli as one such case.
Cafarelli operated off and on under multiple companies, according to Idaho business records, while racking up code failures and thousands of dollars in fines.
According to 2014 court documents, he was found guilty by the Idaho Contractors Board of seven code failures including lack of building permits and poor workmanship. He was charged with $3,000 in fines — with additional $3,425 in court fees and investigation costs — and placed on a two-year probationary period.
Two years later, complaints led to another investigation and more violations. Cafarelli was again fined $1,750 — with additional attorney and investigation fees of $3,750— followed by another two-year probationary period.
The work was reflected online, with numerous poor reviews on multiple websites as Cafarelli continued to operate.
Upon reaching Cafarelli for comment, after multiple business phone numbers listed online were disconnected, he told the Idaho Press he did not remember the investigations due to a hospitalizing injury.
Haunschild said online review resources such as Yelp or Google Reviews dispense with the need for government involvement, and with demand so high, now is the most important time for the market to police itself.
"I've reviewed cases where people have gone to some place like Angie's List or HomeAdviser thinking they're hiring a reputable contractor," he said. "But guys can go on there and have 20 of their friends write good reviews for them. It doesn't really work."
A note to consumers written in red on the Idaho Contractors Board's website warns that, upon registration, contractors are required to show proof of liability insurance but there is no way to check if the insurance coverage is maintained. Customers are responsible for requesting current proof of insurance and references, the board states.
"The consumer ultimately carries some level of responsibility for due diligence when hiring a contractor in Idaho," wrote the board in their report to the lieutenant governor.
Real consumer protection, said Levitch, would be requiring a state license.