BOISE — In March, Tyler Blake was considering whether to close his restaurant for good.
The co-owner of Coned Pizza in Meridian, Blake laid off his entire staff of half a dozen employees, as the novel coronavirus forced the cancellation of food truck events — the vast majority of Coned Pizza's revenue.
More than nine months later, the business is "definitely not good but surviving," Blake recently told the Idaho Press.
"From a general standpoint, it's still pretty difficult," said Blake, who owns the restaurant with his wife, Marina Blake. "We're hoping that we can weather the next couple months, and with the next (Paycheck Protection Program loans), we'll be all right."
Across the Treasure Valley, in Homedale, The Bowling Alley has had a record year, according to owner Donna Marose.
"This year has been our best year we've ever had, despite the fact that we've been closed for eight weeks," Marose said. "We've had a lot of community support, a lot of strong support from the community here in Homedale and the surrounding areas."
COVID-19 has had an inequitable impact on the health and wealth of Idaho citizens and businesses. Some, especially in the leisure and hospitality industry, have struggled, while others have withstood the challenges of the economic downturn caused by the virus, or even thrived, despite it.
Before the pandemic reached Idaho, the Gem State was experiencing unprecedented economic growth, with unemployment at an all-time low and jobs at an all-time high. Then the virus brought unprecedented declines. Overall, Idaho has fared better than most states in rebounding from the coronavirus economic woes, but some industries and small businesses remain uncertain about what the future will hold. Others hope for a successful vaccine rollout to resuscitate better economic conditions.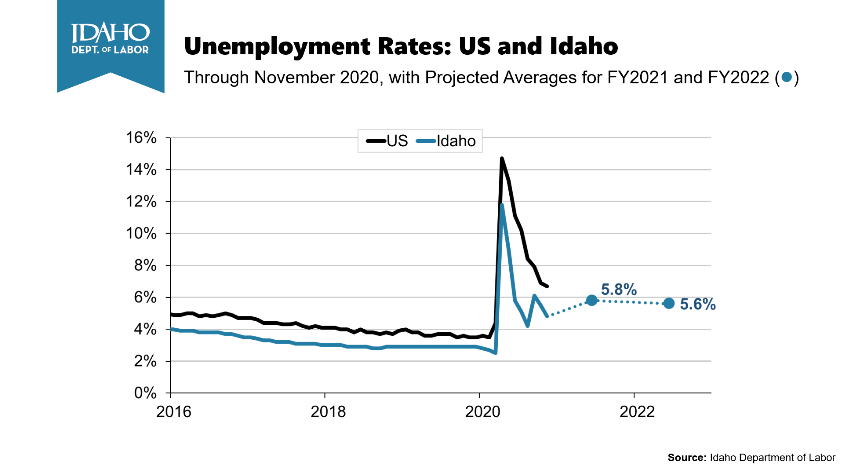 Idaho's four years of exceptionally low unemployment came to an end in March when the coronavirus hit.
Heading into March, the seasonally adjusted unemployment rate was 2.5%, a record low. In April it jumped to 11.8%. That's compared to a 4.4% U.S. unemployment rate in March followed by 14.7% leap during the same period.
From March to April, unemployment in Idaho rose from 22,000 to 104,000, a record one-month increase. Unemployment reached levels higher than the peak of the Great Recession.
The spring shutdown represented an "economic shock," said Craig Shaul, research supervisor for the Idaho Department of Labor. And the shock was followed by a full-blown recession. During the summer, as government mandates throughout most of the state loosened and people went back to work, unemployment dropped. Then, in September unemployment rose again, as the spring shock gave way to a recession, which led to long-term unemployment among workers.
But there's a silver lining: Idaho is leading the nation in rebounding jobs. In April, the state shed 78,500 nonfarm jobs, a 10.2% decline from on all-time peak in February. Pre-pandemic momentum and a robust labor market allowed jobs to rebound quickly in each subsequent month since April, according to Shaul's analysis. Idaho is leading the nation in the year-over-year job metric, but, as of November, nonfarm job numbers remained 0.4% below February's peak.
"We're not out of the woods on this yet," Shaul said.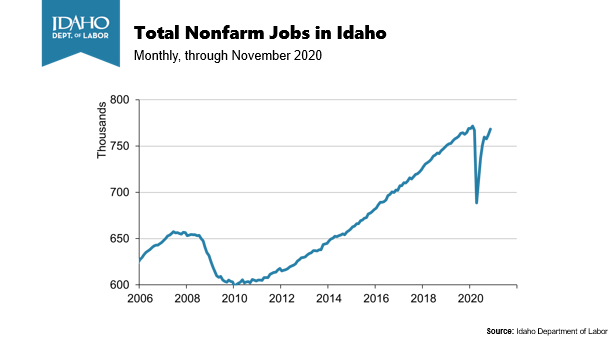 Job losses have disproportionately affected lower-income workers. In April, Idahoans who made less than $16 per hour filed for unemployment more than three times the rate of workers of higher incomes, and that rate mostly remained steady through September, according to data from the Idaho Department of Labor.
"There's no doubt that this is, unfortunately, a 'have and have-not' circumstance," said Suzanne Budge, Idaho state director for the National Federation of Independent Business. "Working from home is a privilege of folks who have the ability and opportunity to do that. And those are almost always going to be larger companies, but also to specific professions. They're professions that have managed to pivot to at-home work, to Zoom meetings, and those are certainly the more affluent, higher-income type categories."
Coned Pizza was able to hire back three of its six employees, thanks to assistance from the Paycheck Protection Program and a disaster loan. "We brought everyone back that we could," Tyler Blake said. Other restaurants and bars have closed, either temporarily until the pandemic subsides, or permanently.
The Bowling Alley was able to bring back all 22 of its employees after a six-week closure in the spring, Marose said. The eight-lane bowling alley and restaurant remained open until July, when it had to close for another two weeks due to COVID-19 infections among employees. Since then, it's been "business as usual," Marose said.
"We've just really been adaptable to whatever happens," she said. "We're determined to stay open, keep our families at work here."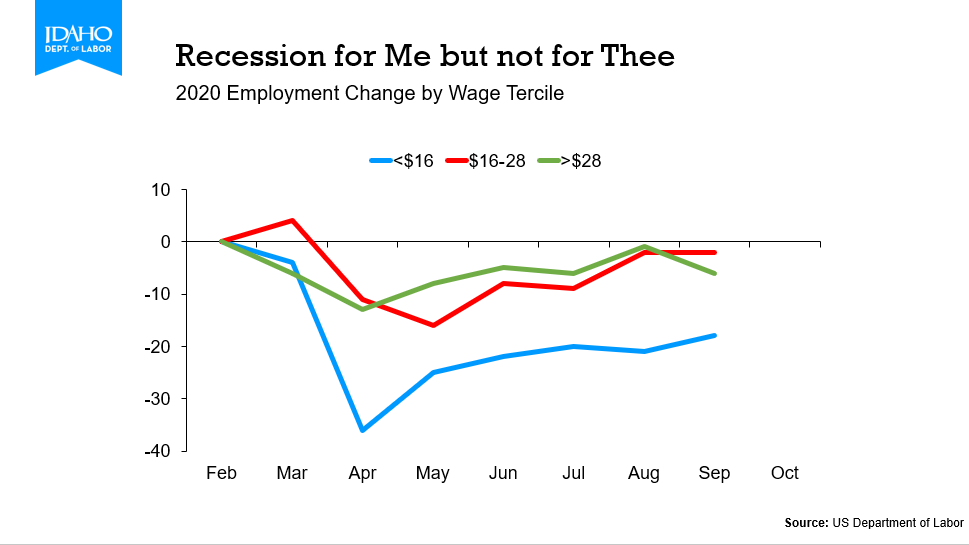 'DIFFERENT BOATS IN THE SAME STORM'
The pandemic has had uneven effects not only among different classes but among different industries, as well.
The construction, manufacturing and financial activities industries each saw positive gains in jobs between November 2019 and November 2020, despite significant losses during the spring shutdown. Construction in Idaho continues to boom, with the Boise metropolitan area maintaining its status as one of the hottest housing markets in the country, leading to benefits in other sectors, such as lumber, which can't keep up with the demand for new homes.
The leisure and hospitality industry, which represents 4.5% of Idaho's gross state product, has seen mix of effects related to the pandemic. Hotels, restaurants, event centers and other tourism-related businesses were the hardest hit by government shutdowns and restrictions. At the same time, thanks to Idaho's outdoor recreation opportunities, especially in mountain towns, the state has become a haven for visitors from Washington, Oregon and California, which have stricter restrictions.
Businesses in Idaho's tourism industry during the pandemic have been like "different boats in the same storm," said Matt Borud, marketing and innovation division administrator for the Idaho Department of Commerce.
"We've had some businesses who have had record years, as good as it gets. And we've had other businesses, other communities, who have taken massive, massive revenue hits and are barely hanging on," Borud told the Idaho Legislature's Joint Economic Outlook and Revenue Assessment Committee this month.
Between February and November, the leisure and hospitality industry accounted for 35% of all American job losses due to the pandemic — the industry employs about 11% of Idaho workers. In March, leisure and hospitality workers filed unemployment claims at a rate 20 times higher than in 2019, while the average among other industries was six times higher than the previous year.
By winter in Idaho, most jobs had returned, following a surprisingly successful summer season for lodging throughout the state. In July, statewide lodging tax collections were down 31% year-over-year, but the following month that deficit improved to just a 16% drop compared to 2019. September was nearly back to 2019 revenues, and in October and November lodging tax collections actually improved year-over-year. The growth in those two months is "particularly incredible because those were not pandemic months" in 2019, Borud said.
"Actually seeing growth at a state level, looking at year-over-year, is pretty incredible to us," he said.
Eastern Idaho saw a 26% growth in lodging taxes in November compared to last year — a result of a lack of lodging available in Yellowstone National Park, Borud suggested. North Idaho also saw similar gains, as visitors from Washington and Oregon traveled across the border, where COVID-19 restrictions have been more lax.
"We may have a little bit more of a desirable environment," Borud said, "maybe a little less restrictions that just makes eating out, or something as simple as a hike, a little more enjoyable."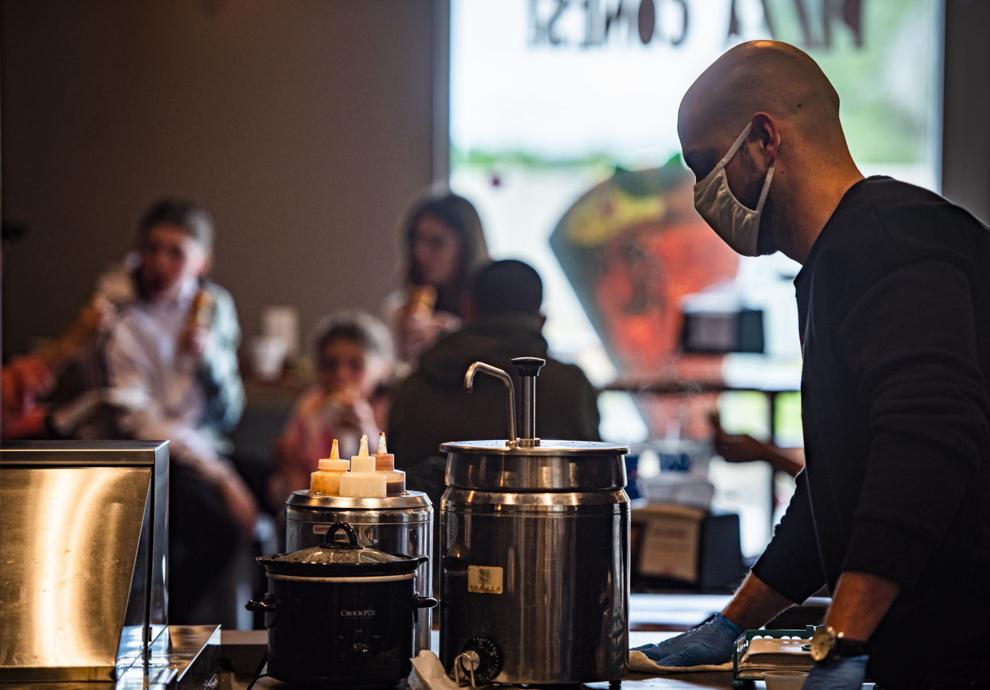 "We've been in this for 10 months now," Budge said. "It's like a roller coaster of how to adapt. Small businesses are extremely resilient and have shown that over time, but I think there's a point at which people just decide they can't deal with it anymore."
For Coned Pizza, January and February are slow months anyway, but a make-or-break moment likely will come this summer.
"If things remain slow and things are closed down for the bulk of next event season, we could definitely be in trouble," Blake said. "There's a light at the end of the tunnel. I hope that things might be ending at some point in the next several months."
Blake is hopeful for a successful rollout of the COVID-19 vaccine, as are other businesses with front-line workers, such as grocery stores and convenience stores. For the Idaho economy, in general, distribution of the vaccine is "absolutely vital," Shaul said.
"If we're going to see economic activity return to pre-pandemic rates in 2021 or in 2022, I think it's absolutely required," he said.
As of Friday, more than 68,000 Idahoans have received at least one dose of the vaccine.
Ryan Suppe is the Boise City Hall and Treasure Valley business reporter for the Idaho Press. Contact him at 208-344-2055 (ext. 3038). Follow him on Twitter @salsuppe.