BOISE — A crowd of Idahoans gathered on the steps of the Statehouse at noon Wednesday in support of the 19-year-old woman who has accused state Rep. Aaron von Ehlinger, 38, of rape.
Speakers called on state lawmakers to take action to expel von Ehlinger from elected office and argued that legislators inside the statehouse have made an effort to retraumatize the victim instead of taking steps to ensure that all employees feel safe at work.
"Most important is to believe survivors, to understand the traumatic impact of sexual assault," said Kelly Miller, executive director of the Idaho Coalition Against Sexual and Domestic Violence, who spoke at the rally.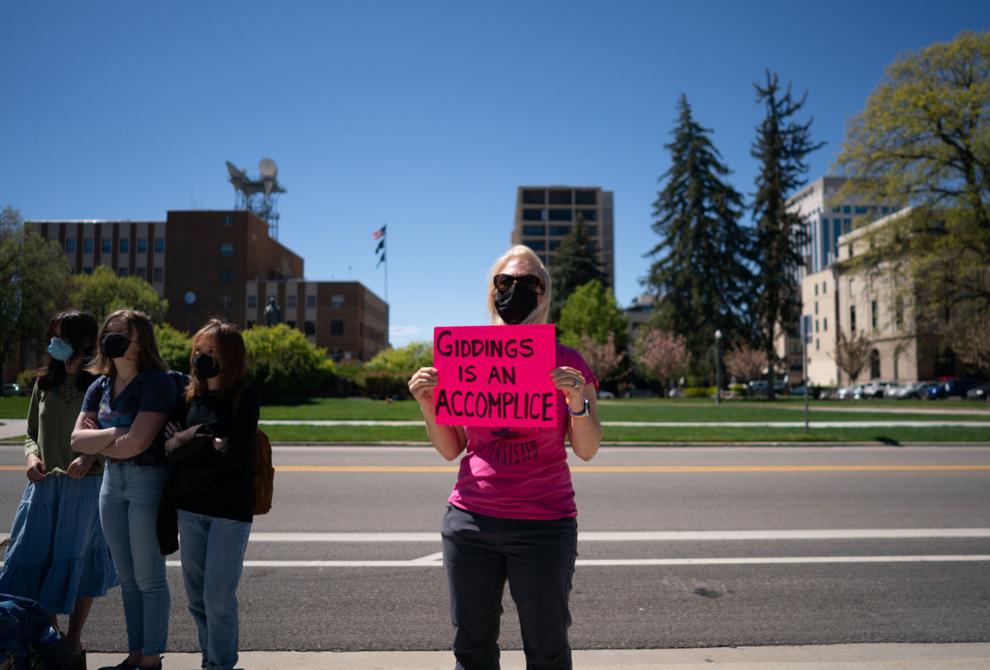 Organizers argued that von Ehlinger's attorney Edward Dindinger was combative as he questioned the 19-year-old and appeared to have failed to understand the extent of the trauma caused to the survivor by both the alleged assault and the hearing process.
As the woman left the hearing, where she testified from behind a black curtain, she was accosted by a group of what witnesses described as far-right bloggers, press, and von Ehlinger supporters, causing her to scream and forcing Idaho State Police to intervene.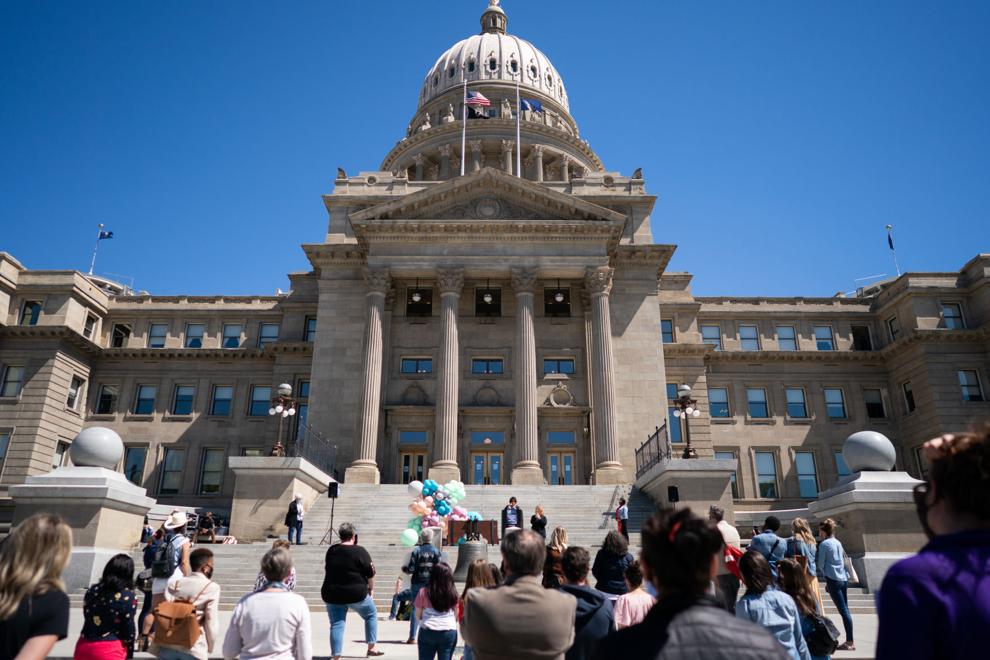 Attorneys for the 19-year-old sent a cease and desist to one local TV news station asking them not to use the footage, to which the outlet replied the footage did not exist anywhere and it had no intention of harming the woman.
"She evidently was on the floor," Miller said, adding that following the 19-year-old from the hearing was in direct contradiction to what was asked by House Ethics and Policy Committee Chairman Sage Dixon. "It's deeply disappointing, unacceptable and outrageous, and they should be held accountable for the trauma they caused this young woman on top of all the trauma that was caused by Rep. von Ehlinger."
"She's going to have a lot of healing ahead," said Miller.
Von Ehlinger has denied any wrongdoing and maintains the two had consensual sexual contact, The Associated Press reports. He refused to answer some questions during a legislative ethics hearing Wednesday after his attorney told him to invoke his constitutional right against self-incrimination.
In the crowd at Wednesday's rally, Haley Glenn and Kristianna McAlister were two of many holding signs calling on von Ehlinger to resign, as well as for those who doxxed the 19-year-old by sharing her name, picture and personal information online, to be held accountable.
"This has been going on a long time. Make no mistake, this is not new," Glenn said. "I feel very badly for this victim, and I want her to have all the support in the world. I'm fully behind her; I think she's super brave. But, the legislature is complicit in this."
Glenn worked as a page for then-Sen. John McGee in 2011, who in 2012 resigned from the state Senate after he was accused by a 25-year-old staffer of locking her in his office and harassing her with graphic sexual statements; he pleaded guilty to a misdemeanor disturbing the peace charge for sexual harassment.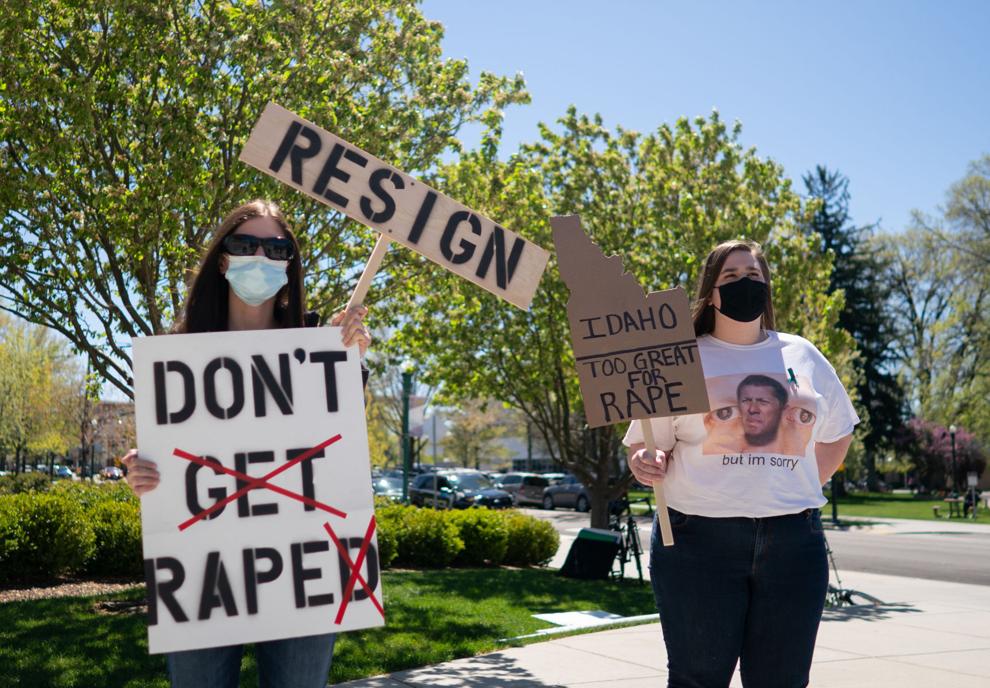 Glenn said the legislature has done nothing to address a culture of sexual harassment and violence since his arrest and sentencing. "They don't have a reporting process for things like this in the legislature. They don't care, they don't take it seriously, they don't have an anti-fraternization policy," she said.
"They do nothing to protect not only the people that work inside this building, but also the taxpayers," she said. "They're opening us all up to being sexually assaulted at our place of work. That has got to stop. That's why I'm here."
Rep. Priscilla Giddings, R-White Bird, should at the very least be censured for her role in releasing the 19-year-old's name, she added, calling the conduct of others involved in doxxing the survivor "abhorrent."
Another rally attendee, Beth Norton, worked as an attaché in the state House of Representatives for the 2021 legislative session. She described interactions with von Ehlinger which made her uncomfortable. "It's clear from the ethics committee proceedings that Rep. von Ehlinger was consistently using his position as an elected official to get dates and have sex with women," she said. "…If it is not made clear by the ethics committee or the body as a while that his behavior is deserving of expulsion, I will lose any trust or respect I have left for the members who vote to condone it."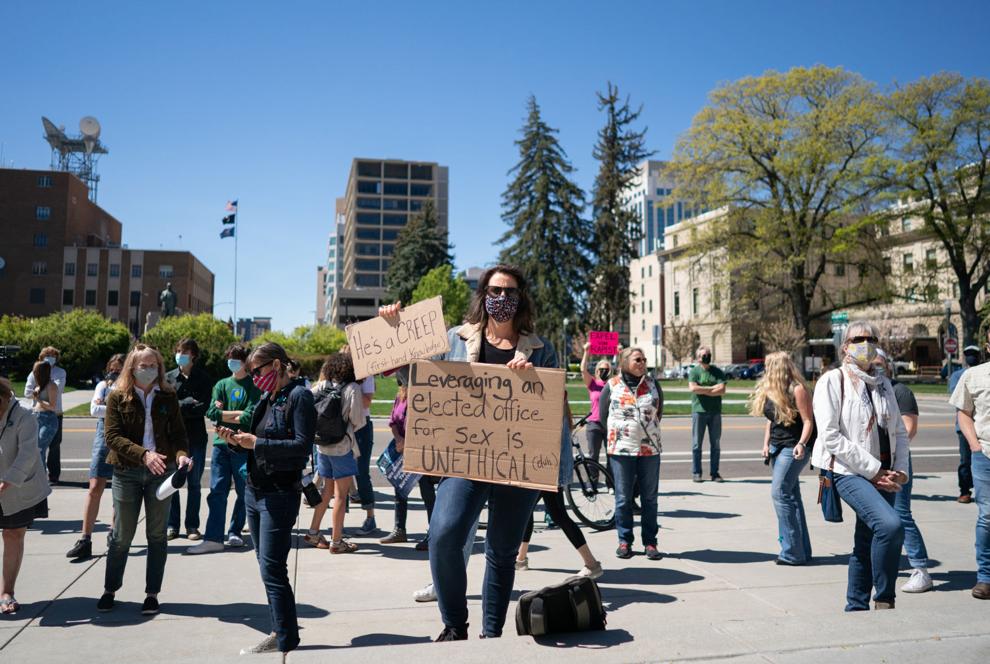 Experiences of sexual harassment or violence at the hands of men were a common theme among woman at the rally. "I'm here as an Idahoan, I'm here as a Latina, I'm here as an organizer. I'm here as a woman who has experienced far too much s--t that I don't want from men," said Jennifer Martinez, communications and marketing manager for Legal Voice, a Northwest advocacy group for women and LGBTQ people.
Lisa Growette Bostaph, Ph.D, researcher and professor of criminal justice at Boise State University spoke about the trauma sexual violence causes victims and the need to protect their privacy. She has worked on the issue of violence against women for 30 years and has been a researcher for 23.
"Unlike victims of other violent crime like robbery, victims of sexual violence are routinely blamed for being victimized — blamed for what they did and blamed for what they didn't do during an assault," Growette Bostaph said. "Only one-third of victims of sexual violence report to a policing agency in the United States. That is the lowest reporting rate across all violent crimes in the United States."
The response to trauma is not just fight or flight — it's fight, flight, or freeze. Freezing, an experience called tonic immobility where victims experience not being able to move, is experienced by up to 50% of rape victims, she said.
False reporting rates for sexual assault are the same as other crimes but victims are routinely interviewed multiple times following a report of sexual violence, "often in the immediate aftermath of the traumatic experience and then found not to be credible if their statements are inconsistent," said Growette Bostaph.
Women victims of sexual assault are three times more likely to have a major depressive disorder, six times more likely to have PTSD, three times more likely to consider suicide, and 16 times more likely to attempt suicide, she said.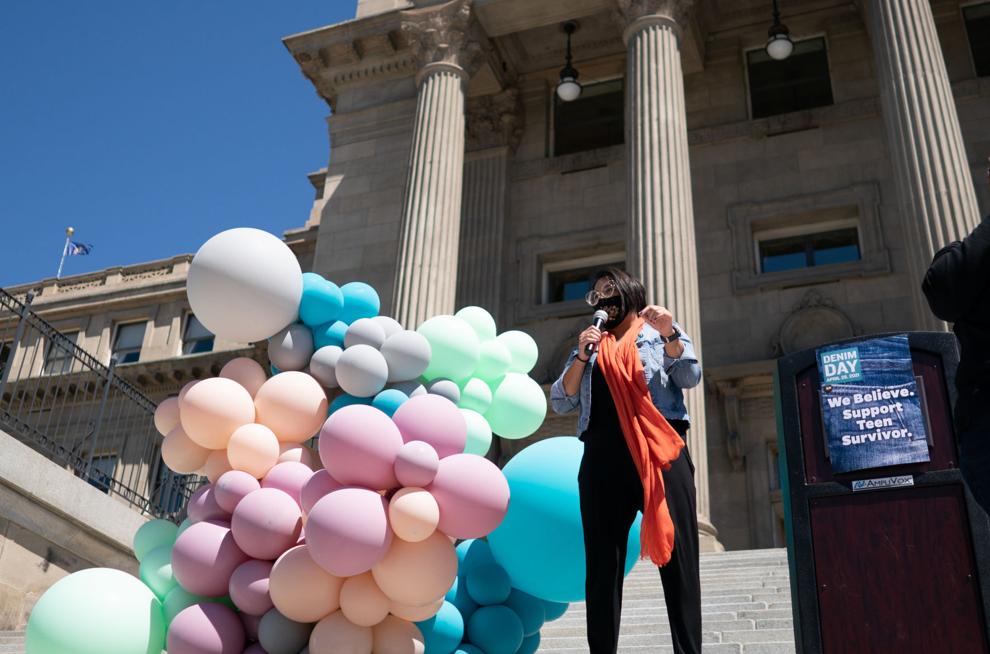 Former Democratic Sen. Cherie Buckner-Webb of Boise said these last few days have caused her pause. "We owe a debt of gratitude to a 19-year-old survivor, a young woman who courageously stepped forward to interrupt ongoing violence right here in the state Capitol," she told the crowd.
"We honor her courage and we lift her up. Her actions have served to expose an environment that has been hostile to women for many, many years. She has propelled us to step out of our complacence and demand accountability. We are determined today to eradicate an environment of secrecy, victimization and collusion."
House Speaker Scott Bedke, who was questioned during the committee hearing about the Legislature's "respectful workplace" policy, said the policy has been adopted by the Senate and the Legislative Council, but not formally adopted by the House. "But everyone is clear that staff and all members in this building operate under that respectful workplace policy," he said.
Robbie Burnett, an employee at the Ada County Sheriff's Office and a registered Republican, told the crowd, referencing language in Idaho's constitution granting rights to all victims of crimes, "It seems like today should have been common sense and her privacy should have been the utmost concern, but apparently legislative hearings aren't as important or codified as our criminal justice system, and I think that needs to change."
"I need you to talk to your friends and neighbors and we need to find some better legislators," Burnett said, calling on Idaho's business leaders to also speak out against misconduct in the legislature.
Idaho Press reporter Betsy Z. Russell contributed.