BOISE — Idaho will welcome around 400 Afghan refugees starting in fiscal year 2022, according to International Rescue Committee in Boise Executive Director Julianne Donnelly Tzul.
Tzul, along with other participants, spoke at a panel Tuesday about Idaho's role in resettling Afghans. The panelists touched on some of the same topics that Gov. Brad Little and the Idaho congressional delegation addressed in a letter they sent to President Joe Biden on Friday.
"The process of deciding how many people come to Idaho and every other local area in the U.S. is a very deliberate one, it's a careful one, it's a collaborative one. It's not unilateral," Tzul said. "We are not just handed a number."
Tzul said the process involves communication with schools, medical systems, local government and law enforcement. Idaho's governor, Idaho State Police and Idaho's congressional delegation are invited to a formal quarterly meeting to discuss who might come and the impact on local systems, she said. The next quarterly meeting is this week.
The average length of time to process a refugee is 18 to 24 months, according to PBS.
Most Afghan nationals will come in under humanitarian parole, which is like a visa that lets someone enter the country. Humanitarian parole does not give individuals the same rights or benefits refugees get, but those on humanitarian parole have been determined to be in danger and have faced extreme vetting.
Basically, it allows for someone to leave their country in an emergency instead of staying until their paperwork is completed.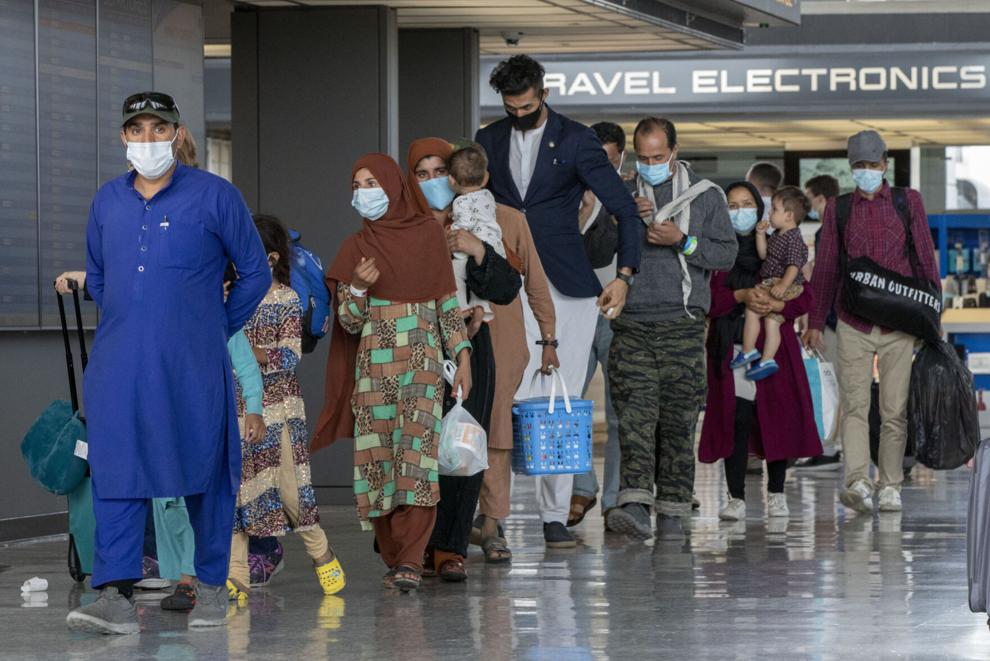 Little and the delegation wrote in the letter that Boise and Twin Falls are two of 139 U.S. cities selected to resettle Afghan refugees, and they said the selection was done through federal mandate "without consultation from the states."
Little and the entire Idaho congressional delegation said they expect the government to "uphold the most stringent vetting standards"
"Idaho has a long history of helping those who face persecution and life-threatening circumstances due to their religious beliefs ethnicity, or other political affiliations," the leaders wrote. "With that said, the State of Idaho will not tolerate a change to the vetting process in order to expedite the resettlement of refugees."
The Idaho State Police have been directed to "work in tandem with local refugee coordinators to develop additional state vetting measures," according to the letter.
Little did not respond to a request for comment. In 2019, Little decided to continue allowing refugee resettlement in Idaho after former President Donald Trump issued an executive order requiring state and local consent for resettlement.
"The refugees today are way different than they were four or five years ago," Little told the Idaho Falls Post Register in February 2020. "They're rigorously filtered. There's a lot more work done on them, and they're more attentive to the state (and) what programs are there."
He added "some of these are people who helped us out in wars," and said there are reasons why refugees are given that status.
The Idaho State Police said in a Tuesday email to the Idaho Press that they would "help local refugee coordinators with any assistance they may need using appropriate and available resources."
Idaho Office for Refugees Communications Specialist Holly Beech said the office and its partner resettlement agencies have not yet been contacted or instructed to work with Idaho State Police.
"We do have full confidence in the thorough screening and vetting process that's in place and has been working for decades," Beech said. "It involves more than 10 government agencies that specialize in refugee resettlement and national security."
Afghanistan's government collapsed last month and the Taliban took over. The United States brought in thousands of troops to secure the airport. More than 100,000 were evacuated, but thousands of the United States' Afghan allies were left behind. More than 60,000 Afghan refugees will be resettled in the United States in the coming weeks.
CNN reported that the last time "the U.S. resettled anywhere close to this number of evacuees within such a short period was after the US troop withdrawal from Vietnam, when more than 130,000 people came to the U.S. over an eight-month period."
One of Tuesday's panelists, Nawid Mousa, a civil engineer and former refugee from Afghanistan, said the incoming refugees risked their lives for the United States and should be welcomed with open arms.
"This country was based on people coming and looking for freedom," Mousa said. "We need to not have the intention to somehow bar them from coming in and I have full faith in our system, in our government that will take the right measures to process and vet all eligible individuals."