BOISE — The state of Idaho expanded crisis standards of care throughout the state early Thursday.
Not all hospitals are moving to crisis standards of care immediately, said Brian Whitlock, president and CEO of the Idaho Hospital Association. But if they need to, they have a framework for doing so using limited resources.
The state expanded the crisis standards across the state after being asked to by the St. Luke's Health System. Health systems are straining under increased demand from people needing care for COVID-19 as well as those needing care for other health reasons.
"This is an incredibly sad day for St. Luke's and for our community," Chris Roth, president and CEO of St. Luke's Hospital System, said in a press conference.
The state's hospitals are experiencing a "massive increase" in the number of patients with COVID-19 who need medical attention, which "has exhausted existing resources," a press release from the Idaho Department of Health and Welfare said. The state saw over 1,300 new COVID-19 cases Wednesday, and even if numbers stay flat, 9,000 Idahoans could be diagnosed with disease this week, said Jim Souza, chief physician executive for the St. Luke's Health System.
Generally, when large numbers of people test positive, it results in additional demand on the healthcare system over the following two weeks, according to Tom Murphy, the CEO of Minidoka Memorial Hospital.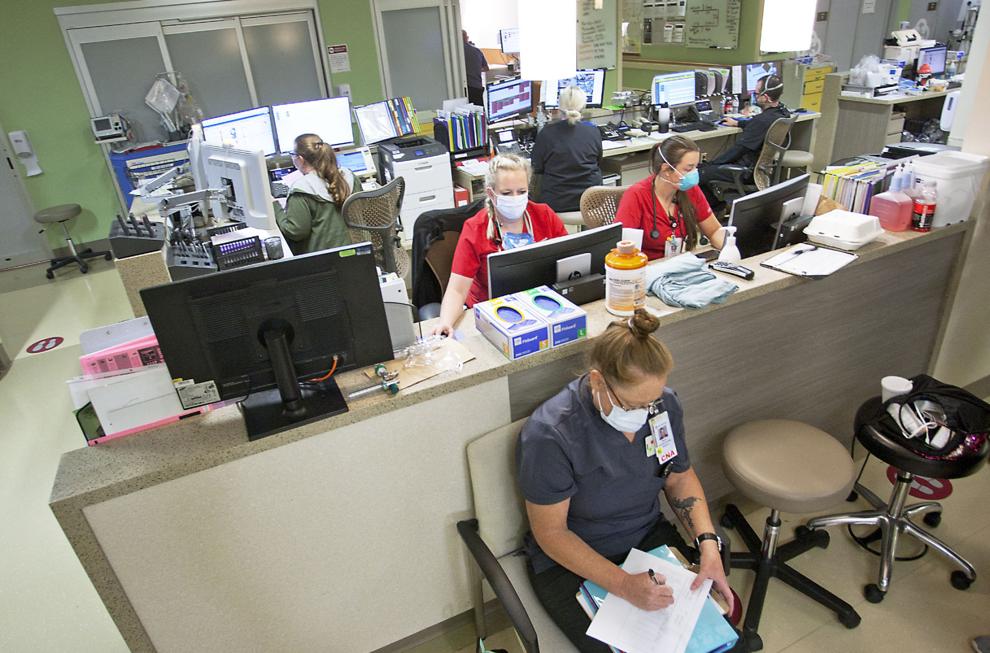 WHAT ARE CRISIS STANDARDS OF CARE?
Crisis standards of care are guidelines that a hospital can use to prioritize who gets care when there are limited resources such as space, staff and equipment.
Though the goal is to provide care to as many patients as possible and save as many lives as possible, it may result in patients getting different care than normal. For example, patients may receive treatment in parts of the hospital that have been set up as overflow areas.
Crisis standards of care can also mean that patient needs are compared to determine whose needs are greatest and who will receive care. For example, if a person is in a car crash, and they are brought to the emergency room, and it is determined they are not likely to survive their injuries, their treatment may be deprioritized over someone else who needs immediate medical attention and is likely to survive if they receive treatment.
Though redirecting life-saving care from one patient to another has not happened yet in Idaho, it could, said Steve Nemerson, chief clinical officer for the Saint Alphonsus Health System.
Declaring crisis standards of care is an acknowledgement that the usual standards of care have been breached and frees hospitals to innovate in expanding care, Souza said. No resources have been deallocated from any patient yet, he said, but if conditions continue, it could happen.
HOSPITALS UNDER CRISIS STANDARDS OF CARE
St. Luke's, which asked for the state to expand crisis standards of care, is operating with limited resources. The issue is not a shortage of personnel, as the hospital has more staff on hand than it did over the summer, Roth said. However, 400 staff members are unable to work due to being sick with COVID-19, said Sandee Gehrke, chief operating officer for St. Luke's.
Non-clinical staff such as surgical personnel, anesthesiologists, and others are being directed to do tasks such as monitoring patients, answering alarms, and keeping rooms clean, Gehrke said. The hospitals in the St. Luke's system have opened overflow areas, but have run out of physical beds, she said, which means some patients are being cared for on stretchers. The hospitals are having to set up additional morgue space, too.
The Saint Alphonsus Health System is operating under the most extreme contingency standards and is considering formally notifying the state to say the health system is operating in ways that are not consistent with normal community standards, Nemerson said. And though it has not been forced to triage cases to determine who receives care, its leaders can "see it on the horizon," he said.
St. Luke's staff are strained, Gehrke said.
"To hear our team talk about the stress that they see and experience when they work 10 shifts in a row, and they don't see their families, and they see the death and despair that COVID is bringing to us, it's really taking a toll across the board," Gehrke said.
St. Luke's is working to leverage virtual care as much as possible to prevent people from being admitted to the hospital in the first place, she said.
Regardless, health professionals are still encouraging people to seek medical attention for various ailments when needed.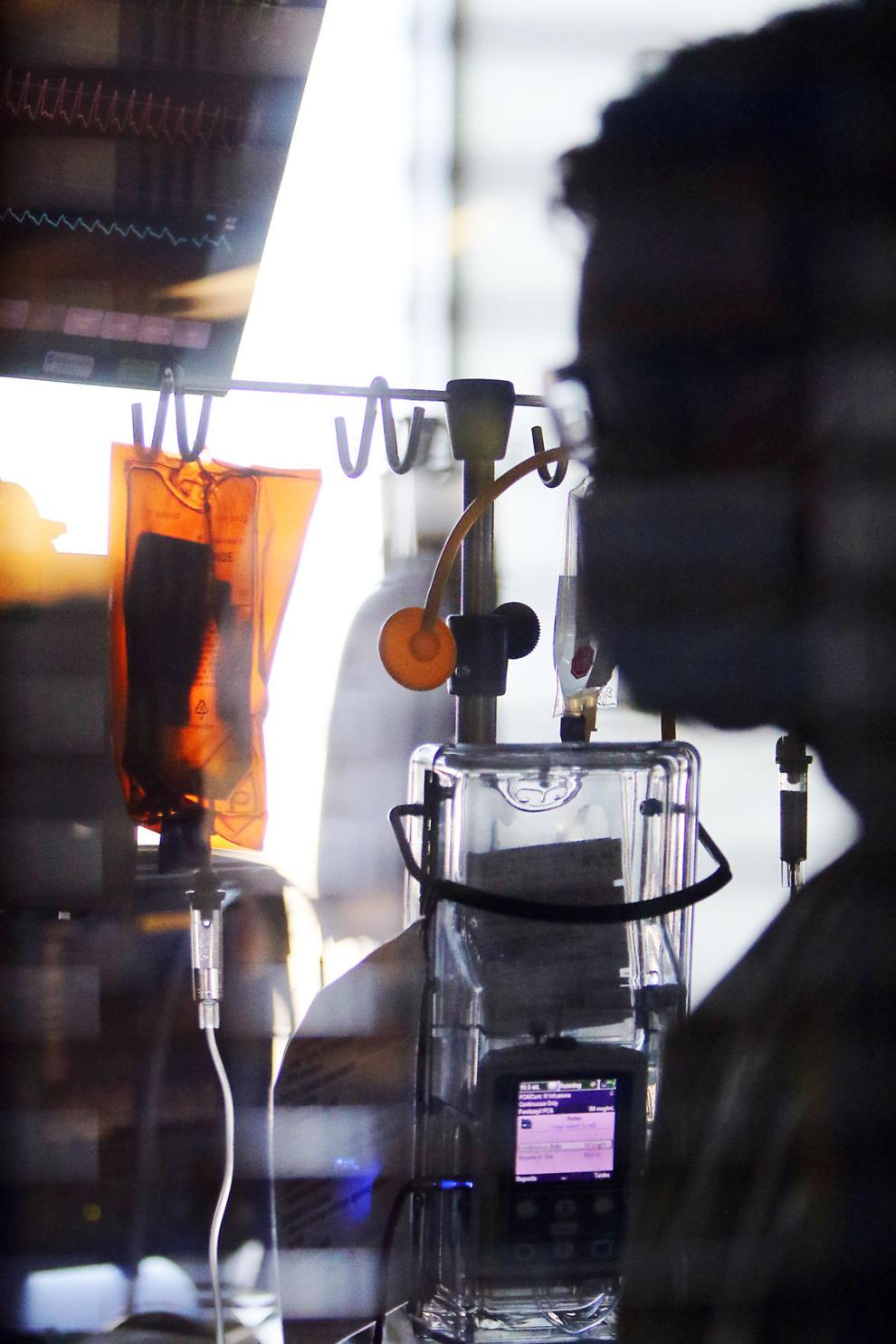 RESIDENTS, POLITICAL LEADERS REACT
Boise resident Michael Robinson currently has a family member in intensive care in Billings, Montana, because of COVID-19. He doesn't think people are taking the pandemic seriously enough. But he also has not gotten vaccinated yet and remains undecided on whether he will. When asked why he was hesitant about getting vaccinated, Robinson did not provide a specific reason. He is willing to wear masks because it "can't hurt" but thinks vaccine mandates are too controlling.
Boise resident Doug Gates finds people's unwillingness to get vaccinated, which health officials agree would take pressure off of the health system, flummoxing.
"What's happened to chicken pox? You ever hear of a chicken pox outbreak now? Or polio?" Gates asked, noting how vaccines helped manage the spread of those diseases.
Resident Kay Hervey, 83, said she's worried about what might happen if she or her 85-year-old husband had a health issue.
"I've had two strokes," she said. "They were small, but if I have a major one, where am I going to go?"
Some local political leaders also voiced their concern on Thursday.
Nampa Mayor Debbie Kling said implementing crisis standards of care was an unfortunate turn of events.
"We want to encourage our community to please do their part to keep themselves and our entire community as healthy as possible," Kling said. "Thank you to the healthcare workers for all they are doing – we appreciate you greatly."
Garret Nancolas, Caldwell's mayor, agreed, saying people should continue to seek medical care if they need it and consider the health of themselves and others to keep the region's residents healthy.
"Everyone has their own opinion about masks or vaccinations, but I would just urge people to very carefully consider all those options and do what is best for you and your family. But I would also ask you to consider your friends and neighbors and how we all need to work together as a community to get through this," he said.
Mayor Lauren McLean took a somewhat different tack: Boise has a relatively high vaccination rate and has followed state recommendations to curb the virus's spread, but its hospitals are being "overrun" by unvaccinated Idahoans, she said, and called on state officials to do more to protect citizens in a press release issued Thursday.
"We as Boiseans are asking the state to step in because this virus knows no city borders and we are seeing the devastating impacts of this surge in our local medical centers," McLean said in the release.
"For those who are hesitant to get a vaccine, the community is here to help. Please get your questions answered, your concerns addressed and take the much needed step to protect yourselves and our city," she said. "We have additional COVID-19 information and resources listed on the City of Boise website."
Idaho Press City Editor Laura Guido contributed to this reporting