The Idaho Falls community is in mourning for nine members of a prominent local family who died in a plane crash in South Dakota over the weekend.
Among the dead were brothers Jim and Kirk Hansen, founders and executives of Kyani Inc., a wellness company based in Idaho Falls that sells health products and supplements worldwide; their father, Jim Hansen Sr.; Kirk Hansen's children, Stockton and Logan; his sons-in-law, Kyle Naylor and Tyson Dennert; and Jim Hansen's son, Jake, and grandson, Houston.
"We lost a great man Saturday for sure," said Chad Christensen, an Idaho House member from Ammon who was close with Jim Hansen Jr. Christensen lives in the same neighborhood as the Hansens and is a member of the same ward in The Church of Jesus Christ of Latter-day Saints.
"The community's going to be … not as well off as we could be with him in our community," Christensen said. "He's such a good man, always helping people, and it's not just me. He's helped all kinds of people throughout his life."
Dane Watkins Jr., a local judge who worked with one of the Hansen brothers' companies in 2017 on a charitable effort to feed people in Haiti, said the deaths struck him hard. He said he had not been able to stop thinking of them since news of the crash broke Sunday.
"My interaction with (Kirk Hansen) was one of humility," Watkins said.
The family was in a Pilatus PC-12 bound for Idaho Falls when the plane crashed Saturday afternoon shortly after takeoff, just a mile north of Chamberlain Municipal Airport in Chamberlain, South Dakota. Nine of the 12 passengers died. The family was returning home from a pheasant hunting trip in South Dakota, a longstanding Thanksgiving tradition for the Hansen family.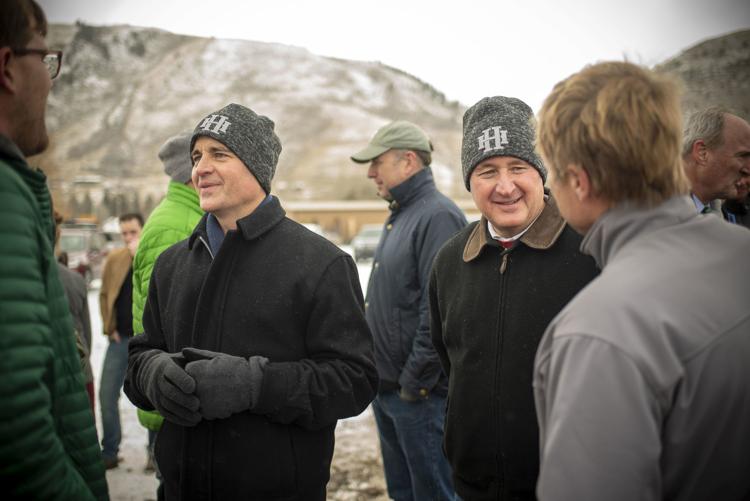 Jim Jr. and Kirk Hansen were also executives with petroleum product distributor Conrad & Bischoff, which Jim Sr. bought in 1974, and KJ's Super Stores.
The three survivors have been identified as Josh Hansen, son of Kirk and Rebecca; Matt Hansen, son of Jim Jr. and Leann; and Jim Jr.'s son-in-law Thomas Long. They were in stable condition Monday according to the Associated Press.
Investigators with the National Transportation Safety Board arrived at the crash site Monday morning to sort through the records and check the plane's automated dependent surveillance broadcast system to determine the cause of the crash.
A preliminary report on the investigation is expected in two weeks. A full investigation of the crash is expected to take one to two years, according to the news release from the NTSB.
According to the Associated Press, Chamberlain was under a winter storm warning Saturday and planes were not able to land. Federal Aviation Administration spokeswoman Elizabeth Isham Cory said small planes are not usually restricted from taking off during storms and that pilots are "the ultimate authority" for deciding whether to fly. It's not clear who the pilot was, but Kirk Hansen had a private pilot certificate and his medical information was up to date with the FAA.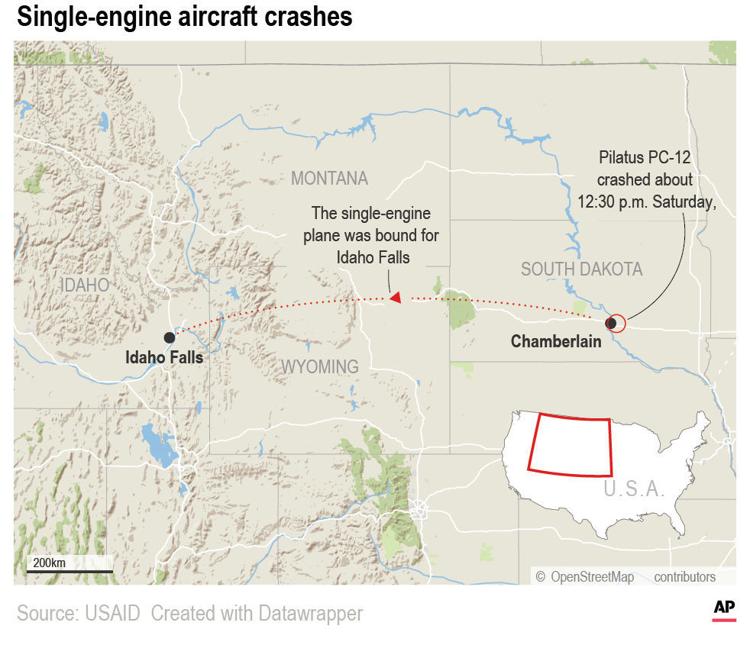 THINKING OF OTHERS
Christensen got to know Jim Hansen Jr. about 10 years ago. Christensen had been active in the LDS church for most of his life but had briefly drifted away from it, and Hansen Jr. was Christensen's LDS home teacher, frequently visiting to talk to him.
"Jim was really a key person in getting me active again in the church," Christensen said.
Christensen said one of his fondest memories is of talking about the Gospels around the campfire with Hansen when they and others from the ward, including Christensen's oldest son, went on a camping trip on the Salmon River. When Hansen was the ward bishop, Christensen said, he would wake up at 4 a.m. every day, planning his day to help others and texting every member of the ward on their birthday.
"Just the kind of man he was, always thinking about other people," Christensen said.
Christensen recalled times when Hansen helped him, such as when he had child custody issues or a couple of times when he broke bones in accidents. Once, Christensen said, he broke six ribs and punctured a lung after being bucked off a horse. Hansen brought him food and called him constantly to see if he needed anything.
"That's just who Jim is, always wanted to serve you," Christensen said.
Darryl Harris, who founded Harris Publishing in 1971, has known the Hansen family since the mid-1970s. Harris described Hansen Sr. as serious but with a dry sense of humor and an astute, hardworking businessman who didn't allow things to distract him.
"He had a tunnel vision about life," Harris said. "He knew that this was right and this was wrong. He knew in business what to do and what not to do."
Harris lived around the corner from the Hansens and they went to the same church. Also, he and Jim Hansen Sr. were both businessmen and would talk about that often. Both men also brought their sons into their businesses.
"We had a lot in common," Harris said.
Harris and Hansen Sr. stayed close over the years. Both ended up buying vacation homes in St. George, Utah. Harris recalled visiting Las Vegas with Hansen Sr. and his wife Coralee, and eating at a restaurant the Hansens would visit as newlyweds. They also rode their Razor four-wheelers in one day from St. George to the north rim of the Grand Canyon, 80 miles away. Harris said nobody complained about the long trip, even though they were riding through areas that were muddy from a recent rain.
"He liked doing things like that," Harris said. "He enjoyed life. He worked hard and he played hard. He was a good man."
POTATO PAKS FOR CHARITY
"I knew instantly that he was a special human being," Watkins said of his first and only time meeting Kirk Hansen. "I think there's a great loss to this community whether you knew them or not."
In 2017 Watkins and his brother, Damond Watkins, a Kyani employee, went to Haiti with several representatives of Kyani Inc. as part of the company's charity work donating a new product designed to feed impoverished families. The Watkins brothers had done volunteer work in Haiti for years, and assisted Kyani Caring Hands as translators. Watkins said Kirk Hansen struck him as a person who cared about others.
Kyani Caring Hands went to Haiti to donate Potato Paks, a meal package the charity developed with the help of Idaho Falls-based Idahoan Foods. The idea was to mass produce a meal based on one of Idaho's primary crops "to provide essential nutrition to people in need who cannot provide it for themselves," according to the charity's website. In 2016, Kyani delivered more than a million Potato Paks worldwide.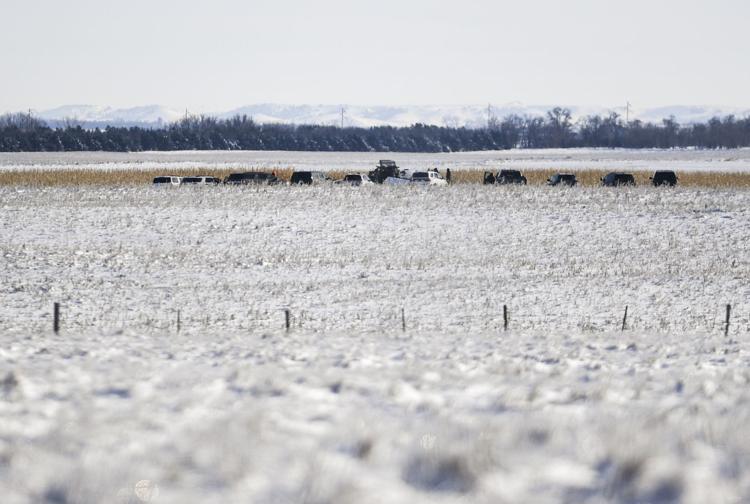 "Kirk and Jim have both demonstrated great generosity in the community and in their business practices," Idahoan Foods President and CEO Drew Facer said in a statement Monday. "The collaboration with Idahoan was simply one of those manifestations in their quest to bring kindness and relief to those in need."
In 2017 both Kyani and Idahoan Foods were honored by the city of Idaho Falls for their efforts with the Potato Paks. Potato Paks are still being delivered to Haiti today, the Watkins brothers said.
Kyani plans to continue on despite the tragedy.
"Our strategy isn't changing from what we had before; (Kyani) is a company that provides hope and direction to people and we plan to continue that," said Kyani President Travis Garza. "That is what our founders would have wanted."
Carl Taylor, who founded Kyani along with the Hansen brothers, said Kyani would continue to thrive because of procedures the founders had set in place.
"You always have to prepare for the unseen emergency, so we did have a plan in place to cover any crisis," Taylor said.
Taylor knew many of the victims their entire lives.
"They were the most wonderful, kind, honorable people I have met," Taylor said.