MERIDIAN — Student doctors at the Idaho College of Osteopathic Medicine are finding their own way to assist the community in the battle against opioid addiction.
Thanks to a grant from the Idaho Office of Drug Policy, the eight-person, student-led opioid task force was awarded 75 kits of Narcan, an opioid overdose-reversal nasal spray. Each kit comes with two doses. The group plans to partner with non-profits to train staff to identify overdoses and learn how to deploy Narcan.
"I want the community to know we are here to help them and address any needs the community may have," said David Bassa, student doctor and president of ICOM's chapter of the Student Osteopathic Medical Association. "The opioid epidemic is one of those (needs)."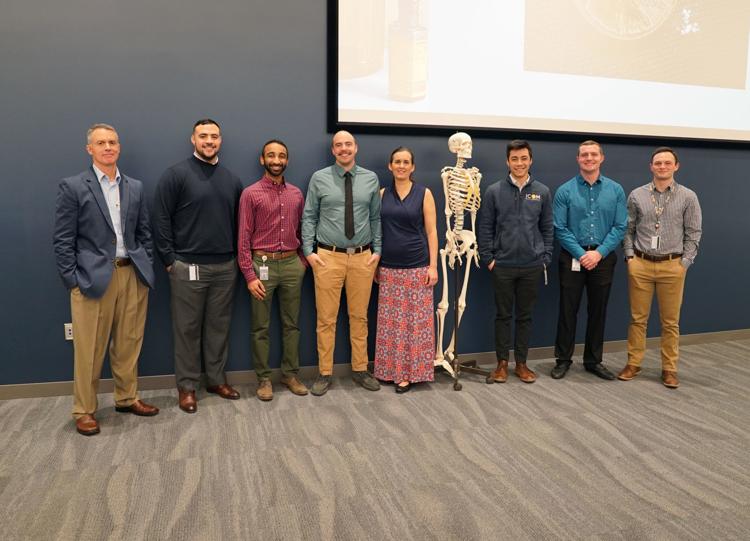 On Wednesday, about 180 students all became certified in how to administer Narcan. Next, those students will share their knowledge with the community and provide them with the Narcan kits, said Zacharie Finneman, student doctor and vice president of SOMA.
For now, students plan to train staff at Interfaith Sanctuary to recognize overdoses and learn how to use Narcan, Finneman said. The students are continuing to look for other organizations to train and provide Narcan to, like other homeless shelter or libraries.
This state grant is beneficial because then organizations won't have to use their own funding.
"(Narcan) is expensive on (its) own," said Alay Parikh, co-chair of the student-led opioid task force. "It's our way to really help with community needs."
Finneman said he has known people who have experienced overdoses. Parikh said when he lived in California he saw people experiencing overdoses.
"It's completely preventable," Parikh said, adding he likes the idea of equipping the community with one resource to help.
Wednesday's training was the first of many events the task force plans to have. The task force follows the National SOMA's task force.
The three students, who are all currently in their second year of medical school, will begin their clinical rotations next year.
"This is something they can leave behind for the young classes to kind of pick up and carry on," said Stephanie Dillon, ICOM spokeswoman. "They started a legacy here."