BOISE — During a visit to the Treasure Valley Monday, Ben Carson, secretary of the U.S. Department of Housing and Urban Development, said people are catching on that Idaho is such a great place to live.
That's caused some problems for the state, though, as the demand for housing has soared — home prices along with it.
In March, Idaho's home prices were up 17.2% year over year — the biggest spike in the country, according to RefiGuide, an online mortgage marketplace. Ada County's median sale price is right around $350,000, Boise Regional Realtors reports.
Carson, along with U.S. Sen. Mike Crapo, R-Idaho, visited the state at a time when Idaho's housing market stress level index is marked as severe, Sen. Cherie Buckner-Webb, D-Boise, said Monday to a group who met for Carson's visit at the 12th and River Streets Apartments in Boise.
"The housing crisis has come to Idaho in a mighty way," Buckner-Webb said.
Homelessness is at an all-time high, she said, and Idaho is struggling to keep up with affordable housing as the population continues to grow. Buckner-Webb acknowledged that the city of Boise has worked diligently to slow the problem, but more federal grant funding is needed.
"This is one of the biggest needs that we face in America right now, in terms of dealing with the less fortunate in our society," said Crapo, who chairs the Senate Banking Committee. The committee oversees housing and urban development programs.
A study from the National Low Income Housing Coalition found Idaho has an affordable housing shortage of over 23,000 units, according to an Idaho Press story from April. The state has roughly 45,325 extremely low-income rental households, but only 21,977 available units affordable to those residents.
The main cause of the affordable housing crisis, Carson said, is supply and demand and the zoning restrictions and barriers to building that housing. It will take federal, state and local partners working together to decrease homelessness and increase affordable housing, he said.
"I believe that we can get rid of homelessness in this country," Carson said.
Carson and Crapo toured two affordable housing options Monday — indieDwell in Caldwell and 12th and River Senior Apartments in Boise — to see what could be duplicated in the future to combat the housing crisis.
"With cities like Boise leading the way, we're seeing partnerships forming in communities across the country that help preserve existing housing stock but also increase the production of new homes," Carson said. "And we're encouraging and welcoming innovative housing in our neighborhoods."
Carson's tour in the Treasure Valley started at indieDwell, a manufacturer that opened in Caldwell last year and makes modular homes out of shipping containers.
Carson mentioned indieDwell was one of several manufacturers showcasing affordable housing at the National Mall in June. He described the homes as beautiful with plenty of space and amenities.
He said he was inspired to see young couples leaving the National Mall with smiles on their faces after looking at housing options they could actually afford.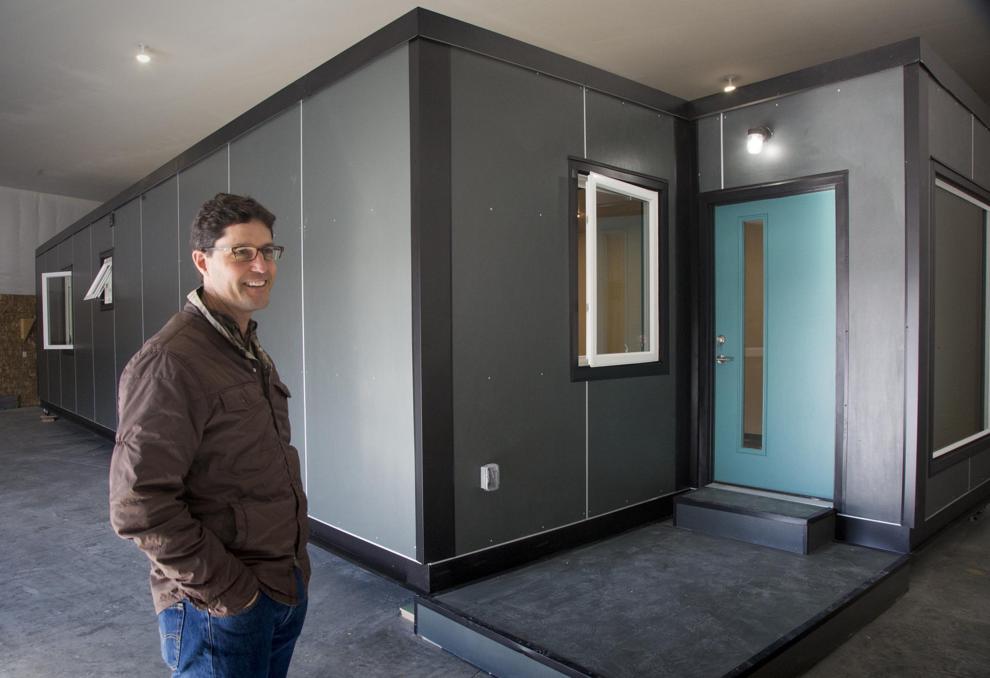 IndieDwell single-family homes, which are 320 to 960 square feet, sell for $46,500 to $107,850. The company delivers and installs them on land already owned or leased by the buyer, according to a previous Idaho Press report.
While talking about affordable housing, Carson discussed the notion of NIMBY-ism (Not In My Backyard). That mentality has got to go, he said, noting that the fears people have of affordable housing coming to their neighborhood is based on old thinking.
Carson said his vision at HUD is to address the issue through public-private partnerships and new housing that blends in with its neighborhoods — not like the old high-rise public housing projects, according to an Eye on Boise blog from Idaho Press reporter Betsy Russell.
12TH AND RIVER SENIOR APARTMENTS
In the secretary's second stop, he saw 12th and River Senior Apartments — a 53-unit, three-story building on Boise's Pioneer Pathway — operated by Mercy Housing.
Mercy Housing has over 20,000 affordable housing units dispersed throughout Idaho and the rest of the country, said Gerald M. Hunter, president and executive director of the Idaho Housing and Finance Association.
The 12th and River apartments since 2012 have provided seniors with housing support for independent living and facilitated access to health care.
The funding is a mixed-finance building that helps seniors with different tiers of income, said Bill Rumpf with Mercy Housing Northwest. This allocation came from HUD's Section 202 program, also called the Supportive Housing for the Elderly Program.
This housing type requires only 30% of residents' income, Carson said.
WHAT A LOCAL GIRL IS DOING
Locally, a 7-year-old girl named Grace Stoltey has taken it upon herself to create change in the homelessness community. Each month she hosts a birthday party for the children at Interfaith Sanctuary. She funds the parties by baking and selling cupcakes at various community events. During past parties she has hired a magician to play at a party and another time went swimming at a pool and fed children and parents lunch.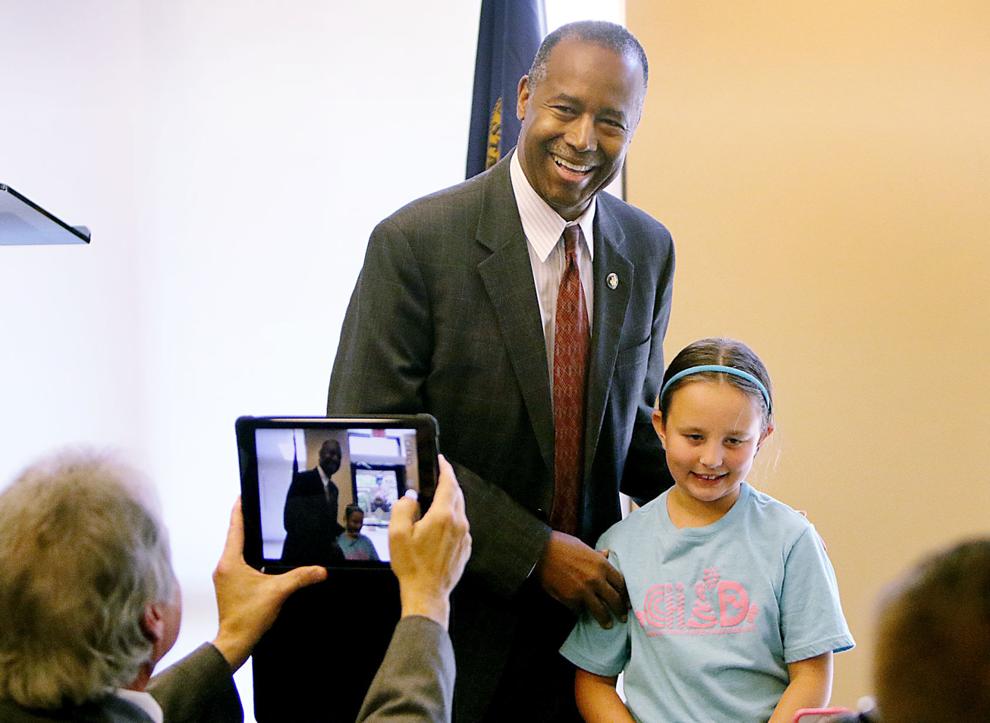 Since become HUD secretary in 2017, Carson said he has interacted with many members of the homeless community, and they should not be condemned but instead reached out to, like Grace is doing.
"It was Jesus who said, 'And a little child shall lead them,'" Carson said.
He accepted a shirt from Grace and will deliver another one, with the words "Celebrating Hopes and Dreams" on it, to President Trump.