GREENLEAF — For a city of just over 1,100 residents, Greenleaf has been humming along.
"It's such a great place to live," said Jason Miller, a 14-year resident of the small Canyon County city who's proposing to develop a 111-home subdivision there. "It's just super-quiet. … You have quick access to the interstate. … It's very friendly, very open."
But just as Miller and his partners are submitting their final development plan, which has been a year in the works, to the city, a major and serious hurdle has been thrown up by the state Legislature: HB 389. This year's sweeping property tax legislation limits total growth in a city's property tax budget to 8% a year, including 3% overall and just 5% from new construction.
Greenleaf has only 297 homes now. The proposed subdivision would mean 37% growth. And if the budget can't increase, the city couldn't provide services such as police protection to the new homes.
Mayor Brad Holton, who is in his 25th year as the historic little city's mayor, is incensed. Backers of HB 389 billed it as a way to stop "double-digit increases" in local property taxes.
"Show me the city that has double-digit increases that was not caused by new growth. It doesn't exist," Holton said.
Paradoxically, if the city would have approved and added the new development prior to HB 389, existing residents could have seen tax rate decreases, Holton said. But HB 389 limited local governments to recognizing new construction value on their tax rolls at 90% of value, rather than the full value as before, making that less likely.
"We have been very conservative with all of the city services that we can," Holton said, noting that neighboring Wilder has more than double Greenleaf's tax levy rate. "But there's multiple things that drive property taxes. We're not in control of those."
Chief among them, he notes, are skyrocketing home values in Idaho.
Holton and Greenleaf's entire City Council signed a four-page letter to Gov. Brad Little, legislators and an array of others this month pointing out the "difficult decisions we now face as we balance the needs of public safety and infrastructure against the current demand for new housing."
"One direct result of the enactment of HB 389 is that new development will be unable to pay its own way," the letter stated.
Little noted the Greenleaf letter in his annual Address to the Business Community in Boise on Aug. 16, saying, "Time has revealed some of the shortcomings of that piece of legislation," and declaring, "Even the authors of that legislation recognize some of the problems with it."
House Majority Leader Mike Moyle, R-Star, HB 389's author and lead sponsor, said, "I've always said that 389 was a start. But where I want to go with 389 is probably different from where people like the mayor of Greenleaf want to go."
Moyle said the law still allows a local government to go to voters to ask if they can exceed the new budget cap, though it would take a two-thirds supermajority. "I don't know why in the heck these locals are so afraid of the voters," he said.
Under current law, as amended by HB 389, exceeding the 8% annual cap on property tax budgets would take a two-thirds supermajority vote at the May or November election.
"We all know that when we pass any bill, that there's going to be stuff we need to adjust once we see how it works," Moyle said, "and this bill's no different than any other bill." He said he gave Little his commitment that he'd look at fixes.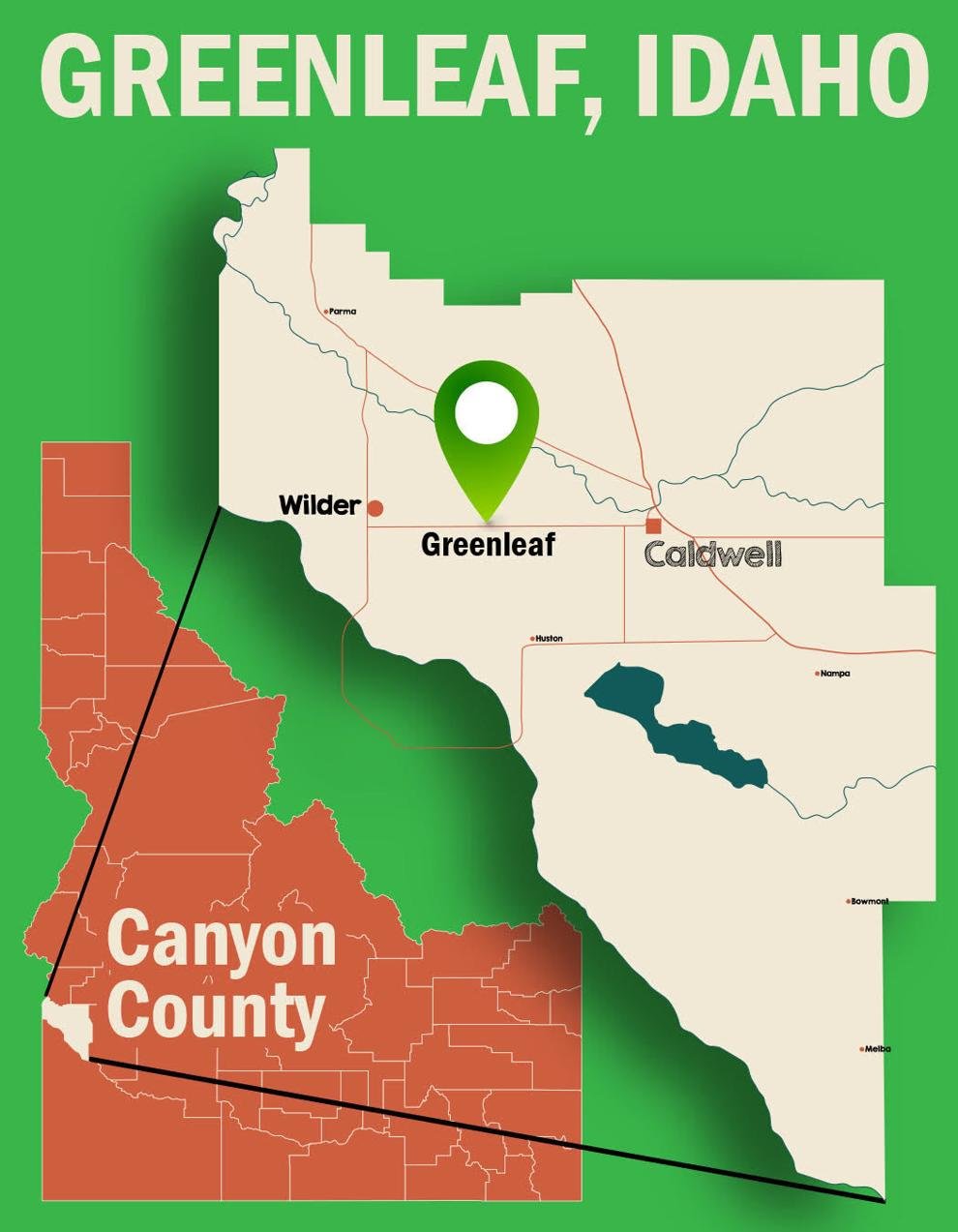 But he also continued to criticize Idaho cities for their growing budgets. "This bill does not cut any of their budgets," he said. "It just slows down the growth."
Senate Tax Chairman Jim Rice, R-Caldwell, on the other hand, said he now favors eliminating the 8% budget cap moving forward. With the bill's other changes, he said, "More growth actually reduces taxes, it doesn't increase it." Rice was the Senate sponsor of HB 389.
Greenleaf's issues with HB 389 go beyond the property tax issue. There's the sewer plant, which Greenleaf had to install at a cost of more than $6 million after a local drain field failed and federal and state environmental agencies required more sophisticated sewage treatment.
Started in 2011 and completed in 2013, Greenleaf's sewer plant is modern and efficient. Operator Doug Amick proudly displays a vial of what appears to be clear, clean water — the treated effluent that's the end product of the plant, while the sewage that enters the plant more closely resembles a malodorous and unappetizing chocolate milkshake.
"See just how clear the effluent is?" Amick asks, holding up the vial to the light.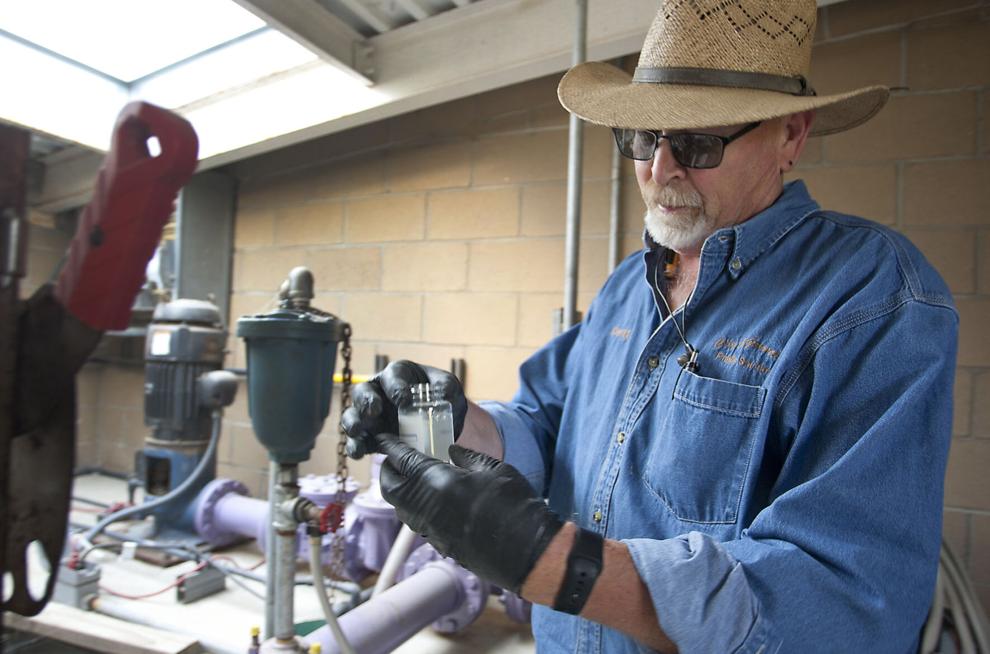 Holton recalls that back when the city was debating which technology it should use in the plant, trips he took with his wife all started to include tours of the local municipal sewage treatment plant, and he looked at a lot of them. Asked whether his wife found that entertaining, he said, "She did a lot of reading in the vehicle."
For a tiny city to take on a project like an all-new sewage treatment plant required a major mobilization of resources.
"A lot of rural communities face limits in their infrastructure," said Tina Wilson of the Western Alliance for Economic Development, who works with Greenleaf, Parma, Notus and Wilder along with Emmett and Gem County. When they have to fund something like a sewage treatment plant, it takes "layers" of funding, she said, from USDA Rural Development loans to state revolving funds to revenue bonds.
Loans must be repaid, she noted, and "the payment is calculated on users in the system."
"USDA Rural Development says, 'Now that you have this capacity, you're going to grow,'" Wilson said.
That means the city's sewer rates, now at a base rate of $91.34 a month, will automatically rise over the years, with the next big step up coming in about six years. Adding new users spreads out the cost — but if the city is restricted from growing by state legislation, existing residents could see steep increases.
"This has nothing to do with property tax," Mayor Holton said. But it's a huge concern for Greenleaf and its existing residents, if HB 389 prevents the city from approving new homes.
"This new housing growth is essential for funding the loan payments for the sewer plant," Holton and his City Council wrote to the governor. Under the current budget limits in HB 389, the city couldn't approve more than seven new homes a year, they noted.
Wilson said Greenleaf is not alone in facing this conundrum. Just in rural Canyon County, Parma is in the midst of a sewer upgrade; Notus finished one about two years ago; and Wilder "hasn't started construction, but they know they need to do it," she said. "They don't have any choice."
The impacts of HB 389 also have come up in cities large and small around the state as they've held their annual budget hearings in recent weeks. The Meridian City Council pointed at HB 389 when it voted last week to approve a budget that included a $900,000 property tax increase. City Councilman Brad Hoaglun said that came because under HB 389, "New growth was not allowed to pay for the needs that we have in this growing community. … It ticks me off."
Caldwell cited HB 389's impacts when it imposed a moratorium on new development.
HB 389, a complex, wide-ranging bill that was hastily cobbled together and passed in the final days of this year's legislative session, included an array of property tax changes, from a $25,000 increase in the homeowner's exemption to a big new tax break for developers, along with the local government budget caps and limits.
It also included changes to the "Circuit Breaker" property tax break for needy seniors that slightly raised the benefit, while also removing from the program on Jan. 1, 2022, any recipients whose home assessed value exceeds 125% of the county median. It restricted local government budgets from reflecting increases from expiring urban renewal districts to just 80% of the amount that goes back on the tax rolls, rather than the previous 100%. It limited and capped local governments' use of "forgone" property tax revenue.
It changed the new construction calculation to use the current year's tax levy rate, rather than the previous year's, which backers including Moyle and Rice said would prevent a tax shift to existing residents.
The bill also increased the tax exemption for businesses for personal property, which includes business inventory, machinery and equipment, from the current $100,000 per county to $250,000, a major tax break for the state's largest businesses that also was extended to utility lines and rail cars.
The new tax break for developers extended the current tax exemption for site improvements on land held by a developer from the point where the property development is begun to the point at which it's completed.
Holton, when asked by a reporter what he'd like to see lawmakers do about HB 389, was blunt. "I would like them to completely repeal it," he said. "They're trying to solve a problem that is in their minds, that doesn't exist."
"I'm frustrated by our legislators that voted for it," he said. "I've been doing the politics for 25 years. This past Legislature was probably the most frustrating and difficult that I've had."
"Are people frustrated with their taxes? Sure they are," he said.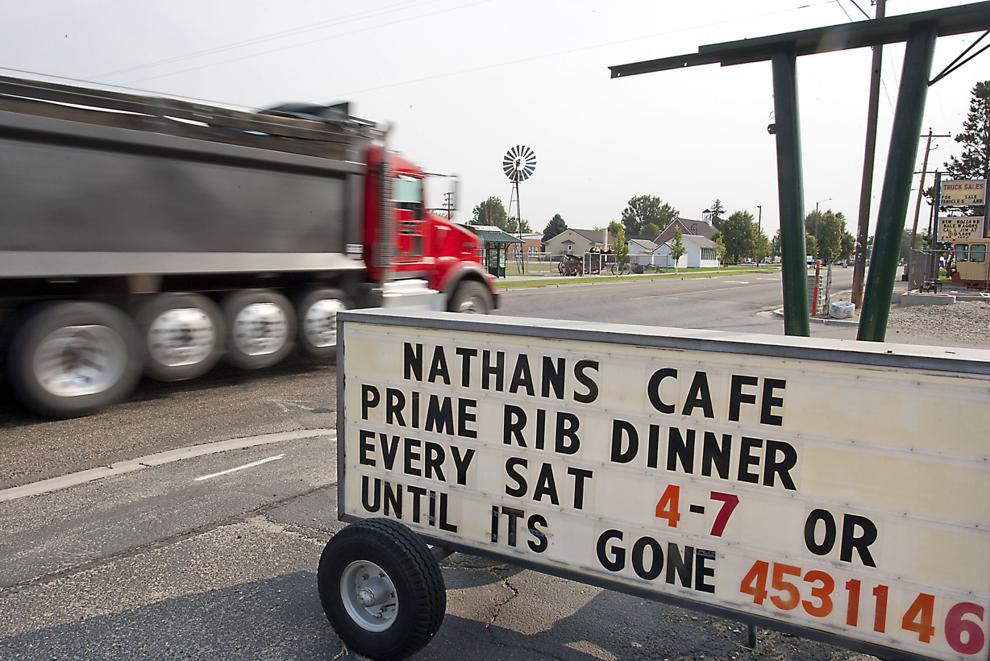 Holton said he's willing to be accountable for the city's role in property taxes, and to sit down with any resident and explain what's being charged, why, and where it goes. That's what local officials do, he and the City Council wrote in their letter to the governor.
"Were our budget to be bloated or wasteful, we would be the first to hear of it," they wrote, "either over coffee, from public input at our monthly city council meetings, or at our statutorily required budget hearing."
One of the busiest places in Greenleaf is Nathan's Greenleaf Café, which is not far from City Hall, and is routinely filled with breakfast and lunch diners and coffee-drinkers ("Veterans and First Responders always drink free!" the menu states).
Greenleaf doesn't have much commercial development; it's centered around the historic Greenleaf Friends Church, founded by early Quaker settlers in 1906, and the Greenleaf Friends Academy, the adjacent school added in 1908. There's also industrial and farm property.
The proposed new 111-home subdivision would include a small commercial strip, possibly allowing room for such businesses as a child care. "We don't have any grocery stores yet," Miller said, but "you can be at Albertson's in Caldwell in five miles, so 10 minutes."
He said the plan is for a mix of house and lot sizes, in line with Greenleaf's preferences; there also would be a park, playground equipment, pathways and fiber-optic internet service. Most homes would be in the high $350,000 to $400,000 range, ranging from 1,800 to 2,200 square feet, though some of the larger homes on larger lots would be more.
"We'd love to start it in the spring of 2022, is our goal," Miller said, with full buildout within five years if not sooner. At a community meeting that was part of the development application process, "We had wonderful turnout, and a lot of great comments," he said. "We didn't have any objections."
"Most of the owners of this property live out here in Greenleaf, so we wanted a development that was something we wanted to look at and drive by," Miller said. "We live here."
Holton was mayor of Greenleaf for eight years in the 1980s, then returned to the role in 2004 and has been re-elected multiple times since then. It's not a full-time job, though he noted it takes a lot more time than it used to; he also owns a local electronics manufacturing business.
"It's a hard time right now, because people are frustrated by politicians," Holton said. He wishes lawmakers would collaborate more with their partners at the local government level.
Said the mayor, "It'd be different if we were just sitting around trying to come up with new ways to charge more money."