BOISE — The first two major road projects funded under a new transportation bonding program approved by lawmakers this year should have major impacts on traffic in the congested and fast-growing Treasure Valley.
One would punch through State Highway 16 from its current dead end at Chinden Boulevard, or Highway 20/26, all the way south to connect to I-84, creating what will become the valley's first north-south freeway. The other would pay for one of the final pieces of expanding 20/26 between Eagle Road and I-84 at Caldwell, taking it up to six lanes between Middleton Road and I-84. Both are set to start construction next summer.
"I want to say 'thank you' to the governor, to the Legislature, for finding a way to make a significant investment in transportation," said Meridian Mayor Robert Simison. "Transportation has been, through the city of Meridian surveys, our number one issue the residents have brought up out there."
Star Mayor Trevor Chadwick called the Highway 16 extension "fantastic," saying, "That's going to allow people from Star or anywhere in the valley to get anywhere." Once it's completed, he said, "It's going to take four to five minutes to get all the way across town to the interstate, vs. the 25, 35, 45 minutes it takes now, depending on the time of the day."
Idaho Transportation Department says Highway 16 will become the Treasure Valley's first north-south expressway, with at-grade intersections at Franklin Road, Ustick Road, Chinden and State Street. After an additional construction phase that will add elevated ramps, it'll be a north-south freeway with interchanges replacing those signalized intersections.
"It will look and feel very similar to what I-84 is for east-west movement for the area," said ITD spokesman Jake Melder. "So connecting it to I-84 is really going to be that critical linchpin of major connection points. … We know that there are people who need to do not only those east-west movements, but the north-south movement."
Matt Stoll, executive director of COMPASS, the Community Planning Association of Southwest Idaho, said it's long been clear that major transportation improvements were needed for the Treasure Valley to accommodate growth. "What we had anticipated 20 years ago is happening, unfortunately, what we had been warning about," he said. "But the Legislature's action this past session is going to help us moving forward."
Even with the boost, he said, "We still have significant unfunded needs both on the state system, the local system, and especially the public transportation system."
At the strong urging of Gov. Brad Little, lawmakers this year passed HB 362, to shift $80 million a year from Idaho's state sales tax revenues from the state general fund to the Idaho Transportation Department, allowing the state to bond for up to $1.6 billion in major transportation projects around the state over the coming years.
The ITD board is in charge of picking the projects; the first two funded for construction through bonding are SH 16, at $170 million; and 20/22, at $37 million. A dozen more projects around the state, from Coeur d'Alene to Idaho Falls, already have been approved for earlier-stage funding, mostly through direct spending rather than bonding.
Since 2017, Idaho has been shifting 1% of its sales tax revenues each year to ITD for transportation improvements, or a minimum of $15 million. In 2019, it added authority for ITD to bond against those funds. HB 362 more than quadrupled the shift to 4.5% a year; that's expected to come to about $84 million this year. Anything above $80 million — and the total shift should increase each year as state sales tax revenues grow — will go to local highway jurisdictions for local road and bridge projects.
Rep. Rick Youngblood, R-Nampa, who's served on the Legislature's joint budget committee for a decade and is now its co-chair, said, "I've not always been a big supporter of using general funds for transportation. My eyes were opened a couple of years ago because of the need and the growth. It's just got to be done correctly, and done soon."
The governor pushed hard for the funding; it passed the House 59-11 and the Senate, 29-6. House Transportation Chair Joe Palmer and Senate Transportation Chair Lori Den Hartog, both Meridian Republicans, were the bill's lead sponsors. Little signed it into law May 10; the state Transportation Board announced the initial project list less than two weeks later, with Board Chairman Bill Moad calling it "one of the most significant transportation investments in state history."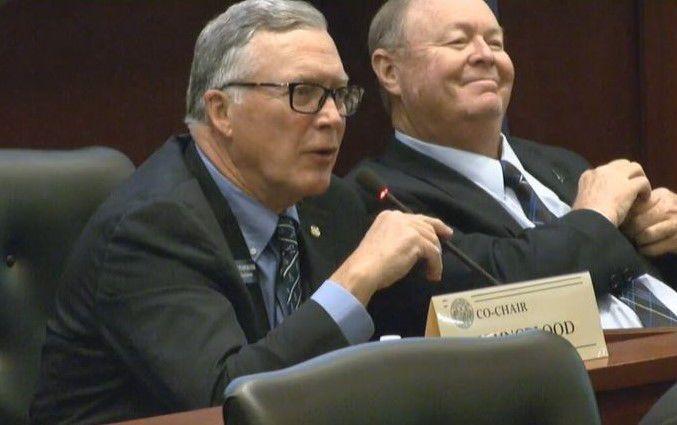 The Highway 16 project has been in the works since around 2006, Melder said, though progress was held up by the Great Recession. "We've been moving forward in earnest since 2011-12," he said.
A key piece was completed in 2014, when a bridge over the Boise River was built and SH 16 was connected over it down to 20/26. But when the route arrived there, it just stopped, as it does today.
"I just got a call from a dude two days ago who called it the 'bridge to nowhere,'" Melder said. "It's understandable why people may feel that way."
But ITD's engineers found that segment had "independent utility" even if it didn't yet connect up to the full north-south route. "Folks who live in the area … know river crossings are far and few between," Melder said. "So that is a critical linkage between 20/26 and Highway 44 in order to move people through those areas safely and efficiently."
Highway 16 now runs for 16 miles from Emmett in Gem County, up and over Freezeout Hill, and down into the Treasure Valley before reaching 20/26. The 2.1-mile section from State Street over the river to 20/26, built as a four-lane, divided expressway, opened in August of 2014; it cost $102 million for construction and right-of-way acquisition.
The Highway 16 extension from that point to I-84 is not without controversy. Both COMPASS and the city of Nampa raised concerns early on that the project would route traffic from the north until it hit the freeway, but do nothing for folks on the south side of the freeway – in Nampa, for example – wanting to access the route.
"It's a greatly needed project," said Nampa Mayor Debbie Kling. "I appreciate the fact that the state is identifying funds and investing in transportation — that's critical." But she said, "While Highway 16 is going to be great going north, we have a number of people in South Nampa that are still having to get off at that Garrity exit, and it isn't resolving, necessarily, the southbound traffic that needs to get into our community."
The latest designs for the SH 16 extension will accommodate that southbound connection when local road entities are ready to build it, ITD said. But Melder said the state wouldn't fund roads south of I-84 because there's no other state highway down there for them to connect to.
State highways are designed to connect to each other, Melder said, and when new roads are added, ITD has to justify their "logical termini" during their federal review process, which the Federal Highway Administration defines as "rational endpoints" such as major crossroads.
"The logical terminus for the Highway 16 extension is I-84," Melder said. "That (southbound) connection is still possible with our design, but it'll have to be a road that is designed, constructed and maintained by a local agency, because it is serving a local road network."
The new Highway 16 interchange with I-84 will include an overpass and ramps, designed so a local road could connect.
Kent Goldthorpe, president of the Ada County Highway District Commission, said ACHD's planning and projects team estimates that the new SH 16 connections with existing east-west routes, including Franklin and Ustick roads, would require it to construct $34 million in improvements, and it doesn't have the money.
That would include expanding both those routes to four lanes from the new highway to Ten Mile Road; both are now just two lanes. If ACHD had to come up with that kind of money, it couldn't accommodate any of the other road needs in its countywide jurisdiction, Goldthorpe said.
If they were left as two-lane roads connecting to the new expressway, he said, "Then we'd have a two-lane parking lot from Highway 16 to Ten Mile Road, every day, twice a day."
"There is no way on earth that I am going to force the city of Boise to pay for highway improvements in western Ada County that only benefit people from Canyon County and Gem County," Goldthorpe told the Idaho Press on Friday. "We're not planning on basically stealing money from our other municipal partners to accomplish that. … But I would certainly entertain discussions with the Legislature about how they can fix that huge unfunded mandate that they stuck the citizens of Ada County with."
Melder said while those roads would see increased traffic, ITD studies show the overall impact of a built-out SH-16 would reduce traffic demands on numerous other local roads, reducing the need for other road-widening projects.
The Highway 16 extension is estimated to cost $170 million. Bonds will be issued this spring, construction is set to start in the summer, and it should be completed within two to three years, said Amy Schroeder, transportation program manager for ITD.
"We're looking at those bonding scenarios now," she said Friday. The project is expected to go out to bid in January or early February.
The extension is classified as "Phase 2" of the Highway 16 project, with the 2014 segment as Phase 1. There's also a Phase 3: Once the extension to I-84 is built, it calls for installing grade-separated interchanges, freeway-style, at I-84, Franklin, Ustick, 20/26 and State Street. Phase 3 has an estimated cost of $185 million.
Design is already funded and under way, Schroeder said. "So we could begin construction of those as early as 2023, or when funding is available."
Phase 3 could be funded with more bonding under the new program; or with other federal or state highway funds. If funding is identified, it could start construction as soon as Phase 2 ends.
Youngblood said, "I've always been supportive of Highway 16 because the whole direction is that it be a 'fast lane.' It's not going to be like Eagle Road."
That north-south route is heavily congested at peak periods, and has numerous intersections and lots of development along it.
Eagle Road currently sees an average of 49,000 vehicle trips per day, according to ITD. I-84 sees 128,000. The new Highway 16 could handle 60,000.
"The growth movement is coming west," Youngblood said. "Meridian has exploded, Middleton is exploding, Star is exploding."
Melder said, "The previous promise of Eagle Road, which is Highway 55, as a north-south highway that serves a whole lot of vehicles, hasn't totally been met. … That's why for the development of Highway 16, one of the key factors that we had in the development of the project was preserving it as a high-speed, high-capacity, limited-access expressway."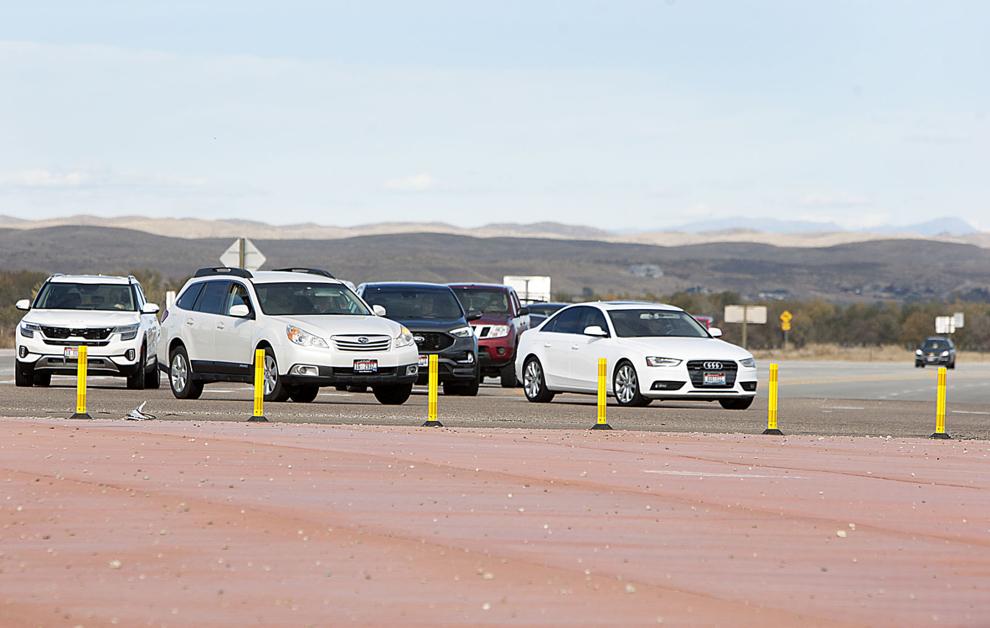 The second project included in the new bonding program, estimated at $37 million, will expand one of the last pieces of the stretch of Highway 20/26 between Eagle Road and I-84 at Nampa. It will pay for expanding the east-west route to six lanes between Middleton Road and I-84.
"Anything we can do to widen Highway 20/26, Chinden, to make it more navigable for people out of Canyon County is going to help alleviate traffic here in Star," Chadwick said. "If you've been out in Star at 5 in the afternoon or 8 in the morning, east or west, you can get backed up for several miles here. It's hard to get in and out of subdivisions and just get around."
Major portions of that stretch of Chinden already have been expanded through "STAR" agreements, or Sales Tax Anticipation Revenue. That program allows a private entity to fund road improvements up-front, then get reimbursed after its development is up and running by keeping a portion of the sales tax it generates.
A STAR agreement with Costco paid for expansion of the route from McDermott Road to Linder Road. STAR agreements with the Orchard Park development have completed the stretch from Linder to Meridian Road and will finish the piece from Meridian Road to Locust Grove Road in 2022. The section from Locust Grove to Eagle Road was completed with federal funding this year.
Moving west, the section from McDermott Road to Star Road is in final design and will be completed with federal funds in 2023, according to ITD. The next six-mile stretch, from Star Road to Middleton Road, has just been approved for final design funding under the new state transportation funding program, at $52 million.
"We've been working hard with our development community as they come in, to see those road improvements," Simison said. "So it's great to see the state continue with those road investments."
The final stretch is from Middleton Road to I-84 at Caldwell; that's the second project on the bonding list for the new state transportation funding program, at $37 million.
Like the Highway 16 project, this project would be included in this spring's bond issue and construction would start next summer. The two-year project is expected to be completed in 2023, Schroeder said; this section would have six lanes at completion.
Stoll said both the Highway 16 extension and 20/26 from Eagle Road to I-84 are on COMPASS's list of the top five unfunded corridors in the state highway system in the valley, and the regional planning agency is supportive of both.
The others, he said, are improvements on State Highway 44 from Eagle Road to I-84; State Highway 55 from the Karcher interchange to Pear Lane; and I-84 improvements, most of which already are being addressed.
"There's only so much money that's going to be available," Stoll said. "So it's really a matter of which projects, which districts, have the environmental and design work done." That's why these two projects were ready to go, he said.
Stoll said the projects should make it easier for Treasure Valley residents to get around, "wherever they're traveling, whether it's for groceries, going to work, whether it's getting kids to soccer games."
But if growth continues, he said, "We do need to evolve and look at other travel options for folks, whether it's public transportation or alternate forms of transportation or also additional roadways."
"With the growth that we're experiencing, we're going to get congested," he said. "The reality is, though, without those corridors being improved, it would have been a lot worse than what we're experiencing now."