BOISE — Mike and Tammy Johnston of Dayton, Minnesota, a suburb near Minneapolis, have spent much of their cross-country road trip searching the internet for the lowest gas prices, which have steadily increased along the way.
"All of the sudden we're now buried in our phones," said Mike Johnston while filling up a 75-gallon recreational vehicle gas tank. "It hasn't been, 'Let's just pull over and get gas.' We've been searching."
On Friday, the retired couple stopped at Flying J Travel Center in east Boise, a 2-mile detour, where gas was cheapest with their loyalty discount. It was $3.29 for regular fuel and $3.69 for diesel. That's up from the $2.39 the Johnstons paid in Minneapolis at the start of their 5,000-mile journey.
And it's a far cry from Idaho's $1.80 statewide average in May 2020, a low point during the coronavirus pandemic. As vaccines roll out, and travel restrictions in other states ease, more Americans and Idahoans are on the road. At the same time, crude oil prices — which affect about half the price of the fuel that ends up in a car tank — are rising, local experts say.
"The combination of those two things is putting upward pressure on gas prices," said Matthew Conde, public and government affairs director for AAA Idaho. "What you're really seeing is the floodgates breaking open. All those folks who couldn't do anything last year suddenly have a lot of options, and they're definitely getting out there. It's just like the lemonade stand on a hot day — all of the sudden, that lemonade looks pretty good."
On Thursday, the average price of fuel in Idaho was $3.27. That's up 2 cents from a week ago and 13 cents from a month ago. In June of last year, the average cost per gallon was $2.23. As is typical, Idaho's fuel costs are higher than the national average, currently $3.04. A lack of local refineries means Idaho must import its fuel, increasing the cost.
But Americans across the country are seeing fuel cost increases, beyond typical summertime spikes. The national average over Memorial Day weekend was the highest since 2014.
Haydn Combest, a sub-contractor for companies that deliver RVs, stopped in Boise on Friday during a 2,400-mile trip from Indiana. Along the way, he spent about $1,000 on gas. Combest, who lives near Bristol, Tennessee, said fuel 18 months ago ate up about 37% of his earnings. Now, it's more than 50%.
"Stupid," he said, bluntly. "It's all about politics, man. There's no reason for it."
President Joe Biden's push toward renewable energy as a substitute for petroleum-based products may also be a factor in increasing prices — average costs have increased 75% since the November election, Forbes reported.
"There's an expectation that those kinds of policies are going to create shortages" in fuel, said Suzanne Budge, executive director of the Idaho Petroleum Marketers and Convenience Store Association. Recent spikes are more likely a result of supply-and-demand issues, she said.
Increased travel in recent weeks created a higher demand for fuel than the industry was expecting, Budge said.
The increased costs likely won't deter people from continuing to travel.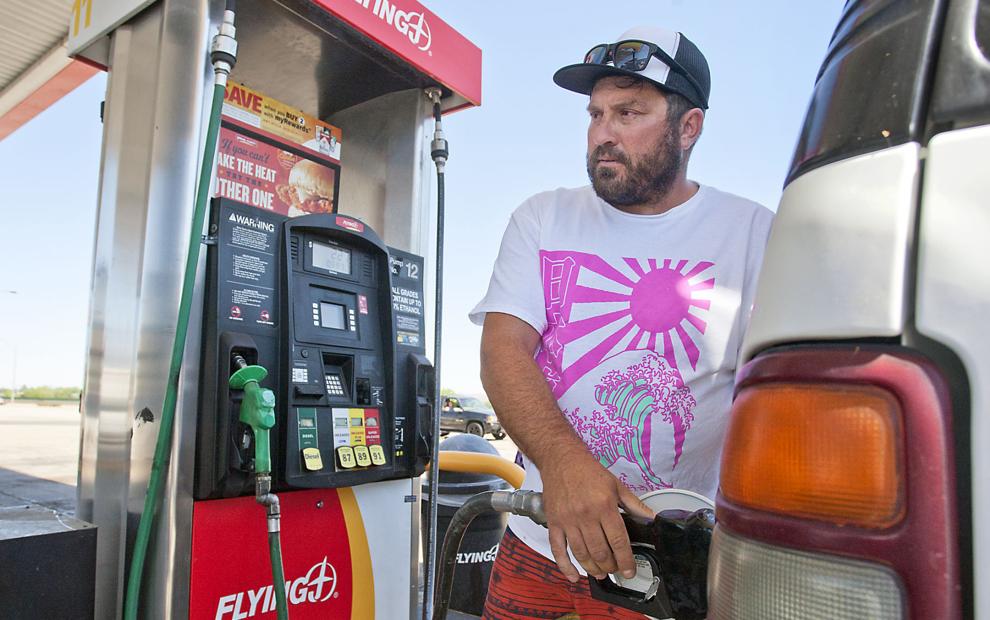 Dustin Ianson, of Boise, stopped at the gas station Friday to fill-up his SUV before heading to Lucky Peak for a boating excursion. As he watched the meter climb to $70, Ianson considered the cost to fuel his boat, as well: likely another $50.
"Taking my boat out will cost me a lot more right now," he said.
The costs won't slow down his travel plans. In a couple weeks Ianson said he's driving to Seattle in a more fuel-efficient vehicle than the boat-hauling SUV.
Over the heavily-traveled Memorial Day weekend, AAA projected a 60% increase from 2020 in travel volume among Americans. Also projected was an increase in the share of road travelers compared to air travelers — a result of COVID-19 risks and restrictions on airplanes and trains. Heading into a "fairly aggressive travel season," drivers likely won't change their plans due to increasing gas prices unless they hit the $3.50 mark, Conde said.
"Gasoline is just so essential, and they are not going to let that be the deciding factor in whether or not they travel," he said.
The Johnstons' limit is $4 per gallon. If they have to pay that much, it's time to head home.
"We've kept it under $4," Tammy Johnston said. "It's been a challenge sometimes."