BOISE — Wildfires are unpredictable and difficult to manage, but the outlook for the fire season so far looks normal through the fall, according to the National Forest Service.
A map showing the fire outlook for the country shows that southern Idaho, including Ada and Canyon counties, is below normal fire risk for June. In July, that will change to normal risk, which is expected to continue through September.
This does not, however, mean there will be little to no fires in the West.
"When you think about, what does normal look like?" said Noel Livingston, a fire management officer in the Wallowa-Whitman National Forest in Oregon. "A normal fire season in the Inland West is one in which we're going to have some grass fires."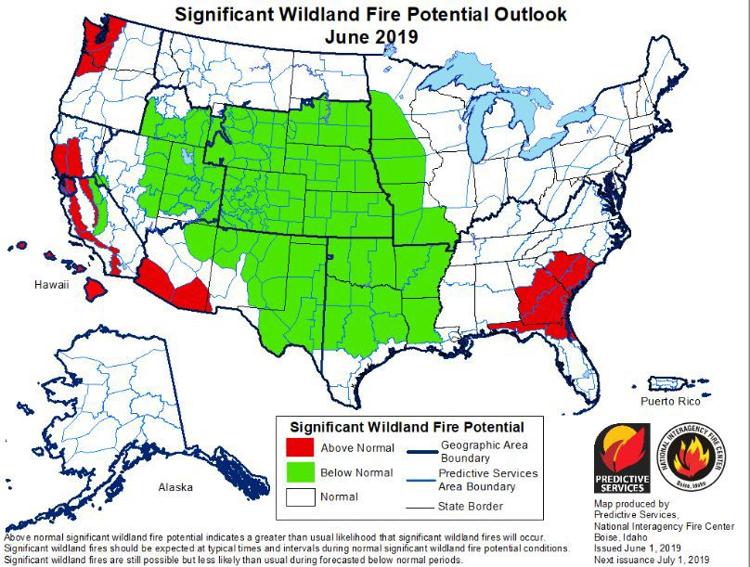 Livingston said higher-elevation forest fires can also be expected later in the season, but he's not expecting any unusually large fires.
Livingston was one of the speakers Monday at a teleconference on the fire season outlook for the West. He and all of the speakers for the call are based in Oregon.
This winter, specifically snowfall in February, kept snowpack high across the West, and a colder, wetter spring is keeping risk low right now, Livingston said. Livingston said fire season will be "busy," but he doesn't anticipate a large fire season.
One result of the wet spring and winter is more grass growth, which creates fuel in lower elevation areas across the West.
"Wetter and good snowpack (means) a lot of grass at lower elevations," he said. "That creates fuel."
When the fires do come, it's important to remember not to interfere with firefighting efforts — including by air.
Eric Miller, acting deputy fire management officer for the Malheur National Forest, said the use of aerial drones has become an issue in the past few years.
"It does have a big effect on how we're trying to suppress an incident," he said.
Smoke already creates visibility issues for firefighters if they are using helicopters, Miller said. When drones not operated by firefighters fly onto the scene of a fire, it requires that the helicopters or other aerial vehicles leave for safety purposes. This amounts to interfering in firefighting efforts, a federal crime, Miller said.
National Forest Service public affairs officer Peter Fargo said there are a few things to keep in mind this fire season.
The first, and most important, is safety, he said.
"Our leadership work hard to make difficult decisions," he said. "Sometimes that means we're not able to directly engage a fire."
He added that no structure or resource is worth someone's life, and all should take necessary precautions when venturing into nature when it comes to fire safety and otherwise.
"Preventing wildfires is everyone's responsibility," Fargo said.
Roughly 80% of wildfires are caused by humans, he said.
Fargo also noted that homeowners can help keep themselves safe and aid in fire management by keeping the area around their homes clear of fuel and flammable items.
"Folks can really make a big difference on their own property by creating space for firefighters," he said.
Lastly, Fargo noted that firefighters perform essential vegetation management with prescribed burns, chemical treatments and trimming to keep fire risk minimal for residential areas.