BOISE — Idaho lawmakers have been expressing increasing frustration about businesses possibly losing their liquor licenses for failure to meet what seem like picky or even "silly" conditions, from the streamflow in the river outside to the location of a lakefront road.
"I don't know why it is, but there is a lot of liquor licenses that are being denied or postponed or in jeopardy because of silly things like water or right-of-way," Rep. Rod Furniss, R-Rigby, said Friday. "All of a sudden we're seeing enforcement of silly things that make these businesses lose their liquor license. … Normally I wouldn't defend a liquor license, but in this case, it really disrupts business."
So who's responsible for all those odd conditions Idaho liquor license holders face? Idaho lawmakers, of course.
Idaho's liquor license system has long befuddled rural bar and restaurant owners, and for good reason.
Licenses are allocated to cities based on population, but the only way to get a liquor license outside a city is to fall under a special exemption. The only way to get one of those: Hire a lobbyist and get the Legislature to pass a bill.
Hundreds of licenses have been issued under those special exemptions over the years, which cover things like ski resorts, cross-country skiing facilities, equestrian facilities, racing facilities, theme parks, historic restaurant/bars that have continuously operated for at least 75 years, golf courses, former golf courses that operated as golf courses for at least 20 years (really), combo winery/golf courses, and "year-round resorts."
Here's why: Because of the Idaho Constitution's ban on "local or special" legislation, lawmakers couldn't write laws saying a specific bar or restaurant out in the country can have a liquor license. Instead, the law must define a broader class of entity that can qualify for that license, such as the law that authorizes a liquor license for a "gondola resort complex."
The law's definition what qualifies for that particular special liquor license: "A gondola resort complex means an actual bona fide gondola capable of transporting people for recreational and/or entertainment purposes at least three (3) miles in length with a vertical rise of three thousand (3,000) feet, portions of which may be located within or over the limits of one (1) or more cities."
That sure sounds like Silver Mountain in North Idaho, but of course, it could be any 3-mile-long mountain gondola.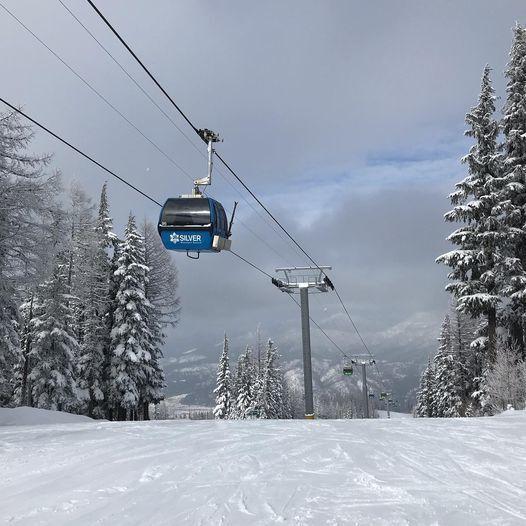 "They draw them as narrowly as possible, because they don't want to be proliferating liquor licenses," said Brian Donesley, an attorney, former state senator, and former administrator of the state Alcohol Beverage Control bureau back in the 1980s when he was general counsel for the Idaho State Police.
The reason streamflows are an issue in liquor license laws: In 1986, the late Sen. Marguerite McLaughlin, D-Orofino, brought legislation to modify an existing special license for "lake resorts" outside cities to also include riverfront resorts, to accommodate the Kootenai Tribe's plans for a new riverfront resort on the Kootenai River near Bonners Ferry. "Many rivers are, in fact, reservoirs by definition," her bill's Statement of Purpose said. "Therefore, there is what appears to be a seemingly arbitrary distinction between riverfront properties which qualify for liquor licenses under the lake resort section, and those which do not, based on the technicality of governmental definitions."
The 1986 bill extended the special license to include "river frontage upon a river with at least an annual average daily flow of 11,000 cubic feet per second." It also expanded requirements for boat docks and other resort facilities, but specified that it wouldn't interfere with any existing lake resort licenses.
Two years later, McLaughlin proposed another amendment to change "annual average daily flow" to "average six months' flow." The reason: The original language would only apply to "one river in the state," the 1988 bill's Statement of Purpose said. "The amendment reflects the intent of the original legislation," it said, to apply to "the larger rivers of the state."
Few Idaho rivers have even a six months' average flow of 11,000 cubic feet per second or more. According to the U.S. Geological Survey's Idaho Water Science Center, the Snake River at Irwin exceeded that mark in 2017, a wet year, at more than 14,000 cfs. If the Boise River at Glenwood were at 11,000 cfs, said Tim Merrick, public information officer for the water science center, it "would translate to significant flooding."
Nevertheless, various waterfront resort licenses were issued around the state to riverfront resorts over the years. In 2018, Rep. Dorothy Moon, R-Stanley, brought legislation on behalf of a lodge owner on the North Fork of the Salmon River who was trying to sell his lodge but learned that the water flow at that point wasn't deemed to meet the standard for the liquor license. Her bill said if the streamflow had dropped, the license-holder wouldn't lose the license, and could still transfer it to a subsequent owner of the property. It passed both houses unanimously.
"He had it for decades," Moon said.
Which brings us to this year's SB 1047. Donesley drafted this one for a client in Island Park who operates Café Sabor, a riverfront restaurant in the historic Mack's Inn area that obtained a waterfront resort license in 2014. Its owner now has also invested in a new Marriott SpringHill Suites hotel across the river, spending millions; it's located next to a bridge where the highway crosses the Henry's Fork of the Snake River, so guests can walk to the restaurant.
But the ABC conducted an audit of all of its waterfront resorts, and discovered that some probably were issued incorrectly in the first place. In the case of Café Sabor, although cumulative river flows over six months may far exceed 11,000 cubic feet of water, the average over six months was never anywhere near that level. According to the USGS, the highest flow recorded in the Henry's Fork at Island Park since 1933 was 3,030 cfs. On Friday, the Henry's Fork at Island Park was running at 425 cfs, according to USGS data.
"We began a process of taking some of those back if they're not a true waterfront resort," said Capt. Brad Doty, administrator of the ABC. "A lot of things were done before technology and before the staffing that we currently have here."
Doty said he met with Donesley, and his bureau doesn't support or oppose legislation, but he worked with him to make sure SB 1047 was enforceable as drafted. "The only issue they had was their water flow is not correct and it never was," Doty said. "We're working with a few waterfront resorts to try and get them in compliance with the law."
"All they were missing was the water requirement," Doty noted. "There is a dock out there, and the eating establishment, all of that."
So Donesley drafted the bill to say that once the state has issued a waterfront resort license, it couldn't take it back just because of the water level, as long as all other conditions continued to be met.
"It's about equity, it's about trusting your government not to lead you down the path," Donesley said. "Our water flow didn't decrease, or we wouldn't be having this conversation."
When Donesley and his client, Justin Hamilton, presented the bill to the Senate State Affairs Committee, Senate Majority Leader Kelly Anthon, R-Burley, had a strong reaction. "I'm not interested in the ambiguities and the tit for tat that is taking place over how you measure water in this situation," he said. "What is not ambiguous is the state of Idaho granted to this business a license, and they invested millions of dollars based on the receipt of that license. And then, after the fact, somebody started to say, 'Well, golly gee, maybe there is not enough water running down the river.' That is not good business or policy for the state of Idaho, so I'm glad to get this fixed."
After clearing the committee, the bill passed the Senate unanimously, and is now pending in the House.
Meanwhile, Rep. Jim Addis, R-Coeur d'Alene, went to the House State Affairs Committee on Friday with a bill for a North Idaho lakefront resort owner who's facing possible loss of his liquor license because the ABC audit found the waterfront wasn't contiguous to the property, due to a road in between. Addis' bill would specify that an "otherwise qualifying applicant" couldn't be deemed ineligible because a road runs between the property and the water.
These little battles have been popping up for years, and the only way around them would be to reform Idaho's entire liquor license system to a better system for deciding who out in the countryside should or shouldn't have a liquor license. Then-Gov. Butch Otter proposed major statewide reforms in 2009, but the Idaho House killed the bill as members decried the evils of liquor and speculated that it could lead to liquor being sold with Happy Meals at McDonald's. Otter's bill would have let cities and counties approve new, non-transferable liquor licenses, but only for restaurants or hotels. Current bars would keep their transferable licenses.
In 2019, Sen. Jim Rice, R-Caldwell, proposed his own major reforms, but they took heavy flak from existing liquor license holders who said their licenses would be devalued. The current quota system for cities means yearslong waiting lists in cities like Boise for a $750 state-issued liquor license, while transferable city licenses sell for $100,000 or more on the open market.
Donesley said he doubts the system can be fixed. "When you turn a screw over here, it blows something up and something gets hurt over there," he said. "I don't think you can change it without creating gross inequities."