BOISE — Idaho's new legislative redistricting plan — should it withstand what's now up to two legal challenges pending at the Idaho Supreme Court — set up 13 potential contests among incumbent legislators in 11 legislative districts, because the districts ended up with more current lawmakers than seats.
So that was a big topic of discussion for lawmakers as they gathered at the Statehouse for last week's unprecedented reconvening of this year's regular legislative session, which lasted just three days. And already, there's news coming out about some of their plans.
When I asked longtime Sen. Patti Anne Lodge, R-Huston, what she planned to do about ending up in the same district as Sen. Todd Lakey, R-Nampa, she responded, "I won't be ending up in the same district."
The reason: She plans to make the legislative session that starts in January the final one of her 22-year Senate career.
"I've always said that I would retire at reapportionment, I've always said that," said Lodge, the senior member of the Senate and current chair of the Senate State Affairs Committee. "So it worked out."
Lodge, 79, said she wouldn't say she's retiring. "I'm not running again," she said. Thinking back to when she ran for the first of her 11 Senate terms, she said with a smile, "I just thought it would be a short time."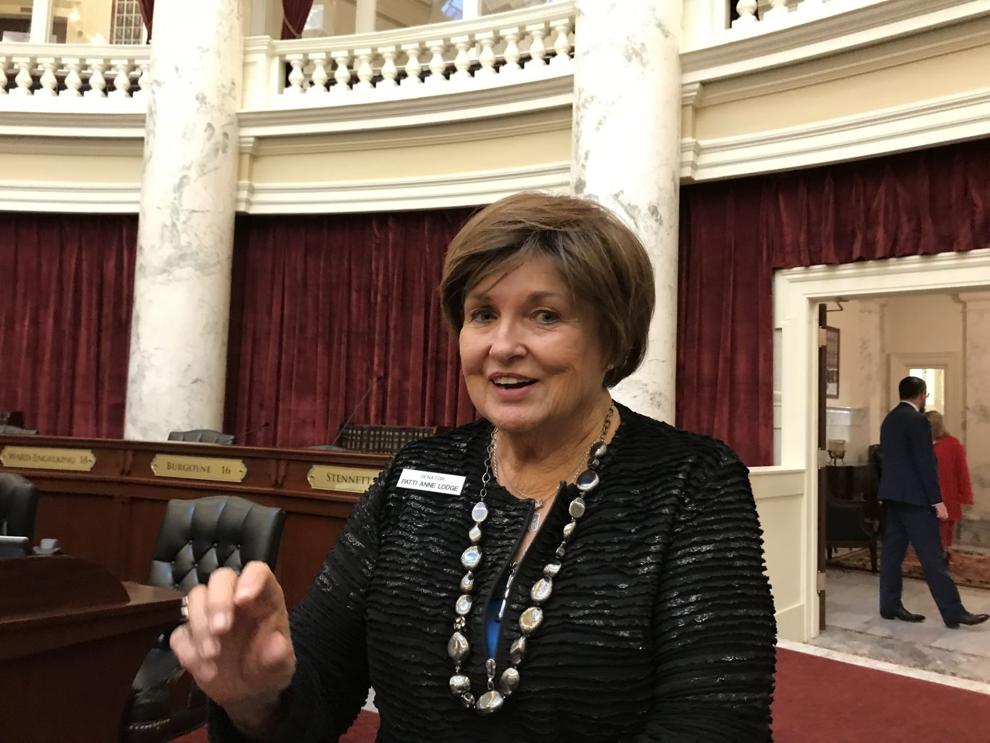 In the Senate, she rose to chair three major Senate committees: State Affairs, Judiciary & Rules and Health & Welfare.
She recalls early on, when she was working late into the evening at the Capitol building, coming out into the Senate chamber, and finding it all lit up, "seeing the awe and the grandeur."
"This girl from the other side of the tracks has had the opportunity to be here, to be here," she said, eyes shining. She still remembers visiting the state Capitol back when she was a fourth grader.
"I'm not here for personal gain in any way," said Lodge, an agribusiness owner and retired teacher. "It's not easy to be a good senator."
Lodge has been at the center of major legislative battles over everything from crime and punishment to health care reform to vaccine mandates, as she chaired those high-profile Senate panels. And she'll be there again in January, as the Legislature convenes Jan. 10 for its 2022 regular session.
But once the '22 session ends, she said, that'll be it. "I never planned to go beyond this point," she said.
FOUR SENATE DISTRICTS, 8 INCUMBENTS
Four of the new Senate districts under the redistricting plan contain two current incumbents. One of those is the new District 9, which takes in both current Sens. Abby Lee, R-Fruitland, and Jim Rice, R-Caldwell.
"The most likely thing is that I run for election in that district," said Rice, a sixth-term senator who currently chairs the Senate Local Government & Taxation Committee.
"We'll figure it out," he said. "I don't think we'd be anything other than friends and collegial, even if we ran against each other."
Lee, the current Senate assistant majority leader, said she's planning to run again. Speaking on Wednesday afternoon, just after the Senate adjourned sine die, she also noted that the very next day she was up for a full day of interviews and campus visits as one of the four finalists for the position of president of the College of Western Idaho. "So it's been quite a week," she said.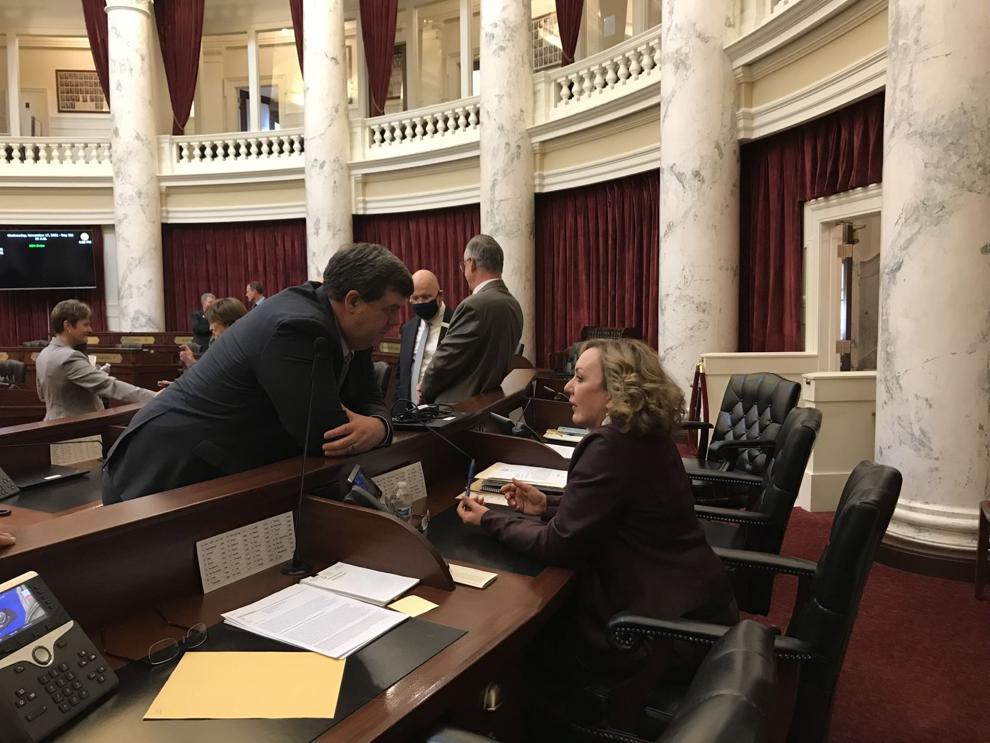 As for reelection plans, she said, "That's not a decision I have to make today. With my choices today, I'm planning on running."
"Next week, I'll have some maybe different options," she said. "I think I would do a great job at CWI, and I look forward to having an opportunity to weigh that."
The other three finalists for the college president post are Todd Schwarz, currently provost at the College of Southern Idaho; Gordon Jones, dean of the College of Innovation and Design at Boise State University; and Denise Aberle-Cannata, the current CWI interim president. All four finalists had interviews, campus visits, public appearances and more last week; the college also has conducted surveys about the finalists that its search committee currently is reviewing.
Ashley Smith, college spokesman, said the CWI board will announce its selection for the next president at its Dec. 9 board meeting.
Lee said Friday, "I'm really excited about being a finalist for the presidency at the College of Western Idaho. Should I be offered the job, I would obviously need to discuss next steps with the board."
"But I don't have a decision to make today, and will continue serving my constituents as I've done."
EVEN MORE HOUSE INCUMBENTS AFFECTED…
By my count, seven of the newly drawn House districts contain three or more current House incumbents. Among those, one, the new District 10, doesn't contain any current Senate incumbents, meaning there's an open Senate seat.
In this situation, it's not uncommon for a House member to choose to run for the Senate, rather than face off against other House incumbents. In fact, it's not uncommon for House members to run for the Senate in general when there's an open Senate seat in their district.
It's not that moving to the Senate means they'll represent a larger district, serve a longer term, or get a higher salary. Idaho House and Senate members represent identical districts, are paid the same, and all serve two-year terms.
But there are 35 senators and 70 House members, so senators essentially have twice the clout in their body as House members have in theirs, just by the numbers.
In District 10, the three House incumbents are Reps. Tammy Nichols, R-Middleton; Bruce Skaug, R-Nampa; and Mike Moyle, R-Star. No one's announced a planned shift to the Senate thus far. Moyle, the current House majority leader, said he'll seek re-election to the House.
But there are new open Senate seats in two other districts: Districts 11 and 12 in Canyon County. In both those districts, a House incumbent has announced plans to run for the Senate.
Freshman state Rep. Ben Adams, R-Nampa, announced his 2022 Senate bid last Monday. "My wife and I prayed about it," he said in a statement, "and we believe this is the best way to be faithful to the call of duty to help preserve our liberties and protect the people of Canyon County from the excesses of our state and federal government." Under the current district plan, his move would leave no House incumbents in the new District 12 — but two open House seats.
Rep. Greg Chaney, R-Caldwell, made his announcement on Wednesday. "I've established a proven track record of doing what I say I will in the House," Chaney said in his announcement. "Having represented Caldwell for nearly eight years, I know voters here want a senator who will provide strong, principled leadership without shrinking in the face of criticism and adversity or being swayed by knee-jerk reactions."
Chaney, a fourth-term state representative, is the current chairman of the House Judiciary Committee, a key position.
"I actually feel as though I'm relinquishing some degree of influence, because I'm stepping down from a chairmanship in the House" after 2022, he said. But he hopes that'll be temporary.
The Idaho House of late has developed a reputation for being what Rep. Brent Crane, R-Nampa, described last week as "rambunctious," while the Senate is known for more measured debates amid a more formal decorum.
"I do think that culturally it's a better fit for me," said Chaney, an attorney. "I'm able to have many of the same conversations around policy, and still be able to move the ball on policy in the Senate. … I think that I can have a greater effect on the Senate side ultimately, even though I'll be a freshman senator, just by virtue of the fact that the way I like to deliberate and the way the Senate deliberates are very similar."
Chaney said the new redistricting plan provided a "decision point" for him on the move.
"I think but for redistricting, there wouldn't have been really any of the seismic shifts, not only in our district but in the composition of the Legislature as a whole," he said. "It just kind of gives you that feeling of, 'Well, if you're going to make a change, this is the election cycle to do it.'"