IDAHO FALLS — Vaccination rates in eastern and southeastern Idaho hospitals are higher than among the general population. But rates still aren't as high as hospital leaders would like.
Some hospital systems think requiring vaccinations as a condition of employment could convince the shot stragglers. In the Boise area, three large health systems announced vaccine requirements in early July. They're part of a wave of hospitals and health systems nationwide requiring staffers to be vaccinated, Becker's Hospital Review reported.
Soon after came a wave of support for hospital vaccine requirements. A group of 50 national health care organizations declared their support for mandatory vaccinations for health care and long-term care workers. The country's largest health care system, the U.S. Department of Veteran's Affairs, announced vaccine requirements for staff members who interact with patients. President Joe Biden also said millions of federal workers and contractors would either have to sign forms saying they got the vaccine or be subject to mandatory masking, weekly testing, distancing and more, the Associated Press reported.
So, what's happening in eastern and southeastern Idaho?
Nothing quite yet, the Post Register found in a review of eight hospitals in the regions. All eight hospitals said they were not requiring vaccines for their staff. But none said vaccine requirements were off the table.
"With how the past 18 months have gone, I would never rule anything out," said Mark Baker, spokesman for Bingham Memorial Hospital in Blackfoot. Baker did not respond to questions about the Blackfoot hospital's vaccination rate.
In Salmon, Steele Memorial Hospital CEO Jeanie Gentry said her hospital has not required employees to get any vaccine, even ones recommended for health care workers.
"Our culture here in Salmon is very independent. When it comes to vaccines — nobody likes to be told they have to do something. So instead, we've taken a rather educational sort of approach with our employees," Gentry said.
About 60% of workers at Steele Memorial Hospital are fully vaccinated. Across Idaho, 49% of adults are fully vaccinated.
Gentry said some of her employees who have not gotten vaccinated are waiting for the shots to receive full FDA approval, which could happen later this year.
"I know that every hospital is grappling with this question right now. … Most of us are waiting until there's a clearer mandate (for hospital workers from the federal government) and, at the very least, an FDA approval of the vaccines. But I think each community has to support and grapple with those decisions for their own hospitals," if the federal government doesn't mandate it, she said.
Requiring vaccines could also drive staff out of Gentry's already tight workforce, she said. The hospitals near Boise also risk losing employees due to their mandates, Gentry said, but they likely have a bigger pool of applicants to hire from.
"You have to balance the benefit of having everybody vaccinated versus the cost of increasing your turnover and having less employees for a while," Gentry said. "When you're already short-staffed, that's a really tough choice to make."
The Idaho Hospital Association does not provide guidance to hospitals on "how they run their facilities," said spokeswoman Darryl-lynn Oakes. Those decisions are left to each hospital. But the state hospital advocacy and policy group does support hospitals that mandate vaccines.
"Like every major health care organization across the country, the Idaho Hospital Association has long supported health care workers being vaccinated to prevent the spread of disease. Likewise, we support hospitals and health systems that determine, based on local factors and circumstances, that COVID-19 vaccinations are required to protect the health of their patients, workers, and their families," Oakes said.
"All Idaho employers need the flexibility to assess the situation in their organization and their community to make appropriate decisions," she added.
In Pocatello, nearly 80% of staff at Portneuf Medical Center are fully vaccinated, said spokeswoman Mary Keating. She said there's no vaccine requirement for now but would not answer questions about future requirements.
"At this time, we continue to give employees the choice to be vaccinated. As a health care organization, the safety of our patients and staff is our highest priority and as such we will continue to evaluate and monitor the situation," Keating said.
"Portneuf continues review and evaluate local market information and new government data and continues to give employees the choice to be vaccinated," she said.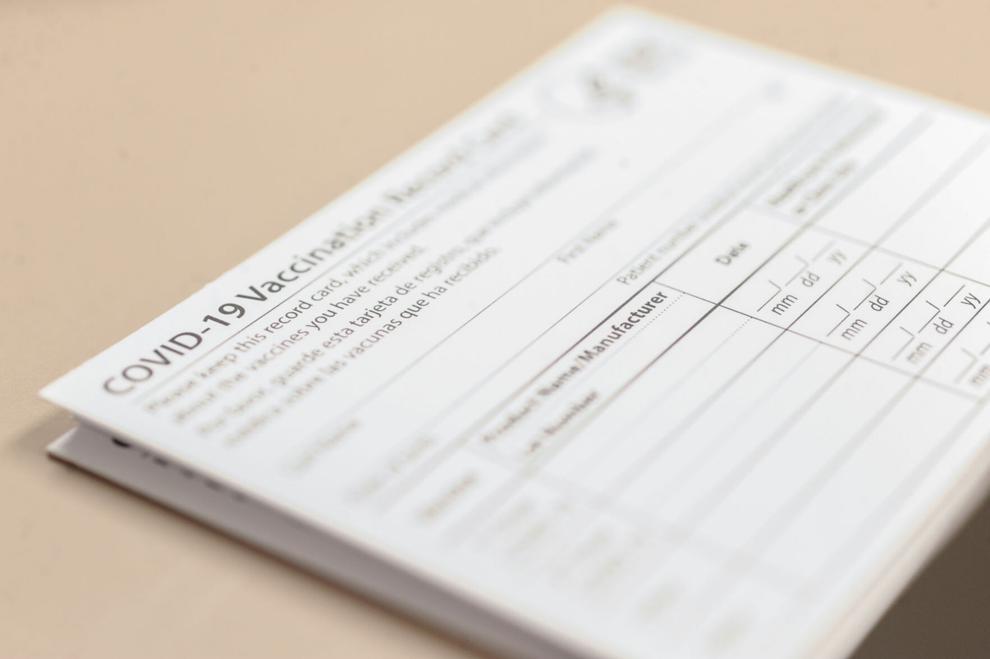 Vaccines are not required at the three hospitals in Idaho Falls, according to facility spokeswomen. Both spokeswomen did not disclose vaccination rates in their facilities.
Natalie Podgorski, spokeswoman for Idaho Falls Community Hospital and Mountain View Hospital, declined to share vaccination rates "to respect the privacy of our team." She added that "a majority of our team members have decided to take the COVID-19 vaccine."
"At this point, we are not having any conversations about requiring employees to take the vaccine. However, it is a conversation we will have in the future if we feel it is warranted based on the situation and the latest data available," Podgorski said.
Eastern Idaho Regional Medical Center spokeswoman Coleen Niemann did not respond to questions from the Post Register about the hospital's staff vaccination rate or the possibility of a future vaccine requirement.
"While colleagues are not required to be vaccinated for COVID-19, our infectious disease experts as well as those at the CDC, are strongly encouraging vaccination as a critical step to protect individuals from the virus. Our hospital follows guidance outlined by the CDC regarding protocols for vaccinated and unvaccinated individuals in our facilities, including universal masking for all colleagues, patients and visitors," Niemann said.
In Rexburg, 78% of Madison Memorial Hospital staff are fully vaccinated, said spokesman Douglas McBride. For now, COVID-19 vaccines are "strongly recommended" but eventually they may be required, said Chief Medical Officer Dr. Clay Prince.
"At Madison Memorial, we believe in vaccination and in creating the safest possible environment for our patients and staff, and we applaud our staff who have heeded the advice to be vaccinated, and our employee health team who have rapidly responded to this new need," Prince said in a prepared statement. "We anticipate COVID vaccination may eventually be added to the list of routine mandatory vaccines required to protect our health care professionals and the patients they care for."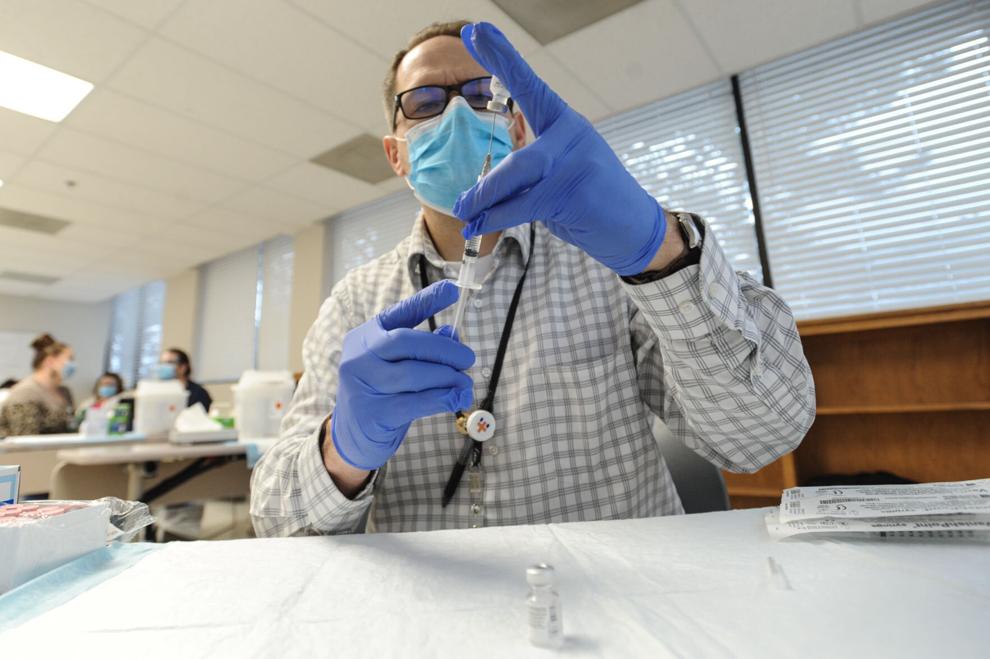 In Arco, 70% of workers at Lost Rivers Medical Center are fully vaccinated, said hospital CEO Brad Huerta. He said the hospital is not requiring it yet because employees have had good vaccination rates so far.
He said most unvaccinated staff are working in administrative roles from home — without direct patient contact. Unvaccinated staff must be tested before they can start their shift, Huerta said. The hospital uses its own lab capabilities to quickly process virus tests.
Being a critical access rural hospital, Huerta said, "we're usually one deep on the bench in terms of staffing, so we cannot afford to have a person up here infecting medical personnel."
Huerta sees the question of whether hospitals can require staff to take COVID-19 vaccines as unanswered. Plus, once that's determined, he said employers must weigh other factors, such as their community's vulnerability, vaccination rate and infection rate.
If vaccines were required at Lost Rivers, Huerta said he isn't concerned about an exodus of staff who oppose mandates. Hiring nurses is difficult at his facility and other rural hospitals, but Huerta said the tight-knit work culture brings people together.
Staff are "our neighbors, our friends, our kids go to school together," Huerta said. "There's a realization that our lives are tied together in a very real sense."