In a 2-1 vote on Aug. 17, Ada County Commissioners voted to appoint Dr. Ryan Cole, a pathologist who runs a testing laboratory in Garden City, to be the newest physician member of the Central District Health board.
Cole's selection drew attention in the Treasure Valley and medical community due to his unorthodox opinions and comments pertaining to COVID-19, pandemic safety measures and the vaccine.
Cole's appointment to the health board became official Friday when Elmore County Commissioners gave him the deciding vote he needed to assume the position. Only one of three Elmore County Commissioners voted to approve Cole, but that was all the votes he needed.
Leading up the vote, Cole's potential stature on the health board led to individuals both locally and nationally to file complaints with Idaho's Board of Medicine arguing he is unfit for the position due to his polarizing rhetoric surrounding COVID-19. They argue Cole's conduct and statements are negatively impacting the health and welfare of patients as well as the public and, as a result, believe his medical license should be revoked or suspended.
In a statement following Friday's vote, the Idaho Medical Association said it was "deeply disappointed that the appointment process favored politics over public health."
"Dr. Cole has publicly made numerous unfounded and dangerous claims about the prevention and treatment of COVID-19 that do not align with the Idaho standard of care," the statement said. "IMA represents the physicians who are on the frontlines and witnessing this devastating disease needlessly claim the lives of Idahoans. IMA strongly supports the use of scientific, evidence-based decision making for developing healthcare policies that impact our public health systems, healthcare providers, schools and universities, businesses, economy and citizens.
IMA will continue to fight against harmful misinformation and uphold the Idaho standard of care."
Attempts to reach Cole for comment for this story were not returned.
Those who oppose Cole serving on the Central District Health board point to recorded comments he has made at forums and summits that have garnered millions of views online.
At a forum in March hosted by Lt. Gov. Janice McGeachin, Cole hinted that the COVID-19 vaccine could lead to cancers and autoimmune diseases and touted ivermectin, an anti-parasitic drug used in livestock, as an effective treatment against COVID-19.
Then, during a July event in San Antonio, Texas, called the White Coat Summit, Cole used the terminology "clot shot" and "needle rape" to describe the COVID-19 vaccine. He went further by making the discredited claim that thousands of individuals have died due to the vaccine.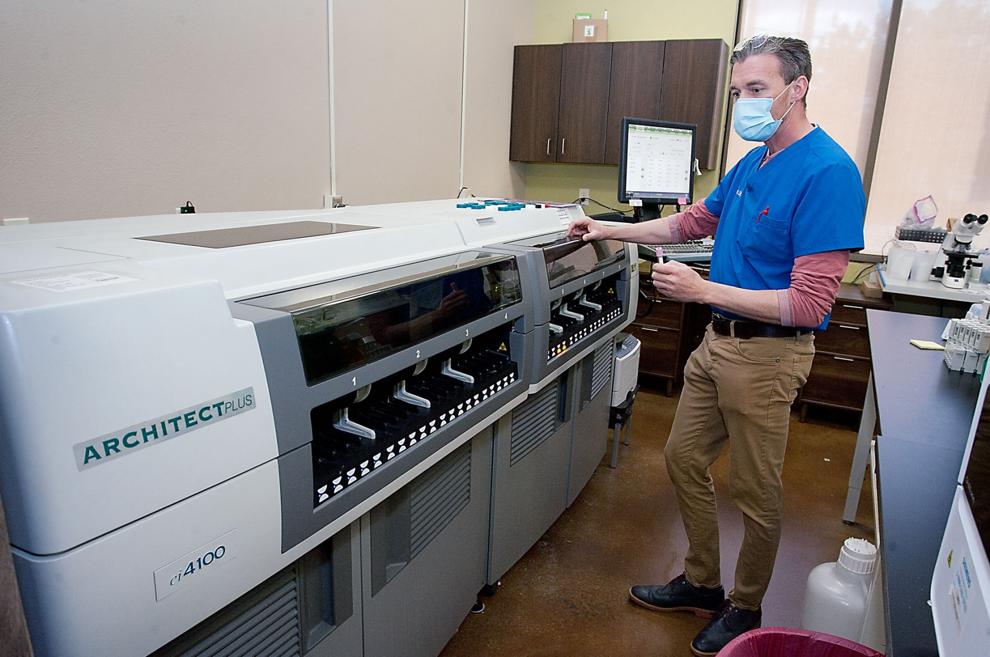 In a response to the dissemination of misinformation surrounding the COVID-19 pandemic and vaccine, this summer the Federation of State Medical Boards issued guidance promoting the notion that COVID misinformation and disinformation could be grounds for disciplinary action, according to Dr. David C. Pate, the retired president and CEO of St. Luke's Health System.
However, directly responding to individual filed complaints, the Idaho Board of Medicine contended it doesn't have grounds to discipline licensees for comments made to the media, in a conference or in other public settings, claiming disciplinary measures can only be taken in a health care setting where there is a patient/provider relationship established.
"There are many states which would allow the state to discipline a physician for promoting misinformation in public, but Idaho's Medical Practice Act does not," Pate said.
Regardless, Cole is not without followers and supporters. Preceding the Ada County Commissioners' vote, hundreds of individuals reached out to the commissioners via email to show their support for Cole.
Star Mayor Trevor A. Chadwick praised Cole for not following the status quo. "Healthcare is a personal choice for all from: healthy activity, to eating choices to the medicines one decides to take," Chadwick said in an email to Ada County's Commissioners.
Dr. Scott Thompson, a Meridian dentist, also argued the importance of having a doctor on the board with alternative viewpoints. "It's a breath of fresh air to have somebody like Dr. Cole come in with that opposing perspective," Dr. Thompson said. "I think he represents a lot of people. It's not just a few."
Yet, some dismayed with the Ada County Commissioners' decision and fearful of having a doctor on the board with viewpoints not backed by the majority of the scientific or medical community, have filed complaints against Cole with the Idaho Board of Medicine hopeful disciplinary action will be taken.
Michael Satz, the founding director of The Idaho 97 Project, believes that Cole is spreading misinformation, which not only can endanger the lives and well-being of Idahoans but also could hinder the state's ability to get through the pandemic.
"Dr. Ryan Cole presents a clear and present danger to public health in Idaho and his stated views on the treatment of COVID-19 are directly contrary to the vast body of guidance and medical knowledge provided by reputable sources and medical research," Satz wrote in his official complaint filed with the Idaho Board of Medicine.
By reaching out to the board of medicine, Satz believes Cole should face repercussions for his actions. "I hope that they suspend his license," Satz said. "He is violating, as far as I'm concerned, the Hippocratic Oath of 'do no harm.' And he is doing harm."
Alicia Abbott, a small business owner and resident of Sandpoint also believes Cole's views of masks, vaccines and unproven methods of treatment are dangerous and minimize COVID-19 pandemic issues in serious ways — concerns that also led her to file a complaint.
"People like Dr. Ryan Cole, they need to be de-legitimized. Him forwarding misinformation about ivermectin and vaccines is just not good in the interest of public health," Abbott said. "I just can't express how concerning it is that we're allowing medical professionals to give such bad advice publicly."
Individuals outside of Idaho also have felt compelled to file complaints after seeing viral videos featuring Cole spreading on social media.
Mary Connor is a retired teacher living in San Marino, California. She said her late husband's niece, who also lives in California, used a video of Cole speaking at a lecture as justification to not get vaccinated. The niece's husband and daughter are also both unvaccinated even though both have gotten COVID, Connor said.
"The fact that this video influenced somebody that I consider to be intelligent and related to my deceased husband – that made me so mad," Connor said.
"There are, you know, maybe a million people that have been influenced," Connor continued, alluding to the impact that Cole's videos have had across the United States. "Maybe many people have died as a result. I wouldn't be surprised."
For Dr. Sierra Debenham, a practicing emergency medicine physician working in Boise, the misinformation around COVID-19 that she views Cole as spreading resulted in her filing a complaint against Cole with the Idaho Board of Medicine.
Debenham's aunt refuses to get vaccinated because of Cole's claims regarding the vaccine. Additionally, working in an emergency room, Debenham said every day she comes face to face with the devastating effects of COVID-19 in unvaccinated patients.
"I have to see the panic in their eyes as they struggle to breathe. I see the direct consequences of the careless words of heedless physicians like Dr. Cole," she said. "It is my duty to my patients to speak up when I see things like this and do what I can to protect them."