BOISE — Idaho's bipartisan citizen redistricting commission on Friday voted unanimously, 6-0, to adopt its new legislative district plan and voted 4-2, with two Democratic commissioners dissenting, to adopt a new congressional district plan dividing Idaho between the state's two congressional districts.
The new congressional plan, dubbed C-3, continues Idaho's longstanding practice of dividing Ada County between the state's two congressional districts. If both plans withstand any court challenges, they'll guide elections in Idaho for the next 10 years.
Commissioners Nels Mitchell and Dan Schmidt voted against the congressional plan, while commissioners Amber Pence, a Democrat; and Bart Davis, Eric Redman and Tom Dayley, all Republicans, voted in favor.
"I am pleased that we were able to reach a unanimous decision on the legislative plan, but there were honest disagreements on the congressional plan," Davis said after the votes, "and that's the reason we have a commission of six, is to allow us to think about it and challenge each other's thinking and hopefully come to a resolution. I think that's what we have today."
Mitchell, who like Davis is an attorney, said with the congressional plan, "We have a difference of opinion as to the factors we should be considering under the statute."
Idaho law includes a "mandatory provision against splitting counties," Mitchell said, though Idaho's not followed that in its congressional plans over the past five decades. "What we've done historically is we've divided Ada County and Boise," he said. "With the legislative plan, we tried to avoid dividing cities." He said that same approach should have been applied to the congressional district plan.
Under C-3, the dividing line through Ada County moves to the west, and runs along Highway 55, Eagle Road, Victory Road and I-84. As a result, nearly all of Boise — 231,932 of its 235,684 residents — would be in District 2, with just 3,752 Southwest Boise residents in the Lake Hazel Road area in District 1.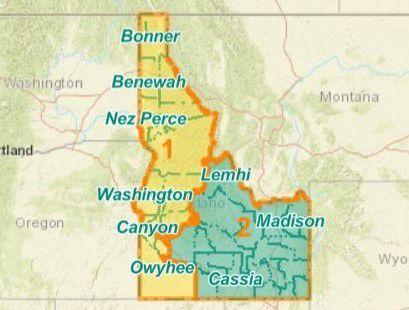 Meridian and Eagle are similarly split between the two congressional districts, with the vast majority of both cities in District 1. Meridian will see 5,737 of its 117,635 residents land in District 2; Eagle will see 3,467 of its 30,346 residents split off into District 2. No other cities or counties are split in the congressional plan.
Mitchell said, "The legislative plan, I have full confidence it will stand up. I think we struck the correct balance with the factors in the statute as well as achieving equal representation between the districts." But on the congressional plan, he said, "I have concerns if it were challenged."
Schmidt, who co-chaired the citizen commission with Davis, said he voted against the congressional plan because "there is a statute on the books that says we're not supposed to split counties if we don't have to, and I don't believe we had to. It's there, and I think we should have honored it."
He added, "Is it a good statute? I don't think so. I think it's stupid. The Legislature should clean that up." He said that's because it's constitutionally questionable whether a state law can place such mandatory provisions on the divisions of congressional districts.
Practically, he said, "I don't think a Democrat's getting elected to Congress in this state no matter where you draw the lines."
Schmidt, a former Democratic state senator from Moscow, and Davis, a former Republican state senator from Idaho Falls, co-chaired the citizen commission, which convened in September.
Mitchell said he thought the co-chairs "set a bipartisan tone for all of us" in the commission's deliberations.
The new plan to divide Idaho into 35 legislative districts while taking account of the last 10 years worth of population shifts drew praise from all the commission members. "I think it's a great plan, and I think the vote reflects that," Schmidt said. "Now, does everybody love it? The answer to that is 'no,' and we're hearing that. But I believe we did a great job."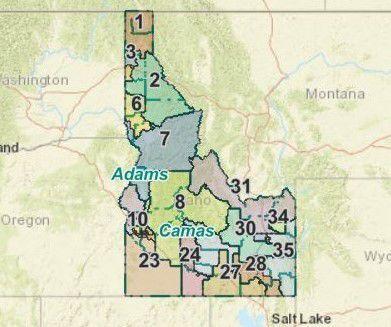 The redistricting process, by its nature, can spell political doom for sitting lawmakers when population shifts dictate that they land in new districts along with their colleagues, and they have to either face off in an election or yield to each other and leave office.
In the last round of redistricting a decade ago, the new district map created a dozen potential matchups among incumbents in 10 legislative districts. Numerous lawmakers opted to retire as a result, but two sitting GOP senators, Tim Corder of Mountain Home and Bert Brackett of Rogerson, ran against each other in the 2012 GOP primary; Brackett won.
Information on the home addresses of incumbent legislators wasn't included in the software the citizens panel used, and won't be added in until after the commission's final report is adopted and submitted; the commission is prohibited by law from considering such political considerations.
However, a software tool allowing anyone who's interested to enter their address and see in which legislative district they land was scheduled to go up late Friday on the commission's website, redistricting.idaho.gov. It's already clear that there will be some potential matchups. For example, the Emmett Messenger-Index reported Tuesday that Sen. Steven Thayn, R-Emmett, could end up in the same legislative district as Sen. C. Scott Grow, R-Eagle, under the plan, as Gem County moves from the current District 8, where it's paired with Boise, Custer, Lemhi and Valley counties, to a new district joining Ada County including the Eagle area.
As the commission convened Friday to vote on the new plans, Schmidt said, "Today is a day of action for the commission. We have been listening, we have been working and we have been traveling."
The citizen commissioners held 18 public hearings all over the state. "We've taken in 39½ hours of public testimony," Schmidt said. "We have heard, in public testimony, from 240 people. We have gotten written, submitted testimony that totals over 150 pages on both sides, so that's 300 pages of written testimony. I believe we have done a lot of listening."
"And we have listened, also, to the statutory and constitutional requirements placed before us," he said, "and we've tried to do our best to balance the interests and needs of the communities we are working with as well as the law."
"We went into this process knowing that our task could not make everybody happy," Schmidt said, "and we don't expect it will but we do believe that we have done service."
Friday's meeting was held in a hybrid fashion, with three of the commissioners present in person, and three participating remotely via Zoom; that's in part because one of the six commissioners, Tom Dayley, tested positive for COVID-19 a day earlier. That prompted commissioners to move up their schedule, voting on the plans Friday rather than waiting until next week.
Schmidt, a physician, called it "somewhat of an emergent situation."
The vote on the commission's final report, which includes the legal findings that accompany the new district maps, is set for next Wednesday, but Schmidt noted that could change if circumstances change. The panel has until Nov. 30 to complete its work.