GARDEN VALLEY — When William "Bud" Paine descended to the lower levels of the Naval Destroyer Escort to stand by on fire watch as welders took to maintenance of the ship, he was handed a canteen and a bandanna.
"'Just keep the bandanna wet,' they said. 'This stuff won't hurt you,'" Paine, now 63, recalled.
"This stuff" was the 96,000 pounds of asbestos sharing living quarters on board with the Navy sailors.
His exposure to insulation material during his service led to a throat cancer diagnosis in 2001, a year of failed radiation treatment and the final option of removing his voice box in 2002.
Paine has communicated for over 15 years by forcing air through a prosthesis that acts as his vocal chords and must be changed every three months. Relearning how to talk took him six months after the procedure.
Hope to regain his voice again came by an ad for a new clinical trial on his Facebook feed last spring. The Mayo Clinic campus in Arizona is attempting to give individuals who have had their larynx removed — about 60,000 Americans — the chance to get it back by organ transplant or rebuilding their own with stem cells.
Though Paine's disability resulted from his military service, the U.S. Department of Veteran Affairs' strict policy against funding clinical trials has left him in a desperate search for the funds.
Paine loved being at sea. Now, he can't even step foot in a boat.
"If something happened," he said, "I'd drown immediately."
He doesn't know if any other members of his Navy crew from 1972 to 1974 suffered cancer or other radiation-related illnesses, but he can't imagine they didn't.
Paine and his wife, Deanna, live in Garden Valley, an hour-and-a-half away from his in-laws and grandchildren because his illness prevents him from living closer. Also diagnosed with chronic obstructive pulmonary disease due to the asbestos exposure, it's difficult for him to breathe in any area of bad air. Living in southern Idaho was out of the question because of the area's inversion.
The Idaho Press reviewed Paine's medical records, including notice of disability provided by the VA and clinical notes from the Mayo Clinic, which confirmed his account. Paine attempted to receive medical funds through the Veterans Choice Program, that allows for a veteran to receive medical care from a community provider on the VA's dime.
Paine has sent countless emails to both the federal and state levels of Veterans Affairs searching for help in fronting what he estimates is $85,000 needed for the experimental procedure. Much of the costs would be preliminary testing, he said, which the VA doesn't do.
Boise VA spokesman Josh Callihan told the Idaho Press he could not comment on national policy. However, Callihan did email with U.S. Sen. Mike Crapo about the VA's denial of funding for the trial.
On Jan. 3, Crapo — whom Paine had emailed asking for help — forwarded Paine an email from Callihan responding to a letter Crapo sent on Paine's behalf. The email, provided to the Idaho Press from Paine, outlined reasons for the denial from the Boise VA.
Under the same guidelines as VA contractor TriWest Healthcare Alliance, the email said, the VA cannot authorize care that is in clinical trial. The email pointed out that the laryngeal clinical trial is not approved by the Federal and Drug Administration, which excludes it from VA funding.
"If the veteran is adamant that the care he wants has been approved by the FDA and is not in a trial status, he might see if the Mayo Clinic there can corroborate that," Callihan's email to Crapo read. "If they can, please put them in touch with us and we will do our best to sort it out."
A letter from TriWest Healthcare Alliance to Crapo outlined that the company does have a restriction that "no investigational or research-based care can come through TriWest from VA." However, it continued, the VA does have the capability to send a "care direct fee" to the Mayo Clinic and skip TriWest completely.
Robert Sumner, Crapo's press secretary, said although they cannot comment on specific cases, for privacy reasons, the senator often sends letters on behalf of constituents to do his best to advocate for Idahoans.
"Senator Crapo has long advocated on behalf of Idahoans who come to him for assistance with federal agencies, including the VA," Sumner told the Idaho Press in an email. "He and his staff do all they can to advocate to ensure that Idahoans are treated fairly and offered all options available regarding their specific circumstances. ... As with any request for assistance that comes to the Senator, we do our best to advocate for Idahoans as they work with often bureaucratic, slow moving federal agencies."
Without help from the VA, you can see how the costs would add up, Paine said.
"They're the ones who took the voice box out, you would think they'd help give me my voice back," he said.
'Never previously been done'
In the clinical notes of Paine's first visit on Aug. 22 with laryngeal surgeon David Lott in Arizona, the doctor described the procedure — if it happens — being the first of its kind.
Want more news like this in your email inbox every morning?
"We had a long discussion regarding the risks, benefits and alternatives to laryngeal transplantation," Lott wrote in the clinical notes. "Specifically, we talked about the fact that a laryngeal transplantation has never previously been done on a laryngectomy patient. There is concern for the status of both the motor and sensory nerves in this situation."
The full transplant could cause swallowing issues and has a variety of unknown factors during the operation. There is a possibility Paine's body could reject the transplant.
"They're doctors, they're going to tell me if it's dangerous," he said. "I said, 'I don't care, give me my voice back.'"
Paine is confident that he is in good enough condition to undergo the surgery — he has been cancer-free since 2007.
If accepted, the wait for an organ could be up to a year, and strict rules of the trial require him to be within the area for a certain period before the procedure. Paine and his wife took out a second mortgage on their home to buy a truck that could tow a motor home, in case they had to pick up and leave.
"The surgeons were very positive, saying that I may be the first or second patient," he said. "They want me in, very much so."
Lott trained at the Cleveland Clinic, where the first-ever larygneal transplant was performed. Only three transplants — all with successful outcomes — have ever been reported. For him, all his work and training is culminating in this clinical trial. This study aims at gathering enough data to secure coverage by insurance companies and expand candidacy for transplants.
"The biggest benefit of this larynx transplant is that it is life-saving for people," he said. "If you don't have your voice, you lose your identity in a lot of ways, you can't communicate and express your personality."
But Lott didn't speak lightly of the risks. The biggest obstacle for patients is the possibility of their body rejecting the organ, plummeting them back to the previous state they were in before. For Paine, rejection would send him back to a prosthesis.
Deanna Paine has never heard her husband speak with his own voice. Although the prospect is exciting, she confronts the surgery with a more critical eye, concerned about the severity and long-term recovery.
"If everything went perfectly," she said, "I think it would be great for him to get his speech back and he could heal."
Deanna Paine, a paramedic, said Bud Paine does so well with his prosthetic, she doesn't often think about him being disabled. She questions if the long recovery, lifetime of rejection medications and inevitable move out of state would be worth the risks.
"I am cautiously optimistic," she said. "You try to weigh the optimism of what his life would be like, the value, to him."
After nearly half a century working as a firefighter and EMT, Bud Paine can list off the top of his head all 42 of his certifications and instructor qualifications for various fire and paramedic training.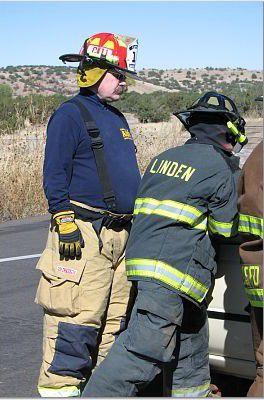 That list includes arson investigation, hazardous materials specialist, rope rescue, critical care paramedic, advanced pre-hospital trauma life support and crisis intervention.
Seventy-five percent of his career, he said, including work at the Donnelly Fire District, has been on a volunteer basis.
But his laryngectomy prevents him from facing flames a few feet away like he used to — not able to wear a breathing apparatus — and his distorted voice makes it hard for patients to hear him as a paramedic.
"I get frustrated a lot because people can't understand me," Paine said. "I am very limited."
Paine grew up on a small ranch in Arizona. Aside from the day-to-day farm labor, he found a love for singing "the old cowboy songs" and performed the national anthem at countless rodeos. An acting missionary for years, Paine was forced to give up preaching because elderly churchgoers couldn't hear him speak.
His cancer and the loss of his voice were devastating, he said.
As Paine talks, he presses two fingers to his throat, holding his prosthetic, unable to walk and talk at the same time. He constantly struggles with his prosthetic filling with water — creating the feeling as if he is drowning on dry land.
"This would have huge impacts," he said of the transplant. "The surgery will give me control over my voice."