MERIDIAN — Like many other business owners in the Treasure Valley, J.P. Green decided he needed to make changes to reopen his business this spring, after he was legally able to do so, following historic closures meant to slow the spread of the new coronavirus.
He owns and operates CycleBar Village Meridian, a studio that offers stationary bike classes. The risk of the spread of the virus was there, he knew, but he was legally able to open the business again in May. He took precautions: smaller class sizes, a contactless check-in process, a 30-minute window between each class for deep cleaning.
Green said he wanted to go further in making the studio safe for customers and staff, so installed the REME HALO, an air purification device that attaches to the studio's heating ventilation and air conditioning system. The goal was to clean the air to ensure it was not contaminated by the virus.
"I heard about it from one of my associates in Ohio," Green said earlier this month. "He had had it in his home for about three or four years and just raved about it, that nobody in his home ever got sick, and when this hit, he installed it in his studio. … Last I heard (the REME HALO devices are) backordered like 250,000."
As scientists have learned more about the novel coronavirus, they've come to believe it spreads best through the air — it's less common for it to spread from surfaces. While it's possible the air filtration systems help purify the air and may slow the spread of the virus, experts say there is still no guarantee such a system is perfect.
Devices such as the REME HALO use reflective electromagnetic energy to create hydrogen peroxide plasma in the air, which is the same thing sunlight does to keep the planet's air clean. This can neutralize the virus — one of the reasons the it doesn't spread as well outside.
Another reason the virus spreads well inside is because it's unaffected by gravity — the particles which would make a person sick are so small they're not always picked up by a standard air circulation system. The REME HALO — and other similar technologies — force smaller particles to stick together, which makes them larger and more likely to get picked up by the air system.
Other business owners had the same idea as Green.
John Berryhill, who owns Bacon in downtown Boise, installed a similar system in his restaurant earlier this month. Called the Needlepoint Bipolar Ionization system (NPBI) it does much the same thing as the REME HALO. Berryhill said he paid between $600 and $700 for the device; Green estimated he paid roughly $500.
Berryhill said his customers and staff appreciate it, he said, especially the cooks, because they work directly under a vent.
Such devices are one approach to preventing the spread of the virus indoors. There are other strategies too.
Different strategies for improving indoor air quality will work best in different situations, according to Tom Piscitelli, who has spent 45 years in the HVAC sales industry, and who teaches classes on the topic.
"The first question is, really, what do you want to protect against?" Piscitelli said. "If I want to protect against COVID … then you want to have a technology that can remove small particulates."
The technology, he said, needs to be able to "capture it, kill it, and not release any of it into the air."
Berryhill installed the NPBI system in Bacon earlier this month, and is aware the product is still being tested.
Western Heating and Air Conditioning in Boise has seen an increase in requests this year for air filtration systems, spokesman Tom Richards said. The company installs an air purification system by Phenomenal Aire, which has been tested and proven effective against coronavirus, and the Infinity Air Purifier, which is still in the testing phase.
The American Society of Heating Refrigerating and Air-Conditioning Engineers, or ASHRAE, sets standards for products like the NPBI system and REME HALO.
There aren't any set standards yet for how well a given device should remove the new coronavirus from the air because the virus is still new. Thus, while manufacturers have had years to develop technology to scrub the air for better known coronaviruses, there is less research on how well the devices might help prevent people from getting COVID-19.
"COVID-19 is unique, and even though testing has been done in the past with SARS … it hasn't been done on 19," Piscitelli said.
COVID-19 and severe acute respiratory syndrome are diseases both caused by different types of coronaviruses. SARS-CoV-2, or the novel coronavirus, causes COVID-19. SARS-CoV causes SARS, a viral respiratory illness that spread to more than two dozen countries in 2003.
Berryhill acknowledged that while the NPBI has been tested against the novel coronavirus in a lab — and killed 99.4% of the virus — it hasn't been tested in a live setting.
Green had the REME HALO installed in CycleBar Village Meridian at the end of May. He said about that time some cyclists called after a session to tell staff they'd just tested positive for COVID-19, but were asymptomatic.
"But there has been zero, no traceable reinfections or anything that has come from our studio," Green said earlier this month.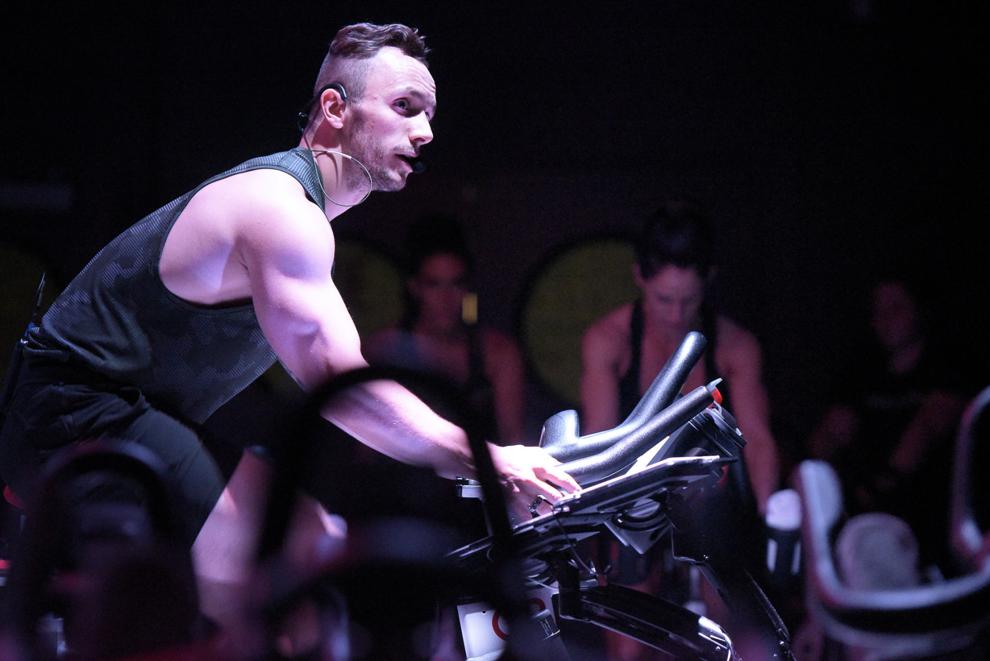 Piscitelli admitted a long road stands before the air quality industry.
"There's no standard for testing yet," he said.