CALDWELL — Treasure Valley residents ventured out to a job fair at the G.A.L.S. Quad softball fields in Caldwell on Wednesday.
More than 120 employers registered to take part in the event, organized by the Idaho Department of Labor, and were looking to fill roughly 3,500 jobs in total, according to a department news release.
"We chose this date because the federal benefits for unemployment were ending," said Elizabeth Anzaldua, a supervisor at the Idaho Department of Labor. The state ended its participation in three federally funded pandemic unemployment compensation programs on June 19.
Gov. Brad Little announced the change May 11. One of those federal programs, the American Rescue Plan, signed into law in March, allows for $300 per week in additional unemployment benefits through September.
Fair organizers figured Wednesday's event could reach people that are back in the market looking for work, and employers were eager to participate because of their need for job seekers, Anzaldua said.
Getting to connect with employers in person was a big draw for Lori English, who traveled from Boise to attend the fair.
"I am unemployed and I have a lot of qualifications but it seems like it's hard to get through online because there's just so many people on there," English said.
English worked in health care for a decade but left during the pandemic and found work doing manual labor instead, which she enjoys. Leaving the job fair, she had two job interviews scheduled and eight or nine additional applications to complete.
With so many jobs available, and many employers hiring, the atmosphere seems to favor job seekers.
"You can see there's some desperation" among employers, said Monica Flores, who attended the fair with Jessica Arteaga. The pair had recently moved to Caldwell from the Los Angeles area. The jobs they had looked at so far pay between $11 and $16 an hour, which is good pay, Flores said. Many of the jobs offered by employers at the event pay between $11 and $29 per hour and include benefits, according to the release.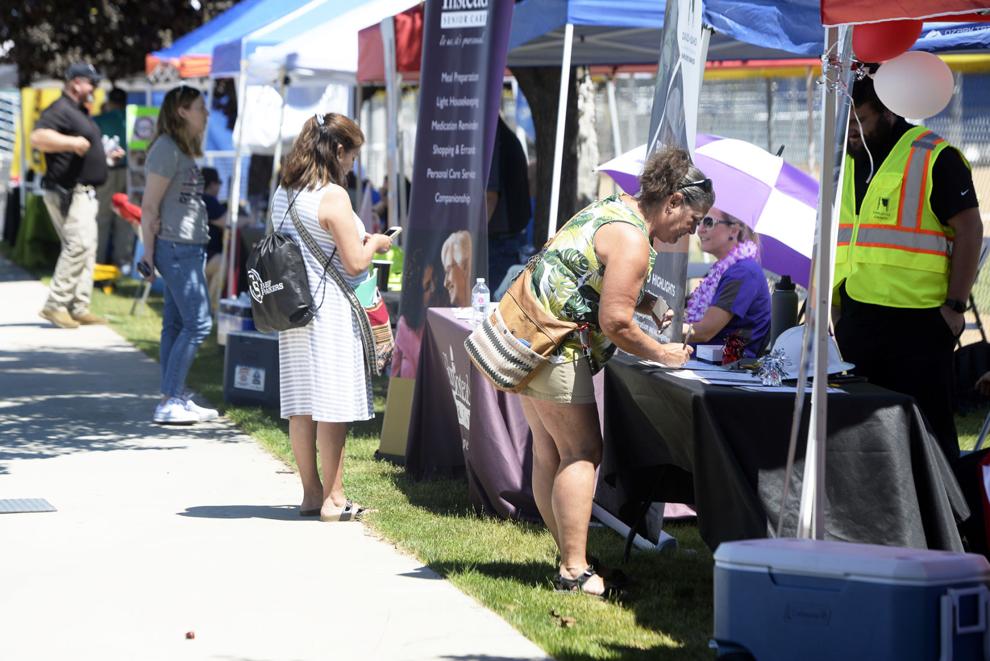 "There's a lot of jobs I found here that I could apply at, so it's really opening my eyes," said Evette Flores, who was looking to work as a cashier, home health care aide, or other roles. She had been out of work for five years, but the recent death of her husband was prompting her to search for a new job. Though she lives in the Caldwell area, she was willing to travel as far as Boise to work, she said.
Representatives for the employers at the fair were pleased with the success of the event.
"I think we're probably at eight or 10 people so far, so I'll give them a call later today and hopefully get them scheduled for an interview," said Kate Beltane, with Franklin Sensors, a Meridian-based company that develops and produces stud finders, according to its website. The company is hiring assembly workers, and though hiring was strong at the beginning of the pandemic, it has had trouble finding enough applicants, Beltane said.
Brandon Lyon, a recruiter for Track Utilities, had a similar assessment of the hiring market.
"I think a lot of people have other options that maybe weren't available" during the pandemic, Lyon said. Track Utilities builds and repairs telephone poles and telecommunication lines for internet, phone, and electrical companies in a few states, and it is looking to fill laborer positions, as well as payroll and accountant positions, Lyon said.
Participating in the job fair is one of the many strategies employers are taking to find applicants.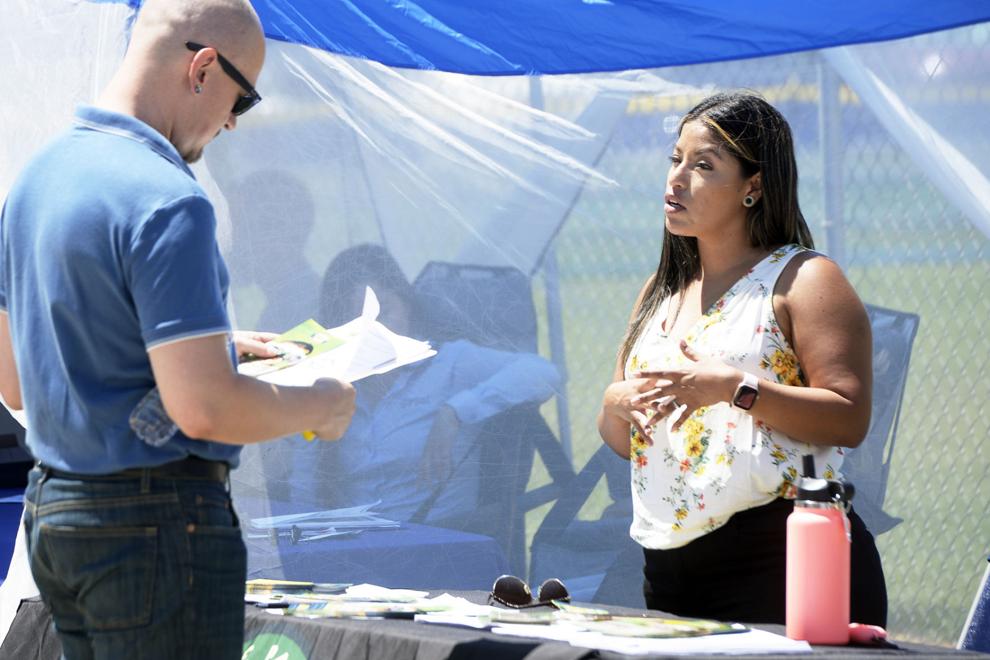 "We've tried to think outside the box and find different organizations to partner with in the community, and we've had a lot of great success with that," said Michelle Wagenaar, human resource manager with Fresh Air Manufacturing Company, which does sheet metal production in Meridian. These organizations help people get jobs by seeking candidates in the community rather than simply putting postings on online job sites such as Indeed, Wagenaar said. One organization Fresh Air Manufacturing Company has worked with is the International Rescue Committee, which helps refugees get placed in jobs, she said.
Word-of-mouth referrals have played a key in finding new applicants, said Linda Yzquierdo, a recruiter with HB Specialty Foods in Nampa.
"The new hire and the referrer each get $250, so that helps a lot too," Yzquierdo said.
Not all employers felt satisfied with the event.
"We thought there was going to be more foot traffic, but it wasn't what we expected, I guess, especially with over 125 employers out here," said Reece Fleygare, who works with the Idaho Army National Guard. He did not see as much advertising for the event whether through social media, flyers, or other signage directing people to the event, and wondered if increasing that would help increase attendance next time. Attendance was better at last month's event, but it was because a local high school, Elevate Academy in Caldwell, brought all of its students to the event, Fleygare said.
The Idaho Department of Labor plans to host another job fair later in August or September, Andalzua said. The event was part of a larger series of events organized by the Idaho Department of Labor to assist Idahoans in returning to work.