BOISE — Even as pandemic-related restrictions have eased, Boise's rental market hasn't cooled off.
"Prices in Boise are skyrocketing. The Boise market right now is just on fire," Apartment List senior research associate Rob Warnock said. "In a climate where rent prices are going up everywhere, Boise still stands out. That's been our broad observation."
The rising prices have strained renters and pushed them closer to evictions and homelessness. While emergency assistance has been made available, the combination of the coronavirus' financial implications and the rising rents have created a difficult situation for many renters.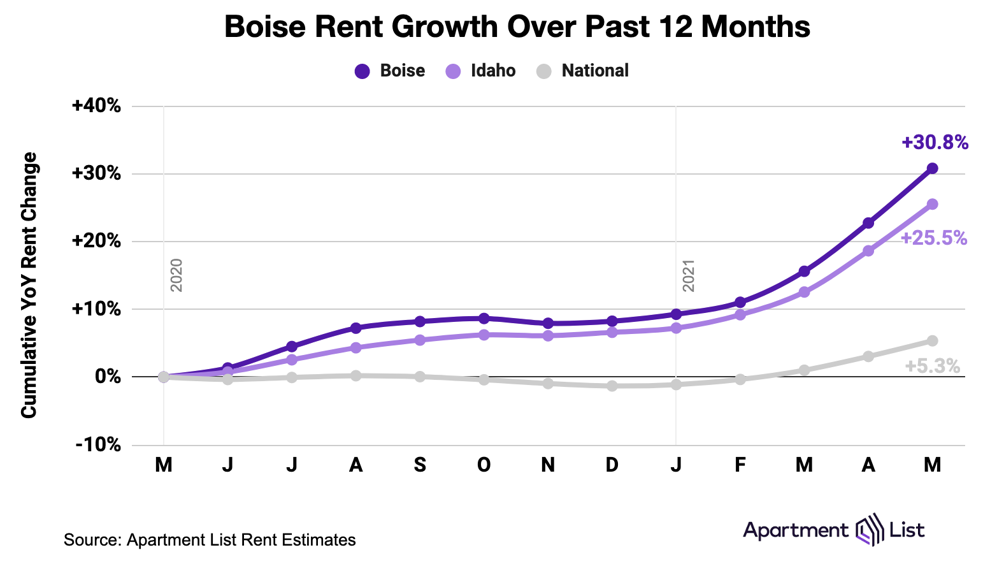 Boise City/Ada County Housing Authorities executive director Deanna Watson described it as a "perfect storm."
Through last week, Boise City/Ada County Housing Authorities has provided nearly $6.1 million to 1,289 households through its Emergency Rental Assistance Program in Boise and Ada County. Still, though, the need for help is high.
"It's COVID and what it's done to people's income and then there's the co-occurring spike in rent levels that are being requested in this market," Watson said. "The two forces really work against each other."
In the first three months of 2021, there was a 0.75% vacancy rate in Ada County, according to the Southwest Idaho chapter of the National Association of Residential Property Managers. The average monthly rent for one bedroom was $988 and $1,187 for two bedrooms.
Warnock pointed out how these numbers can all be relative. Boise's median two-bedroom rent in May 2021 was $1,230, which is much less than cities such as San Francisco ($2,610) and Seattle ($1,900) and also less than Phoenix ($1,260) and Dallas ($1,250).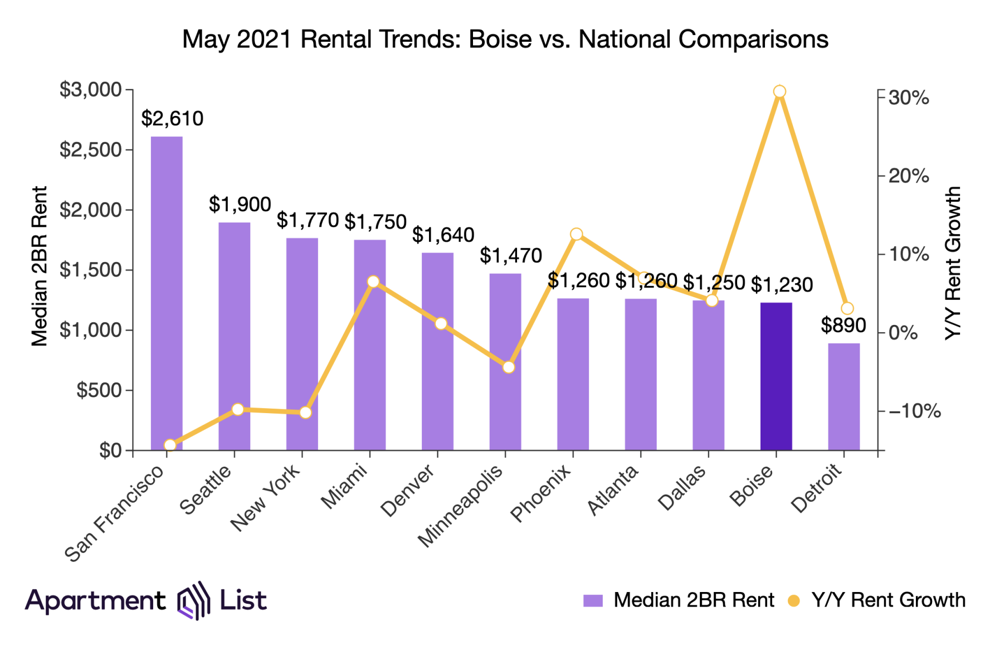 As people prioritized physical space, outdoor opportunities and affordability during the pandemic, Warnock said those factors played a role in Boise's hot market.
"I think it's been a big draw from a lot of really expensive markets within a few hours of Boise that has encouraged people to look there," Warnock said.
Before the pandemic began, Watson said the Boise City/Ada County Housing Authorities could only help about 25% of the people in need in Ada County because of how much money was available to be distributed. The need has only increased since.
"The cost to live eats up almost everything," Watson said. "That puts people sort of to the edge where there's no edge left. Any one thing could send them right over the edge."
Ada County and the city of Boise each received roughly $12 million in federal COVID-19 relief money to help renters. A lot of that money is still available to be distributed and another round of funding could come in the next month, too, Watson said.
Regardless of residing health restrictions, Watson said rent increases are still seriously affecting people.
"The stories are just heartbreaking in our community and they're just hidden in plain sight," Watson said. "Their issues are not going to go away with the return of normalcy just because COVID has been beaten back to a manageable point."
In order to receive assistance, residents must:
• Have a current lease agreement
• Meet income eligibility criteria
• Have a documented loss of income due to COVID-19
• Not have another source of rent or utility assistance, including federal, state and local
For more information, visit the housing authority website bcacha.org and click "Emergency Rental Assistance Program" at the top of the page, or call 208-363-9710.