EAGLE — Downstream of where Eagle Road crosses the Boise River, a faded piece of pink flagging dangled from a riverside shrub, marking an important spot.
A group of volunteers from Boise Valley Fly Fishers placed the tape there last fall to indicate the presence of a brown trout redd, or nesting site where the fish lays its eggs. The group marked 200 redds along a 16-mile stretch of the Boise River as part of a partnership with the local flood control district, Boise River Flood District No. 10, in order to protect the sites during the district's winter flood control maintenance activities.
The Boise River has a number of dams for irrigation and flood control. However, the river needs annual maintenance, done by the flood control district, to remove objects that could cause flooding, typically trees that could cause flooding if toppled, or logs. But that work requires maneuvering heavy equipment into the river, which can cause damage to fish habitat if operators don't know which spots to avoid, said a news release about the project.
Marking the brown trout redds and meeting with contractors to share the redd locations helped protect 99% of them, said Troy Pearse, conservation director for the Boise Valley Fly Fishers, at an event to award the flood control district for its efforts. Plus, marking the redds didn't cost any additional money, he said.
The project took place on the stretch of river between Willow Lane Park in Boise, to Star, the release said.
The brown trout is a favorite of local anglers, Pearse said. It spawns in November when the river is typically at its lowest flows and water levels, he said. Though the fish is not native to the river, and used to be stocked, that practice has largely ended, he said.
To find the redds, volunteers had to float that stretch of the river several times, Pearse said. A single brown trout redd is about the size of a hula hoop, he said. From the surface, the gravel in that area looks cleaned off and lighter in color in comparison to the surrounding riverbed, he said. The volunteers marked areas where there were several redds clustered together, placed biodegradable flagging on each side of the river from the site, made a GPS waypoint, and took a photo of the river at that location to share with maintenance crews.
The flood control district hopes to expand the project in the coming years to protect brown trout spawning habitat, said Mike Dimmick, district manager. It is part of a new effort to preserve and enhance habitat value while still controlling flooding, he said.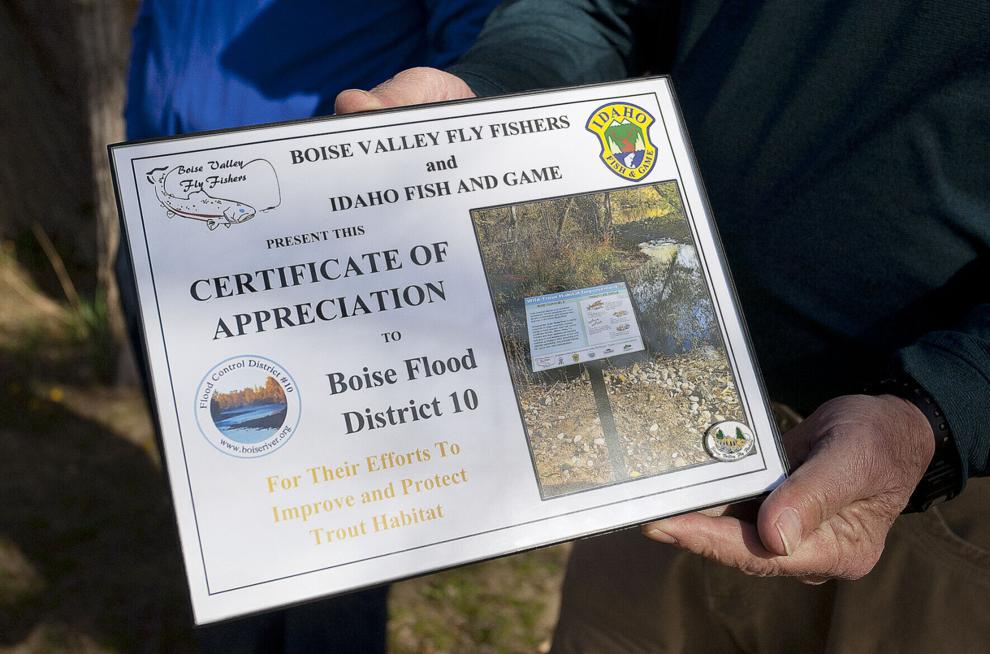 After spring flooding following 2017's "Snowmaggedon," the district struggled to get funding for flood recovery, Dimmick said. District officials were able to petition the Idaho Legislature to create a $1 million fund for flood mitigation projects, he said. So far, projects have included partnering with the U.S. Army Corps of Engineers to make a two-dimensional, state-of-the-art map of the river that will guide decision making about what flood control projects to do, he said.
The district will also be developing a "gravel management plan" to enhance habitat in the river, Dimmick said. Many fish species require a certain size of gravel — generally golf ball to marble-sized — in which to lay their eggs, Pearse said. Eggs will settle between pieces of gravel that size, allowing them to stay protected from predators and avoid being washed downstream.
In an undammed river, rocks of all sizes would be "conveyor-belted" down the river together, Pearse said. But damming a river traps gravel behind the dam, preventing it from moving downstream, Pearse said.
"Over time, you get stripped of these small gravels," Pearse said, "really all that's coming in is erosion from banks," he said.
Adding gravel back into the river system can improve the habitat quality for fish, ensuring more survive, Pearse said. Idaho Fish and Game collects data on how many baby fish, or fry, emerge each season, he said. Populations tend to be higher in areas areas where gravel was added back to the river, he said.
So far, one project added gravel back to the river in January 2021 near the Glenwood Street bridge, Pearse said. Boise Valley Fly Fishers plan to monitor the success of that project, and to work to protect redds in that area in partnership with the district, he said.
Even removing trees as part of flood control is being considered more carefully now, Dimmick said. Trees and other vegetation provide good habitat for fish by providing shade, which keeps the water at an optimal temperature. It also provides cover from predators. Now, instead of removing any tree in the river that leans at a certain angle, maintenance crews make efforts to keep trees in place, Dimmick said. There are also projects afoot to move trees and logs to where they are less likely to cause flooding and anchor them, which can also enhance fish habitat, Dimmick said.
Individuals, too, can make a difference in working to protect the river and its fish, Pearse said. There is concern that as local cities have grown, and more people enjoy fishing on the river, it could diminish the trout's population, Pearse said. To ensure that everyone has the opportunity to enjoy catching brown trout, he encouraged practicing catch-and-release.