BOISE — Lifting his right fist and reportedly shouting "Trump won that election," Boise resident Josiah Colt on Wednesday sat in the dais belonging to Vice President Mike Pence in the Senate Chamber of the U.S. Capitol as a mob of Donald Trump supporters stormed the building, attempting to disrupt an electoral college certification to confirm Joe Biden as the next president.
The Idaho Statesman reports Colt is a Boise resident who was photographed charging into the Senate Chamber and sitting in Pence's chair. Tyson Quick, a former Boise-area resident, told Boise Weekly he attended Mountain View High School in Meridian with Colt. Quick identified Colt in a slew of videos and images of Wednesday's Capitol siege. The image of Colt sitting in Pence's chair and another capturing Colt dropping into the Senate Chamber from the gallery above have been shared widely on social media and published in media outlets across the globe.
Colt posted videos to his Facebook and Instagram pages — which have since been deleted, but were cached by other social media users — admitting he was among the insurgents. In a series of videos Colt, exasperated and short-of-breath, talks into the camera as he wears a Trump bandana around his neck and what appears to be a helmet.
"I just got in the Capitol building," Colt says in one video, which was captured and posted to YouTube. "I hopped down into the chamber, and I was the first one to sit in Nancy Pelosi's (chair)."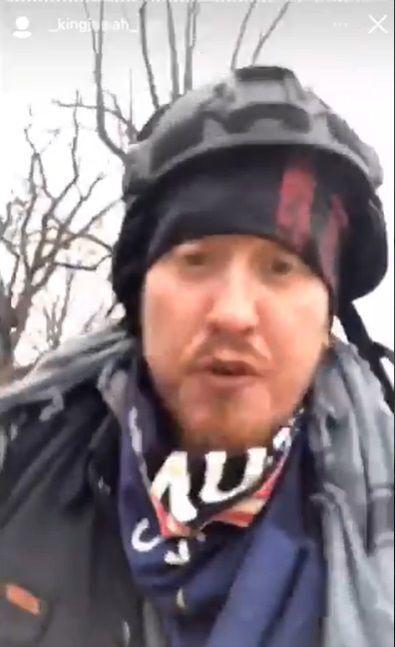 Colt apparently thought he was in the House Chamber, sitting in Democratic House Majority Leader Nancy Pelosi's chair, when, in fact, photos show him sitting in Pence's chair at the head of the Senate Chamber. In one video, Colt calls Pelosi a derogatory term as well as a "traitor."
Attempts to reach Colt were unsuccessful Thursday afternoon. Idaho News, KBOI, reported Thursday that it had reached Colt and published a statement from him on its website. Colt told the news station that he "got caught up in the moment."
"I love America, I love the people, I didn't hurt anyone and I didn't cause any damage in the Chamber," he said. "I got caught up in the moment and when I saw the door to the Chamber open, I walked in, hopped down, and sat on the chair. I said my peace [sic] then I helped a gentlemen get to safety that was injured then left."
Colt also claimed that he told other rioters not to cause damage because the Capitol is a "sacred place." He said he "sincerely" apologizes to the American people.
"I recognize my actions that have brought shame upon myself, my family, my friends, and my beautiful country," he told Idaho News. "In the moment I thought I was doing the right thing. I realize now that my actions were inappropriate and I beg for forgiveness from America and my home state of Idaho."
Colt's LinkedIn profile shows he's an advertising and marketing professional who attended Brigham Young University-Idaho and earned an associate degree from the College of Western Idaho. He also completed a two-year mission for The Church of Jesus Christ of Latter-day Saints, according to the profile.
Quick told Boise Weekly that he and Colt were friendly in high school but not close. Colt was "an average teen" and "seemed like a pretty decent guy" at that time, Quick said. In recent years Colt began posting conspiratorial and fringe political beliefs on Facebook, Quick said.
"Everything is false or propaganda if it doesn't come from Trump or his network," Quick said of Colt's social media posting.
In a Wednesday video, Colt said he traveled to Washington, D.C., to "represent America."
"We're tired of being lied to; we're tired of people stealing from us, stealing our freedom, stealing our liberties," he said.
As of Thursday afternoon, Colt had not been arrested by Washington, D.C., law enforcement, according to the Washington, D.C., Department of Corrections.
The Federal Bureau of Investigation is seeking information "that will assist in identifying individuals who are actively instigating violence" at the Capitol, the bureau said in a news release.
U.S. Attorney for Idaho Bart Davis told the Idaho Press in a statement Thursday, "My office will prosecute any crimes if in the course of the investigations there's a lawful nexus to Idaho jurisdiction."
Those with tips and digital media depicting rioting and violence on Wednesday can submit the information at fbi.gov/USCapitol or call 1-‪800-225-5324.