CALDWELL — The Bird Stop is now permanently closed after less than a year since its reopening and seven years of business in downtown Caldwell.
Bird Stop owner Matt Kelly could not be reached by phone Tuesday, but an Oct. 9 post on the Bird Stop's Facebook page indicated the Kelly family "made the decision to close the doors for good and pursue new directions for the family."
It is unclear what will happen to the Bird Stop's building following the recent closure.
"We want to thank everyone in the community who supported downtown business and to those who came and laughed, loved, cried, clinked a glass, sipped a coffee, or ate a burger with us over the last seven years," the Facebook post reads. "We will never forget those memories and relationships we've made in the community. We see a bright and exciting future for the city and the direction it's headed. So here's to all of you."
The Bird Stop had a 4.5 Google rating, and more than 180 comments on the Facebook post show a saddened community, some of which called the closure "heartbreaking."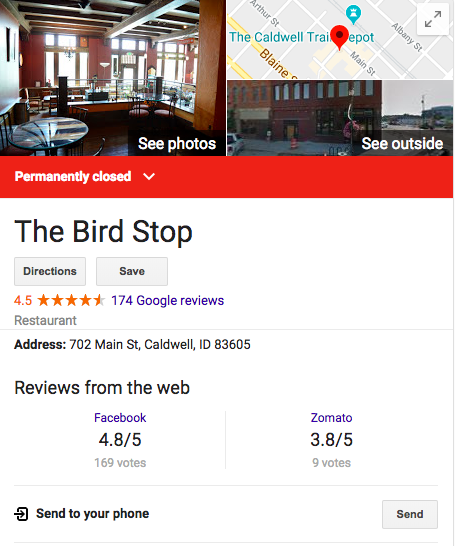 Last year, the Bird Stop closed to remodel the family-owned business at 702 Main St., located in a former bank building at South Seventh Avenue and Main Street, adjacent to the new Indian Creek Plaza. The Bird Stop first opened its doors at 718 Arthur St. in 2011, but outgrew that location and moved to it's most recent 12,000-square-foot building.
After months of renovations last year, the former coffee shop opened as a restaurant, coffee shop and brew house. Since its return, the Kelly family has been brewing its own beer, serving more food and bringing live music to downtown Caldwell.
The remodel also included an expanded kitchen, expanded bar with more seating, along with several other changes to the Bird Stop.